Don't Lose Sight of Your Team's Goals
Reports for e-mail, web, mobile & print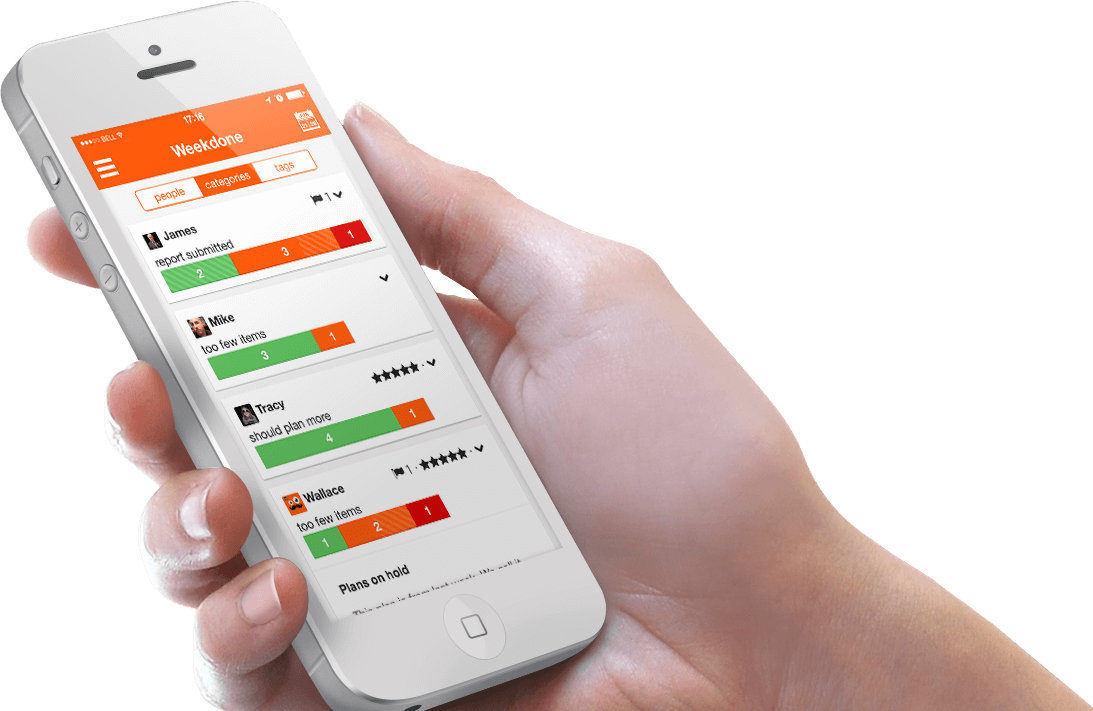 At the weekly deadline Weekdone compiles you and each team their respective report, accessible on Weekdone.com, our native iOS apps, delivered to your inbox and available as a print-ready PDF.
Easy to fill form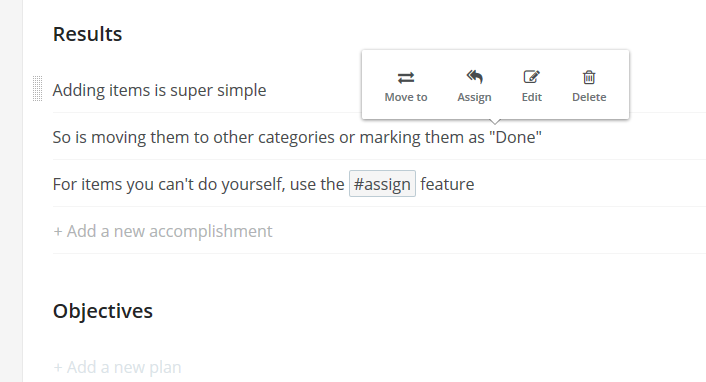 Add items, edit them and move items to another category by dragging.
If you are stuck with a task that has been on your "on hold" list for one too many weeks, use the assign feature to submit it to a more suited person. As a manager, you can fill your own Plans list with items and one by one assign them to your employees.
Informative dashboard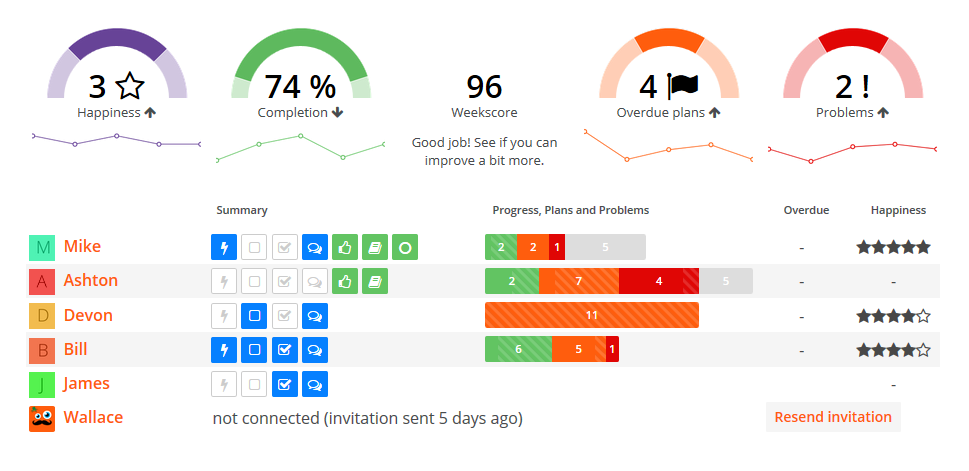 As a manager, you're always short of time. Imagine if you could save time on managing your team and company, while quickly focusing on what's important and improving productivity. With Weekdone you can.
Our dashboard helps you understand in seconds who in your team needs more attention and who deserves a pat on the back. See overdue items, task completion ratio and task distribution for each person.
Managerial feedback


Give regular feedback to employees – they'll appreciate it. Add soft value-based questions to seek input from your people regularly on company culture and improvement ideas. Make all communication two-way between you and them.
Weekdone allows you to quickly give weekly personal feedback via comments and additional pre-set questions to each person.
Team communication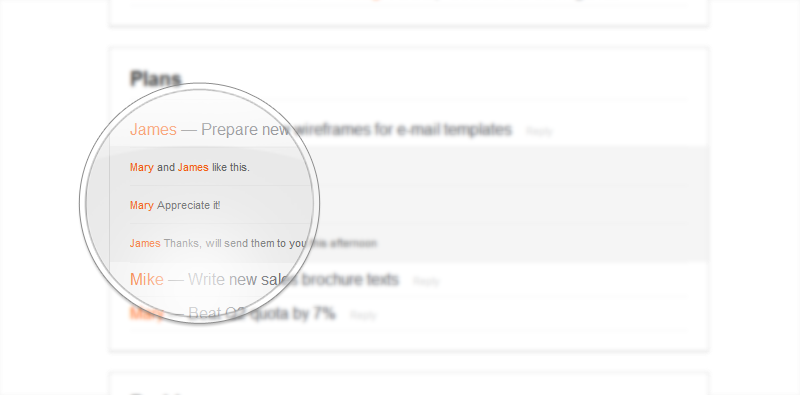 Employee reports are often like a black hole. Weekdone makes sure your manager always reads your report, giving back useful input and helpful guidance.
By sharing your plans, progress and ideas with your co-workers, you make sure everyone on the team knows what your priorities and accomplishments are. Use real-time feedback to increase team spirit.
Pre-made and custom templates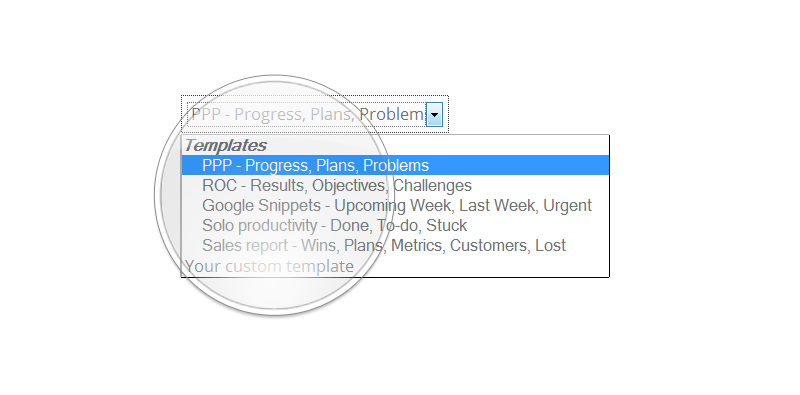 Get started with best practices PPP – progress, plans, problems – template used at companies like Skype.
Add an unlimited number of your own section headings or change the default ones.
Choose one of other ready-made templates, like Google Snippets, Results-Objectives-Challenges, Sales Report or Solo Productivity.
A person can belong to multiple teams depending on their role, and each of the teams can have a custom template. For example the CEO might want to be included in the Sales team with a Sales report, and a managers team with a Results-Objectives-Challenges report template.
Read about multiple team reporting and custom team-templates
People and team views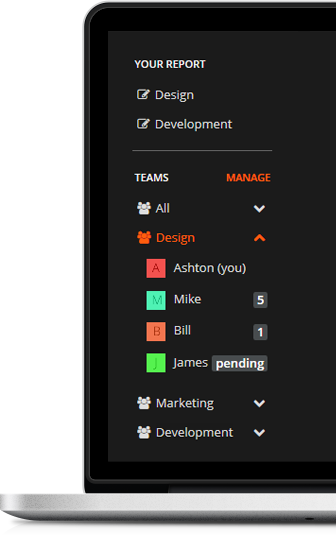 View reports by a single person or grouped by a team.
One Weekdone user can belong to multiple teams as full member and have a different form and report for each team. This means a middle manager or team lead can have 2 or more reports:
One report down, to be shared with the team and employees they lead.
Another report up, to the CEO, management team or head of department.
If needed, additional reports in other teams where they participate.
Group by people, categories or tags
See goals, results and accomplishments grouped by persons, category headings or tags.
Tags & projects

Use #hashtags to name topics, projects, customers or anything you like and group similar items together.
Just enter a #hashtag in any item text and it automagically becomes a tag project page.
Previous weeks plans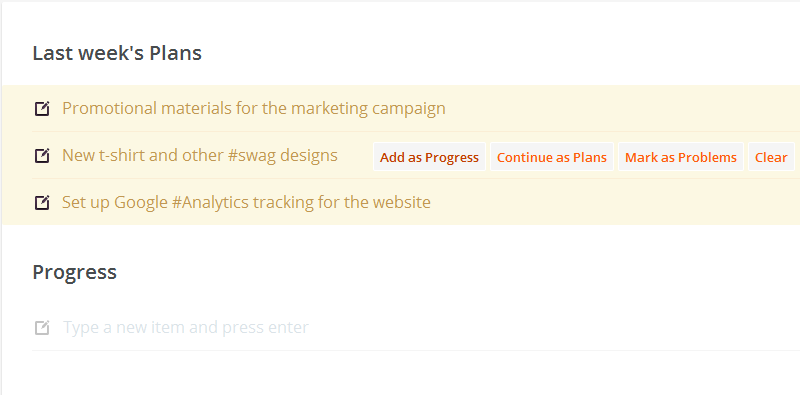 At the end or start of each week decide what to do with your last week's plans.
Move achievements to progress, mark them as unfinished problems, continue as this week's plans or leave them on hold.
A weekly task review is a great way to increase productivity and manage your time.
Weekly views and archives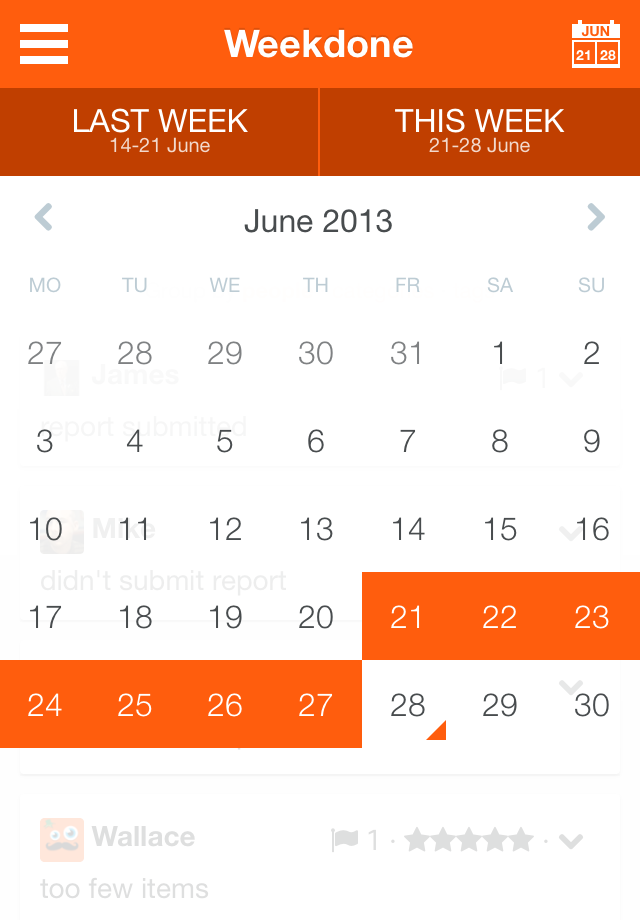 Find old reports quickly by week or date, browse for unlimited history or use Weekdone for quarterly or annual employee performance reviews.
E-mail reminders & progress submission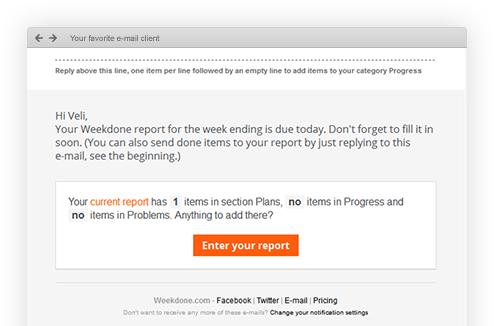 Using Weekdone there's no more chasing employees or them forgetting to fill in their report.
Once per week everyone gets a friendly e-mail reminder to fill in their report.
Fill the progress report just by replying to the e-mail. Or visit Weekdone web form for full form entry.
JIRA, Asana and basecamp task imports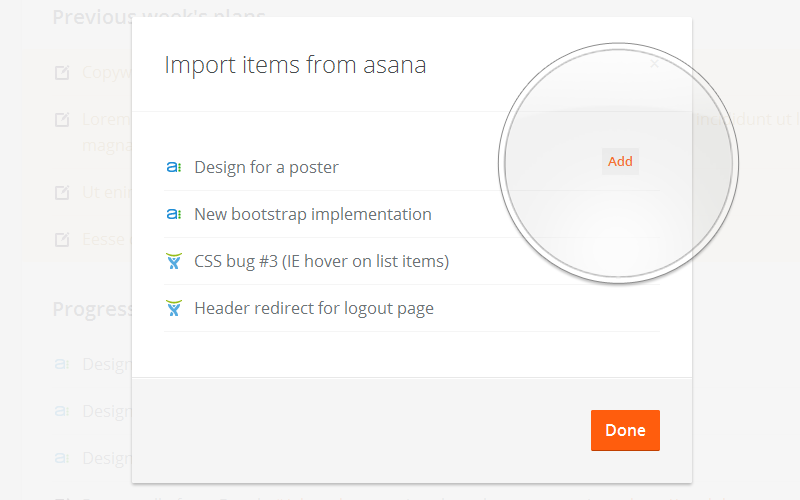 Using Asana, Basecamp or Atlassian JIRA for your task and issue management? Use Weekdone as your report system for them.
Connect your accounts in the settings menu and set your own rules which types of items you want imported to which category.
No need to duplicate data entry.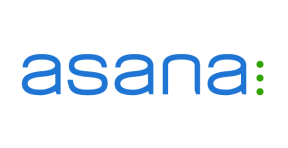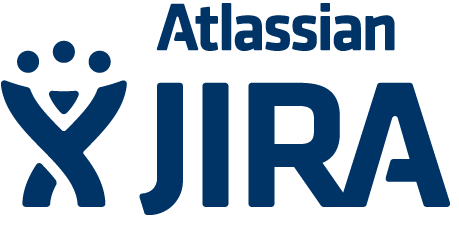 Mobile apps
Get our app to be always up-to-date with your team status. On iPhone, iPad and Android.
Be better informed of your team. Quickly see when an indicator underperforms. Proactively apply corrective measures and take actions on the go.
Use iPad to communicate with co-workers, manage your daily productivity and focus on what's important.
As a team member, get last-minute report deadline reminders and never forget to submit your report. On the go, if needed.
Available for iPhone, iPad, Android phones and tablets:
https://play.google.com/store/apps/details?id=com.weekdone.android
https://itunes.apple.com/us/app/weekdone/id668008030?mt=8
Happiness ratings

Each person gets asked for their happiness and job satisfaction weekly.
See the results by person, team and company.
Take action whenever you see the happiness drop.
Privacy, roles and subscribers
Report privacy
Choose, who has access to which data. Limit access to team, manager or leave it open to whole company.
People management & roles
Divide people into company administrators, team managers and employees.
External subscribers
Share reports with outsiders like investors, board members and advisors.