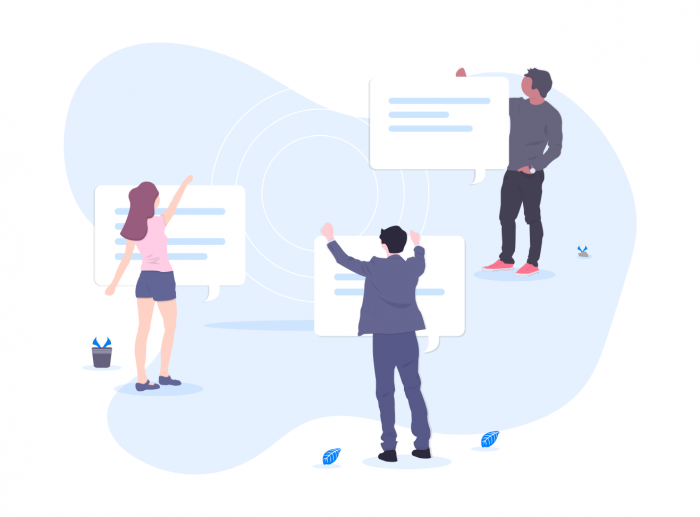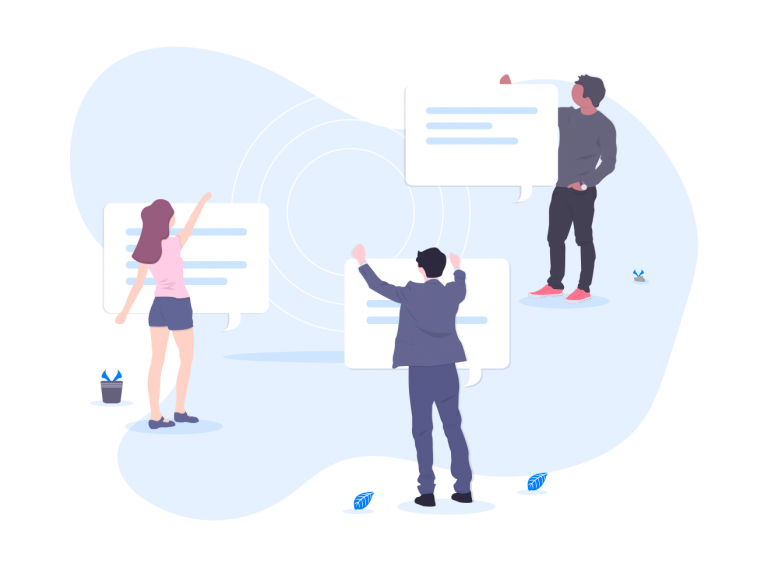 Every company wants to become more profitable, right? Well, one of the best steps you can take to increase your business's profitability is to increase your employee engagement. Research shows that companies with high levels of employee engagement are on average 21 % more profitable.
Employee engagement software can be a powerful tool for businesses looking to help their employees stay motivated. It can also help them feel more connected to the company and the work they're doing on a regular basis. Read on to learn about five of the best employee engagement software options you ought to consider trying in 2021.
FAQ – Frequently Asked Questions
What to Look for in Employee Engagement Software?
The following are some of the most important factors to keep in mind:
Claims – be wary of any software that claims to solve all of your employee engagement-related problems. If it seems too good to be true, it probably is.
Research – quality employee engagement software will have research and case studies backing up its design.
Price – consider what your budget allows and don't assume you have to break the bank for a functional tool
Which Features Are Important?
Consider the features the software offers and look for ones that are relevant to your company and your employees' needs. Don't let yourself get distracted by a long list of flashy, cool-sounding features. If the program seems to offer everything but the kitchen sink, it might not run as well as a more streamlined option.
Our Top 5 Picks
Bonus: Engagedly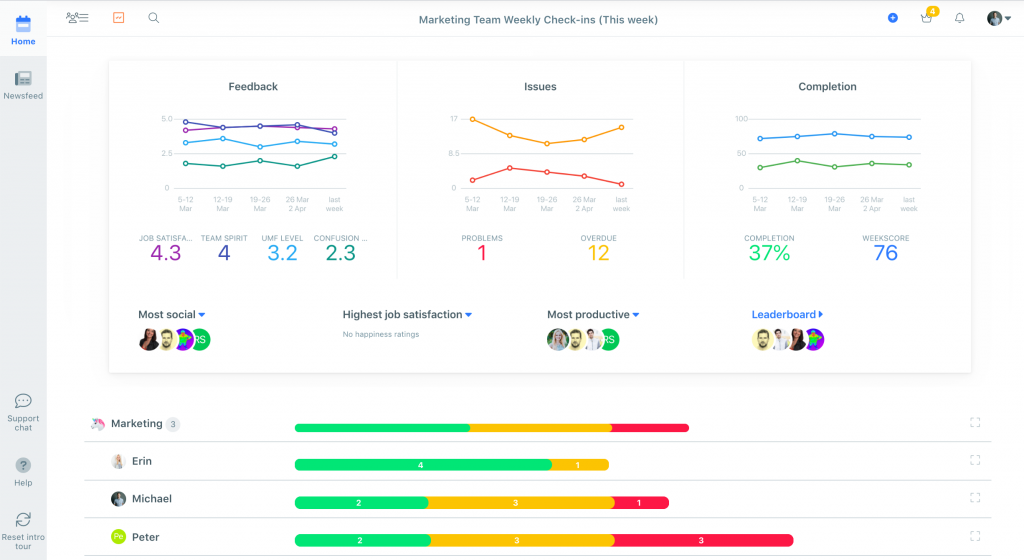 Weekdone Team Compass is a weekly planning software for teams designed using the Plans, Progress, and Problems (PPP) approach. This weekly planning framework helps employees stay focused on overall company goals by setting 3-7 relevant plans and managing them throughout the week.
Weekdone also offers several useful features for all kinds of teams. Some of the most useful ones include: easy reporting to monitor progress, one-on-one and group communication options, and opportunities to give feedback and recognition. CFR aka Conversation, Feedback, Recognition system and the option to create pulse surveys are available soon.
This software is free for teams of three or fewer. For teams of four or more, it's just $29 per month – for unlimited users.
| | |
| --- | --- |
| Positives + | Negatives – |
| Advanced feedback system | No time tracking |
| Quality automatic reporting | |
| Affordable price | |
---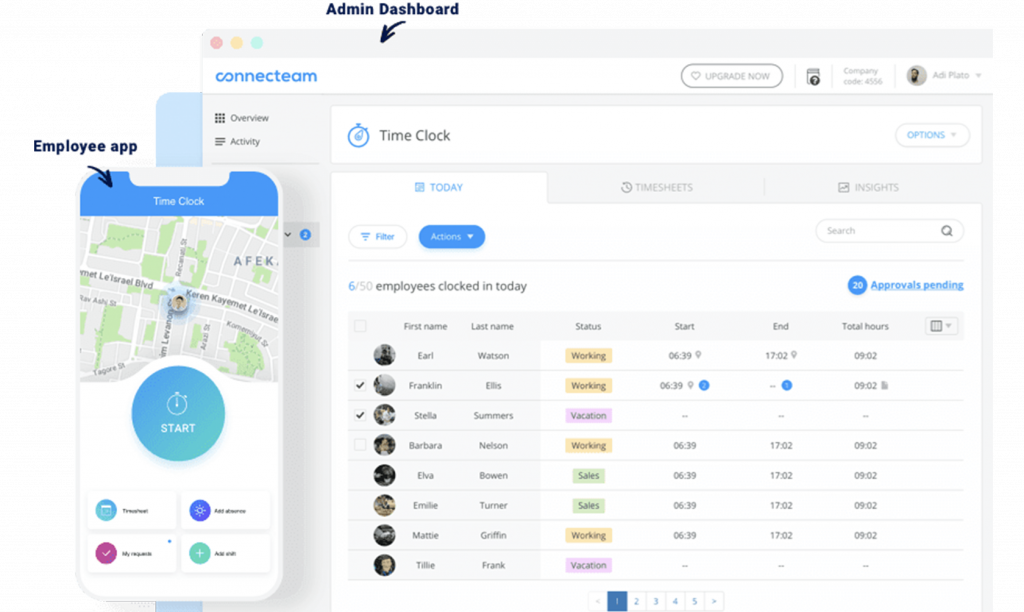 Connecteam is an all-in-one mobile employee engagement app. It's designed to be customized, and teams can adjust the app's setting to match their company culture, organization preferences, and general business needs.
Connecteam is a useful app for teams that want to receive regular feedback and look for ways to improve. It features several survey templates, as well as the option to customize your own survey to get specific answers from team members that are most useful for the company as a whole.
The app also allows for easy communication for groups and one-on-one meetings. Because it's an all-in-one product, there's no need to worry about integrating it with other tools.
Pricing starts from $29 per month fixed.
| | |
| --- | --- |
| Positives + | Negatives – |
| Easy customization options | Costly |
| Time tracking available | |
---
3. Vantage Circle – Best for Employee Wellness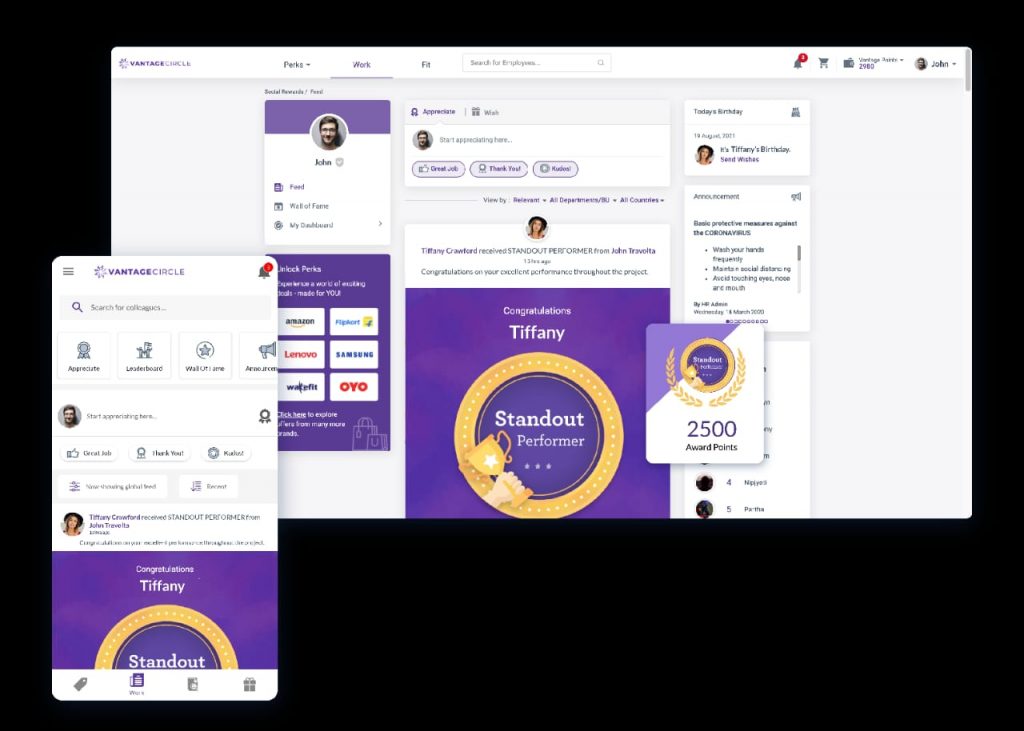 Vantage Circle is a comprehensive employee engagement platform that combines four powerful AI and SaaS-based solutions to help businesses meaningfully engage their people.
The solutions focus on 4 major areas of employee engagement: rewards and recognition, employee perks, employee survey, and employee wellness.
Features include a global point-based rewarding system, feed engagement score, on-the-spot recognition, social recognition feed, and more. With cross-channel integrations and multi-device accessibility, even remote teams can engage and appreciate one another more easily than ever before.
Pricing starts at $3 per month for each user and includes a free trial.
| | |
| --- | --- |
| Positives + | Negatives – |
| All in one engagement platform | No productivity tracking |
| Flexible cost | |
| Advanced analytics and intelligent reports | |
---
4. Peakon – Best For Big Teams
For large teams, Peakon can be an effective employee engagement software option. It's designed for teams of 100 or more employees.
Peakon features a variety of surveys, as well as performance management tools and tools designed to evaluate cultural and employee alignment. Team leaders can use the software to present employee awards, too.
Pricing starts from $3.5 per user/month.
| | |
| --- | --- |
| Positives + | Negatives – |
| Automatic reviews | Not for smaller teams |
| Employee awarding system | |
---
5. BambooHR – Great for Onboarding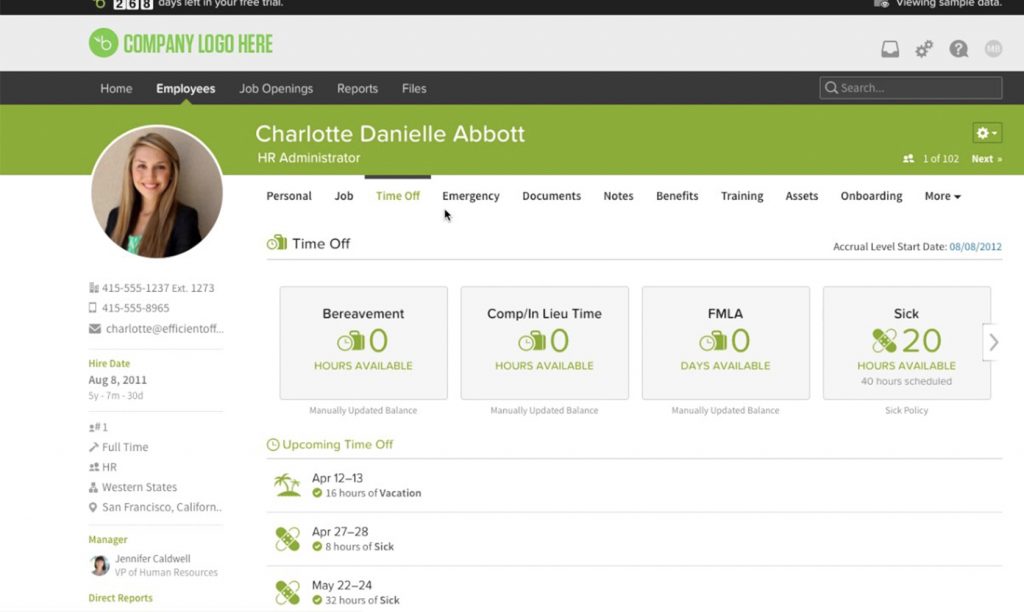 For human resources teams and team leaders looking to maximize employee engagement, BambooHR is a software program worth considering. This employee satisfaction software allows for easy onboarding of new employees and tracking of current employees.
BambooHR offers several features that help companies to run smoothly, too. The list includes things like E-signature tools, time-off tracking, simple reporting, and performance management. The software is accessible via desktop and mobile, too, so teams can utilize it in the office and while they're on the go.
Pricing for BambooHR starts at $8.25 per user per month for the Advantage package.
| | |
| --- | --- |
| Positives + | Negatives – |
| Easy onboarding | Poor mobile app |
| Cross-platform | |
---
Bonus: Engagedly – Most Visual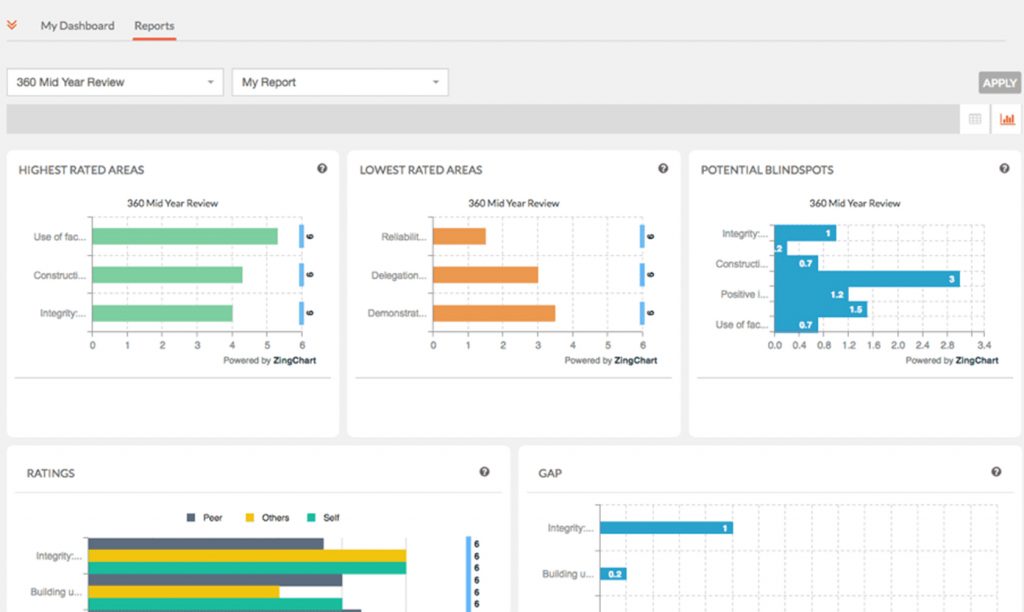 Engagedly is another good employee engagement software for medium-to-large teams. It's designed for companies with teams of 50 to over a thousand employees.
This software features an employee engagement platform that boasts built-in gamification for team members to encourage social collaboration and idea generation. There are also survey features, eLearning options, performance management tools, and the option to present employee rewards.
Pricing starts from $5 per user/month.
| | |
| --- | --- |
| Positives + | Negatives – |
| Good for big teams | Poor mobile app |
| Beautiful visuals | Takes time to figure out |
| Affordable | |
---
Conclusion
As you can see, there are plenty of great employee engagement software options out there for you to choose from. Of these top five choices, though, Weekdone Team Compass stands out as the clear winner.
One of the main benefits of choosing Team Compass is that it's easy to use and understand. You don't need to spend hours getting acquainted with the software because of its simplistic nature – see an increase in team engagement right away! As an added bonus – it's accessible on a variety of devices, integrates with your existing communication platforms, and free for teams of three or fewer.
Try Team Compass today, no credit card required, to see if it's the right fit for you and your team members. Click here to register.