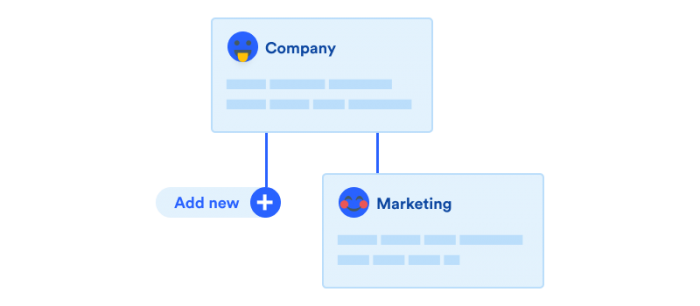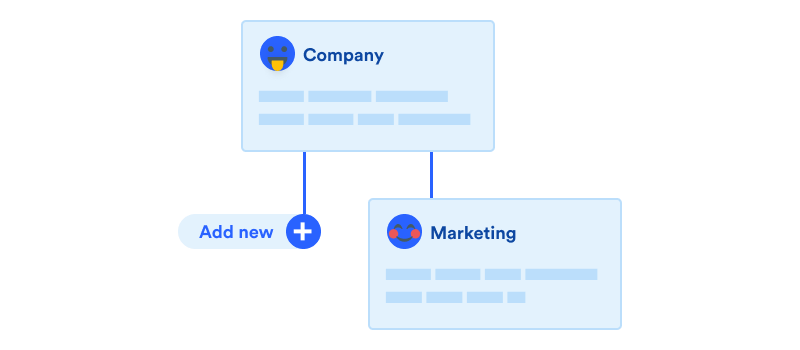 Aligning goals helps you to unify your company so everyone knows what's going on and how every part contributes to the company's biggest Objectives. We believe that for everyone in your company to work as one, they all should all share an aligned hierarchical tree of Objectives and Key Results with a new OKR hierarchy.
With the recent updates, we made it possible to build a goal tree directly from the hierarchy view. Start with the top Company goal and add Team Objectives directly under it. In this article, I will show you how to do it.


Terminology
Before I show you how to build a tree, it's important to understand some of the terminology use in Weekdone.


Objectives
Objectives are your aspirational goals. Objectives should be ambitious, qualitative, time-bound, and actionable by the person or team (i.e.: become the market leader in the OKR software industry).

Key Results
Key Results measure if you are achieving the Objective. Key results should be quantifiable, achievable, have Objective grading, and should be difficult but not impossible (i.e.: acquire 1000 new paying users).

Levels
Levels usually refer to the structure of OKRs. You can create and align OKRs between 4 levels: Company, Department, Team, and Person.

Linking Objectives (bottom up)
Linking objectives allows you to align Team and Personal Objectives with Company Objectives. When a Team Objective is linked up to the Company level, that Objective becomes a Key Result for the Company as a whole. All progress made on the Team level automatically feeds up and moves the progress of the Company OKR.

Assigning Key Results (top down)
Assigning Key Results allows you to link Team and Personal Objectives with Company Objectives as well. The only difference is that the assigning process is done from top-down. For example, a Company Key Result is assigned to a Team. Then, it becomes an Objective for the Team. All progress made on the Team level automatically feeds up and moves the progress of the Company OKR.
Sub-Objectives
As we mentioned earlier, it is possible for Objectives to be Key Results on another level. The terminology is a bit confusing at times. This is why we sometimes refer to assigned Key Results as Sub-Objectives. We added this term in our new Hierarchy tree when you are building a tree to make it easier for you.
1. Add a top Company Objective
Now that you're familiar with the terminology, you are probably itching to create a goal tree of our own. I will help you through the process by doing so with our new hierarchy feature and using top-down method.
Start by adding a top company goal that you want to start working towards. Company Objectives are derived from both a company's vision and core values. The challenge here is for the leadership team to be able to later convert Company level Objectives into Team or personal outcomes.
2. Add & assign Team Objectives

Let's use the Company Objective to "become the market leading software". You can then add & assign Sub-Objectives for the Product and Marketing teams to support the main Objective.
3. Add Key Results for the team
So, we've set ambitious goals for our Company and our Teams, but we haven't really specified how we are going to get there. It is time to add Key Results that will show how we measure success.


4. Update & review status
Since we have added in Key Results, you can see how everything is connected. Once the teams start to move their Key Results, it all feeds up to to the Company Objectives automatically. You can get a birds eye view of all your OKRs and their status in the Company tree view. Use our RAG color system to identify when something is off track so you can react immediately. We have also heard that many companies use the Hierarchy view in their Weekly/Quarterly meetings. Just throw it on the TV and show everyone where you are currently standing with your goals.

The current build is a BETA version. Let us know your first impressions by writing to us hello@weekdone.com