Right now, in response to COVID-19, more people are working from home than ever before. Experts thin, that this trend will continue even after social distancing and stay-at-home orders are lifted. In fact, a report from Global Workplace Analytics estimates that 25-30 percent of the workforce will start working from home multiple days per week by the end of 2021. So many leaders require a guide to remote work .
Have you recently started working from home? Are you a seasoned remote work veteran looking to improve your team management approach?
In either case, there are lots of resources that can help you accomplish your goals and work more effectively. Here are five great remote work eBooks and guides that managers, supervisors, and team leaders should read.
1. Leader's Guide to Remote Work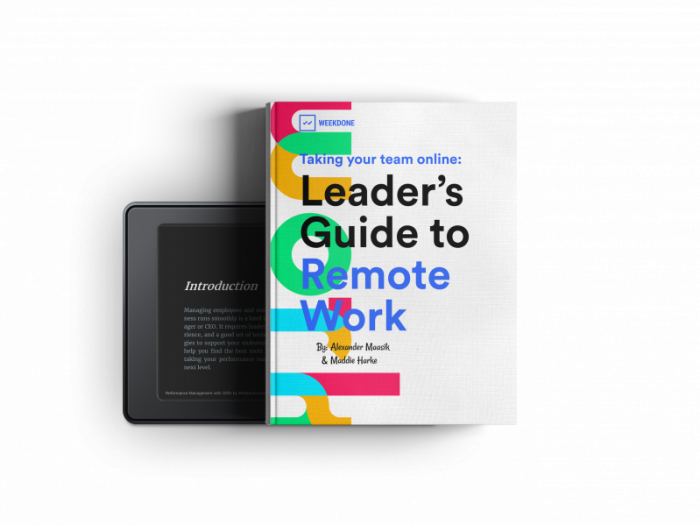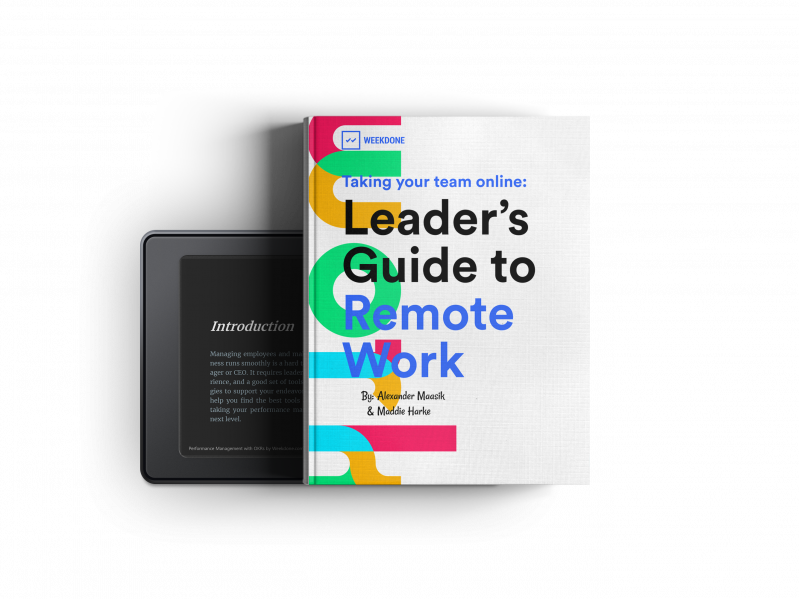 By Alexander Maasik and Maddie Harke
Leader's Guide to Remote Work is the ultimate resource for anyone working remotely. It's based on the belief that working remotely does not need to be complicated.
The book's co-authors understand that, at first, working at home instead of in a traditional office can seem daunting. They realize that this is especially true when it comes to setting up or managing a team. That's why they've put together this guide to settle fears, provide guidance, and help team leaders move forward with confidence.
By following the recommendations made in Leader's Guide to Remote Work, you'll have a much easier time staying connected socially. Also you can makie sure your team members are engaged in their work even when you're physically distant from them. You'll learn how to handle remote meetings and weekly reviews with ease while also creating productive habits around working remotely, too. There are also plenty of recommendations on the best tools remote teams ought to use to stay in touch.
This eBook offers tips for everyone, including those who have been working virtually for years. It's a must-read for anybody looking to level up and be a better leader.
2. The Home Office Handbook
By Lorie Marrero
A common challenge for people working from home is the challenge of keeping their home office organized. Without a proper organizational system, it is difficult (if not impossible) for team leaders and managers to stay on top of their to-do list.
After reading The Home Office Handbook, you'll have a better understanding on how you can create a system and maintain it with daily routines. Daily routines, that are designed to keep your office clean and organized.
One of the great things about this book is that it recognizes the fact that everyone is in a different situation when working from home. It teaches you how you can create a routine and set of systems that work best for you and your leadership style. It doesn't try to force you to adopt a strategy that won't work for you or the people you're supposed to be leading.
The book covers both physical and digital organization, too. In addition to keeping your physical workspace organized, you'll also learn how to manage digital communications with ease. And how to stay connected to your team while creating a sense of balance between your work and home life.
3. Work from Home Superstar
By Jack Wilson
Everyone wants to feel like a superstar when they're working from home. For a lot of people, though, it's hard to get in a groove and be productive. Especially, when they're in a new situation and don't have the structure of a traditional office.
Have you found that you're struggling to adjust to remote work? And are you having a difficult time showing up for your team because of it? Then, Work from Home Superstar is a great and affordable book to add your reading list.
This book is a short, quick read, but don't judge it by its size. It's full of useful tips that remote leaders can implement into their daily routines. These tips help to shield oneslef from distractions and stay focused on the tasks that matter most to their company and their team members.
The book also provides some valuable insights into scheduling and planning your day around specific tasks to ensure productivity and reduce the risk of burnout.
4. Remote: Office Not Required
By Jason Fried and David Heinemeier Hansson
Remote: Office Not Required provides relevant, practical information for both employers and employees. It shows effective ways for teams to work together from anywhere in the world. It also reveals the ways that employers and employees could be limiting their options if they refuse to embrace remote work moving forward.
The book's co-authors are experts in running a business remotely. And they share all of their tips and tricks about how they've managed to help a company grow and thrive without being in the same physical location as their team.
The authors also break down the benefits of challenges of remote work. And they debunk some of the myths surrounding it. This book is an excellent read for leaders who are on the fence about long-term remote work. And for people who want to understand more about it before they commit to it for themselves and their teams.
5. Work Together Anywhere
By Lisette Sutherland and Kirsten Janene-Nelson
The subtitle of Work Together Anywhere tells you everything you need to know about what you'll find within its pages. This book is described as a "Handbook on Working Remotely—Successfully—for Individuals, Teams, and Managers." If that sounds like something that you and your team could benefit from right now, it's definitely worth giving this book a read.
Work Together Anywhere emphasizes the fact that remote work is not a novelty anymore. All kinds of businesses have been embracing it (even without the pressure of a global pandemic) for years, and that's not going to change anytime soon.
The book's authors provide information about the benefits of remote work, from reduced expenses to access to greater talent that's not limited by zip code. They also provide several practical and actionable steps that companies can take to create efficient systems and encourage streamlined and engaged teamwork between employees and leaders.
The book even includes a complete blueprint that leaders can use to optimize their team's success. It includes information on assessing workers' skills, crafting team agreements, running online meetings effectively, and facilitate positive communication. When they read this guide, leaders will find everything they need to know to support their teams remotely.
Check Out These Remote Work Guides Today
It doesn't matter if you've been working from home for years or if this concept is brand new to you. Either way, you can benefit from reading these remote work guides and remote work eBooks to fine-tune your approach, structure your day in a way that sets you up for success, and keep your team members motivated and engaged from afar.
All of these books and guides are worth reading, but Leader's Guide to Remote Work is a cut above the rest. It's simple, straightforward, and provides actionable tips on setting up a remote team and keeping everyone on track.
You can access this eBook today for free (a $49.99 value) by clicking here and signing up for the Weekdone Academy email list. In addition to receiving the eBook, you'll also receive regular training materials and expert advice on team leadership from the team at Weekdone.
Image source: Unsplash