A few years ago a CEO came to us with a problem.
"I have 5 people in our engineering team and I know one of them does almost nothing. How can I figure out which one?"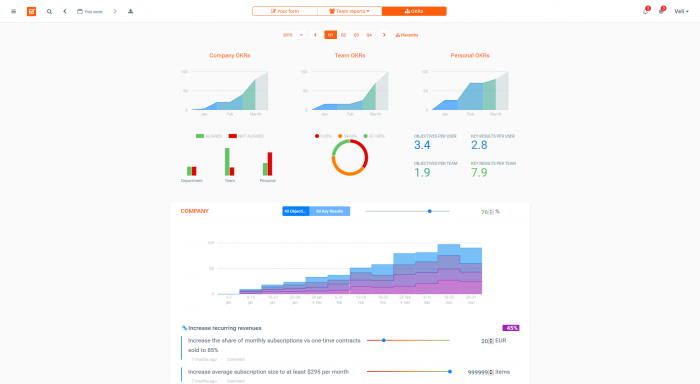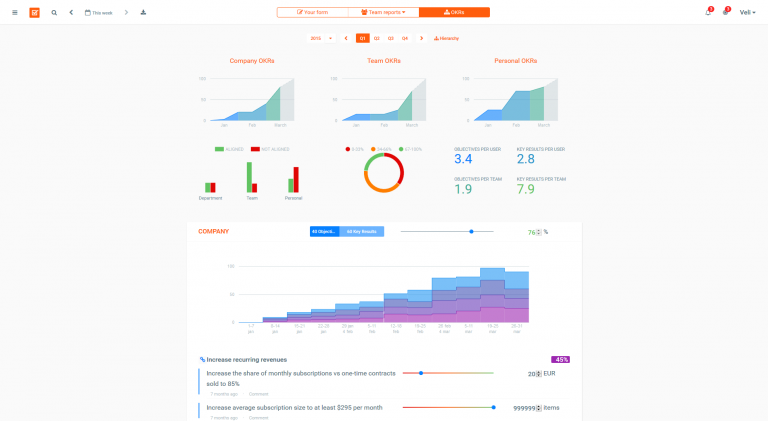 Use Weekdone to know what your employees are working on. 
It happens. Some employees are just more engaged and more productive than others. Still, a leader can do much to help unproductive employees get back on track. Usually people fail at work because of an unresolved problem or stressor that a leader can and should address.
It's hard to pinpoint the problem, if you don't have detailed data about what each of your employee is doing on a day to day basis. At the same time, you don't want to waste huge amount of time on reporting. After all, each hour you spend on reading reports and your employees spend compiling them, is a lost hour for important meaningful work.
Setting goals and measuring them.
Most companies have some form of goal setting in place. More often than not that means that some team goals are set each quarter (or worse, each year), and then they are ignored until the deadline starts to approach.
For goal setting to be effective, you need a system like Objectives and Key Results (OKRs) that requires employees to track their goals weekly. This has two benefits. First of all, it builds are habit of reporting into your team. Secondly, it helps you get fresh info on how your employees are progressing towards their long term goals every week.
When I first joined a company using OKRs I was amazed on the effectiveness of the open communication. The premise was simple. OKRs are set every quarter by teams themselves (so that they link to company Objectives). And every week all employees updated their Key Results (KRs).These KRs are visible to all.
That in turn meant not spending time on status update meetings as I could see at any point what someone was working on and how they were doing. Just remember that it takes a lot of time to build a habit. So for the first few months you must spend a lot of time reminding people. But if you keep it up, they'll get there.
Using OKRs as a leader.
Now, being a leader, the system has even more benefits. Spending 5 minutes every week on looking at KR data, I can see who is doing well. Also, I find out quickly, who is stuck and needs help, and who is slacking off.
I can see productivity problems before they happen and can direct my attention to employees who need it the most. While I also have weekly meetings with the staff, these meetings are usually more about addressing specific tasks and talking about issues that I already know about before the meeting.
Universally good.
Most leaders who use OKRs agree. Scott Wolfe Jr., CEO of zlien told us that "Weekdone updates give me insight into people's minds and it also makes sure the info is current and accurate" This insight into employees' minds makes it possible for leaders to make faster decisions and spend less time on pointless status update meetings. Increasing overall productivity and job satisfaction.
If you want to stay on top of the information flow, start using Weekdone with your team right now. And if you need help implementing Objectives and Key Results, you can find a lot of information in Weekdone Academy.