I have worked with a lot of companies over the last 5 years. Either by consulting them on using OKRs or working as a marketing manager and growth hacker. And one common aspect of all organisations that I have seen, is that not even great goal setting methodologies like hierarchical Objectives and Key Results (OKR) can help you, if you haven't structured your company and aligned your teams in an effective way.
OKRs is about having a mindset.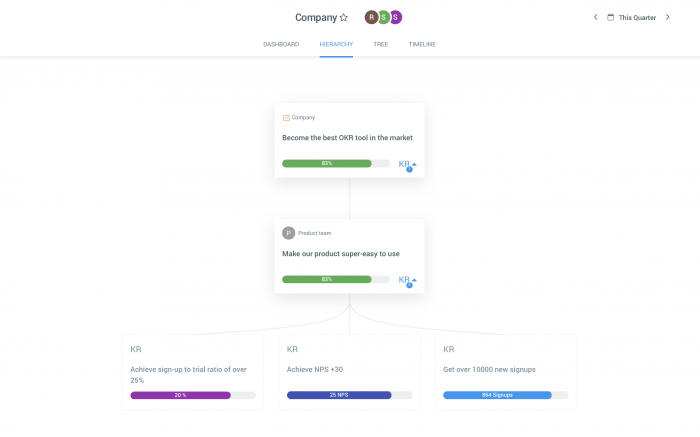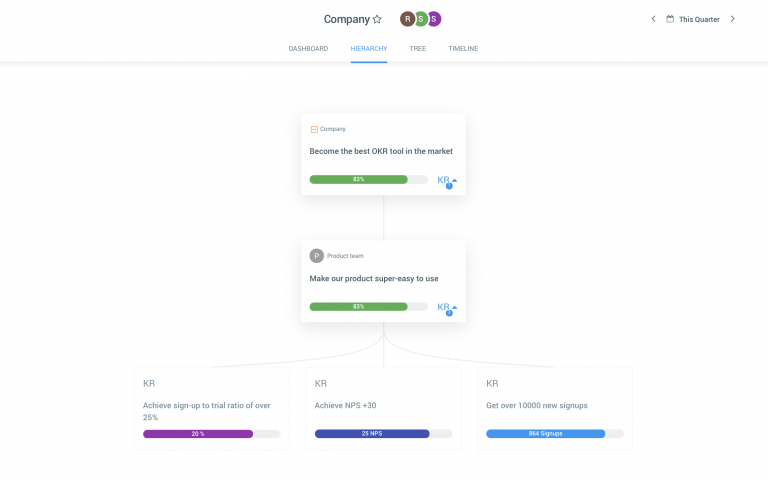 Objectives and Key Results (OKRs) is a hard methodology to master. On the first try, most companies get it wrong. One reason for that that is that you fail to set your OKRs up in a way that most benefits your company.
Whenever I start setting OKRs in a new company, I first review thee organisation structure. I mean, if you're already changing your goal setting methodology, you might as well improve the way your organisation is built. The question you need to ask is are all teams logically synced. If they are, you can start the OKR process.
Your Objectives will serve you best, if they are hierarchical and aligned to each other. That means, that advancing in personal Objectives improves your team's OKRs. And accomplishes Team Objectives moves forward the entire company. Then, both you and employees can see how everyone's day to day tasks are connected and move your organisation forward in the long run.
First, by setting Company goals and key result.s. Then, setting department and team level goals that align with upper level Objectives.
When you put your people into teams for OKR purposes, you must make sure that each person is in a right team. This might not seem like a problem on at first glance but it often is.
For instance, if your sales team has a manager who only oversees work but doesn't contribute themselves, should they be in the sales team?
What if your product manager has two team of engineers working for them (but he is only a supervisor)? Should he be on both teams? What if your head of HR contributes to both HR and PR team?
These questions are common when larger teams and companies start implementing the OKR system. And the answer to these questions usually is: it depends.
There is no universal answer to these questions. That is why it is vital to figure out the logic before you start setting up OKRs in a goal setting software.
The rule of thumb when setting teams.
To not further complicate things, you need to make a decision before starting setting up your OKRs. Decide on a core rule, on a principal for setting up your goals. For instance, you can say that people will belong to the team(s) they contribute in. Or people belong to teams they supervise. And then apply this rule to all of your teams.
If you go with people belonging to teams they contribute to your Marketing team for instance would have all your marketing specialist and head of marketing. Your VP of Marketing and Sales, however would not be part of this team as VP's role is only to observe and supervise. VP would then get reports from the team, discuss their OKRs but VPs personal Objectives will be in the Executive team where all the upper management is.
Use common sense.
For OKR to work, you can't only rely on guides and templates.You also need to figure out how they'll work in your specific company structure. How can your team and your company best benefit from the system. This requires a lot of critical thinking and reevaluating how your company is structured. But as long as you stay consistent, setting up OKRs will be much easier.