So, we happen to have some new stuff available for you.
And no, we're not going to list dry programming stuff with too blue-Monday-esque bullet points. Not before you've had your Monday coffee fix! We're talking new amazing usability instead. Our product team has been busy and created some new great opportunities to make reporting and analyzing more flexible, based on the feedback we've gotten from our clients.
Month, quarter, year
Our new shiny release (v31) has two major updates. One of them is longer period reports. In an addition to weeks, you can now choose the month, quarter or year view. Currently the longer periods are available in team, All people and #hashtag views.
This makes Weekdone a useful tool to analyze your team and your own progress over longer time and spot if there are any issues. Use the long term views when you look for something older, prepare for performance appraisals or when you need to think through team's or project's long term status.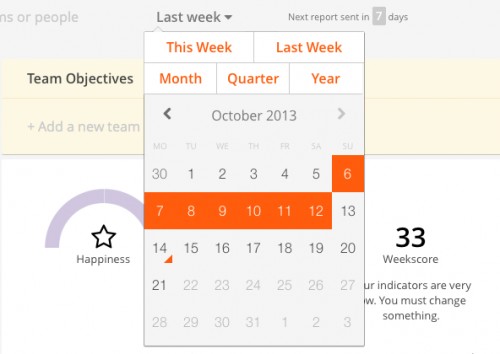 Running late? No problem.
The other important change has to do with the work of reporting itself. Until now, some of the staff's data in the report was simply "didn't submit report" that made the manager question this person's work. Yet, it may have been simply this colleague hasn't gotten used to updating the Weekdone form as they go, but likes to fill everything in on Friday. And then half an hour before the report due time they got stuck in traffic or a meeting ran over or anything in the world that generally forces people into doing stuff later than they initially planned. It's human and it's life.
Now we have taken this into account and and it's possible to send reports later. Simply fill everything in and click 'Forward your report' link on the bottom of the report, just below the happiness. You can then send the report to any of your team managers or enter a new e-mail address. Instant job satisfaction guaranteed – the manager no longer thinks the staff is lazy and the staff doesn't need to worry about Weekdone making it look as if they are.
We encourage everyone to fill in the reports, even late if there is no other way, to help Weekdone show you the correct results.
There are also many other smaller updates for you to discover.
We also encourage you to let us know your thoughts about our product, either in the comments below this post, by emailing hello@weekdone.com, in our customer feedback forum or on Facebook. We value your input and get back to you.