Various cultures can have drastically different leadership styles. But if there is one question that haunts every leader, it's this:
How to align the team to work as one towards the goals?
That's the one question we are helping you solve in our new free eBook "Turning Objectives into Results: Smarter Methods for Team Collaboration", download your copy by clicking here.
You set goals,  communicate them to your team and wait for the results to start pouring in. But what does not happen is the desired outcome. Often, another unexpected variable comes to play, deadlines stretch and everything takes longer than expected. So, you start hesitating.
Leadership is a mix of art and science. Emotions and gut feelings are important but so are good tools, organized processes and methodologies. Whether you are a first time leader or experienced one, you need proper techniques to manage diverse workforce effectively. Taking together our experience in team management, our clients feedback and countless hours of research, we have put together a leader's manual that aims to give practical advice to the one question every leader has:
How to turn objectives into results?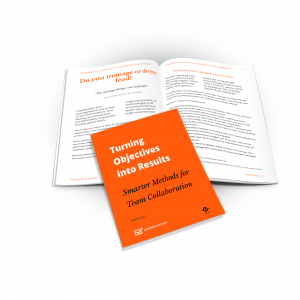 Inside the eBook you'll find several case studies and a lot of practical advice on:
Which 6 challenges leaders across the globe face
Which team management processes are used in Google, eBay and LinkedIn
How to easily align organization, team and personal goals
Which 3 questions should you ask your team on a weekly basis
Which management technique has helped leaders get better insights to their teams
The aim is to help solve the challenges leaders across the globe face. Which challenges are we talking about?
1. How to lead your team towards objectives?
We can't expect great results without setting and communicating clear objectives. The sad truth is that 90% of the time employees don't have a clear understanding about their goals.
2. How to be more effective at work?
We've talked about eliminating distractions from the office and provided tips for productive week. All of which are great rules to follow, but also damn difficult to do so. Quite often professionals spend up to 28% of their time dealing with unnecessary interruptions and without proper methods and processes the percentages isn't going to decrease on its own.
3. How to inspire others?
Another great challenge leaders face is to conquer the tipping point in employee engagement. Keeping your workforce aligned and motivated might be one of the toughest job you ever face. It's definitely challenging, but also worth your while. It's estimated that 79% of those who quit their jobs cite lack of appreciation as a reason.
4. How to manage change?
In a fast pace environment, you can't afford to turn your back to new technology and new methods. The sad truth is that 70% of change initiatives in businesses fail. Once again, proper methods and processes and clear internal communication can help increase the success rate.
In the end, we are still facing the question:
How to align your team and turn objectives into results?
In the eBook you'll find:
How Google, LinkedIn and others have managed to set and communicate proper objectives by:
Setting SMART objectives. It's just that important because "A goal properly set is halfway reached." – Zig Ziglar
Implementing management techniques called OKRs – Objectives & Key Results.
There is a lot we can learn from Google, even if you're not playing in the technology industry. Putting into the words of Rick Klau, Partner at Google Venture: "Objectives must be ambitious & feel somewhat uncomfortable. Key Results need to be measurable. Altogether OKRs are public; everyone in the company should see what everyone else is working on. 
How Skype, Facebook and others lead their teams towards the results by:
Mastering weekly planning. It's true that 1 hour of planning will save 10 hours of doing. Every step you take today is a step either towards the objectives or in the opposite direction. If you don't manage the skill of planning, including planning your week, you can't expect reaching the goals any day soon.
Implementing management technique called PPP – Progress, Plans, Problems
Emi Gal, Founder & CEO of Brainient, who uses the method says: "Each Friday, every member of the team sends out PPPs to inform their team leader what they've been up to, what they're planning to do and what problems they have. It works great because it keeps everyone in the team informed."
Here's also our Slideshow presentation introducing the eBook:
If you need some practical advice how to lead your team towards the results, then we recommend you to download the free eBook.