Weekdone Leadership Academy #80: Leader's Guide to Remote Work
In Weekdone, we believe that remote work will play a bigger role in the world of work going forward. We want to help companies tackle this new challenges. So, we wrote a new ebook dedicated to putting together and managing a remote team. This book is free for all of our newsletter subscribers.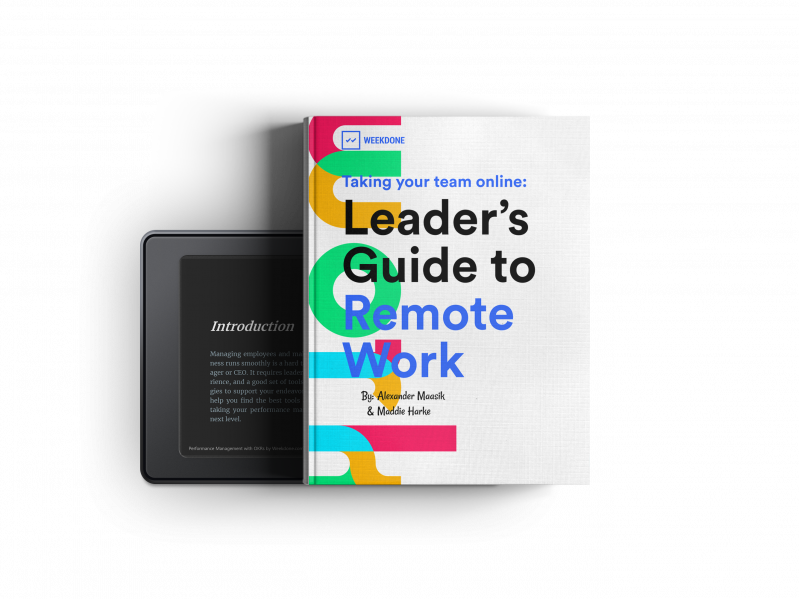 Working remotely does not need to be complicated. This free remote work book from Weekdone will help you successfully set up and run a remote team. It doesn't matter if working remotely is new for you or you've worked virtually for years - you'll find some cool new tips from this book. Read more
Project managers have the huge responsibility of keeping things moving on various tasks and projects while keeping all stakeholders happy and on the same page.
Read more

Your employees' mental health and wellbeing should always be something that you consider regularly. But in these exceptional times, it is especially the case.
Read more

The pandemic has forced a global reckoning with the power of diseases to grind economies to a halt. The lock-downs and retreat into home isolation has also given us an awareness of the role our surroundings play in our well being.
Read more

Does your team feel motivated and excited to tackle their jobs each day? If you feel your team has been lacking motivation or needs a boost in performance, one of the best things you can do is to revamp your approach for setting performance goals.
Read more

The founders of a culture consultancy say we may have just unintentionally stumbled into the virtual reality training in empathy our world has needed.
Read more

A holding statement is a brief account of what the company knows and what actions it is taking in the face of the crisis at hand. It is possible to create a template that will work in almost all circumstances.
Read more

As remote work becomes routine for companies that can afford to make it work during the pandemic, experts have questioned whether the trend will continue after the threat of the novel coronavirus has passed.
Read more

Although the lockdowns seen across the globe have ravaged many businesses and forced most retail businesses to shutter, other organizations have embraced the change and began rethinking the way they do business.
Read more
Learn how other companies benefit from Weekdone goal setting — Insights and examples.


Weekdone helps you set structured goals to align activities throughout your organization. Track weekly progress, provide feedback, and move everyone in a unified direction. Yes - try Weekdone & improve my team now!