Weekdone Leadership Academy #83: Are You a Growth Leader?
Growth leaders manage to grow their top line twice as fast as their peers.  But what does it take to be a growth leader? Discover how to grow your company and develop a growth leader mindset.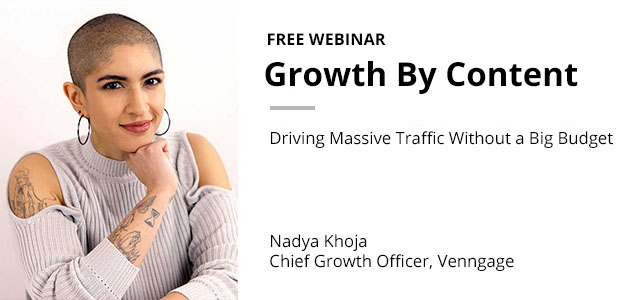 It's a lot easier to scale traffic when you have a big budget at your disposal, and existing brand recognition to piggyback off of, but what happens when you're either starting from scratch, or don't have massive amounts of investment money that you can rely on? Join this free webinar to learn how to drive traffic through content without a big budget. Read more
According to Gallup, there are four human capital strategies which combined can add up to 59% more growth in revenue per employee.
Read more

Hubspot's VP of Marketing Kieran Flanagan talked about leading a remote growth team and avoiding the "goldfish face."
Read more

What makes someone a growth leader? It turns out that there is a specific set of attributes that growth leaders share. Read about the seven specific beliefs and behaviors of growth leaders.
Read more

Employee management software offers a full set of tools that a company needs in order to manage employee information, engagement and performance, and drive more value company-wide.
Read more

The big challenge to growing a business is developing leadership skills at all levels of the organization. Here are five leadership skills that will help increase your company's leadership quotient.
Read more

Everybody wants to scale and grow, but few succeed. There is no magic formula, but there are key areas and best practices to focus on. Here are 7 tips to generate growth.
Read more

Many companies track the wrong SaaS metrics, in the wrong way or overlook crucial metrics entirely. Read this comprehensive guide to 50 essential SaaS metrics.
Read more

It's natural to seek order and stick to the familiar when things get chaotic. But sometimes, the only way to be successful is to embrace the chaos.
Read more
Learn how other companies benefit from Weekdone goal setting — Insights and examples.


Weekdone helps you set structured goals to align activities throughout your organization. Track weekly progress, provide feedback, and move everyone in a unified direction. Yes - try Weekdone & improve my team now!