"How do you find the performance management system that best suits you?" This is a question faced by many in the modern workforce. Setting the right goals and tracking employee progress requires a lot of work.
That's where OKRs enter as a performance management system.
Get "Performance Management with OKRs" for free now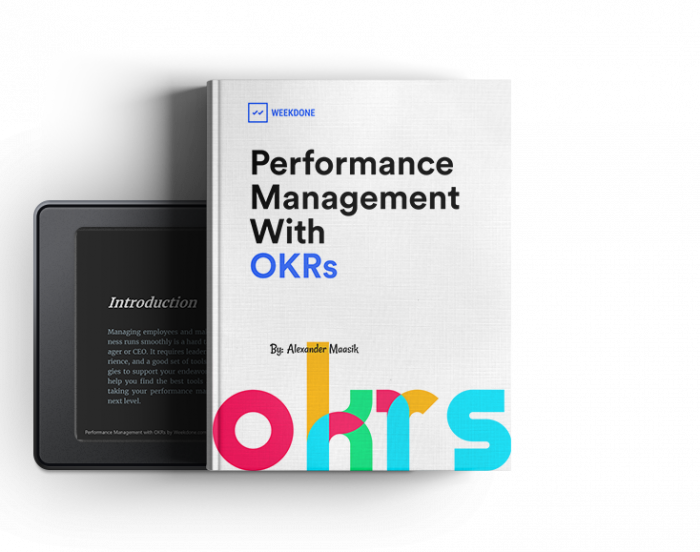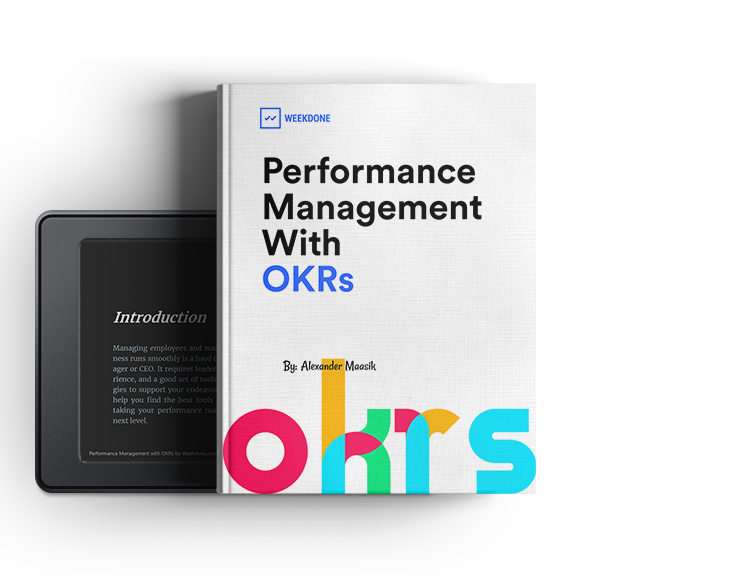 One of the biggest challenges with creating any sort of system is the amount of strategies available. There are hundreds upon thousands of books and articles advocating for slight changes in goal setting. These generally are for selling you a new methodology or software. An entire genre of TED Talks exists just to cover these strategies. However, using every system dooms a company to confusion and miscommunication. You need to focus on the ideal performance management system for your team.
That is why we wrote "Performance Management with OKRs."
Why Performance Management? Why with OKRs?
Implementing a performance management system helps companies turn into something great. The importance for performance management has helped Eastern European countries like Serbia and Ukraine improve their success for prosperity. A study by Aleksander Jankulovic and Vladimir Skoric in 2013 highlights that the biggest issue with implementing performance management systems is not the systems themselves. Instead, it's about not realizing the importance of measuring performance. Likewise, fear and paranoia at top level management prevents well-needed transparency and communication.
The main thing holding back the success of a performance management system is reluctance from both corporate and individual perspectives. This book addresses the cultural change that needs to occur for a successful transition to a new goal-setting strategy.
"Performance Management With OKRs:" How to Set Goals
In this book, you'll learn how to better understand your company and team. We also cover how to handle your internal communications. Finally, we provide you with the tools to recognize which goal setting methodology is best for you. Though OKRs are our focus, we also cover approaches like balanced scorecards for you to compare with Objectives and Key Results. Our main objective is to help you reach an educated decision.
First, we address the steps BEFORE you choose a performance management system. You really need to understand the needs of your company, here. Every team has specific needs. A methodology that might be successful in one company will fail quickly in another if you are unfamiliar with how your teams operate.
The e-book addresses internal communication and employee engagement as a first step. When you've figured out how your company should function internally, your next step is to select a goal setting strategy.  
The book covers:
Internal communications
Team goal setting
OKRs
Weekly reporting
A Personalized Performance Management System
"Performance Management With OKRs" examines some of the more popular methods for tracking progress, setting goals, and managing your internal processes. When you've figured out how your company should function internally, you need to choose the goal setting method that best suits you and your company.
Remember to keep personal needs in mind while reading about goal setting methodologies along with overarching company needs. Perspective is important to insight and performance management systems have both qualitative and quantitative portions. They have to work for individuals as well as for the company as a whole. When you invest in a goal setting strategy, you also have to be prepared to commit to it.
These systems need to be implemented for a long period of time in order to assess their effectiveness and notice any meaningful change. We suggest that, at minimum, you use your new goal setting strategy for at least 2 quarters.
Measure What Matters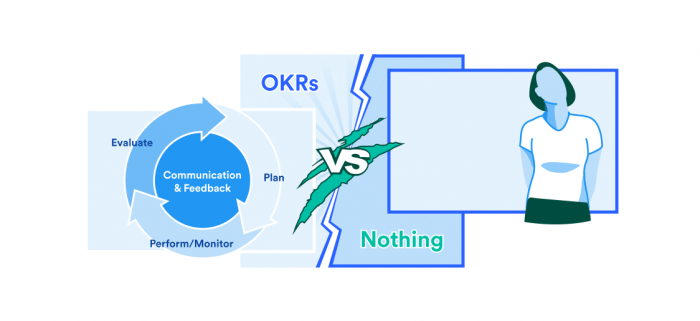 Once you start measuring your goals, you are bound to run into mistakes. Maybe they are not achievable? Alternatively, it may not be possible to measure them or they may be way off track from where the company is heading.
Many of the problems have to do with definition.
"Goal" is sort of an abstract term, isn't it? When you google "setting goals," you'll find hundreds of different approaches to goal setting. But before you can choose from these performance management systems or figure out how your goals can be achieved, you need to define what a goal is for you and your company.
Anatomy of a Goal
You need to understand the difference between a goal and a dream. "Becoming successful" is a dream. "Growing my company" is a dream. Even "Hiring 20 new people to grow our company" is a dream. That is because a goal is not only a reflection of where you want to go but how you'll get there. They are inherently specific, time-bound, and measurable.
Don't Be Hasty
You will not see results in a day (or a week). Changing your goal setting strategy is a long term goal. Your HR team should help create a plan to change workplace culture. From there, they can evaluate what's going on as it happens. This is the only way to implement a new performance management system.
Reading this book should aid you in deciding on a performance management system. If you choose to go with the OKR methodology, try out Weekdone. If you have any feedback on the book, don't hesitate to reach out as well. We are constantly aiming to improve ourselves!