People who use Weekdone tend to be highly engaged in work and have good relationships with both their managers and co-workers. And we have the data to prove it.
Last month Weekdone conducted a survey among our users and we targeted people who are not in a manager's position.
Although Weekdone is a tool that helps leaders to lead, it's very important that employees love using it too.
Employees value the PPP methodology and Weekdone's user-friendliness. As one person in the survey said:
"A fantastic was to focus thoughts, keep track of progress and share your ideas with co-workers. And it has the added bonus of saving me heaps of time"
We asked questions about which Weekdone features are the most important, what sort of value to we bring for employees and how do people who use Weekdone feel at work.
The main results are now in.
Average Weekdone user: happy and engaged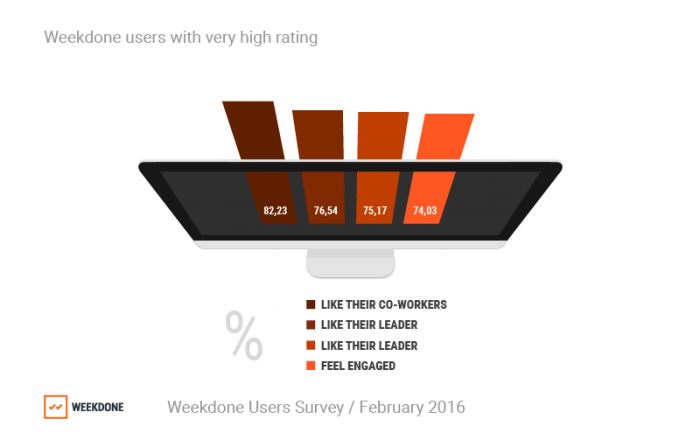 We asked people to evaluate how engaged they feel at work and how well they get on with their co-workers and managers.
82.23 % of users like their co-workers;
76.54 % of users like their leader and their manager;
75.17 % of users enjoy their work;
74.03 % of users feel very engaged at work.
While the US national average engagement rate of employees is around 30%, people who use Weekdone feel highly engaged.
The best features of Weekdone
It was no surprise that most of the people who did our survey value our PPP – Plans, Progress, Problems methodology the most.
53% of users rated it as very important and it's average score on a scale from 1 to 10 was 0.8 points higher than other features (with an average score of 7.14)
The value Weekdone brings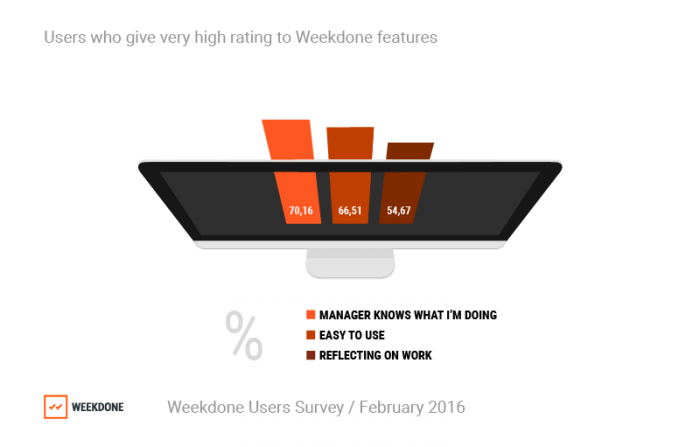 For employees the most valuable aspects of Weekdone are:
making sure that managers know what one is doing,
easy usability.
a chance to reflect on their work.
As we can see from the chart, all those aspects received a very high ranking from employees who use Weekdone and there was very few people who thought they are not important.
These stats make us happy: being easy to use is one of the most important aspect of our product vision.
This stats are just the begging: next week we'll release a more thorough report.
We'll continue our efforts to make weekly reporting as easy to use as possible, while making sure both managers and employees know what everyone in every team is doing.