When researching Objectives and Key Results (OKR), you are often left with a question: WTF are OKRs? Really?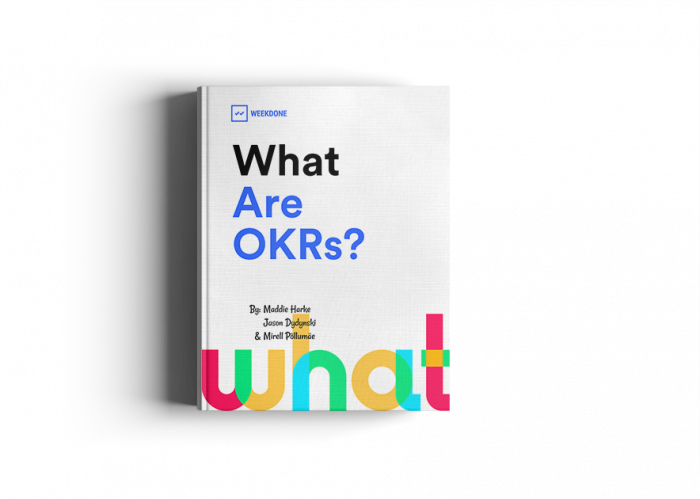 Well, OKR is a critical thinking framework and goal setting methodology that helps companies to align goals and ensure everyone is working collaboratively on goals that really matter. OKRs can be implemented using spreadsheets, or more commonly, with an OKR software.
WTF are OKRs?
We are proud to present Weekdone's new OKR book "WTF are OKRs".
Put why do we need another OKR book in the first place. There are many books out there already.
Well. As the book says: "To put it simply a methodology is not a method. A methodology is a way for understanding how to do something; you also need to have a method and a process for applying it. Many materials on OKRs out there teach you all the great things about the methodology and best practices without helping people understand the methods they need to actually implement OKRs. Beyond that, OKR methodology has quite a lot of nuance and terms such as 'cascading' and 'alignment'' can easily be confused and set you up for failure if not understood properly from the start."
To get to the bottom of those nuances, you need to take a look at the book. The book also offers various examples and templates to make your journey to the OKR madness a little easier.
Download WTF are OKRs for free.
Objectives and Key Results.
The OKR methodology is a simple process of setting and aligning company, team, and personal goals (Objectives) and connecting each Objective with 3-5 measurable results (Key Results) to measure progress. You can measure Key Results on a 0-100% scale or any numerical unit (ex: dollar amount, %, items, etc.).
As progress is made on each Key Result, progress on the Objective moves forward on a 0-100% scale. Objectives are also supported by your weekly activities. And initiatives (Plans) that you'll take to drive forward the progress of an Objective. You should create Plans on a weekly basis and link them to your Objectives.
Example OKR
Objectives: Successfully implement the weekly newsletter
Key Results:
Grow subscriber base at least 15% for Q1
Increase the CTR% to above industry average of 3.5%
Finalize the content strategy, key messages, and topic structure for the next 6 months (0 – 100%)
Plans:
Prepare outline for January Newsletter
Decided on a list of key topics to cover in first quarter
Send drafts of blog posts for copy editing
Download WTF are OKRs for free.
Now that you are ready to get started with OKRs, sign up to Weekdone. And get started with OKRs in your team now. Or you can take a further look at our resources on the Objectives and Key Result methodology. After that, you'll no-longer feel the need to ask: "WTF are OKRs?"