Weekly status reporting is a struggle in many companies. Reporting often takes way too much time and can be both ineffective and demoralizing for your employees. At the same time, every leader knows that these reports are vital for keeping the company running. Leaders need feedback and input from their team in order to understand how they are performing and to make vital decisions that can impact the entire team.
In Weekdone, we use the Plans, Progress, Problems (PPP) approach to weekly reporting. It is a simple and elegant solution that is quick and easy to learn, but saves a lot of time for everyone.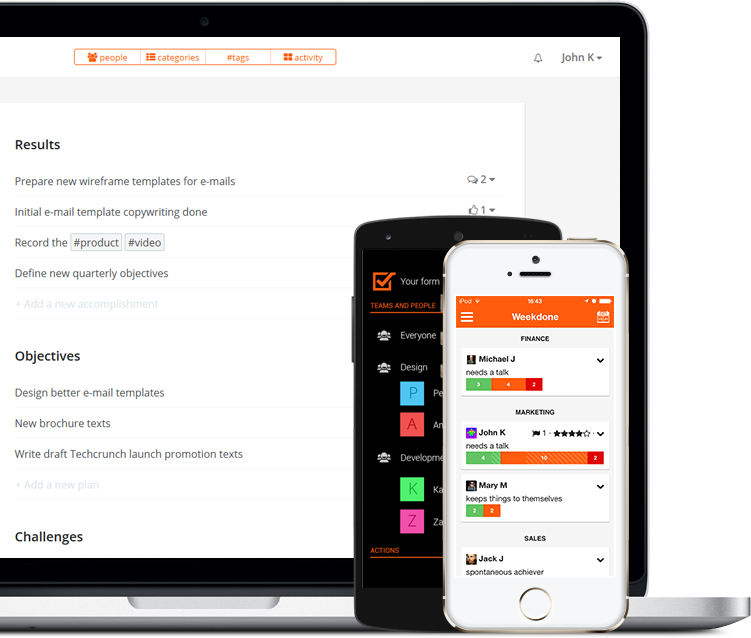 The PPP methodology suggests limiting the amount of plans in their report each week to 5–7 of the most vital tasks. Employees shouldn't send you a report detailing every little thing they do. But, instead they should use the Pareto principle, which says that accomplishing 20 percent of the most important tasks, results in 80 percent of the results. Both you and employees must learn to understand what the most important activities you do at work are, and then focus on doing them as well as possible. PPP methodology scales well too. It has a real impact on both small start-up teams and big corporations.
If you want to start using PPP, take a look at some of the best resources on the topic.
Plans, Progress, Problems (PPP) overview.
Weekdone Academy provides an extensive overview on what PPP is and how to implement it in your team to improve your weekly reporting and task management.
Plans, Progress, Problems (PPP) video demo.
If you like learning from videos and want to get a quick overview of weekly reporting, take a look at this video that shows how to handle your teams reporting with Weekdone.
Case studies about weekly status reporting.
You can read success stories on how other companies have handled their reporting needs. You don't have to invent the wheel. Many teams have already successfully implemented weekly reporting. FInd out the real benefits they gained and what are the dangers you should be aware of.
Weekdone.
Weekdone is a team management software that lets you set long-term goals and manage them from week to week. It is a great tool for setting and tracking you team's week-to-week activities. It is an easy to use platform that saves both you and your team a lot of time each week.
Ebook "Leader's Guide to Building High Performing Teams".
This free ebook will help you build a team based on trust and open communication, which requires a good reporting systems. You'll find out how to put together the best team possible and set up a reporting system even before you set up the team.
Companies are already using PPP based weekly reporting and are getting better results thanks to that. Many companies are turning to Weekdone as their weekly reporting system. "I like the weekly reports as a way for getting the communication from my team and what they are doing," said Scott Wolfe Jr. CEO of zlien. Zlien. You canstart with it in Weekdone as well.
If something about weekly reporting is still unclear to you, let us know and we will be happy to help.