Post last updated in November of 2022.
It's no secret that lots of businesses are starting to rely on virtual teams. In fact, at many companies, all or nearly all of the employees work remotely.
Whether all of your team members work from a remote location or just a small percentage of them have this responsibility, it's crucial to have the right tools for virtual teams in place. To begin, a virtual team management software can make it much easier for you to keep up with your team's tasks and make sure projects get completed on time.
Not sure which software you ought to be using? Read on to learn about the 10 best virtual team management tools to try in 2022.
Tips for Managing a Virtual Team
Remote work provides a lot of great benefits to businesses large and small. It allows for more flexibility and often leads to higher levels of workplace satisfaction for employees.
It does have its potential downsides, though. For example, communication and team management can be tricky when your employees are spread out all over the country (or even all over the globe) – like in distributed teams, for example.
It's important to figure this out, though, if you want your company to thrive. When it comes to managing virtual workers, a manager should always strive to implement good, open communication practices. Here are some helpful practices to get you started:
Set clear expectations: When employees know what you want them to do, as well as how you expect them to do it, it's easier for them to meet company standards and produce high-quality work.
Conduct regular meetings: Meeting with team members on a regular basis (once per week is ideal) helps to foster good communication practices and create a more collaborative work environment.
Collect feedback: During your weekly meetings, you shouldn't be the only one talking; allow your team members to provide feedback and talk about their experiences so they can get more helpful advice and feel more comfortable speaking up.
Use the right tools: The right virtual team management software will simplify the process of communicating and setting expectations for your workers.
This last tip is especially important. It doesn't matter how good of a communicator you are. If you're not using the right technology, it'll be much harder for you to get your point across and manage your team in an effective way.
The 10 Best Virtual Team Management Softwares
Now that you know more about the importance of good virtual team management, as well as how to better manage your remote team, here are some of the top team software options you may want to try in 2022:
Team Compass is an easy-to-use and easy-to-set-up software that's perfect for teams of all sizes. It simplifies the weekly review process (which, you'll remember, is crucial to creating a positive remote work environment and managing teams effectively) and allows managers to set up and facilitate both team and one-on-one meetings with ease.
Team Compass' colorful, visual dashboard also makes it easy to monitor employee progress and see how team members (and the team as a whole) are doing when it comes to reaching key team goals by tracking measurable key results.
You can integrate Team Compass with other tools on this list as well, including Slack and Asana, for better team management and utilization of a wider range of features.
User's Opinion On Team Compass
"We have found that Team Compass has improved our meetings – we are able to move to more strategic discussions since we can go to Team Compass to read our goals and accomplishments from the past week." – User, Team Manager
Wrike is another good team management software to consider, especially if collaboration is among your company's key values.
Wrike is a cloud-based app designed to help a variety of teams, including marketing teams, creative teams, and those involved in professional services. It offers great tools for virtual teams such as: a customizable dashboard, easy file management, and live editing features. It also allows team members to work together to get projects done on time and in the best way possible.
Wrike provides teams with easy reporting tools, too, so they can monitor progress and make informed decisions for the future.
User's Opinion On Wrike
"Everything I see now in Wrike is live and in its current status, which is a big plus to me. We can jump on the job, look at the last couple of comments on it, and pick up the ball and run with it from there." – User, Senior Production Manager
Another cloud-based app you may want to consider is Clarizen.
Clarizen helps to connect teams and keep individual members on track with their assigned tasks. It features a flexible and intuitive user interface and a dynamic dashboard that provide real-time updates on the progress of various projects.
This app allows team members to collaborate more easily as well and provides context to their updates and edits so everyone stays in the loop and can avoid confusion.
Users appreciate Clarizen's quick implementation and deployment, too. The learning curve is relatively small, so team members can start utilizing it right away.
User's Opinion On Clarizen
"Ability to use for multiple solutions in addition to Agile Project Management. I've been in the business for over 30 years and Clarizen Customer Care in the best I've experienced in a very long time." – User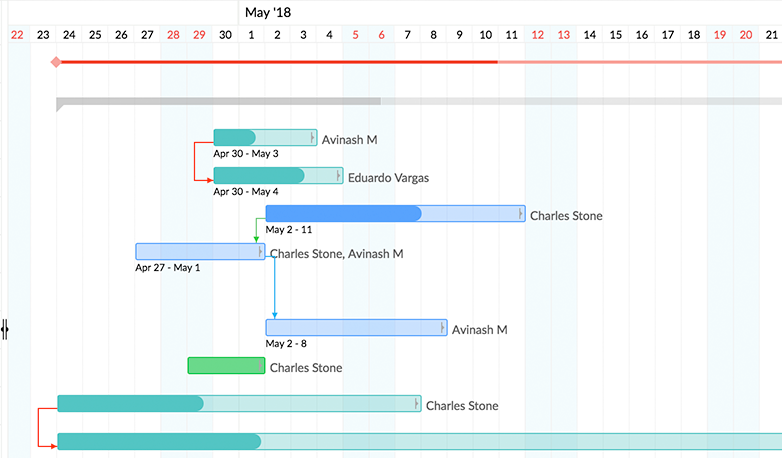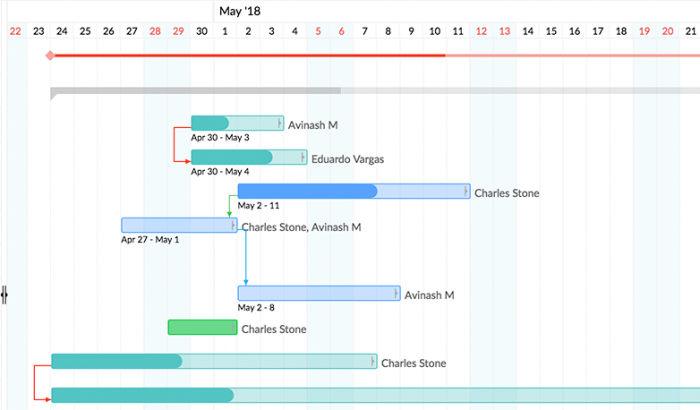 Zoho Projects is designed to help team members plan and track projects with ease.
It allows users to create various tasks, task lists, and milestones to manage progress and celebrate small wins. It encourages collaboration and uses Gantt-charts to provide visual data and in-depth insights into the way teams are progressing.
Zoho Projects makes it easier to compare past performance to current performance, too, to keep workers motivated and aware of how they're improving over time. All of the app's plans allow for unlimited users, too.
User's Opinion On Zoho Projects
"Before Zoho, we were chained to the desk at the office, after Zoho, we can be anywhere and be in charge of our projects." – User, Team Manager
Asana regularly ranks as one of the most popular virtual team management software options, and for good reason — because it makes team tracking a breeze. With Asana, collaboration is simple and streamlined.
You can stay in touch with remote team members and ensure they meet specific deadlines with ease. You can also break down tasks into smaller chunks and keep them organized so that nothing falls through the cracks.
It's easy to integrate Asana with your calendar as well and make adjustments if there are any overlaps in your schedule.
User's Opinion On Asana
"Asana has enabled us to create a standard language about how to organize, prioritize, and get work done so we can launch campaigns 3X faster." – User, Senior Project Manager
Jira is a cloud-based team management software designed specifically with software development agile teams in mind.
It offers a variety of solutions that can centralize team members' work processes and ensure everyone stays on track. It provides full-context visibility as well, which makes it easier to prioritize tasks and get the most important aspects of a project completed first.
Jira allows team members to customize their workflows, too, and it offers a variety of features for this, from scrum and Kanban boards to agile reporting and developer tool integrations.
User's Opinion On Jira
"There's a huge benefit to having one ecosystem, just in terms of the cost of maintenance and the shared understanding of how the system works. Everybody is using Jira. Everybody understands how tickets flow through the system. Jira as a platform is really powerful." – User, Technical Manager
GanttPRO is another popular project management software known for its Gantt chart approach.
Thanks to an intuitive interface and a short learning curve, remote teams can jumpstart task management and start collaborating literally within 10-15 minutes.
GanttPRO allows managers and teams to break down big tasks into smaller chunks and see the whole picture in a greatly visualized way. Advanced date and deadline management, time and progress tracking, resource management with drag and drop simplicity, and collaboration features make the software a good choice for teams of all sizes, from small startups to enterprises.
For a quick start, GanttPRO offers lots of ready-made professional templates.
User's Opinion On GanttPRO
"Everything is incredibly intuitive and simplified. I've never made a proper Gantt chart before now, but using GanttPRO makes me feel like a pro." – Small Business
For visual team members, Trello is a good software to consider.
It makes planning and collaboration easier for virtual teams and provides them with the basic tools they need to stay organized and keep track of who's in charge of which aspects of a particular project.
Trello uses a Kanban approach and allows managers and team members to create different boards to organize projects, assign tasks, monitor progress, and set deadlines.
This software is fairly basic, but it can still be a useful tool for teams who want a straightforward system for staying organized and managing projects in an efficient way.
User's Opinion On Trello
"The minute you go into a Trello board, you understand how it works. There's not really a learning curve." – Company, SwagUp
ProofHub simplifies the collaboration and project management process for teams of all types and sizes.
This tool offers a variety of features and functionalities designed to help team members plan out projects, schedule deadlines, and track progress. It comes with useful reporting tools, as well, so teams can keep track of how they're doing and address issues right away during their weekly reviews.
ProofHub allows for easy communication between managers and team members, too. This can help to clear up confusion and prevent issues that could slow down progress or derail a project.
User's Opinion On ProofHub
"I would recommend ProofHub. The in-tool editor is a game changer for creative/marketing teams and having the ability to track and report on projects really helps show the value our team is bringing to the company." – Company, GuideOne Insurance
When it comes to team communication, Slack is one of the most frequently used tools around.
Slack is a messaging app that allows team members to stay in touch and chat back and forth with ease. It allows you to create various channels for different projects. This can help to keep communications separate and allow for more personalized discussions between managers and individual team members, as well as team members who want to talk amongst themselves.
In addition to its robust chat features, you can also use Slack to make video and audio calls for times when more in-depth conversations are needed.
User's Opinion On Slack
"Slack has made my day-to-day life easier because I can get insight into what's happening really quickly, make decisions and be there for the team. Slack enables us to work at a faster pace and stay informed." – User, Chief Technology Officer
ClickUp touts itself as "one app to replace them all." This app is an excellent virtual team management solution because it provides a centralized location for all of your team's projects, tasks, chats, goal-setting processes, and brainstorming sessions.
ClickUp is designed to help team members stay connected, regardless of where they're based, with a real-time dashboard that provides maximum transparency and accountability. It also offers collaborative documents and whiteboards that teams can use for brainstorming, assigning tasks, and completing projects.
Users can also adjust their view while working with ClickUp to suit their unique preferences. Whether team members prefer calendars, kanban boards, timelines, or flow charts, there's an option that suits everyone.
User's Opinion on ClickUp
"After using many different methods to create and manage Scrum frameworks, I finally found the most flexible and powerful platform: ClickUp." – User
Connecteam is another all-in-one solution for team managers. It helps them stay connected to their team members, regardless of where they work (at home, in the office, in a coffee shop or coworking space, etc.).
Virtual and remote team managers across numerous industries rely on Connecteam, including professionals in the hospitality, retail, logistics, and staffing industries. It's an easy-to-use, customizable, and scalable tool that offers features to assist with communication, training, time tracking, and scheduling.
In addition to numerous communication features — including a group chat, one-on-one chats, social posts, and real-time updates — Connecteam also allows managers to send customized surveys. These surveys help them to learn more about their employees, identify potential challenges, and discover new ways to run their teams more effectively.
User's Opinion on Connecteam
"Connecteam has helped our business tremendously. Everything at our fingertips…my staff can access the info anywhere and they can connect with each other at any time." – User
CuteHR is a remote human resources tool. However, it also offers many valuable features for virtual team managers of all kinds.
For example, virtual team leaders can use CuteHR for more streamlined project management processes.
This solution allows managers to analyze opportunity costs and prioritize projects accordingly while also tracking employees' time and making sure they stay on-task and on budget. Team managers can assign tasks, send documents, and track progress with daily work reports, too.
CuteHR offers robust customer protection features as well, including secured 256-bit encryption and security firewalls. For remote managers who are worried about data security, CuteHR provides a layer of peace of mind that other software and app options can't.
User's Opinion on CuteHR
"We are happy switching to CuteHR for our business that heavily rely on remote teams. CuteHR has taken us to the perfect management that we expected." – User
Conceptboard is a GDPR-compliant virtual whiteboard designed for digital collaboration among team managers and employees across the globe.
It doesn't matter where you and your employees are located. You can all utilize Conceptboard to brainstorm, assign tasks, clarify timelines, and more.
One of Conceptboard's most exciting features is the infinite canvas, which provides users with a never-ending workspace. With this tool, you'll never run out of room while brainstorming or planning, meaning there's no limit on how big you and your team can dream.
Conceptboard also offers easy-to-use content-sharing features, as well as board-sharing, to help team members stay in the loop through all stages of project development and avoid confusion. Convenient commenting tools also allow users to leave feedback and share notes.
User's Opinion on Conceptboard
"After many tests of similar apps, Conceptboard is the clear winner for me. Thanks to the "infinite" screen, it enables me to present complex projects of large and small customers in a perfectly clear manner" – User
Hiver is the world's first Gmail-based helpdesk. It enhances users' Gmail accounts and streamlines team communication.
Virtual teams can use Hiver to efficiently manage shared email accounts, including support@ and account@. It's particularly popular among virtual customer service and tech support teams.
With Hiver's help, remote team managers can ensure all team members stay in the loop, organize their messages, and continuously provide the highest quality service to customers and clients.
Hiver also offers automation features to eliminate repetitive tasks and increase productivity. Managers can access detailed reports and analytics to review team performance regularly, too.
User's Opinion on Hiver
"Using a separate helpdesk wasn't appealing for us. We've always focused on responding quickly and accurately to our team members, and with Hiver, we've only gotten better" – User
Serene is a productivity tool developed specifically for Mac users. It's an excellent option for remote team managers and team members who need help staying focused and avoiding distractions.
Teams across all industries use Serene, including those in the marketing and web development fields.
Serene assists with goal-setting, blocks distractions, divides the day into focused work sessions, and improves organization. Virtual employees can use it to create to-do lists and stay accountable to their team while achieving individual and team objectives.
User's Opinion on Serene
"I am a great believer in working smarter, not harder. A tool like Serene keeps you focused, avoiding distractions that do nothing to move you toward your goals" – User
If you struggle with remote team training, Kipwise can help. This AI-powered company wiki tool delivers knowledge to teammates as soon as they need it.
Kipwise is a convenient Google Chrome extension. It allows you to centralize all of your team's content — from Google Drive, Dropbox, Slack, and more.
This tool also brings all your helpful resources together in one place and offers a unified search feature, so employees can find answers faster and stay productive, regardless of when or where they're working.
If you're tired of responding to questions from team members at all hours, Kipwise is an excellent solution.
User's Opinion on Kipwise
"Kipwise's Slack integration offers the smoothest experience among all the tools we evaluated. Kipwise is easy to use, integrates well with our daily workflows, and I see less repetitive questions and more teammates contributing in building up our knowledge hub after using Kipwise" – User
Smartsheet is a spreadsheet lover's dream come true.
Smartsheet assists with project management, workflow automation, and digital asset management. It features a spreadsheet-style format that is familiar to employees across many industries and works well for teams of all sizes.
Smartsheet offers a series of no-code tools for straightforward customization, as well as integrations with other popular project management tools.
Users can also choose from various views and dashboard formats to track plans, assign tasks, and monitor schedules. It's adaptable, flexible, and an excellent choice for IT teams, marketers, and more.
User's Opinion on Smartsheet
"I like how Smartsheet integrates MS Excel and MS project functionalities in a single package. This makes Smartsheet a really powerful tool and easy to learn. Another thing I love about smartsheet is the ability to create survey forms from your sheets you can send to clients or employees. This tied to the live dashboard functionality, makes smartsheet a great tool for live real world data visualization." – User
eMaint is a comprehensive computerized maintenance management system (or CMMS) that works for businesses of all types and sizes.
Remote team managers love eMaint's work management, asset management, and task management tools, which allow them to keep track of team members, assign tasks, and ensure projects get finished as quickly as possible.
eMaint offers unified document storage, custom dashboards, and real-time notifications, too. These features further improve virtual team collaboration efforts, increase accountability, and ensure everyone stays on the same page.
User's Opinion on eMaint
"Best CMMS System Bar None…eMaint is by far the best product and team that I have ever worked with and I look forward to continue this relationship until I retire!" – User
Elapseit is another excellent tool for virtual team managers looking to improve team collaboration.
This software offers project management, finance management, resource allocation, and employee tracking tools in one location. It allows for better progress monitoring and productivity monitoring.
Elapseit assists with workflow automations, invoicing, and time tracking as well. Team leaders can use it to centralize various management tasks, increase transparency, and keep track of employees everywhere in the world.
User's Opinion on elapseit
"From the first call with elapseit CEO, till this day, our overall experience and interactions with the elapseit team have been outstanding." – User
Bridge24 provides remote team managers with a convenient report-generating tool. It integrates with other popular team management software solutions, including other options mentioned on this list like Asana, Basecamp, and Trello.
Bridge24 allows team leaders and members to collect data from various platforms and compile it into a new report to provide a more all-encompassing view of how the team is performing. It offers numerous filters and view options, as well as custom fields and commenting options.
User's Opinion on Bridge24
"I really like the connector. I prefer your view rather than Trello" – User
Microsoft Project is a well-known project management software used by in-house and remote teams across the globe. It integrates with other Microsoft products, such as Teams and allows for improved collaboration, convenient file sharing, engaging chats, and more.
Microsoft Project offers custom dashboards, workflow automation features, dynamic scheduling, and more. It helps remote managers and their team members stay organized and focused, whether they are assigning tasks, checking in with employees, or planning team meetings.
User's Opinion on Microsoft Project
"If you need to keep track and record of your activities in a daily basis, this platform is a must have!" – User
Basecamp is a popular and practical project management tool for virtual teams of various types and sizes. It offers a clear, one-page dashboard to centralize critical information and stay on top of assignments and projects.
Basecamp users can also utilize the tool's convenient messaging features, track to-dos, share stories, and schedule tasks and meetings, so they never miss important events.
Furthermore, if users ever run into trouble while relying on Basecamp, they can trust that they'll receive assistance from a human rather than a bot — which is a great relief to remote employees who can't easily walk down the hall and ask a question.
User's Opinion on Basecamp
"We have actually accomplished things that have been waiting forever to get done." – User
For virtual team managers who like conducting video meetings — but don't like dealing with subpar video conferencing tools — Skype is a tried and true favorite.
Skype allows team members to schedule appointments and connect from across the globe with audio and HD video calling. It also offers sophisticated private messaging features, @mentions to quickly get people's attention during meetings, screen sharing to provide added clarity, and live subtitles to ensure no one misses anything.
Skype works on various devices, too, including smartphones, tablets, and computers, so team members can join calls anytime, anywhere.
User's Opinion on Skype
"Well-secure and intuitive platform for business conferences and coworking" – User
Egnyte Connect is one of the best virtual team solutions for file sharing and document management.
For remote team managers or employees with security concerns, Egnyte Connect offers a secure collaboration platform and file-sharing tool that improves productivity, increases accountability, and provides peace of mind to teams dealing with sensitive information.
Egnyte Connect centralizes all of your team's documents and allows for easy file searching and access. It also enables users to co-edit in Microsoft and Google apps, so they can work together on various projects or resolve issues from anywhere in the world.
User's Opinion on Egnyte Connect
"Our people are not in cubicles; they are onsite in the field. Egnyte has helped getting this data into a single place and reducing the stress of the transference of data" – User
monday.com, which was once known as dapulse, is an effective project management software for remote teams. It is designed to help teams manage their workload and communicate in an easier and more effective way.
One of the key features of monday.com is the single dashboard. This dashboard allows for easier visibility and helps teams to keep track of what everyone else is doing.
monday.com also allows team members to create tasks and missions and assign them to various team members. It displays progress on various tasks as well to make workload planning and monitoring easier.
User's Opinion On monday.com
"Everyone in the Projects department is using monday.com Work OS which has significantly improved our communication and coordination with all stakeholders, internally and externally, around projects." – User, Head of Projects
Xtensio is a cloud-based collaboration tool that allows teams to easily create engaging collaterals and presentations all together in a single platform. It is the perfect tool for businesses that strongly value collaboration and communication between teams and seek to efficiently complete marketing goals.
One of the best features of Xtensio is its collection of business templates for your presentation needs. You can utilize it for reports, pitches, agendas, case studies, plans, among others. With numerous designs to kick off your project, it allows personalization through easy drag-and-drop editing.
Xtensio also provides an easier collaborative process through its real-time save and sync feature, which eliminates the long back-and-forth of documents and other collaterals within teams.
User's Opinion On Xtensio
"The team templates approach has been really helpful in facilitating collaboration between more design-savvy users and expert content creators." – User, Marketing Manager
Improve Your Virtual Team Management Today
There are tons of virtual team management software options you might want to consider trying in 2022. All of these tools provide unique benefits that can help your remote team members to stay productive and understand exactly what's expected of them.
Team Compass definitely takes the cake, though, with its easy-to-use interface and ability to integrate with other popular tools. Sign up for a free trial today to see what Team Compass is all about and how it can help your team members stay in the loop and get more done.