Your goal setting process leaves a significant impact on the culture of your organization. The process does not only determine how successful you are in achieving your goals but also how your organization operates internally. Your company culture and goal setting process play a huge part in employee turnout, so, naturally, it makes sense that you would want to keep your best employees with you.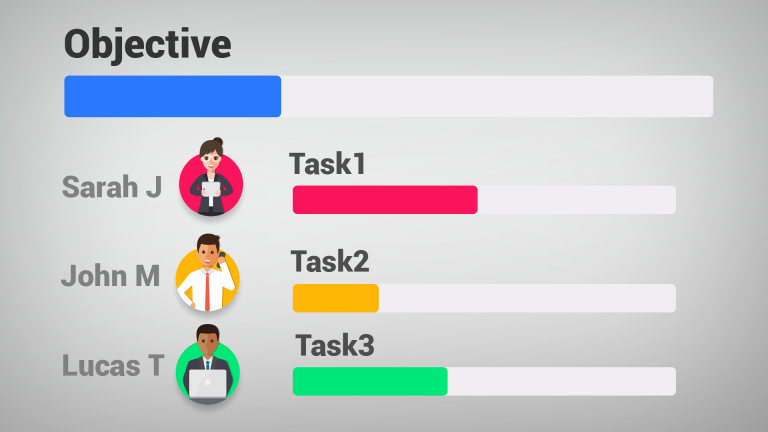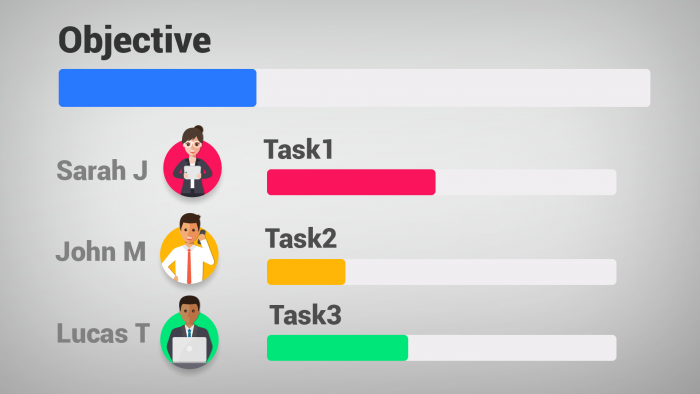 How to slowly destroy your company, employees, and team.
Having a confusing, time-wasting, and bureaucratic goal setting model has huge long-term implications for your company. These are deadly. In this article, we´ll show you what those effects are and how to overcome them.
First of all, your work will slow down. Everyone will spend more time planning and reporting on your goals, rather than doing them. Actions are more important than words, and if you don't have much to show for the things you are writing down, you're in a bad position. The more time employees spend on filling out reports and dealing with paperwork, the less time they'll spend making money and doing meaningful work.
Secondly, your employees will be much more demoralized and disengaged. This creates a higher turnover rate and makes it nearly impossible to attract talented recruits.
Worldwide employee engagement is very low at only 15 percent. These statistics are staggering. Not only are 85% of employees disengaged with their work, but most managers are as well. This means that a huge part of the workforce, from leaders to specialists, are not inspired to exceed expectations. Most of us are not enjoying our work and don't see meaning in it. This is an especially huge problem for millennials, most of whom are likely to leave their job next year.
This all sounds very scary. Luckily, there is a way to gain an edge. You can achieve long term success, and make your employees happy and engaged with a simple goal setting process that both Google and Amazon use. The secret is in OKRs.
OKRs – Objectives and Key Results.
Weekdone uses and offers the Objectives and Key Results (OKRs) goal setting process.
The purpose of OKRs is to connect company, team, and personal goals to measurable results while having all team members and leaders work together in one, unified direction. OKRs are typically implemented within specialized OKR software.
A large part of OKRs is making sure everyone knows what's expected of them at work. OKRs are supposed to be public so that everyone moves towards the same goals and are aware of what others are working on.
The goal setting process consists of a list of 3-5 high-level Objectives. Under each Objective, there should be 3-5 measurable Key Results.
Your Objectives should be ambitious, qualitative, time-bound, and actionable by the person or team. A good example would be to "increase Q3 recurring revenues."
Key Results, at the same time, should be quantifiable, achievable, have objective grading, and be difficult, but not impossible. These results can be based on growth, performance, revenue, or engagement.
KRs are often numerical, but they can also be presented as 'done' or 'undone' or graded with a binary system "0 or 1". Using the Objective given in the last paragraph, a good Key Result would be to "increase average subscription size by $500 dollars per month." But of course, you need to find the KRs that work for your company.
Objectives and Key Results are typically part of the quarterly planning process. Yet, some companies will also set annual or monthly OKRs.
To help you get started with OKRs, we created an OKR examples site listing hundreds of Objectives and Key Results for you. It's our "How-to Guide to Writing Good OKRs with Example Objectives and Key Results". The OKR examples site is a database of example OKRs so you can get started and write your own company, department, team, or personal OKRs.
A useful goal setting process.
Using a goal setting process like OKRs has a strong positive effect on your team`s long term success.
As it is easy to use and doesn't take a lot of time, employees won't resent it once they start using it. Rather, they´ll be happy that they need to report less.
For you, as a leader or manager, the benefit is that you`ll have a clear understanding of what is going on in your company. This allows you to notice potential problems well in advance.
Using OKRs also means your employees understand their work and goals. That increases their overall engagement and means they'll stay with you longer. That dramatically reduces the expenses you'll have on training employees and onboarding new hires. This contributes to your bottom line.
Make it work for yourself.
OKRs are, of course, not a silver bullet that solves all your problems. You will still need to work hard and inspire your team to achieve your team's goals.
OKRs are a hard system to master, usually taking three or four quarters. But if you "get" how to do it, you´ll life will be easier.
You can try out OKRs with your team in Weekdone yourself to see if this is the right goal setting process for you. You can try it out for free. Or take a look at Weekdone`s case study page to see how others have achieved their long term success.