Weekdone Leadership Academy #79:
Leading Your Team Remotely
With the current global situation many teams are transitioning from a traditional office setting to working from home. Even teams that had a mix of remote and in-office workers before must now work exclusively from home. This provides many challenges for leaders and teams especially around communication, planning, and goal-setting. To help make the transition somewhat smoother we have gathered some great articles, "how to" guides, and resources to help you lead your team while working from home.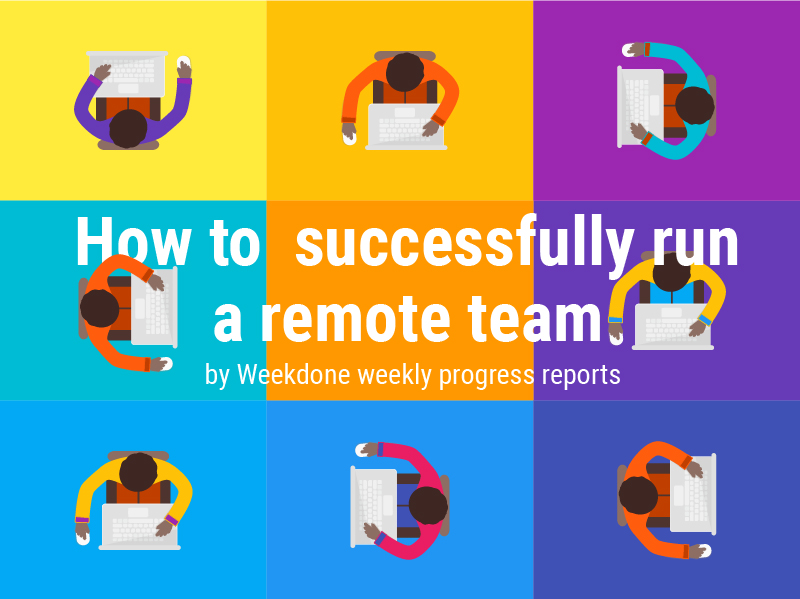 In order to help teams adjust and be productive even at home, Weekdone is offering a series of free webinars on how to use Objectives and Key Results (OKRs) to manage and guide remote teams and organization. Read more
Many of those points are not just useful for people who are working remotely but they can be used to just maximize your productivity at office when the current crises ends.
Read more

While close to a 25% of the U.S. workforce already works from home, new policies leave employees separated from each other for the first time.
Read more
Harvard Kennedy School's Waldo says the public flight to remote work will stress-test the internet — and some parts will need repair. The Internet makes it possible to fix things on the fly. It just takes some getting used to.
Read more

The remote workforce can be productive and work in a secure environment. IWG found that 85 of businesses noted an increase in productivity that could be directly attributed to remote work.
Read more

CFOs face unprecedented challenges upholding these routines and maintaining morale under the mounting stress of the current economic and health conditions with staff working remotely.
Read more

As more employees log on from the comfort of their own home, it prompts questions: How are IT professionals handling this? And what will this response dictate about corporate culture in general?
Read more

The deal is, a professional relationship takes as much dedication and fine-tuning as a romantic relationship for it to work. This goes double for the ever-growing trend of remote working.
Read more

From the beginning of history until the late 19th century, most work was done at home. Of course, that was before the age of electronics, but the tradition of home-based work is well-established.
Read more