Our clients are our Superheroes at work. They make sure they set themselves up for success by setting and monitoring their plans and goals. What is more, they share their insights and learnings so everybody can improve. In a way it fits in the Superhero "making the world a better place" criteria.
I am proud to present one of the Superheroes in the Weekdone community. Meet Lyle Stevens – co-founder and CEO of Mavrck. Lyle has all the qualifications needed for being a great leader. He is focused, sees the bigger picture and has a roadmap for success. What's more, he is team-oriented and makes sure everybody has the chance to do their best every day.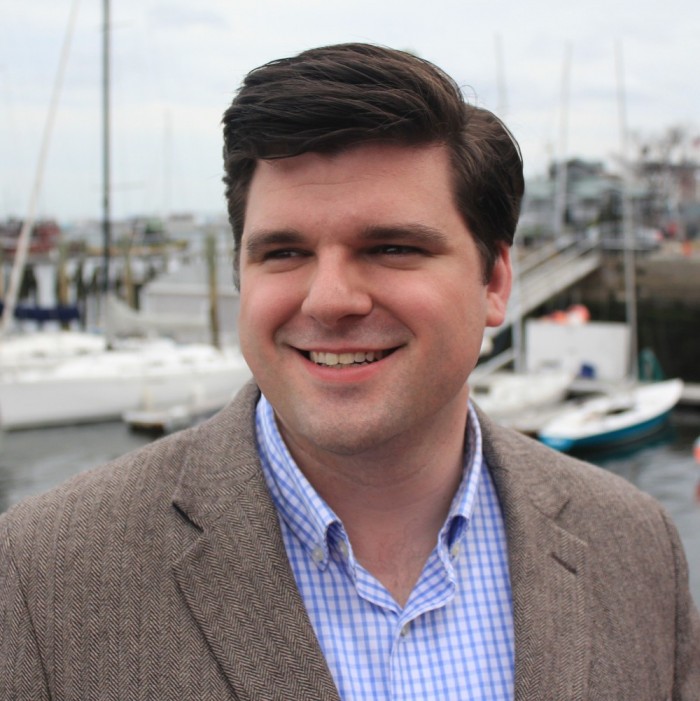 Mavrck harnesses the power of human-to-human marketing at scale by helping brands tap into their most valuable asset: existing customers with influence.
Below, readers have the unique opportunity to get insight into how Mavrck achieves their success with Weekdone and what value it offers for a CEO of a small, quickly moving company. In Lyles words, "Weekdone is one of the maps or compasses I use to determine where I should focus my time to help the team and company be successful."

Mavrck is a growing influencer marketing company, which helps marketers discover their most influential customers across digital touchpoints to create and distribute branded content. They have already grown to 34 employees and their influencer activation engine has successfully helped customers like Gillette, Converse, Hershey's, New Balance and Craftsman to drive conversions on social networks.
From time-consuming spreadsheets to automated OKRs
Lyle loves the Objectives and Key Results (OKRs) framework, which was first used by Intel and made popular by Google. "It makes it easier to align what every individual of the company wants to achieve each quarter," said Lyle.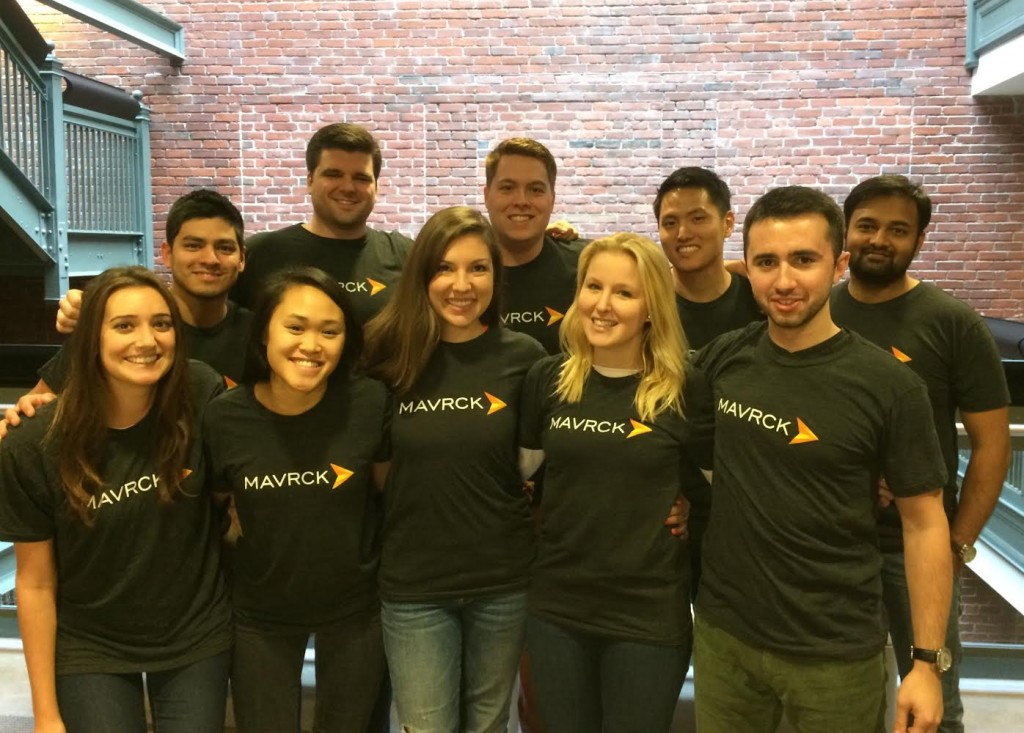 For Mavrck, it's a great system for prioritizing resources and for making sure everybody is focused on the right goals. Lyle also added that OKRs help them to make trade-off decisions. For example, if they have a new potential priority, OKRs help them to compare it to what they already want to achieve. To conclude, for Mavrck OKRs is a great management system.
Lyle and Mavrck used to use Google spreadsheets to track their OKRs progress.
As a result, they essentially had to manually draw connections and alignments between company and individual objectives.
The central problems with spreadsheets were that it was a time consuming process that was difficult to manage and keep track of. "We stopped using it as often as I would've liked," said Lyle.
Stevens decided that they needed tool that could streamline the whole process in a recurring, measurable effort. Mavrck looked into various online benchmarking tools, and as Lyle said: "Weekdone seemed to be thinking about it in the best way from their perspective".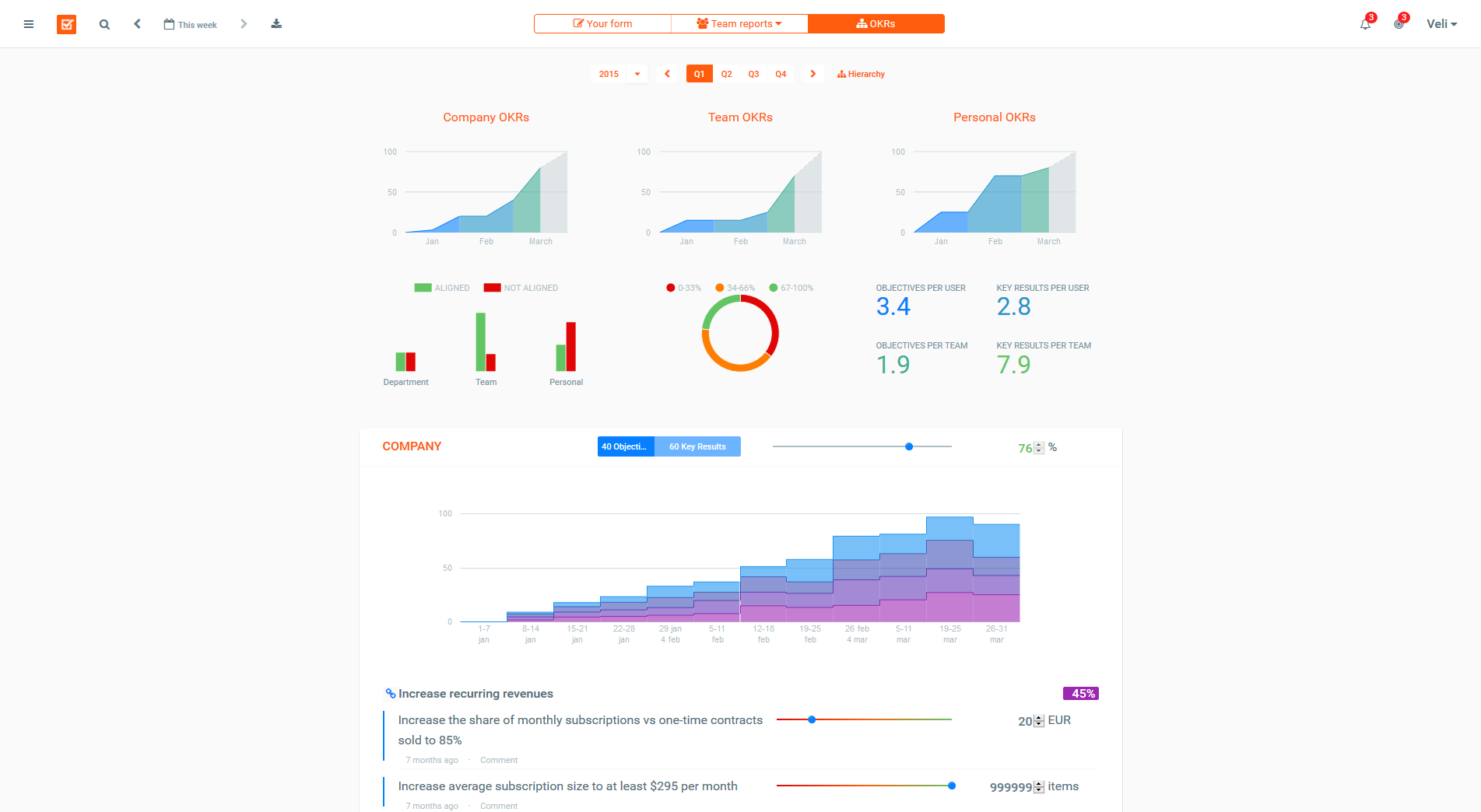 Plans, Problems, Progress method makes sure weekly plans are aligned with the OKRs
Although Mavrck started using Weekdone to manage OKRs, they quickly found that Weekdone's weekly PPP reporting feature created a cadence of focusing on their OKRs. It became easier to identify when an employee was straying from their long term objectives if they were continually inputting information into Plans, Problems or Progress that was unrelated to their OKRs.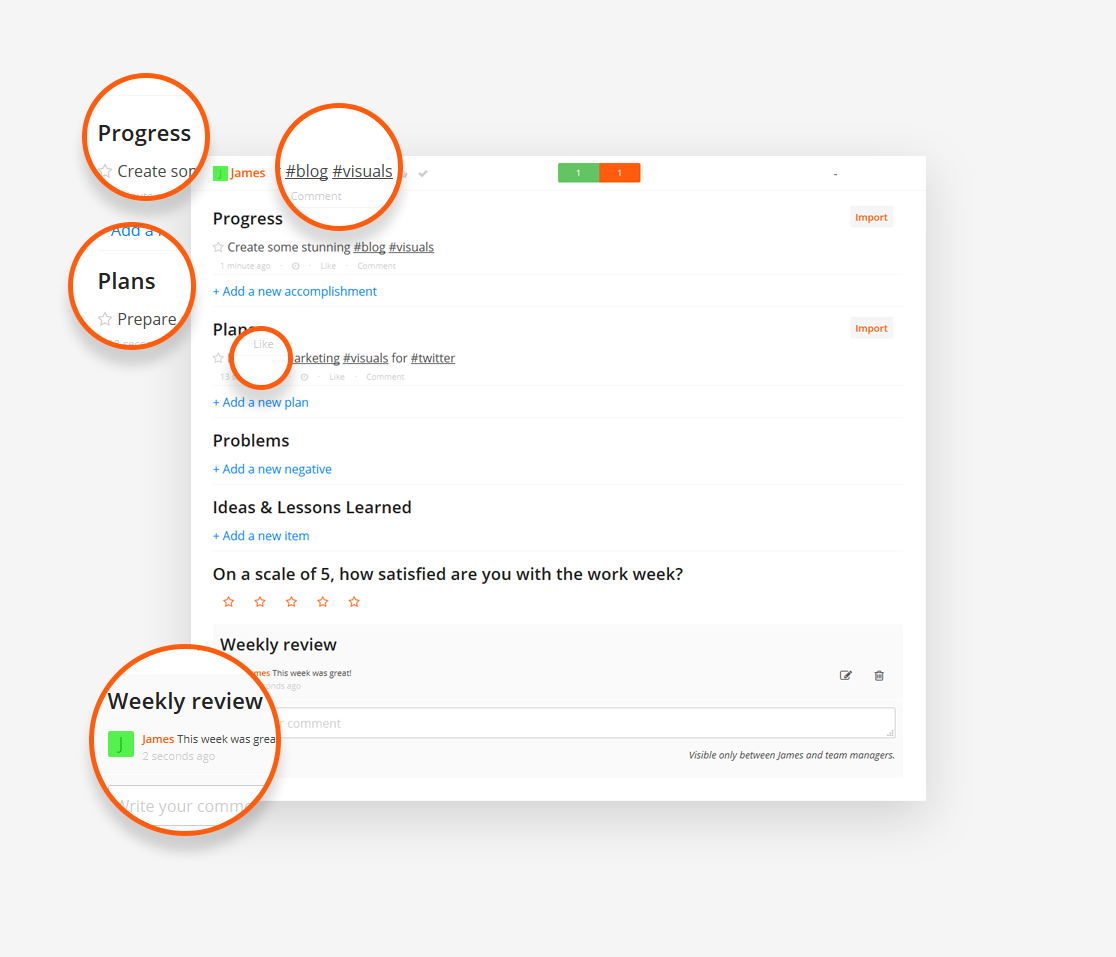 In that case, Lyle countered that Weekdone allows the employee to recognize this and ask themselves,"Why am I working on this and having problems with it when that particular task doesn't exist within a realm of my objectives?"
Consequently, that opens up the conversation as to whether OKRs should change weekly, or whether one should constantly refocus their efforts to align with the original OKRs.
How to make ordinary meetings into streamlined meetings?
Mavrck's team has a leadership meeting every Monday, where they discuss the most important parts of the upcoming week.
Initially Lyle used Weekdone reports to go over everybody's weekly plans, problems and progress, but soon realised that it takes too much time. Instead, he wanted to do a quick round-table where you state 1-2 plans or problems you want your team to be aware of.
For that purpose, Lyle changed his approach, and now uses Weekdone reports to have an overview of all the tasks and to pick out the most important and urgent plans for the meeting agenda. He states: "I use Weekdone reports to help me set an agenda for the weekly meeting to make it a streamlined meeting."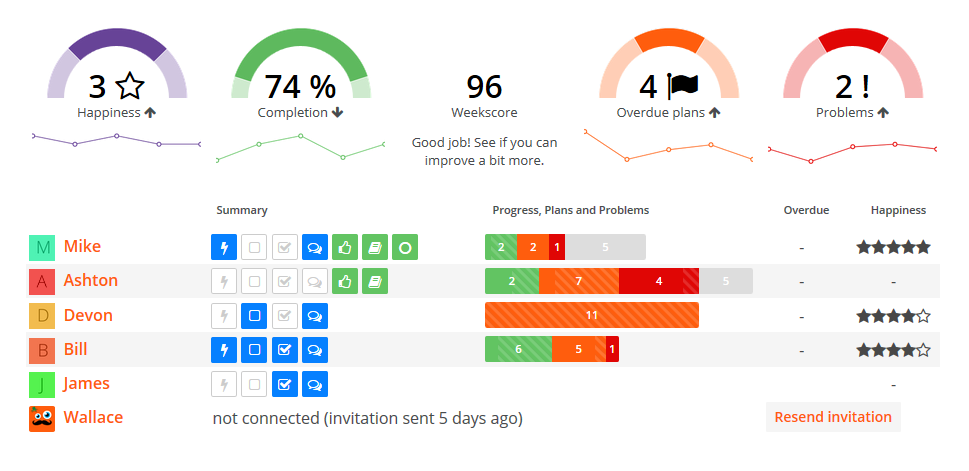 "Weekdone star rating helps me to keep a pulse on the overall satisfaction and climate in the company."
As a CEO, another Weekdone feature that Lyle loves is the weekly job satisfaction rating. If he sees that star rating begin to fluctuate in a certain area or generally, it helps him dictate where he should be allocating his attention more closely.
According to Lyle, the satisfaction ratings often fluctuate with something that happened in the office. For example, it goes up when they win a big deal or goes down when there is a major fire in the product. Satisfaction ratings are a valuable litmus test for him to keep track of the overall mood of the office in any given week.
"Weekdone is an invaluable tool for a CEO"
In addition to the job satisfaction rating, Lyle loves the value that Weekdone offers to a CEO or a manager. "It has become an invaluable tool for knowing what is going on in the company without the need to dive into the details too often," said Lyle.
"If I see the problems list light up or couple of weeks of below average star rating, I ask myself: What is going on here, is there something I should take a closer look? Weekdone is one of the compasses I use to determine where I should focus my time to help the team and company be successful. "
Taking the maximum out of Weekdone
Mavrck already uses most of Weekdone's available features on a regular basis, but Lyle strives for excellence, and the next goal in this area is to increase the amount of real-time feedback.
He wants managers to facilitate better review and feedback in more of a real-time manner as supposed to waiting on 1:1s and performance discussions. "We want to use Weekdone on a daily basis, making it a tool to facilitate communication with your employees," said Lyle. For example, dropping comments like "great job here" or "how can I help you with that specific plan?" can go a long way.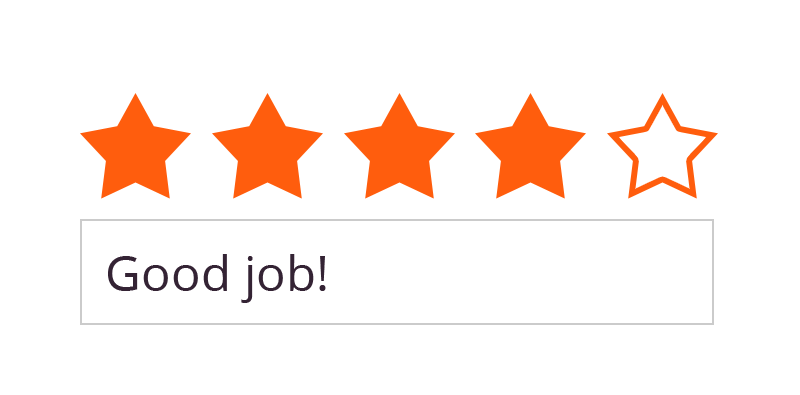 Currently, some of the people in Mavrck already do this on Weekdone, but some prefer giving feedback in a face to face format. This is a good way of doing it, but Lyle would like to have the conversation recorded on Weekdone as well.
Lyle, if there is a team leader out there who is not sure to use Weekdone or not, what would you tell them?
"If you are using an OKRs based management approach, Weekdone is the best tool I have seen for documenting what the objectives are and keeping them all aligned to each other. It also helps you to keep an eye on whether you're on the right track as a company. It's a no brainer!"
If you would like to see more Case Studies, click here.