With over 10 years of experience, we at Weekdone have discovered the need for a simple status and progress reporting tool – which is why we developed Weekdone.
Team Compass is your solution for connecting managers and employees through real-time updates and one feed to centralize it all. Try it here! It's free for small teams, offers a free trial and is just $29/month for larger teams!
---
It's definitely a no-brainer to say that weekly status reports help with… reporting the status of something… (obviously).
But…
Why do we actually need it?
The 'why?' of status reports
Well, in a post-2020 landscape, there's no way for managers to drop by their employees desk and do a "hey, how's that file going?" to check-in on their status.
As a result of the events of 2020, Stanford University researchers concluded that 42% of the US workforce has transitioned into a fully remote work environment. Hence, companies and teams now need to rely on digital work tools.
This means that modern-day employees and teams will not want to:
👉 spend tons of hours writing them
👉 they will need to be on point, relevant, and easy to digest
Now, let's dive into how a weekly status report usually looks like.
Weekly status reports of today
The most common use-case of status reports is for project-oriented teams and departments, especially when the project timeline is longer than a month's time and consists of numerous milestones and tasks that need to be monitored.
Additionally, progress reports can also contain a KPI (or multiple KPIs) that will indicate the performance of the project and whether the team is on or off track in achieving its goals.
Remote teamwork requires status updates
While most of us agree on that, it also depends on how companies want to achieve that without leaning towards micromanagement and providing too many status updates, check-ins, and weekly meetings.
If there's too much checking in and giving updates, it's just completely counter-productive.
The sole purpose of project status updates is to give managers and stakeholders a clear and concise idea of how teams are delivering their work across projects.
The basics of staying up to date
To a degree, a status report is a means of exchanging crucial information between teammates, teams, and in the case of bigger enterprises, whole departments. That's why a report can't be just a set of fluff statements or irrelevant data.
Here's what a status report should contain:
Project name and overview
A definition of deliverables and outlining key milestones
distribution of tasks and assigning them to relevant team members
Projected timespan and deadlines
Tools that enable status reporting
Spreadsheets
For starters, you can just rely on a basic excel or Google Docs spreadsheet, which is filled with templates to get you started with working on your first report.
For example, Guilherme Sesterheim shared a project status report template in his Medium article, which perfectly showcases the basics of how an effective status report should look like.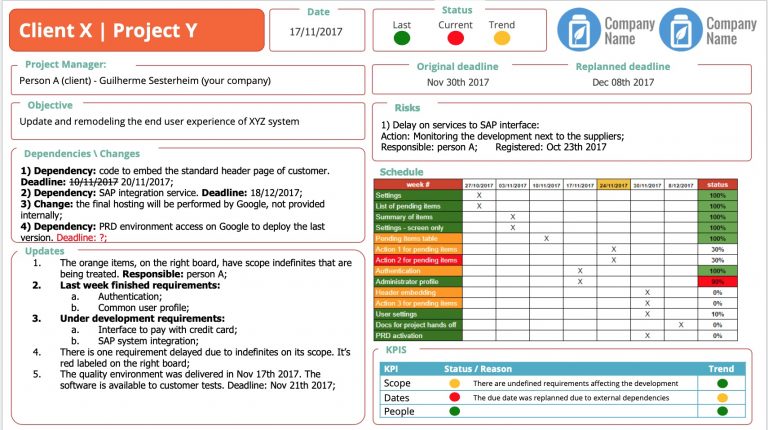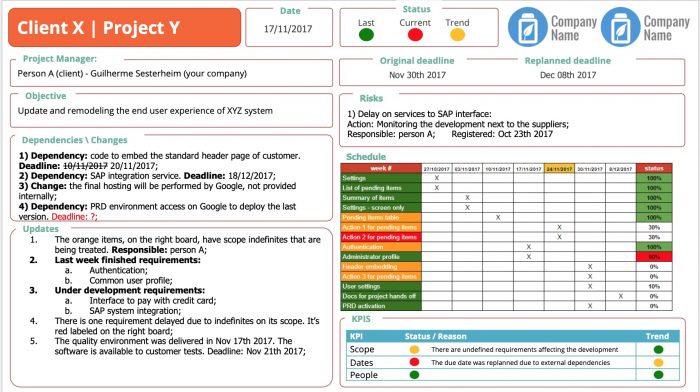 However, spreadsheets might become difficult to manage when they grow both in size and volume.
Everyone of you who works with spreadsheets probably recognize the frustration coming with having to juggle between tens of links, access requests, and e-mail notifications, right? Well, that's why you should consider using Team Compass 😎
Project management tools
While tools like Trello, Asana, or Podio are typically considered as tools to keep track of current projects and the general 'business as usual', their project and task structure allow keeping track of a team's work output.
Gantt charts
Gantt charts are an extension of the typical graphic status reporting and by breaking down projects into smaller chunks and laying them out on a timeline with indications of their deadlines.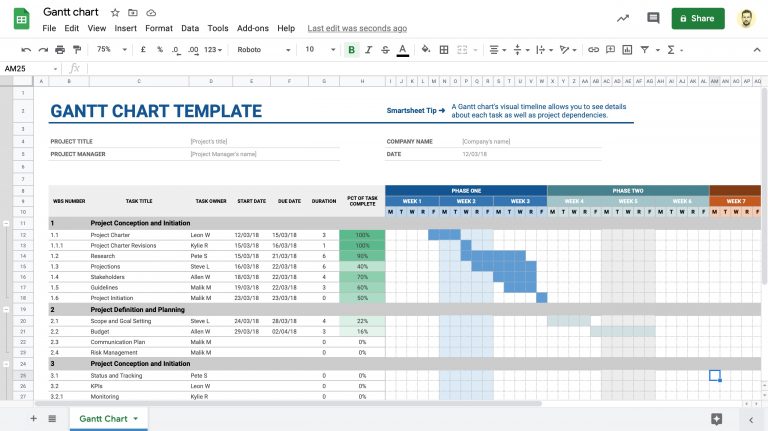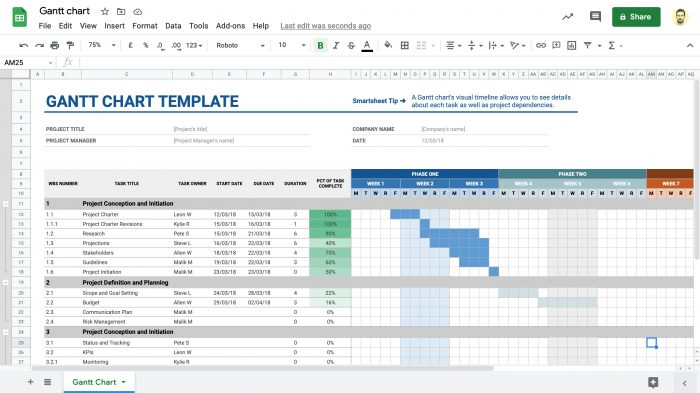 What's valuable is that most of us are visual perceivers so it's far more effective to show how a project is progressing by using charts and timelines rather than just rows of data.
You can use a free template for Gantt charts in Google Sheets thanks to the good folks at Smartsheet.
Last, but not least, Team Compass by Weekdone
If you're in need of something more advanced and automated than a progress report template or spreadsheet, then you can't go wrong with Team Compass.
Thanks to its newsfeed feature, teammates can exchange files, comment on their tasks and progress updates, and engage in discussions regarding either project statuses, roadblocks, or improvements.
Additionally, team managers receive an automated weekly report on their teams' progress that outlines projects and separate tasks.
Talk about not having to dig through spreadsheets and e-mails, right?
If you'd like like to see the benefits that come with Team Compass, be sure to sign up for your free account here!👈