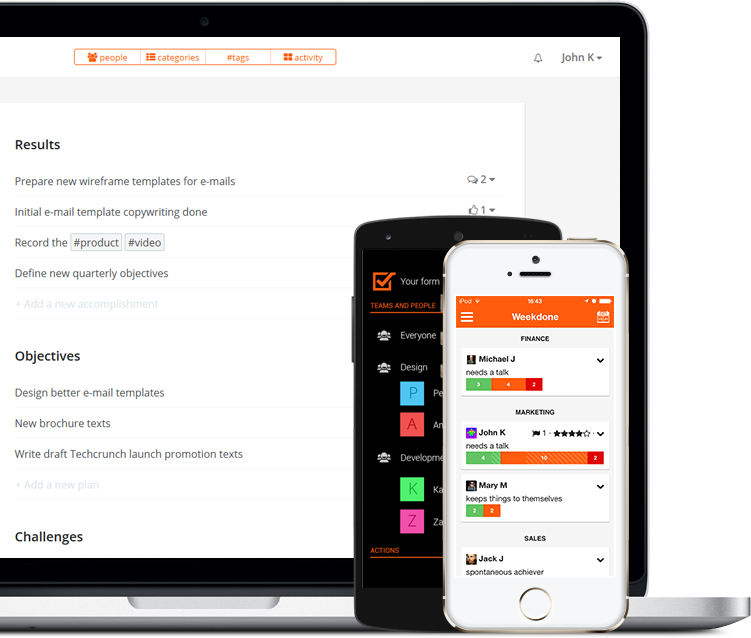 Either you're a newcomer or a seasoned user of Weekdone team communication, there are many things you might not have discovered yet. To take the maximum out of it, here are some less known features that can massively improve Weekdone's value to you. Check them out below.
Use #hashtags to group items by topic or project
It's often good to see items from a project or a theme you're working on together. For that there's the "Report by tags" view. To get anything to appear there, just add a textual #hashtag in your item. It could be something as simple as #sales or #marketing, or a project name based tag like #super_secret_building_project. By then navigating to the specific tag's page you can also extend the period in the header to month or a quarter, to see the longer-term view. In right corner of each tag in the report view there's also a small circle to choose priority tags. Click to enable it and that tag will be shown first in autocomplete when entering items.
Receive daily team updates via e-mail
To make sure you never miss an update from your team there's the option for once per day e-mail summary. It's like Buzz newsfeed in your inbox, showing all the latest items from last 24 hours. To switch it on, go to your Notification Settings and check the "Daily Buzz and reminder to fill in the report" option. Don't forget to click Update to save the new setting. You'll love the daily report you'll be getting.
Try one of the mobile apps
Either you're adding items or checking your team updates on the go, the fastest way to do that is on mobile. Weekdone has apps both for iOS and Android, which both work on mobiles and tablets. Download the mobile apps here. As an extra for Android users, check out the Done app which gives you a quick and pretty overview of your personal tasks.
Clone someone's item to your report and send it higher up
Many use Weekdone to send reports based on their team to their superiors. The best way for that is to use the Clone to feature first. Go to another person's report and next to the item on the right in the 3-dot overflow menu choose the Clone to action and then You @ to copy the item to your report. The copied item will have the originating person's and team's names as labels, but you can delete them using the x icon in the label.
Use Zapier to connect to your favourite product
Zapier is an amazing service that supports automatic imports and exports from over 300 services like task managers, calendars, CRMs or even e-mail. Using Zapier you can build triggers to import new items from other services to Weekdone or vice versa. To get started, head here and connect – it's free.
Link weekly items to OKRs using #hashtags
To connect weekly items to objectives, use the same #hashtag text typed in both the objective and the task item. The first icon under each objective is the link to it's details page. Clicking that link shows the objective, it's key results and all the weekly items linked to it via the #hashtag. That's a great way to keep an eye during the quarter which weekly items related to an OKR are planned and already done.
Add Weekdone to your browser
For quick access to Weekdone from your Chrome or Firefox browser, download the add-on that makes miniature Weekdone always available at the click of an icon.
Use batch actions on multiple items
Have you ever wanted to move, delete, assign or clone multiple items? You can do that both in Your Form as well as team reports. Just enter Shift+E on your keyboard and a batch action menu opens at the bottom with checkboxes in front of all items. Then choose the items and click the action button. There's also another special command: Shift+? to open our help modal.
Check the real-time Buzz updates feed daily
While Weekdone follows a weekly cycle, the best way is to use it daily. To check what your team has accomplished and give some feedback, make it a habit of checking the Buzz newsfeed daily. You can access it in the top right corner from the circled icon.
Use custom Key Result values and types
While the standard OKRs in Weekdone run from 0 to 100% as progress metric, you can use any custom types and values. In sales you could add the range from 10000 to 20000 and type as € or $. In marketing you could add a key result of growing from 50 to 500 external mentions per month. You can read more about this and other OKR features here.
Connect to Slack
Yes, you can connect Weekdone to the popular Slack real-time messaging app. Our two services complement each-other well, by Weekdone being the high-level reporting and goal-setting layer that surfaces the most important things. Just head to https://weekdone.com/slack/ and follow the configuration steps there.
Send items to Weekdone via e-mail
We have 3 special e-mail aliases at Weekdone: plans@weekdone.com, progress@weekdone.com and problems@weekdone.com. Whenever you e-mail from your Weekdone username to those addresses, each line in the e-mail gets added as a new item in Weekdone. Nifty, isn't it? Just make sure not to include your signature, otherwise it appears in your form line by line as well.
Give regular 1:1 feedback to your people
In all surveys we and other HR professionals have done one thing comes up: number one thing your employees are missing is more feedback and praise from their leaders and managers. Don't be the black hole that just sucks in the information. Make weekly review of each of your team members a regular occurrence. Just head to the end of each person's section in the team report or choose the person from sidebar and add one or two sentences as a feedback to their report. They'll thank you for that.
Add custom questions to your team form
The weekly form in Weekdone is fully customizable to suit your company. Feel free to rename the categories or add your own. You can also rename the 5-star happiness question. All that can be done in Template Settings. [This is an administrator-only feature].
Change your logo and accent color
Want to use your own logo and company color in Weekdone header? Just go to Design Settings and you can do both there. [This is an administrator-only feature].
Build integrations and apps via the API
All the data in Weekdone is also available via our developer API. Whenever something is missing, use your developer skills or partners to build custom reports and dashboards via the API.
Read one of the eBooks on productivity and leadership
As a last thing, take some time to download and read one of our eBooks. Using Weekdone is a philosophy of improving your daily work and the two eBooks describe it well. You can download the eBooks here.
This is it. There are many more features in Weekdone for sure. If you have any questions regarding the ones above or something else, feel free to reach out to us at hello@weekdone.com or via the chat widget. Happy to help.