Already back in 2012 McKinsey Global Institute reported that using social technologies within companies can improve communications and collaboration up to 25%. Nowadays, we can see the effects of that finding as 77% of companies are adopting collaboration softwares to a great or moderate extent.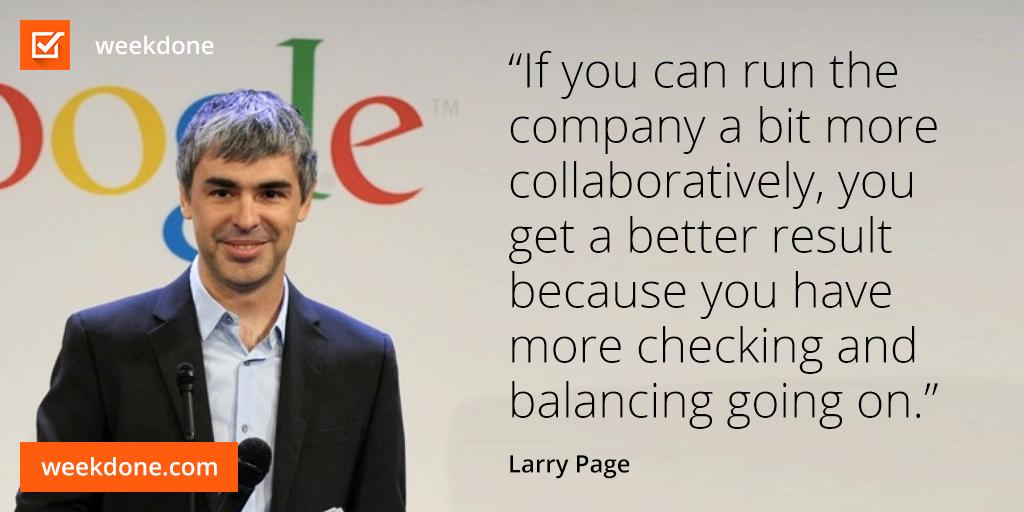 It has become evident that companies are more and more moving towards digital solutions that will improve collaboration, but a lot less have been talked about the other benefits why a leader or a manager should use it. What are the problems that these collaboration tools are solving? I am here to explain the benefits and problems that collaboration software can solve. As I work for an online collaboration software called Weekdone, I will be doing it through the examples and features of our software.

3 Reasons Why Team Leaders Need Collaboration Software:
It will give your company much needed focus and structure
It will unite your employees

It will bring out the pros and cons of your business
1. Collaboration software will give your company much needed focus and structure
Whatever collaboration tool a team or company is using, it is there to give you a better overview and understanding what everybody else are doing. Especially in organizations where you have more than 10 people. As a manager it is crucial to know what your employees are doing or what the other teams are doing.
In addition to improved collaboration, in Weekdone we use 2 of the best known management methods: Plans, Progress, Problems (PPP) and Objectives and Key Results (OKRs) . PPP is for getting daily and weekly overview of what an employee is doing. Its main benefit is getting a real-time overview of their status and most importantly it will help you and others to keep focus on what is important.
Secondly, OKRs are for quarterly goal setting, which you can set on a company, department, team and personal level. What is more impressive is that you can link all levels, so everybody can see how the company goals translate into their personal goals.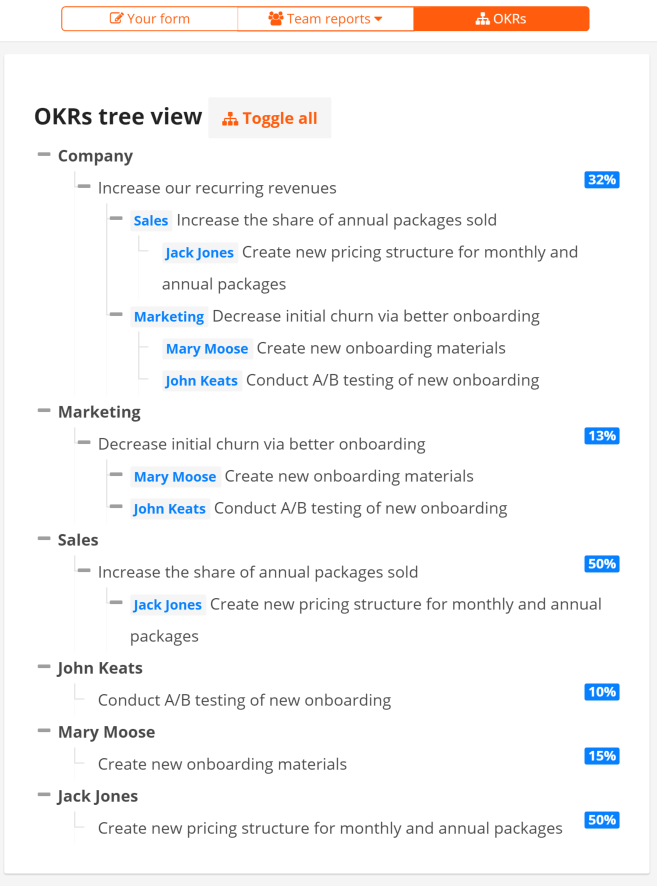 Big part of OKRs is making sure each individual knows, what's expected of them at work. OKRs are kept public in front of everyone, so teams move in one direction and know what others are focusing on. Employees love it for the clarity of knowing what's expected from them.
To conclude, having a visual overview of company structure, combined with the status updates, gives you not only better communication, but also makes sure the company and its people are focused on the overall goal.
Learn more about PPP and OKR
2. Collaboration software will unite your employees
Nowadays people work more and more from different locations. For example, it is estimated that in 2016 63M americans will work from home. Even if you are working in the same office, people are bombarded with e-mails and other distractions. Face time is important, but if there isn't enough time for it, what should you do?
Use a collaboration tool that enables feedback. By sharing your plans, progress and ideas with your co-workers, you make sure everyone on the team knows what your priorities and accomplishments are. Also, real-time feedback has been proven to increase the overall team spirit and engagement.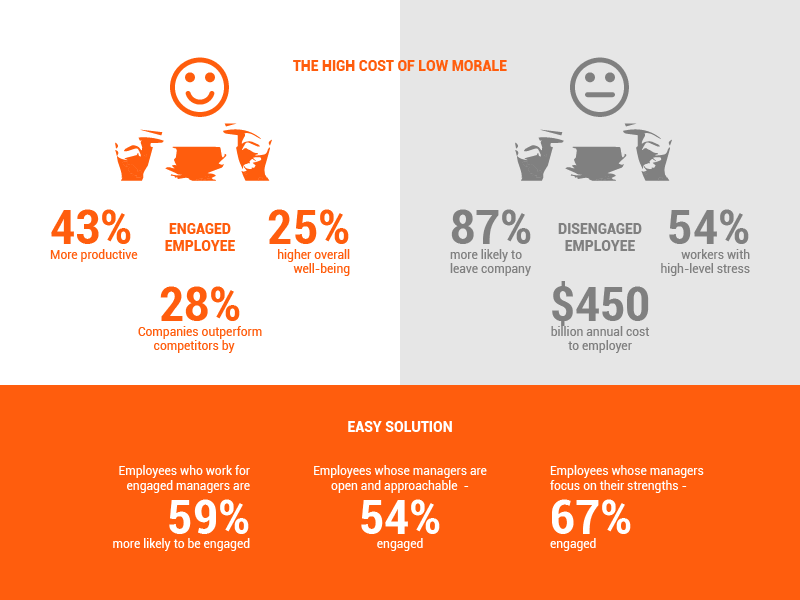 In addition, Weekdone has social features like comments, likes, and even emojis. They are there for giving feedback and therefore make everybody feel a part of something bigger. For example, Deloitte and MIT found in their recent study that simple practice of commenting on employee posts or liking them is a powerful means to amplify a leader's presence and digital commitment.
" Thanks to Weekdone's team management software, we're remote, but not scattered, operating efficiently in over 120 countries. " Emeric Ernoult — Founder of Agorapulse
3. Collaboration software will bring out the pros and cons of your business
As a leader you are aiming to make informed fact-based decisions. Furthermore, be data driven, not just gut-feeling based. Collaboration software will give a real-time overview how well somebody is performing or when some projects are stuck. Deloitte and MIT found in their recent study that socially mature organizations often integrate social data into decisions and operations, so should you. Weekdone offers social data like weekly employee status, progress, team spirit & happiness ratings etc.
" Very simple and effective performance management tool. You want a tool like this to keep going with the productivity of your people. " David Bizer — Former Google recruiter, Partner at Talent Fountain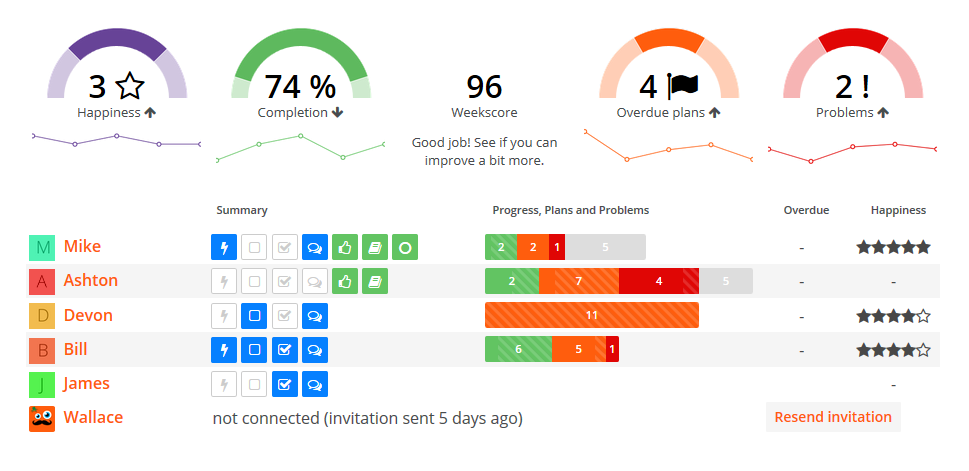 To conclude, you probably already had a sense that online tools have its benefits, but now you know how exactly a collaboration tool will benefit your company or team. If you are serious about improving your team collaboration, we urge you to try out the free trial with your team and test out the benefits yourself.