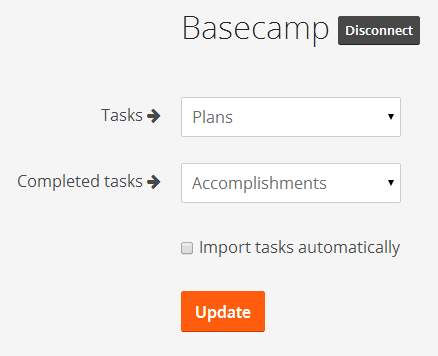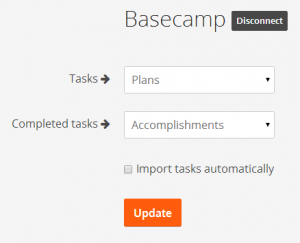 Update: Our new special Basecamp reporting product was launched. Try it out for free. With one click it generates a regular visual Basecamp dashboard with Basecamp reports. You can access it via e-mail, web or as PDF reports. If you want a collaboration tool based on Basecamp instead, read below about integration with Weekdone progress reporting.
—
Are you using Basecamp and would like to generate beautiful weekly team reports from it? Now you can, importing your Basecamp open and closed todo's into a Weekdone weekly team progress reporting product.
Just log in to Weekdone and head to your personal Import Settings page. Find the "Import items from Basecamp" section and click Connect to log in to your Basecamp instance.
After connecting you can choose into which categories in your Weekdone weekly report to import either the open or closed todos from Basecamp.
By checking "Import tasks automatically" we will be importing all your new open and closed tasks automatically. By leaving it unchecked you will have an Import button next to your form category headings, which opens a window allowing to import items one by one to your weekly report.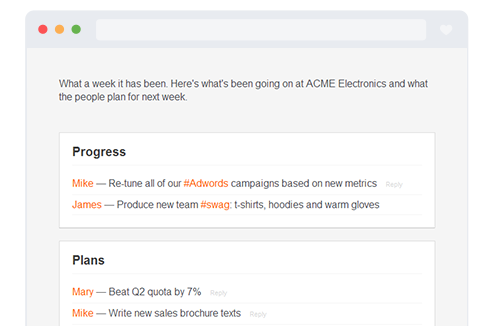 As a result you'll have a nice weekly report of what got done and what's planned, shared by your co-workers and managers.
In the future we will make the imports more granular and add other options, just like we have for Asana and JIRA reporting imports.
Are you new to Weekdone weekly reporting product? It's a simple service that makes sure both managers and co-workers know what's happening in your team. Using the categories of Plans, Progress and Problems – or any other template that you set up – you'll get a beautiful weekly team report via e-mail, PDF, mobile, tablet and web. It's free for small teams and there's a free trial for everyone. You can sign up here.