As managers we're all short of time. Think if you could save time on managing your team, while quickly focusing what's important. What if you had something in your pocket that quickly showed your team status as a nice dashboard. More than that, what if it told you who of the persons you should focus on?
You asked for it. Now with Weekdone you can.
Our new manager's dashboard helps you understand in seconds who in your team needs more attention and who deserves a pat on the back. In an instant you see your team's happiness, overdue plans, task completion ratio and problematic issues. For each person you see their task distribution between progress, plans and problems, as well as other data. From the dashboard you can quickly scroll to each persons respective report area for more details. Here's how the first version that went live looks like (access it under your All or team report view):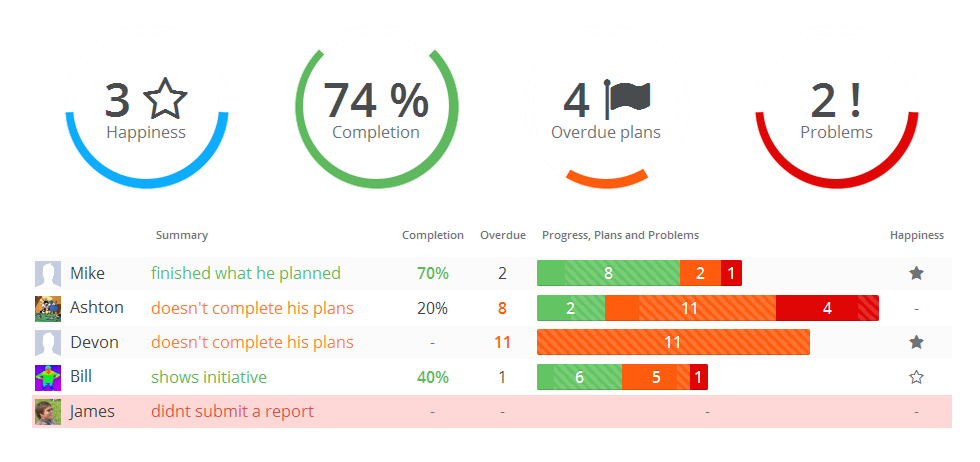 Here are just some of the automagical Summary statuses we have:
didn't submit report

– the person has not filled in their weekly status report

is unhappy

– personal happiness rating of 3 or less

reports many problems

– 2 or more problems reported

has many overdue items

– 4 or more overdue plans

too few items

– 4 or less plans for the week

doesn't plan

– no weekly plans made

had no progress

– no completed items reported

didn't complete plans

– less than 50% of last week's plans completed

finishes plans

– more than 80% completion ratio of last week's plans

report submitted

– nothing extraordinary to report
By completion we mean the percentage of tasks people planned last week and completed by this week. Overdue items are the ones that have not been completed in 1 week. Both of these help you find items that get delayed and stuck. You also see which person finishes what they plan. Tasks that get postponed from week to week are most managers nightmare. Overdue items now get marked red with a week indicator in the report now as well.
Of course the dashboard is visible in manager's weekly e-mail reports (going live there in a few days) also:

As long term managers and entrepreneurs ourselves we fully understand no online or mobile tool replaces the human factor and face to face interaction. Also no statistical analysis or pure numbers tell who is doing their job well and who not. Someone who has just a 1 crucial task that takes 4 weeks to execute might be a star performer. Another who plans small non-important tasks and executes 10 of them each week at the same time might not contribute much to the company. Tools like Weekdone are here to be a helping hand. You as a manager must always use reason to analyze the data and take action when needed. Still a dashboard like this can give you a head-start and save quite a lot of your time.
Good leadership always means it's 2-way. The biggest problem employees bring out is not having enough feedback. Use Weekdone to give weekly feedback, suggestions and ask questions – that's what makes it valuable to your people.
In the web view, we separate last week's planned items and new items, so you can keep of track who adds tasks as they go and who executes on a previous plan. That's why it's a good idea to use Weekdone for the whole workflow of people planning their week's activities and then reporting what got done.
In report items we now also show how many weeks overdue plans are (look for the flag symbol) and completed plans that have been overdue are colored green.
Give it a go at Weekdone and try it out yourself with your team now. If you're a new user, remember to invite your team and get their progress data, only then you'll be rewarded with a nice dashboard like this. No data – no fun.
Keep in mind that this is a work in progress. We will be fine-tuning it over the coming weeks and months. We're improving the algorithms and what and how we bring out. Better mobile versions are in the works as well. Together with you we'll make it more useful for you as a team leader or manager.