Post updated in November 2022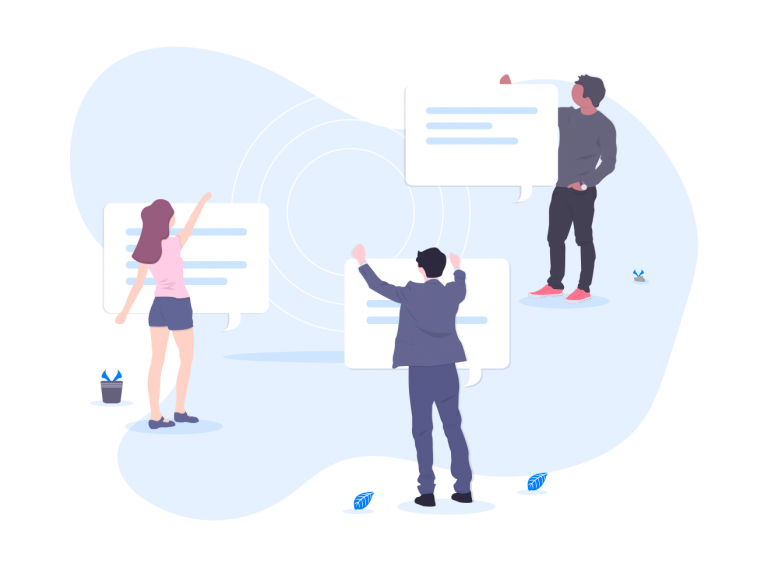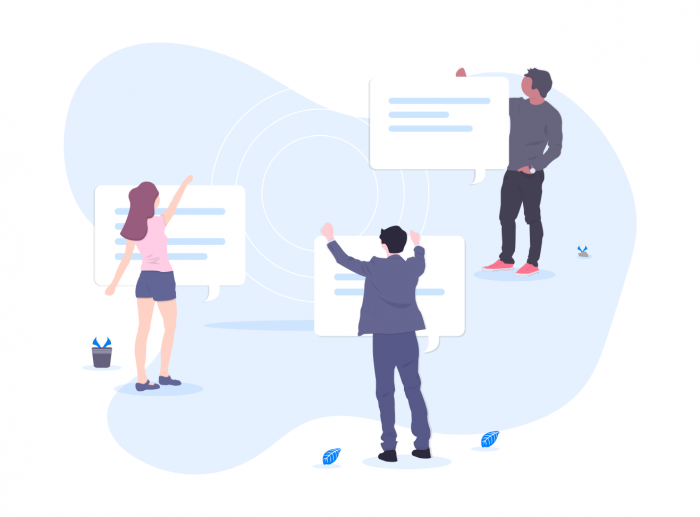 How to choose an employee engagement software?
Functionality
What kinds of functionalities does the software offer? How well are they implemented? How useful are they in your day-to-day?
Implementation difficulty
How difficult is it to start using this employee engagement software in your workplace? How much of a learning curve does it depict?
Design
Does the design support how your team operates? Is it simple to understand and use?
Pricing
Is the product too expensive for your company? Is it justifiable?
Company size
Some tools are really useful for huge corporations whereas others are more suitable for small and agile teams. Choose wisely to get the maximum benefit.
For an in-depth look into different engaging activities to practice in teams, read our post on employee engagement ideas.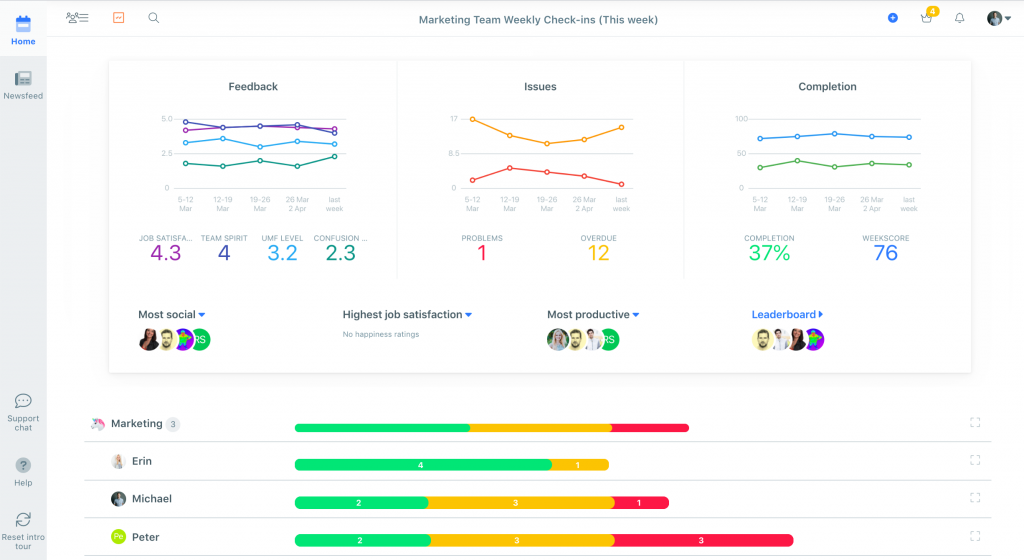 Team Compass is the perfect employee engagement software for managers who want to monitor their team members progress and easily understand everyone's priorities.
With Team Compass you can set and track goals to provide guidance and direction for your team. Users can mange their own work and projects with weekly planning and task management.
Leaders get weekly reports on plans, progress, and problems of their teams which can be used to enhance meetings and strategy. Beyond that, there are plenty of engagement and team building features like one-on-ones, pulse surveys, and feedback and recognition. These help connect leaders with their teams and also allow for teams members to support each other.
Main features
Pulse surveys
Comments and reactions
Newsfeed
One-on-one conversations
Automated weekly reports
Quarterly goals
Weekly planning
Newsfeed and announcements
Transparent task management
Real-time progress analytics
User's Opinion
"Our primary challenge of being in different locations and the need to be productive, was knowing what all the people are currently working on. Team Compass helped keep everybody to be aligned and in the loop." – User
Pricing
Price: $29/month (full product included)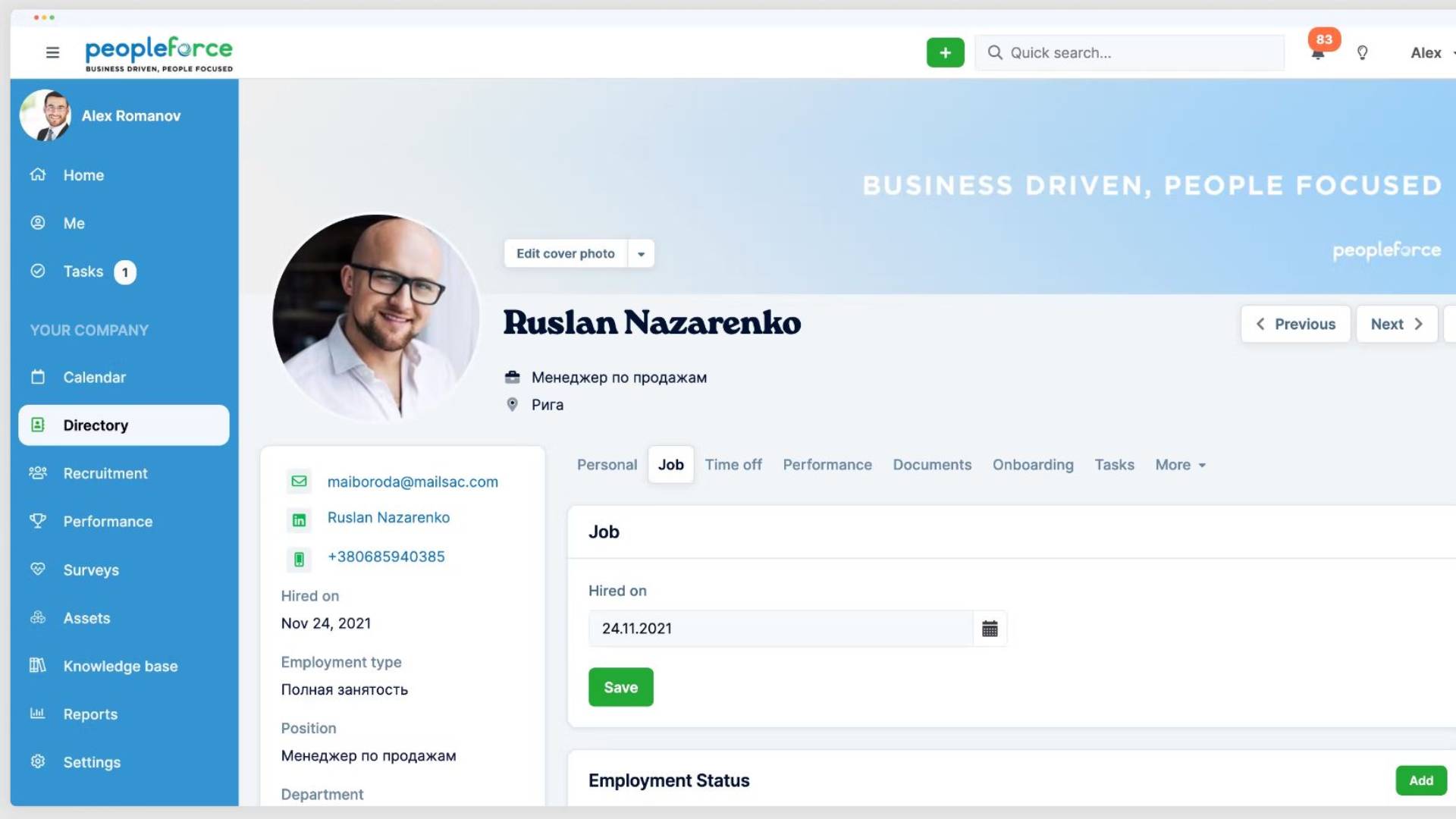 PeopleForce enables employees to increase employee engagement by interacting with each other through a straightforward dashboard, learning about the latest company news and effectively communicating their ideas to upper management. The addition of eNPS and other types of surveys helps you build an engaging team.
Main features
Rewards & Recognition
Calendar management
Social media integration
Process reporting
Employee onboarding
Task scheduling
Behavioral, personality testing
Performance reviews
Online surveys
Workflow management
User's Opinion
"People Force has delivered exceptional quality to us in various key specialized areas. Their dedication, commitment, expertise and professionalism have helped boost the quality and standards delivered by our people throughout the 99p Stores' organization." – User
Pricing
Starting price: $25/month.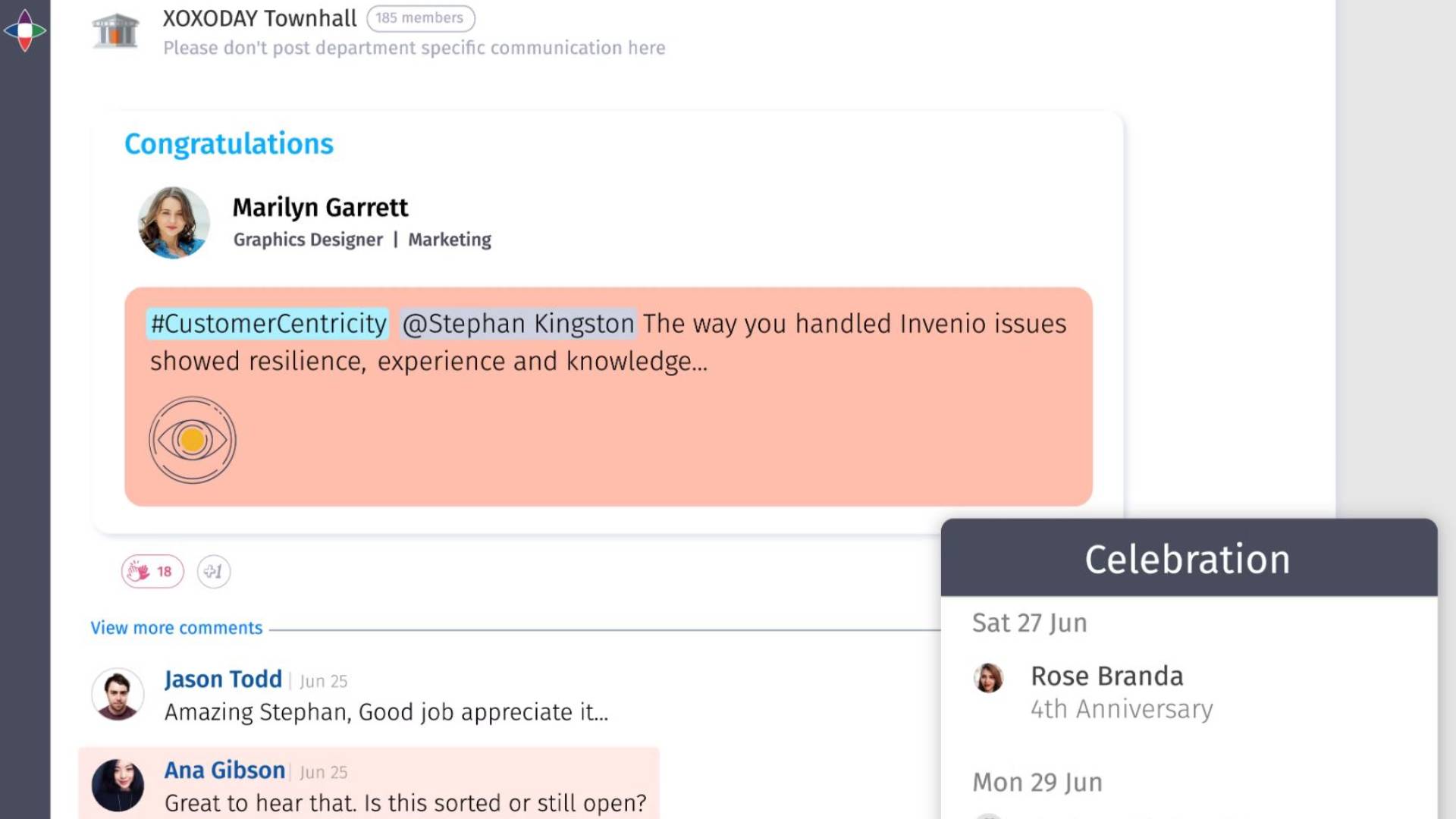 Empuls is a reward system for employees to run efficient employee incentives, rewards and recognition programs by connecting them to your business's guiding principles and objectives. It's time to stop manually managing various facets of your employee rewards programs if you've been finding it difficult to do so. Empuls offers an easy solution for HR to handle various appreciation, awards, and prizes from a single platform, enabling firms of all sizes to automate employee rewards and recognition programs.
Main features
Performance benchmarking
Reporting
Employee pulse surveys
Survey customization
Employee recognition
Rewards
Performance tracking
File sharing
Simple integrations
News feed
User's Opinion
"I think Empuls is a great platform to have, especially for a remote company like ours. Just one thing that I do not like much is the wait time for gift vouchers if I am ordering for any other country. For instance, I had to order form Nike gift vouchers for our CEO from Sweden, it took a good 8 days for the voucher codes to arrive. I believe this is an area for improvement." – User
Pricing
Starting price: $2.5/month per user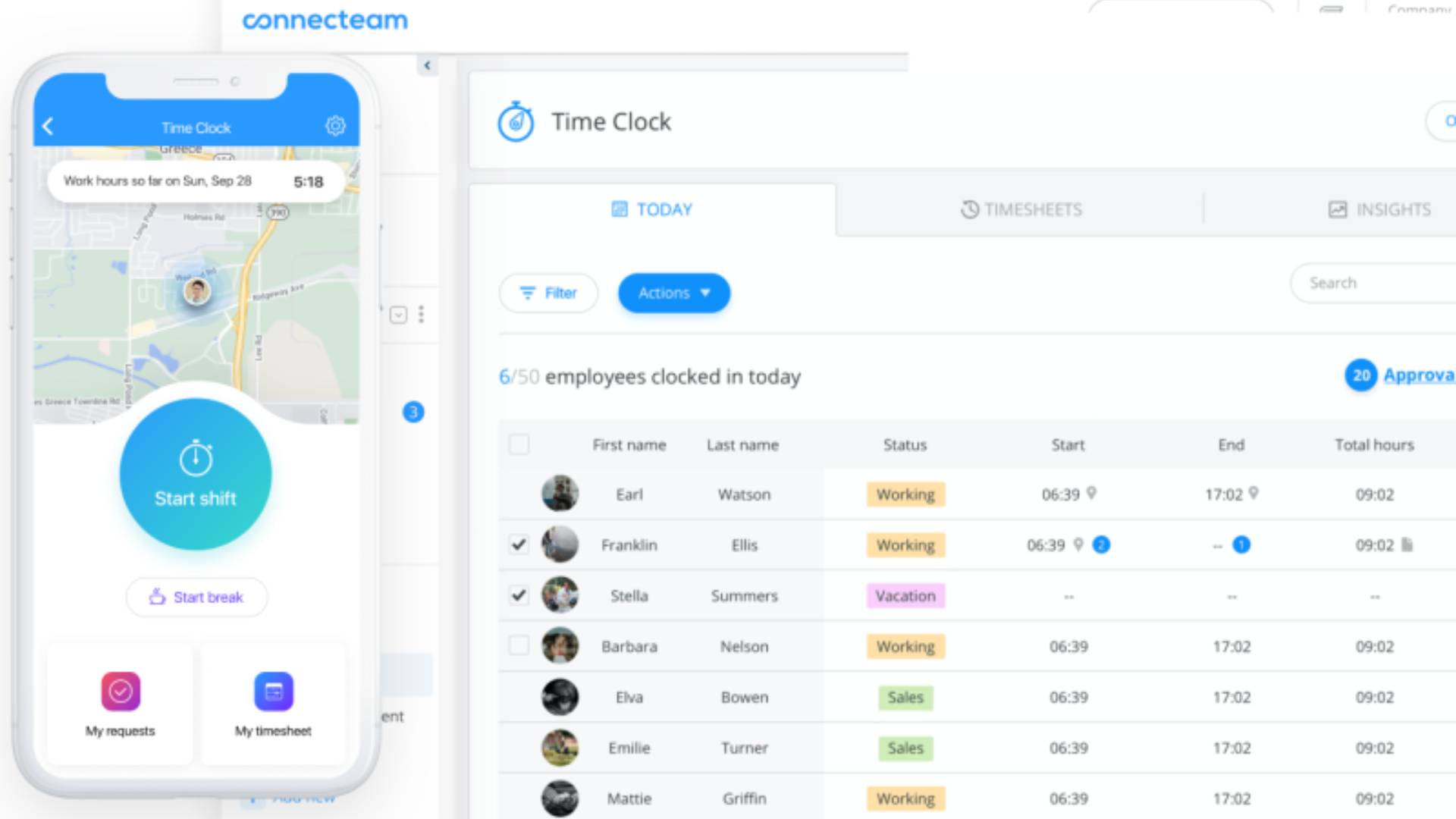 Connecteam is an employee engagement software for deskless teams, frontline employees, and remote workers. It offers a web-based platform for managers, and a mobile app for both managers and deskless employees. This way, you can reach every team member with engaging, targeted, and measurable communication.
Main features
Action management
Activity management
Newsfeed
Benefits
Chats
Customizable interface
Employee management
Employee recognition
Discussions and forums
Visual analytics
User's Opinion
"It was the best idea I could have ever had! I've been looking for ways to organize my workflow and Connecteam allows me to do so in a way that is convenient and visual. I can keep track of tasks I need to accomplish, and have the ability to view my project status in a very user friendly way. From one MSP to another, I highly recommend Connecteam." – User
Pricing
Starting price: $39/month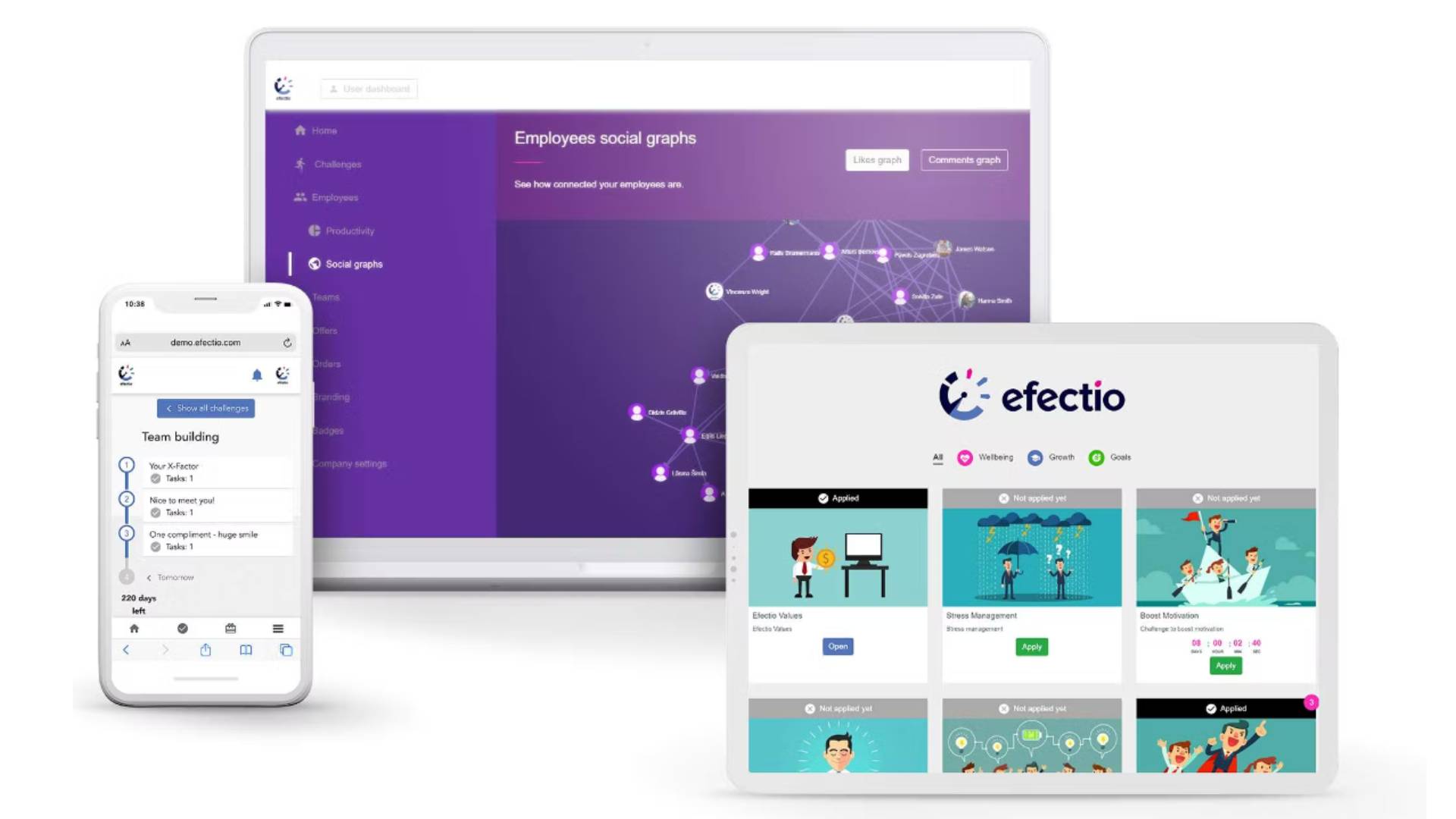 Efectio is a one-stop platform for connecting, training, and engaging on-site and remote employees. Attracting and retaining top talent is costly. Before workers consider resigning, find out what they have in mind and what problems they are facing. Employees can anonymously express their opinion on their workplace and their relationships with management in quick surveys every month.
Main features
Activity tracking
Content library
Customizable questions
Employee profiles
Chat and messaging
Customizable branding
Employee onboarding
Employee reward programs
Mobile functionality
Reporting and statistics
User's Opinion
"Elements of gamification combined with ease of use and accessibility makes using Efectio seem like anything but work. It is incredible how easy it was to start using it within our team and within few weeks it was part of our daily check-ins and learning. It's also very affordable, in our case only 3EUR per employee." – User
Pricing
Starting price: $0/month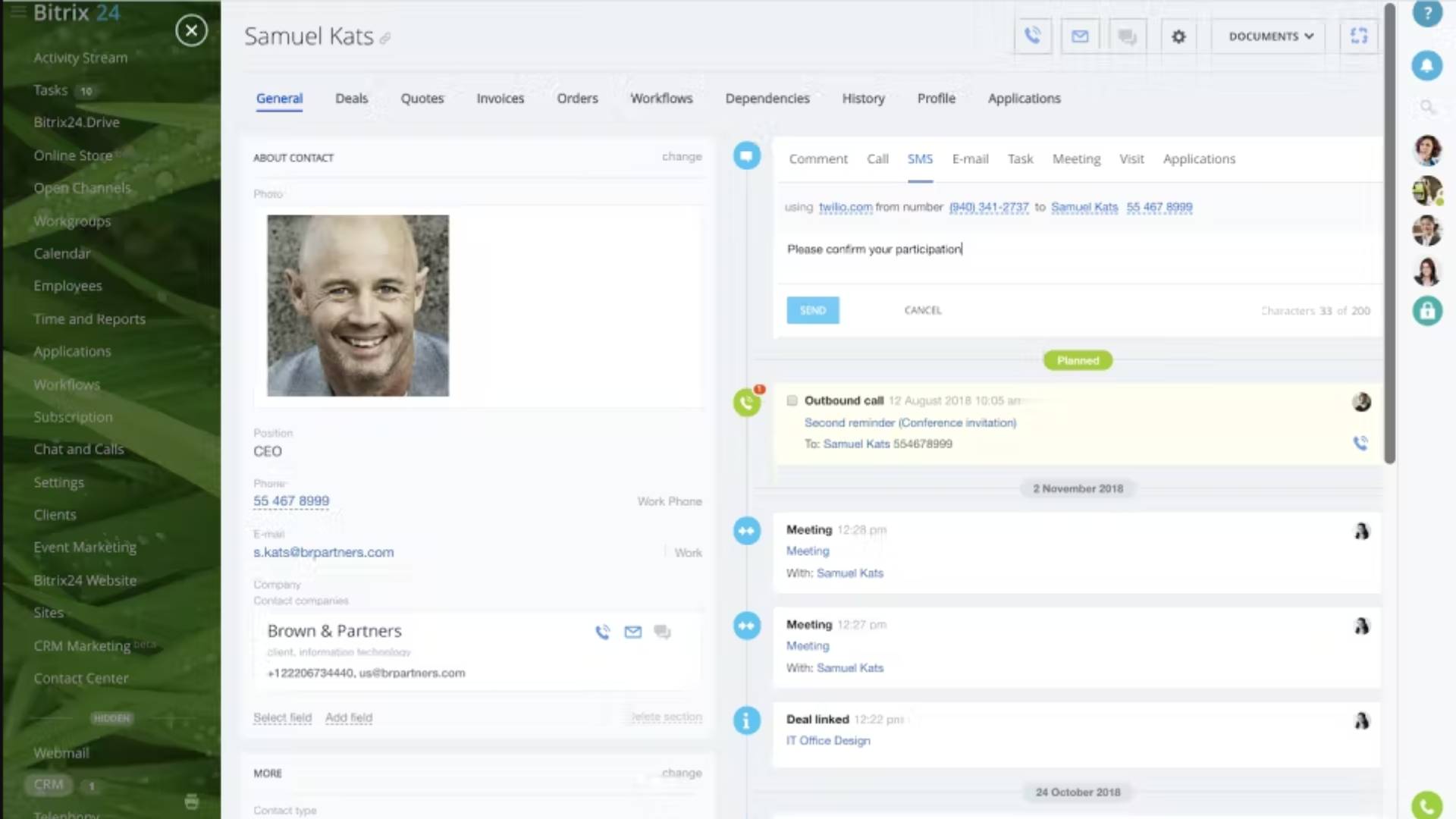 Bitrix24 is for any company needing a single platform for work and communications. When work and communications are united, people are more in tune with the progress of projects, notifications are made automatically, projects pass smoothly from one phase to another, and inefficient meetings and excessive email are reduced. Small companies, creative teams, and departments of large organizations will find Bitrix24 to be an instant boost in transparent collaboration.
Main features
Chats
Voice and video calls
Shared calendars
Announcement and appreciation badges
Stream messages
Polls
Company structuring
Reporting
Task management
Document library
User's Opinion
"Our team believes that Bitrix24 improved our productivity, as the tasks are getting more organized, we are able to meet deadlines and scheduling meetings became easier. I should say that my overall organization is now depending on Bitrix24." – User
Pricing
Starting price: $39/month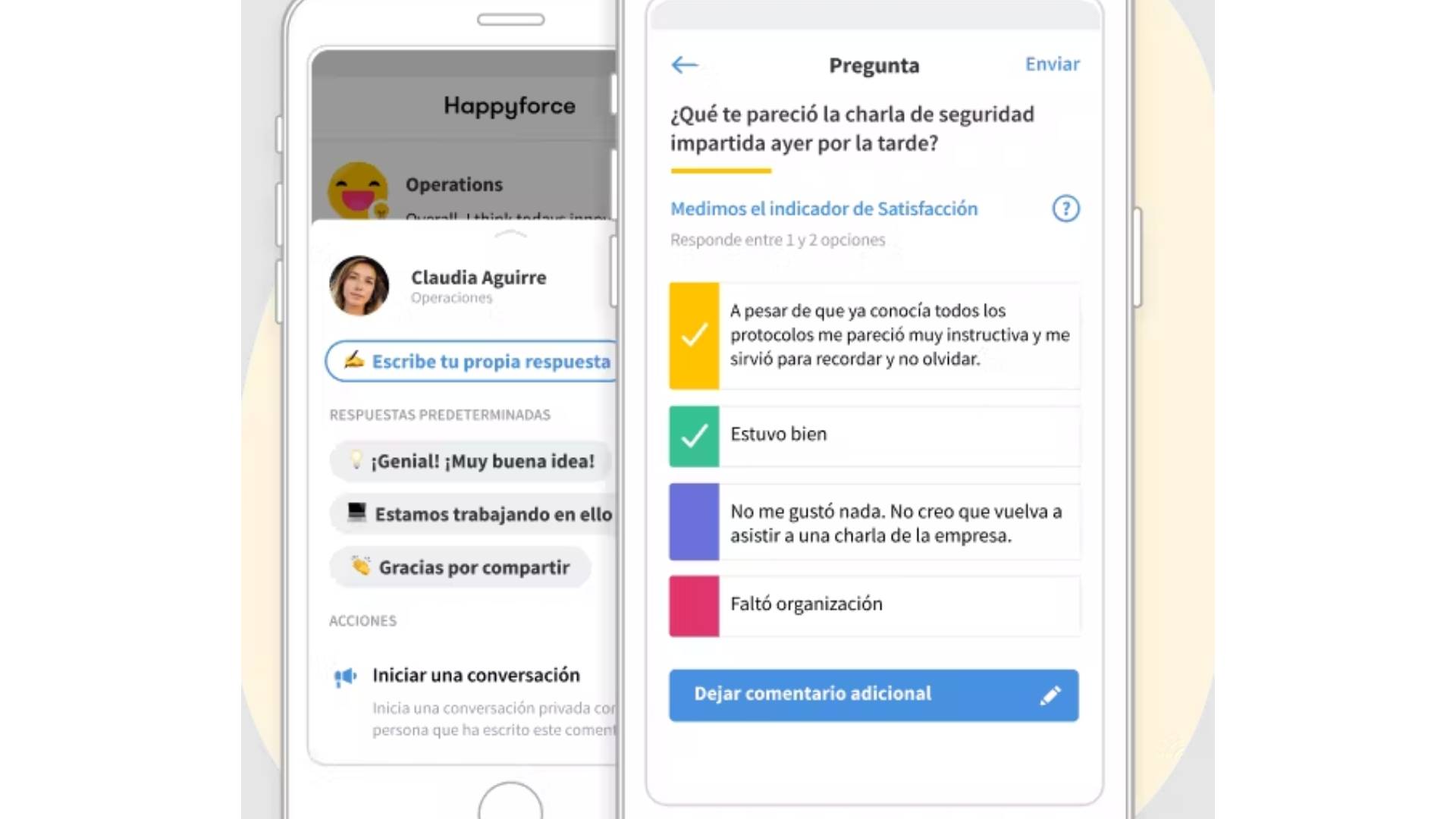 Happyforce is a employee engagement software that enables honest communication between a company and its employees. Use this app as an employee to share your mood with your workmates and let your company or organization know what you care about. This tool is geared towards your team and your needs. You can foster a culture of feedback in your company, which will allow you to act based on data and not opinions.
Main features
Activity dashboard
Customizable questions
Data import/export
Engagement tracking
Goal management
Pulse surveys
Reporting
Anonymous feedback
Employee recognition
Performance management
User's Opinion
"Happy force not only provides feedback on the well being and engagement of the team but is an amazing tool to quickly get data on any topic in the organization and by doing so the team feels it has a say" – User
Pricing
Starting price: $100/month per feature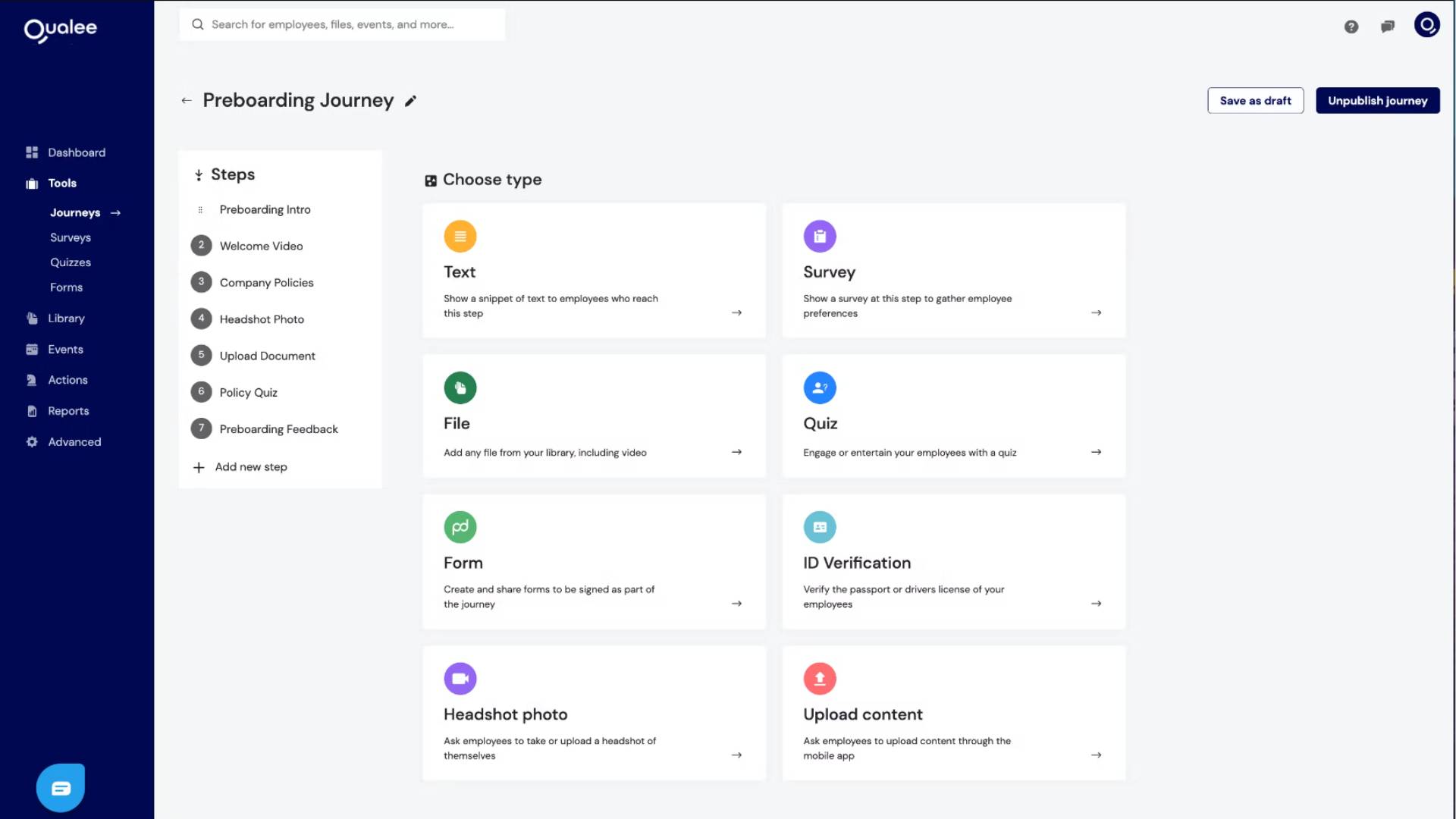 Maximize your company performance when onboarding new employees by engaging your new hires before they begin their first day, during their time with your company and all the way to their last day. By creating greater clarity around your company's core purpose and operational requirements, as well as providing an easy point of access for company documentation and communications for your employees, you too can be on the fast-track to reducing workplace stresses and boosting employee satisfaction.
Main features
E-Forms
Survey customization
Employee pulse surveys
Employee recognition
Compliance training
Goal management
Performance benchmarking
Reporting
Dashboards
Role management
User's Opinion
"Mobile compatibility, normally surveys and engagement are done via google forms and face-to-face meetings, but with the Qualee app, it can be done anywhere, even remotely" – User
Pricing
Starting price: $3.99/month per user
15Five offers two specific features that go hand in hand. With these features, employees get to share how they feel and laud the efforts of peers. First, Pulse Check allows managers to be aware of how employees feel on a scale from 1 to 5. Not only do managers see trends over time, but this question also sets the context for more qualitative feedback that employees will provide elsewhere in the same report. Second, High Fives allow employees to give their peers kudos for a job well done, either publicly or privately. This feature meets another basic need – being recognized for our work.
Main features
One-on-one meetings
Employee recognition
Question library
Employee progress tracking
Pulse surveys
Reporting
Goal management
Performance tracking
Chats
Feedback management
User's Opinion
"I've found 15Five to be the best tool on the market to facilitate conversations between employees, managers and their peers." – User
Pricing
Starting price: $4/month per user
Gtmhub is a sophisticated goal management and employee engagement software that helps businesses amplify revenue growth by facilitating the alignment of execution and strategy of individuals and teams with those of the organization. The leadership has a birdseye view of activity supported by advanced analytics, progress monitoring, and OKR auditing. Gtmhub is your single source of truth, showing the relationship between people, processes, and outcomes.
Main features
Activity dashboard
Ad hoc reporting
Employee recognition
Engagement tracking
Goal management
Surveys and feedback
Employee reward systems
Task management
Goal management
Skill assessment
User's Opinion
"Very responsive company. Great value for all of the features that support OKR tracking and implementation (progress, collaboration, communication, tracking, etc)" – User
Pricing
Starting price: $7/month per user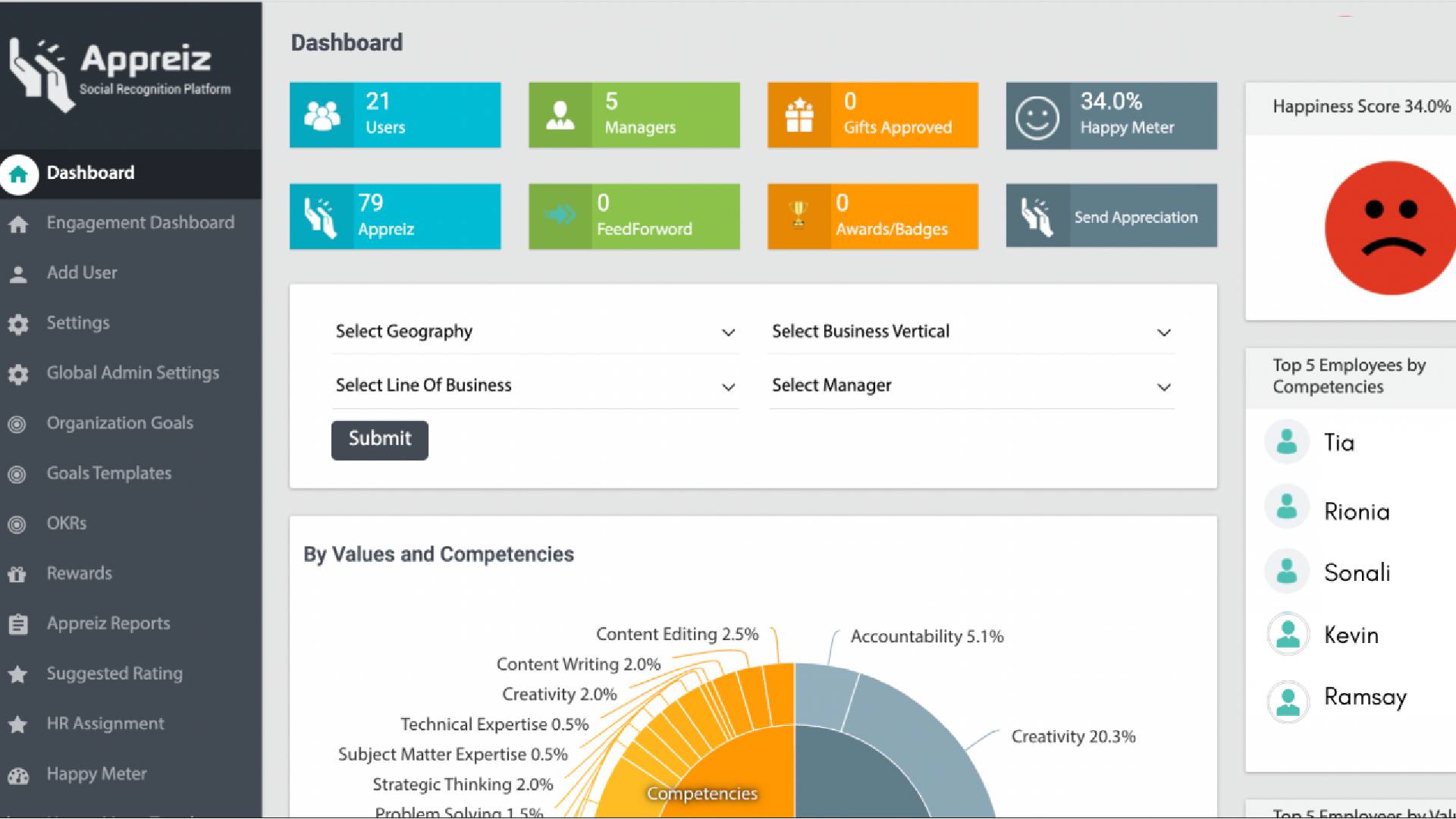 Appreiz provides a centralized dashboard to track powerful people insights across talent identification, talent promotion and learning and development. Thereby, making internal transfer, training and promotion hassle-free. They offer many features that support internal communication and motivation without being too difficult to learn or implement into your workflow.
Main features
Activity tracking
Customizable templates
Employee recognition
Goal management
Employee management
Gamification
Pulse surveys
Self assessment
Training management
Reward system
User's Opinion
"Being free to choose when and where I serve has allowed me to form fruitful mentorship relationships with people from different nationalities who lack the financial means to hire a mentor. They can benefit from my knowledge and expertise as a business owner, consultant, and trainer, and I can help them simultaneously." – User
Pricing
Starting price: $90/month per user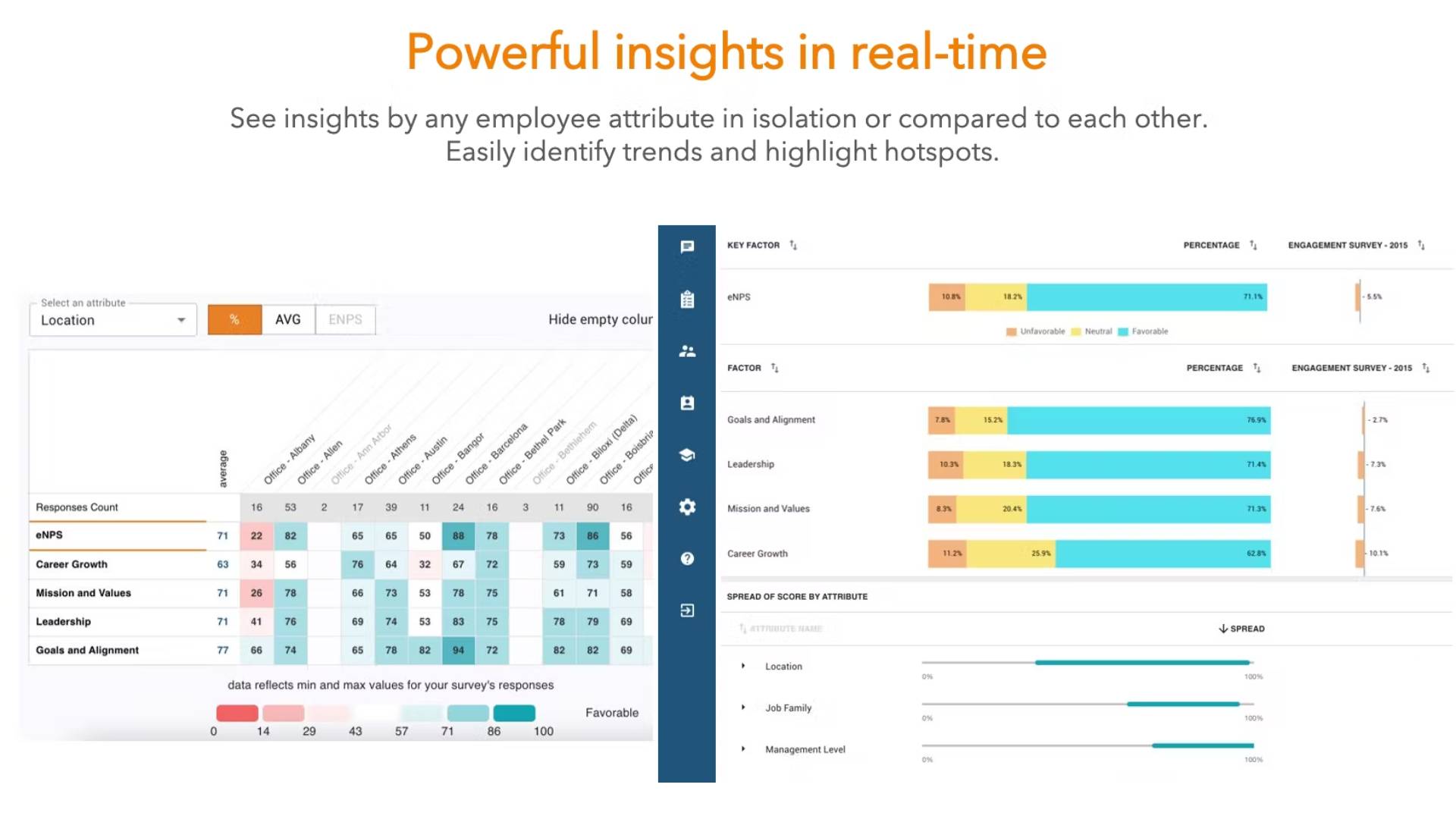 WorkTango enables you to measure employee engagement and support organizational change by gathering employee feedback with pulse surveys. Support action across the entire employee lifecycle with powerful technology and analytics. Designed by psychologists and organizational design experts, the platform and our approach offers research-backed and statistically validated questions and assessments.
Main features
Chats
Communication management
Employee onboarding
Goal setting
Learning and development
Pulse surveys
Performance metrics
Real time analytics
Employee profiles
Real time reporting
User's Opinion
"We used it for our annual engagement survey, and the immediate results and ability to dig deeper into demographics without waiting for a consultant to analyze results was fantastic." – User
Pricing
Starting price: $0.25/month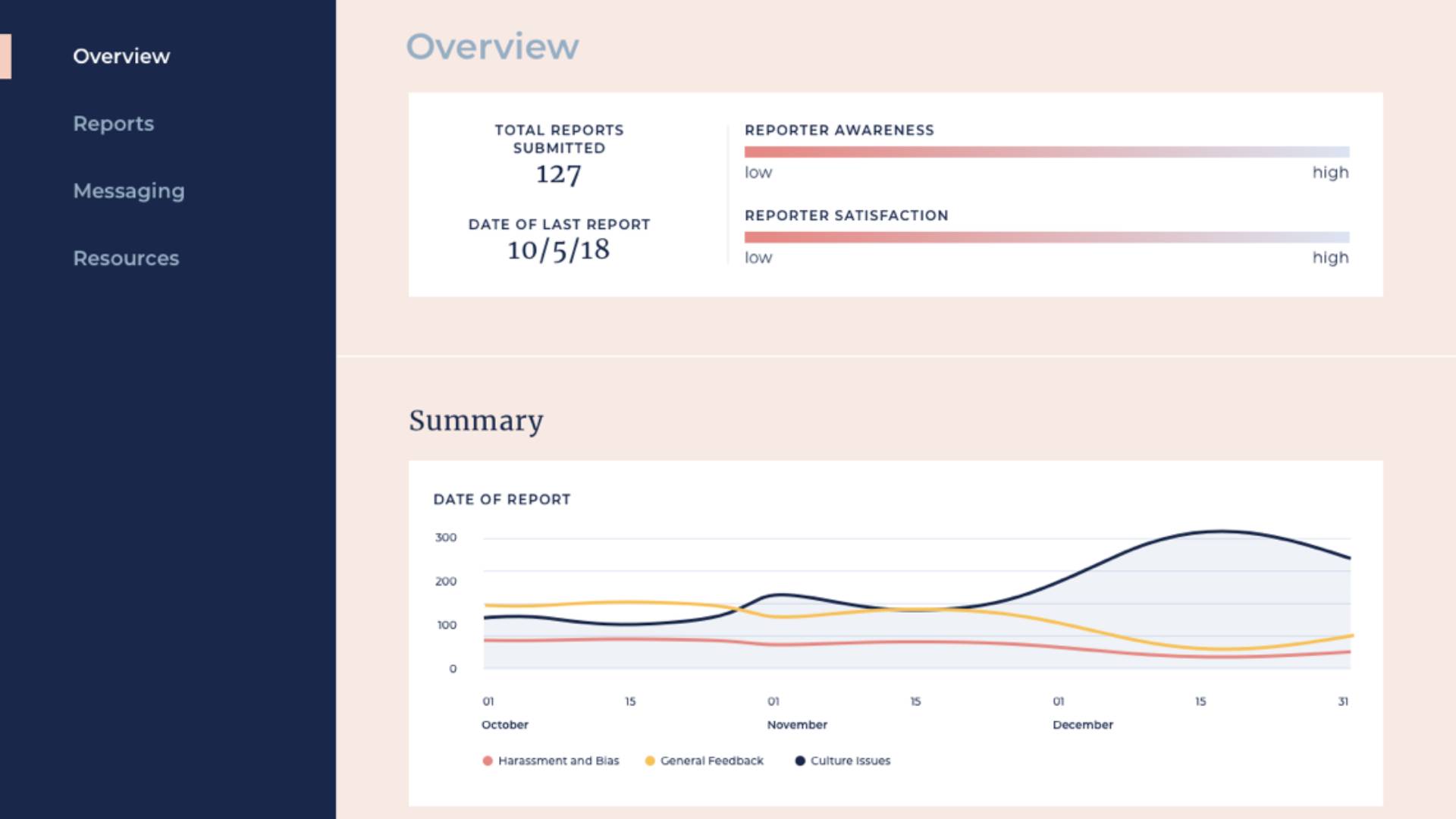 AllVoices offers rule-based report routing and automated workflows which make sure that reports get routed to the right administrators. Say goodbye to spreadsheets, say hello to AllVoices' Centralized HR Case Manager. Employee relations cases are available wherever you are and whenever you need them.
Main features
Chats
Reporting
Analytics
Surveys
Anonymous feedback
Polls
Activity dashboard
Case management
Incident reporting
Activity dashboard
User's Opinion
"AllVoices provides a safe experience for employees to raise concerns as well as a back end tool to help leadership understand trends and percolating issues. The biggest benefit has been giving employees a way to raise concerns anonymously." – User
Pricing
Starting price: Not specified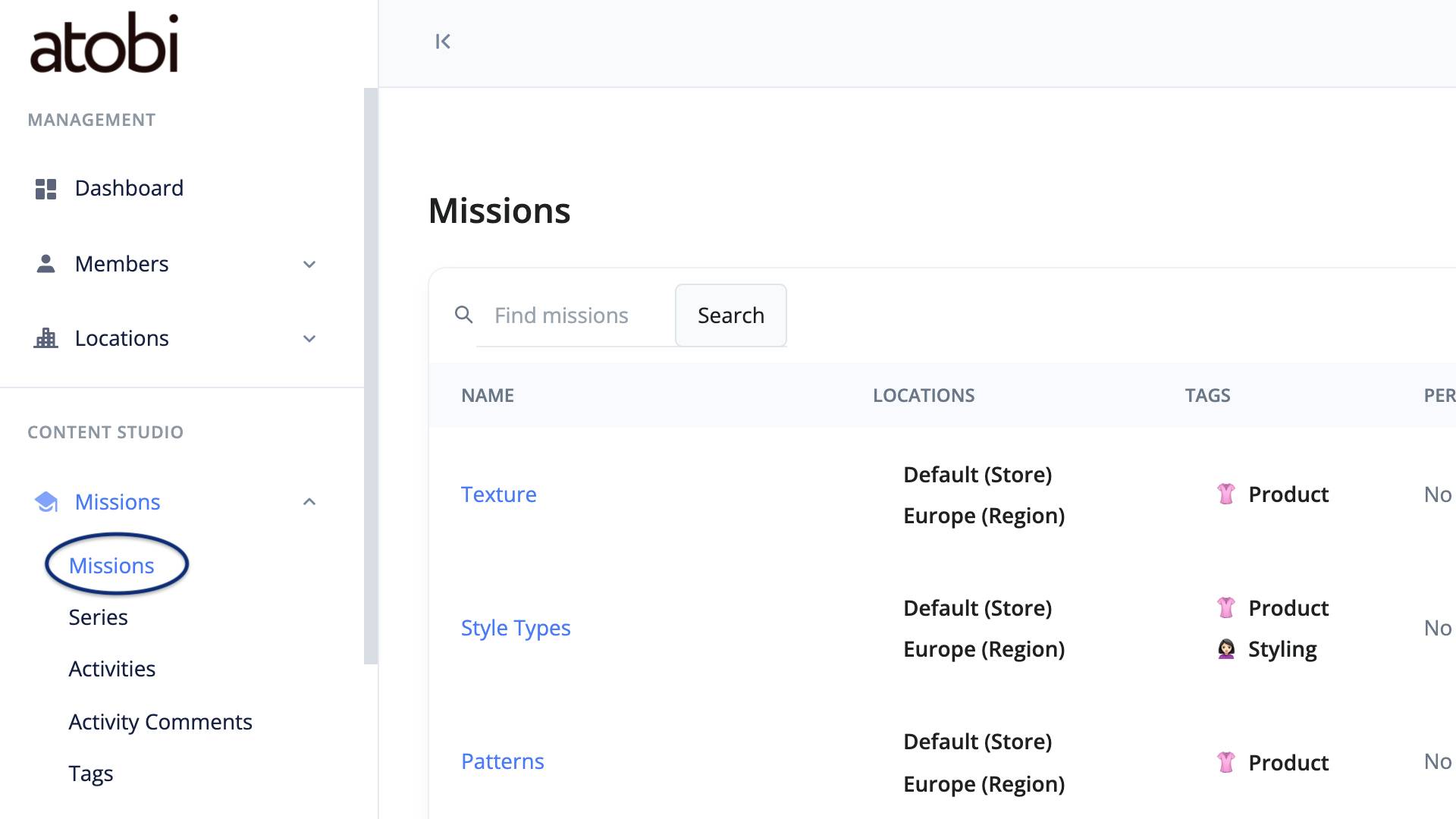 As competition intensifies, your frontline workers need to consistently deliver a superior customer experience. But traditional training is expensive and time-consuming. Atobi employee engagement software accelerates both onboarding and training by breaking long sessions into small bite-sized lessons, so you don't have to take employees off the floor.
Main features
Action management
Employee recognition
Performance management
Question library
Benchmarking
Goal management
Pulse surveys
Reporting
Analytics
Chats
User's Opinion
"Great experience of working with the ATOBI team who are able to understand and address key business requirements. Responsive and willing to ensure deployments are a success." – User
Pricing
Starting price: Not specified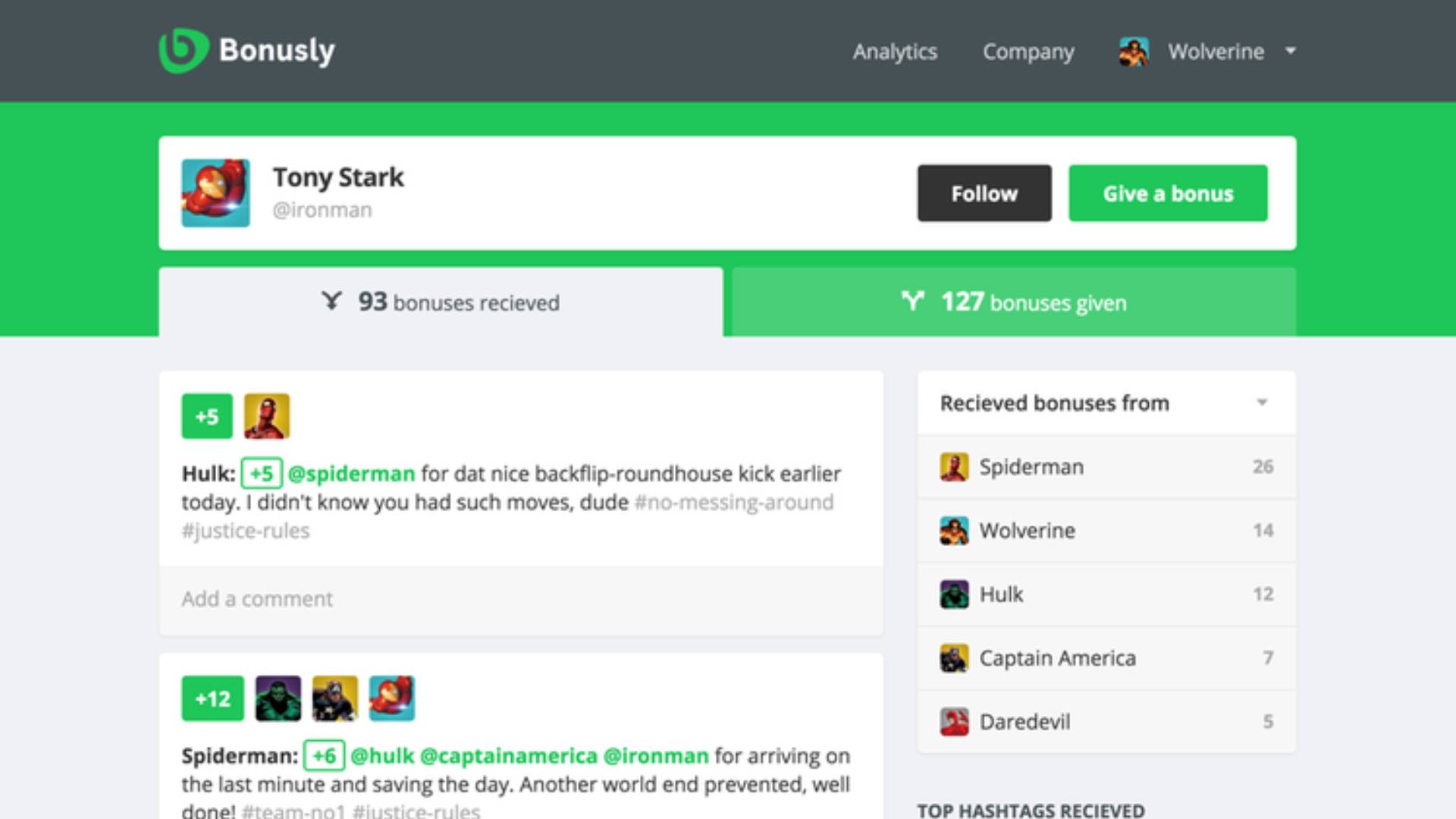 Bonusly is an engaging recognition and rewards platform that enriches your company culture. Get meaningful, actionable feedback by asking the right questions. You can build surveys from scratch or use our template library and because Signals is part of the Bonusly platform, you can incentivize employee participation with points.
Main features
Employee rewards
Employee recognition
Chats
Reporting
Feedback system
Training and management resources
HRIS integrations
Actionable analytics
Mobile functionality
Rewards
User's Opinion
"I love how easily accessible it is. At our company, we have Bonusly integrated into Slack, so it's super easy to recognize others' efforts and make it visible and fun for everyone." – User
Pricing
Starting price: $3/month
---
Conclusion
As you can see, there are plenty of great employee engagement software options out there for you to choose from. Obviously since it is our own, we suggest Team Compass.
Best Employee Engagement Software of 2022
One of the main benefits of choosing Team Compass is that it's easy to use and understand. You don't need to spend hours getting acquainted with the software because of its simplistic nature – see an increase in team engagement right away! As an added bonus – it's accessible on a variety of devices, integrates with your existing communication platforms, and free for teams of three or fewer.
Try Team Compass today, no credit card required, to see if it's the right fit for you and your team members. Click here to register.