Are you using employee happiness surveys to check-in on your team?
Businesses with happy employees outperform their competitors by 20 percent! Read on to learn the top 15 employee happiness survey questions to ask and the employee engagement tools that will help you to effectively assess your team.
1. Do You Enjoy Our Company Culture?
This is a simple question that helps you find out whether or not your team members are enjoying the company culture. You could also ask a follow-up question seeking more detailed reasons why or why not.
2. How Connected Do You Feel to Your Co-Workers?
When employees feel connected to their co-workers, they're more likely to be happy and satisfied with their jobs. They may be more inclined to stick around long-term, too, which is great for the company's productivity and bottom line.
3. How Open Is Our Organization to Change?
If your team members don't feel that the company is open to change, they may feel stuck in their roles and less satisfied with their jobs. Asking this question helps you find out if you need to clarify your position.
4. Do You Feel That Your Managers Value Your Feedback?
Your employees deserve to feel free to make suggestions and give feedback on all aspects of the company's management. If they're afraid to speak up, that can put a damper on morale and negatively impact employee happiness.
5. Do You Feel Valued for Your Team Contributions?
Your employees also deserve to feel valued. If you're not doing a good job of expressing appreciation and showing support, the answers to this survey question will let you know.
6. How Transparent Do You Feel Management Is?
Employees are often more inclined to stick by transparent organizations that keep them in the loop — whether things are going well or poorly. The answers you receive to this question will let you know whether or not you're doing a good job with transparency.
7. Do You Think Work Is Evenly Distributed Across the Team?
If one or two employees feel that they're doing all the work, that doesn't bode well for your team's future. Take the answers to this question seriously so you can ensure you're not overloading any of your team members.
8. Do You Feel Your Responsibilities Are Clearly Defined?
If employees aren't sure what they're supposed to be doing or what their role is within the company, it can be hard for them to feel connected to their job. They may also feel less loyal to the team and their employer.
9. How Well Do You Understand the Company's Strategic Goals?
This question builds off of the previous one. If employees don't have a strong understanding of the company's strategic goals, they may also be less committed to the business and the team.
10. Do You Feel You Have Opportunities to Grow Within the Company?
Employees may be more inclined to stick around and be loyal to the business long-term if they think they have opportunities to grow and expand their careers. Ask this question to see if you need to do more to support your employees and encourage their continued improvement.
11. Do Your Co-Workers Inspire You to Do Your Best Work?
Employees are more likely to be happy with their jobs and more loyal to their employer if they feel inspired by their co-workers. Asking this question will help you find out if you need to take steps to improve morale.
12. Does Your Manager Inspire You to Do Your Best Work?
On a similar note, your employees should also feel that you, as a manager, are doing your part to help them feel inspired and motivated. This question will give you more insight into your performance on that front.
13. Are You Satisfied with Your Compensation and Benefits?
If employees aren't happy with their salary or their benefits, they're going to be more likely to look for other jobs. They may also be less engaged at work since they don't feel they're being compensated fairly.
14. On a Scale of 1-10, How Likely Are You to Recommend Our Company's Products or Services?
Your team members could be some of your company's biggest ambassadors if they like and believe in the products or services you sell. This question helps you see how they view the business and its offerings.
15. On a Scale of 1-10, How Likely Are You to Recommend Working at Our Company?
Your team members can also be incredible ambassadors when it comes to attracting new and talented workers. If your employees aren't willing to give the company a glowing review and recommend it to other job seekers, that's a big red flag.
Tools to Measure Employee Satisfaction
If you're daunted by the idea of sending out and collecting employee happiness surveys, invest in a tool that does the heavy lifting for you. The following are some great options to consider:
Team Compass provides the team management software and productivity tool-kit you need to set and track goals, review weekly reports, and hold one-on-one surveys and pulse surveys.
Each week, employees have a chance to rank their happiness on a scale of 1 to 5 stars. Managers can add their own 5-star questions or written response questions, too, to gain more insights. As a manager you get a weekly report of how your team is feeling from week to week.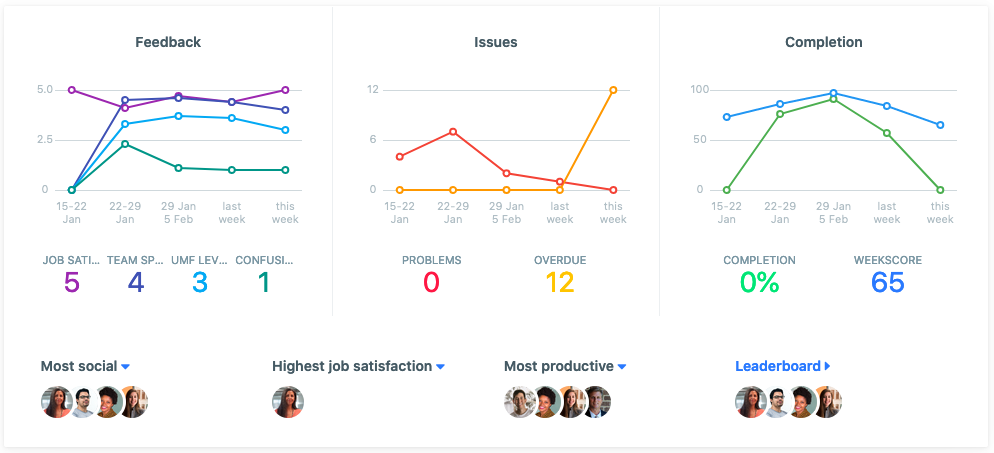 Lots of teams rely on Slack for simple team communications and file sharing. Slack also offers a variety of other apps, though, including the Happy Mood Score app.
This app is specially designed for remote team managers. It provides mood status and feedback rewards, as well as gamification features to increase employee engagement and boost motivation.
Employee Suggestion Box
Finally, don't underestimate the power of the humble employee suggestion box. This is a useful tool for managers who like to do things the old-fashioned way.
Setting out a suggestion box and checking it regularly is a simple but effective way to gauge employee happiness and get tangible ideas for the future.
Update Your Employee Happiness Survey Questionnaire Today
What do you think? Does your current team happiness survey need a makeover?
Team happiness survey questions are a great way to evaluate your team and find out what's working and what's not.
Asking the right team happiness survey questions will help you to measure employee engagement.
Use the right tools to measure employee happiness.
If you're ready to update your employee happiness survey protocol, be sure to check out Team Compass today. Register here to try it for free for two weeks.