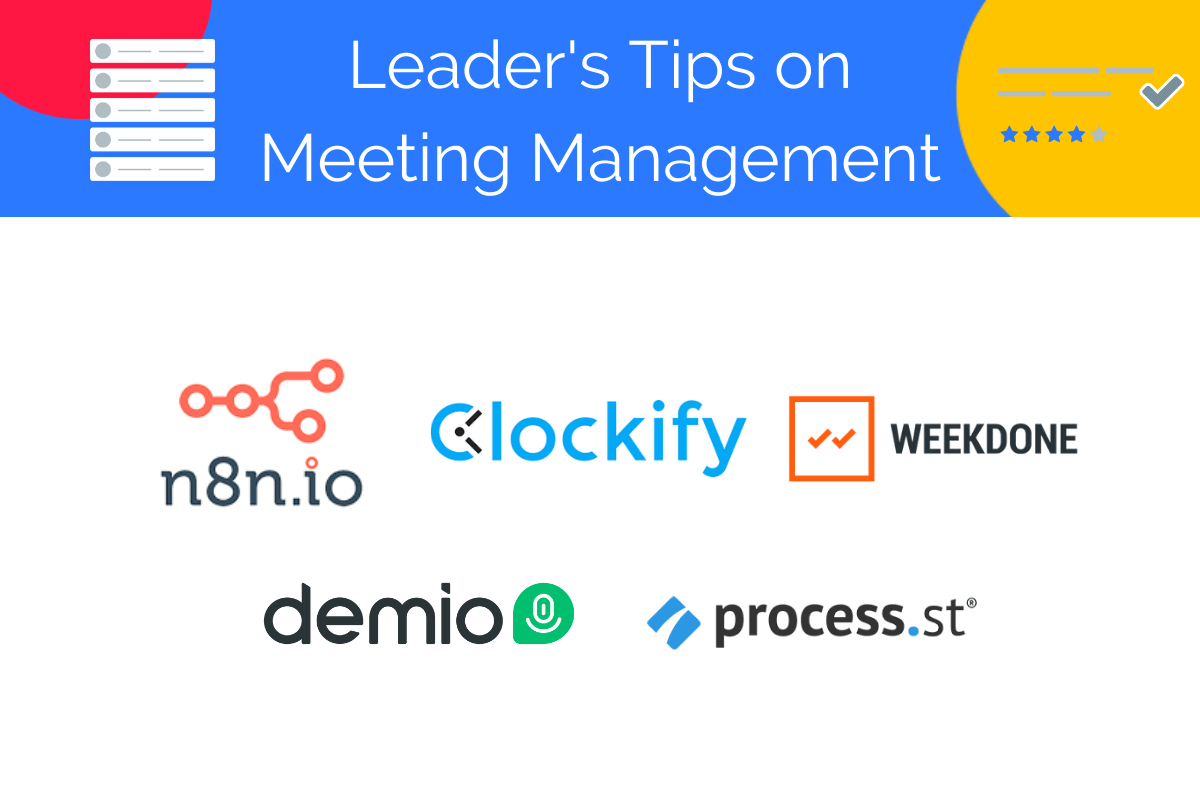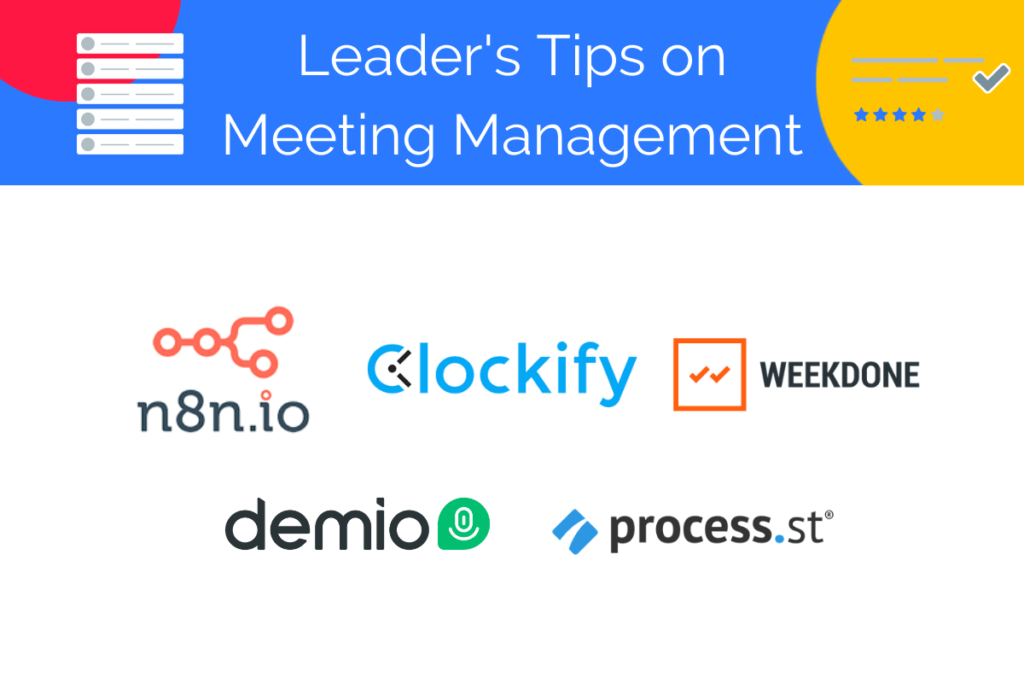 Meeting management is extremely important for all types of leaders. Whether you're a company of 10 or 500, you need to find a way to move into strategic discussions quickly! For this to happen, you should consider the different meeting types, necessary attendees, topics to discuss, and so forth. Meetings are only effective when you organize and prioritize your thoughts and needs.
We've reached out to 5 leaders in different companies in order to learn how they manage their meetings. Meet our leaders:
Ashley, VP of Marketing @ Demio
Hilary, Head of Marketing @ n8n
Richard, Head of Sales & Customer Success @ Weekdone
Oliver, Content Lead @ Process Street
Nenad, CEO @ Clockify, Pumble, and Plaky
How large is your team/company, and which department do you lead?
Ashley, VP of Marketing @ Demio
I lead the marketing department which has three team members directly reporting to me.
Hilary, Head of Marketing @n8n
I'm the Head of Marketing at n8n, a low-code tool for programmers to easily add integrations to their product or automate internal processes. We are a team of 4 with plans to add two more this year and are distributed across Europe.
Richard, Sales & Customer Success Head @ Weekdone
My team is 4 people that cover Pre and Post sales activities, so direct customer facing roles.
Oliver, Content Lead @ Process Street
I lead the Content Marketing team which includes 6 people.
Nenad, CEO @ Clockify
We're around 200 people strong and growing. With our third product, project management platform Plaky, underway, and the first two — Clockify and Pumble — growing, we're always on the lookout for top talent across all 9 of our departments.
How often do you run team meetings?
Ashley, Marketing @ Demio
Once a week, virtually with my direct team (Corporate Marketing). Then twice a month we come together for a cross functional meeting that includes all marketers across the entire organization.
Hilary, Head of Marketing @n8n
We currently have a full team sync once a week and then I have 1:1s with my direct reports once a week. If we have a subject that we want to talk about that will take more than 30 minutes, we will sometimes create a separate meeting to dive deeper into that topic.
Richard, Sales & Customer Success Head @ Weekdone
We have a number of differing meetings with differing cadences. We have a daily meeting with all to walk through how we are doing for the week, make sure any issues are resolved, and all actions, and updates are completed, runs from 15 to 30 minutes in general.
We also are involved in a Weekly cross team meeting which covers plans for the next 2 weeks and OKR progress updates for Sales, Marketing and Product share again 30 mins or less.
I then have some 1:1 meetings on sales opportunities weekly, and churn analysis monthly.
Oliver, Content Lead @ Process Street
Weekly.
Nenad, CEO @ Clockify
I hold leadership meetings once a week. Only the top executives, i.e. the heads of each department, attend. These meetings are small and focused, including just the ten of us.
But, since we have three products — Clockify, Pumble, and Plaky — I also run weekly team meetings focused on each individual product with the most important people heading each of the platforms. This is important because we offer SaaS products, and each has a life of its own that needs constant care and attention to sustain and grow.
We nurture a culture of radical transparency, so employees are always in the loop on the latest developments.
But, since every VP further distills our company-wide OKRs into department-relevant ones in their team meetings, we don't have all-hands meetings all too often. They would be redundant and time-wasting. So I run all-hands quarterly, just to remind everyone of the big picture and the general direction we're going, as well as to congratulate the team on their great work.
What topics do you cover?
Ashley, Marketing @ Demio
The agenda for our weekly meeting is to check in on our OKR progress. This means identifying anticipated roadblocks or challenges to meeting OKR deadlines, asking team members for support where needed, and raising questions that help clarify asks or processes.
Hilary, Head of Marketing @n8n
In team meetings I try to limit the discussions to things we need to agree on as a team, ideas, or prioritization. I like to avoid talking about what we do or did as that can be done asynchronously.
We are a new team so right now we are focusing on organizing our day to day tasks. Once we get more organized and finalize KPIs, we will use this meeting to review KPIs, especially those that are off or doing really well to analyze our learnings. In Q2 we will be the pilot department to start implementing OKRs and will use this meeting to focus on driving our OKR metrics.
Richard, Sales & Customer Success Head @ Weekdone
The sales / CS related meetings tend to revolve around the CRM dashboard we have set up that drive the key areas and if we need to take actions, or in some case items appearing on the dashboard mean they need action. We also discuss any trends, insights or observations we have seen as well as any customer feedback relevant.
Within the broader multi-team OKR meeting, we share what's planned for the next 2 weeks or the OKR updates and insights, the aim is to ensure we are aligned and all understand what's being worked on and why.
Oliver, Content Lead @ Process Street
Typically, we'll spend time looking at work in progress, which includes dedicated team feedback sessions as well as quick status updates on current priorities. Once per month, we spend time planning the upcoming month's content, as well as taking time to assess how the previous month's sprint went.
Nenad, CEO @ Clockify
The largest part of the team meeting is highly structured for maximum efficiency. Everyone comes fully prepared to hash out the usual meeting topics.
Each VP shares key updates on where the department is standing and where it's heading. They prepare reports on what they've been working on for the past week, the goals they achieved and those they haven't, the problems they encountered and proposed solutions, as well as their plans for the week ahead of us.
Some of the specific things we talk about include user growth rates, different channel metrics, financial trends, the features we plan to roll out, and more.
Based on the issues that emerge, we establish our objectives and action items for the following week.
How do you facilitate the meeting?
Ashley, marketing @ Demio
Each team member shares their OKR progress in Notion, which is the company wiki we use to plan and collaborate. Every team member uses green, yellow and red to identify their status against OKRs. If they are yellow or red, we dig in to support them, and if they are green, we don't.
Hilary, Head of Marketing @n8n
In the beginning we do an icebreaker called Rose, Thorn and Bud, where everyone shares something they are thankful for (rose), something that is a challenge (thorn) and something they are looking forward to (bud). We then have a shared agenda anybody can add to and we go through the list.
Once we do start reviewing KPIs and OKRs we will do that before addressing the agenda.
Richard, Sales & Customer Success Head @ Weekdone
Overall the agenda is set in the meeting invite, but driven by dashboards or documents, in all cases trying not to exceed 30 mins in a meeting, we have changed and developed the meeting agenda and facilitation over time to ensure we are on time.
Oliver, Content Lead @ Process Street
Google Calendar event that includes a Zoom meeting URL.
Nenad, CEO @ Clockify
Over time, we've developed a system that makes our meetings extremely efficient. I don't want to waste anyone's time, so I only invite the people who absolutely need to be there and contribute.
We keep a tight agenda and structure so that there's no space for unnecessary detours that could derail us from what's important. As the company behind the most popular time tracking software in the world, aka Clockify, we understand the value of time well spent and the dangers of draining meetings that lead nowhere.
The weekly meetings always happen on the same weekday at the same time so that everyone can plan for them and prepare in advance. This is especially important since we're a remote team with flexible schedules, so consistency ensures everyone can make it.
I act as the meeting moderator, greeting everyone, providing general updates, and then inviting person by person to present their reports. After each presentation, others can raise their hands to ask questions, provide feedback, and similar.
If during a discussion about an issue, other topics emerge, I jot them down to get back to them in due time and not obstruct the conversation at hand. Depending on the urgency, the time required to dedicate to the side topic, and other conditions, we either get back to it at the end of the meeting or note it for some other occasion.
After the meeting, we usually share our reports and any relevant notes in our leadership channel on Pumble so that everyone can access them at any time.
Do you have any specific tools you refer to, or use to manage the flow of the meetings?
Ashley, marketing @ Demio
We use Notion to take meeting notes and assign action items after each meeting. The expectation is that all action items are completed before the next week
Hilary, Head of Marketing @n8n
Right now it is just our agenda, which is a shared Notion document.
Richard, Sales & Customer Success Head @ Weekdone
So for sales meetings we tend to use Salesforce dashboards that show progress, trends and items needing action or review. We use Miro for some collaborative areas we meet up on regularly, and also some google slides for the multi team meetings to share information.
Oliver, Content Lead @ Process Street
Airtable typically guides our focus on specific items, and beyond that, we use Process Street to run sprint planning & retro.
Nenad, CEO @ Clockify
As a distributed team, we're dependent on tools to run our meetings.
We still use several external platforms, but soon, we'll be able to rely solely on our proprietary software for meetings (and our business operations in general).
Our communication tool Pumble is getting video and voice conferencing options as well as screen sharing, so we'll be able to conduct meetings directly in our team collaboration app.
Clockify helps us keep track of our time spent in meetings and provides us with reports and analytics that help us see how we can make these meetings even more productive.
We are currently in the process of perfecting Plaky for the public, but we have been using it internally for some time now. Plaky allows us to check who's working on what before the meeting, as well as document the goals, action items, and DRIs we agree on during the meeting. This way, we can easily keep track of their progress.
Do you have any special rules for these meetings?
Ashley, marketing @ Demio
Yes! Every team member is asked to show up with vulnerability, and to bring their whole selves to these meetings. They are encouraged to speak freely and honestly, while respectfully, and are asked to challenge one another if appropriate.
Hilary, Head of Marketing @n8n
I'm just trying to avoid "reporting" what we are doing. However I'm realizing it is easy to get in that mode. So I'm implementing public PPPs (plans, progress, problems) that will just be a shared Notion document. That way for reporting to the rest of leadership or during all-hand meetings I can easily see what everyone is working on without wasting their time asking them in meetings.
Otherwise, we don't have any fast rules, but one thing I always try to do is be flexible and not just do things one way because we have always done them that way. If we find something isn't working for us as a team, we will change it up.
Richard, Sales & Customer Success Head @ Weekdone
No hard and fast rules, for any topics that are bigger and need longer discussions we will try to park these items and set up separate meetings with those needed to discuss. The only rule is that people pay attention and contribute as needed.
Oliver, Content Lead @ Process Street
Generally speaking, we'll start with items marked for review, followed by a team feedback session on in-progress content. Afterwards we often open the floor to the team to bring up discussion topics or concerns/obstacles that we can help resolve as a team.
Nenad, CEO @ Clockify
As I've mentioned, we have an established meeting structure where everyone gets allotted enough time to expound on the current health of their department, their plans for the next period, and issues and proposed solutions we can hash out together.
One technical rule we have is — all cameras on and all microphones off, except the speaker's. If anyone has anything to say or add, they raise their hand and wait for their turn. This way, we avoid overlaps. I think this kind of meticulousness is essential in online meetings where talking over each other coupled with any potential lags and bugs can hinder any meaningful conversation.
In-person, discussions can have a more natural flow, but online, you leave nothing to chance and set ground rules for maximum efficiency and minimal time waste.
But, once the main part of the meeting is over, we get to relax a bit. We have a little unstructured chat time in the end. While we value efficiency, I think this time is crucial to connect with each other on a human level and take the edge off the seriousness of the first part of the meeting.
Final Thoughts
We want to thank all of these leaders for their thoughtful responses and for giving us insight into the world of meeting management.
As you've read, there are plenty of ways to approach and carry out different types of meetings. It's important to find a tool that helps you prioritize, organize, and stay on track during these 30 minute sessions with your team.
Hopefully you were able to take some notes of your own and walk away with some ideas for your next meeting! And if you're not already using team management and meeting management software – try Weekdone Team Compass for free!