"Management by objective works – if you know the objectives. Ninety percent of the time you don't." – Peter Drucker quote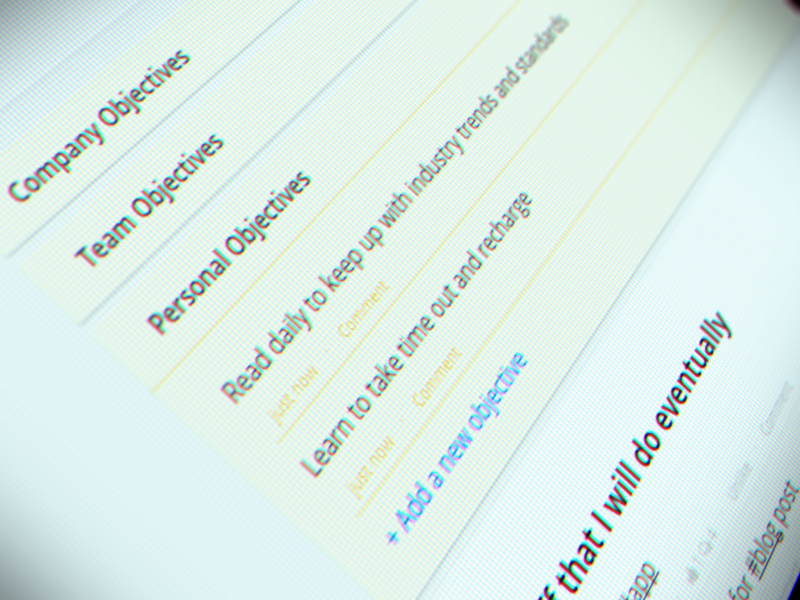 We're big believers that to be productive, having your long- and medium-term objectives in front of you is important. For quite some time Weekdone users have had the possibility to publish company and team objectives and link items to them. We described the reasoning behind that back when we launched that feature. While well used, some of our you said even inside one team, the team objectives are often too broad. So we went even narrower.
Set personal goals and objectives
Today we're happy to launch Personal Objectives. They work just like team and company objectives, just that they are separate for each person and include his or her goals.
To turn them on, the admin user must enable them for whole company at Template Settings page. Check the "Show a global Personal Objectives section" and press "Update". If you have not tried yet, why not turn on the Company and Team Objectives as well.
Remember: as a manager, it's also important to explain to your team members, why are goals and objectives important and how to use them. So after flipping the switch, spend some time on your all-hands meeting or team e-mail blast to explain your own take on it. Like most of Weekdone, it works if you as a leader get the team buy-in.
The personal objectives can be entered either by the person themselves or the managers. You can use also comments to have a discussion about each objective, or add external links to them.
As always, we suggest not to have more than 2-4 objectives live at any one time, to keep the focus. Less is more for getting things done.
Using objectives in your process
You can use personal objectives for monthly, quarterly or arbitrary long-term goals. When objectives are set, link you plans and when done then progress to them by using #hashtags in Weekdone.
For team members, personal objectives allow them to have a daily guideline and decision-making mechanism to choose the most important tasks to work on.
As a manager, it's a great way for future performance appraisals, to see how well person's progress is connected to their main goals. Or even better, instead of long-term performance appraisals, to use the weekly employee reporting and long-term goals to get away without long-term appraisal process at all, like many suggest.
They also match well with OKR's – Objectives and Key Results – the management technique used by Google, Intel, Linkedin, Zynga and many other startups and top companies. If you need to find one best practice process for setting and communicating objectives, OKR is it. You can read more about OKR's on Weekdone Objectives and Key Results tutorial and examples page.
Prioritizing objectives
We've also improved team and company objective areas and implemented one of the most asked features: ordering and prioritizing objectives. Just hover over the objective items, a drag handler appears, then click and drag the objective up or down.
Any feedback or requests? If not, go try it out.