Enhance your project management with our free Kanban board template designed for 2024. Streamline your workflow, collaborate seamlessly, and boost productivity. In this post, we'll guide you through the features of our template, how to use it effectively, and introduce you to online Kanban boards with Weekdone.
What is The Kanban Methodology?
Kanban, a Japanese term meaning "visual card" or "board," is a powerful methodology designed to enhance workflow efficiency and team collaboration. Originating from manufacturing, Kanban has evolved into a versatile system applicable across industries. At its core, Kanban emphasizes visualizing work processes, setting limits on work in progress (WIP), and continually improving workflows. For a deeper understanding and industry-specific applications, explore our detailed posts on Kanban methodology.
How to Use Our Free Kanban Board Example Template
Unlock the full potential of your projects with our user-friendly and free Kanban board template. This template represents simple project management through columns such as Plans, Progress, Problems, and Future Ideas. Let's delve into an example scenario for an IT team:
Plans:
Research suitable hardware options.
Obtain cost estimates from vendors.
Discuss with the IT team for input.
Progress:
Received cost estimates from vendors.
Team discussion resulted in a preferred hardware choice.
Problems:
Delays in obtaining cost estimates from vendors.
Team members have conflicting opinions on the hardware choice.
Future Ideas:
Investigate cloud-based solutions for future scalability.
Explore energy-efficient hardware options.
These examples will be entered into the template by default, take notes and generate your own.
Free Kanban Template Download
Take the first step towards enhanced project management by downloading our free Kanban board example template. It is designed for immediate use in Google Sheets, providing a seamless and organized approach to project workflow.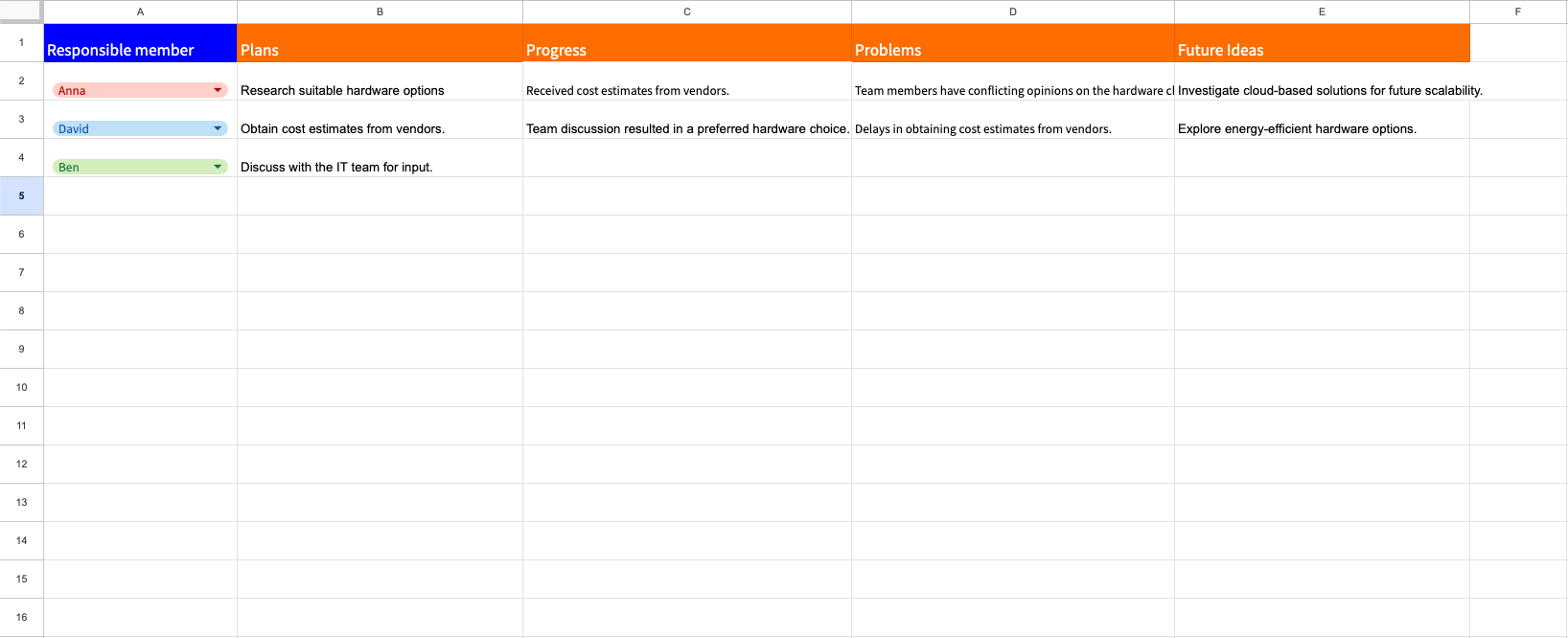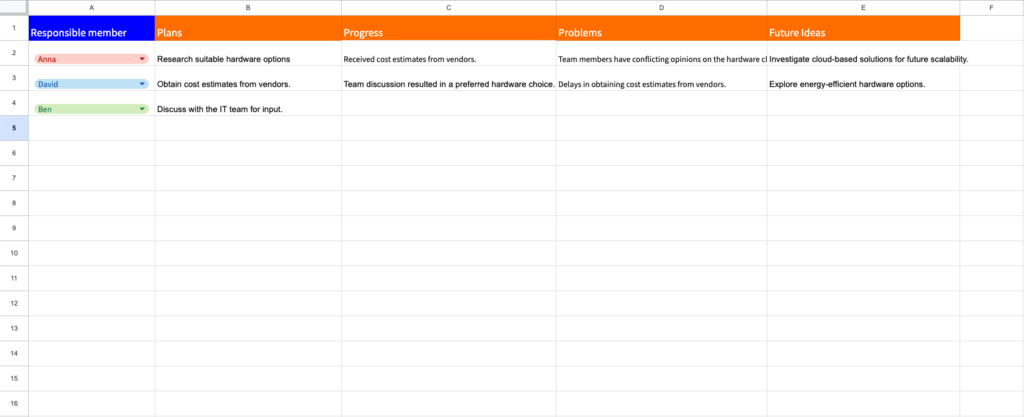 Google Sheets Is In The Past
While our free Kanban board example template provides an excellent starting point, imagine the power of constant updates and seamless collaboration with Weekdone, our premium online project management solution.
With Weekdone, your team can experience:
Ready to experience the future of project management? Explore Weekdone and elevate your team's performance today.
Instructions for Using the Template:
Getting started is easy! Follow these simple steps to import the Kanban board template into Google Sheets:
Click the download link above to get your copy of the template.
Open the downloaded file in Google Sheets.
Start customizing the columns, tasks, and details based on your project needs.
Collaborate with your team in real-time and watch your projects thrive.
Ready to experience a more organized and efficient project management process? Download the template now and elevate your team's productivity.
Use Kanban Boards Online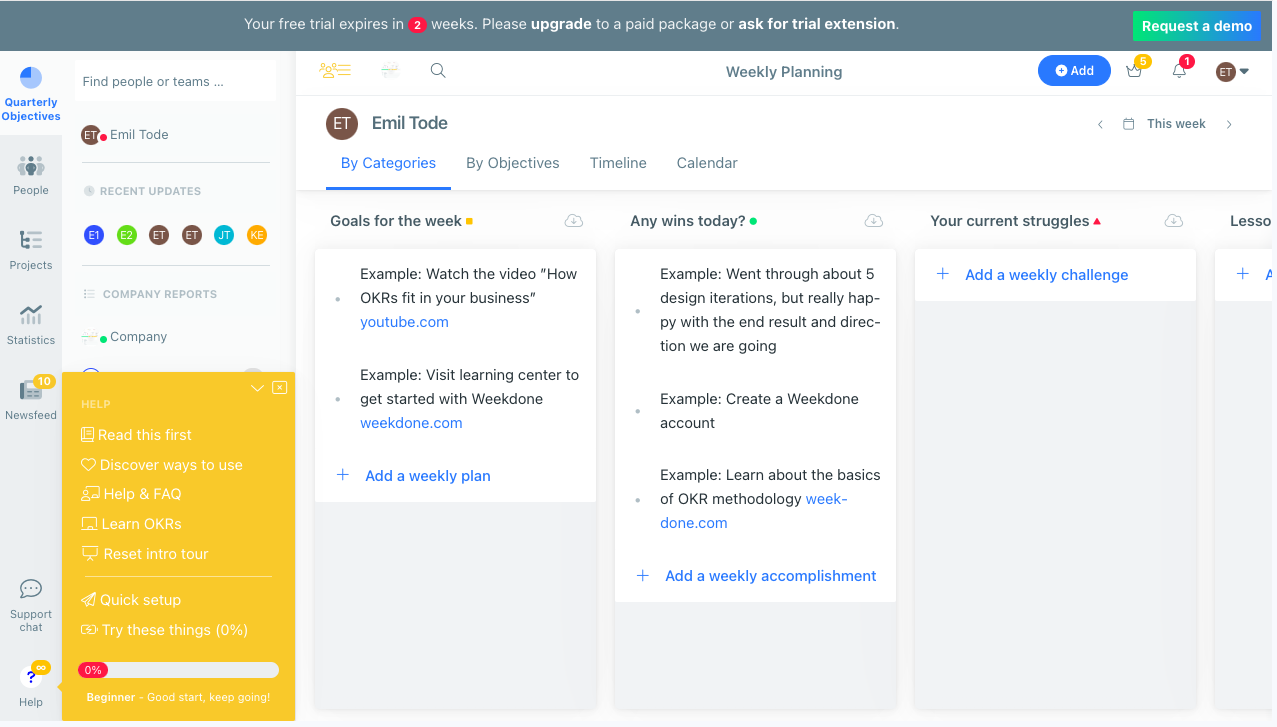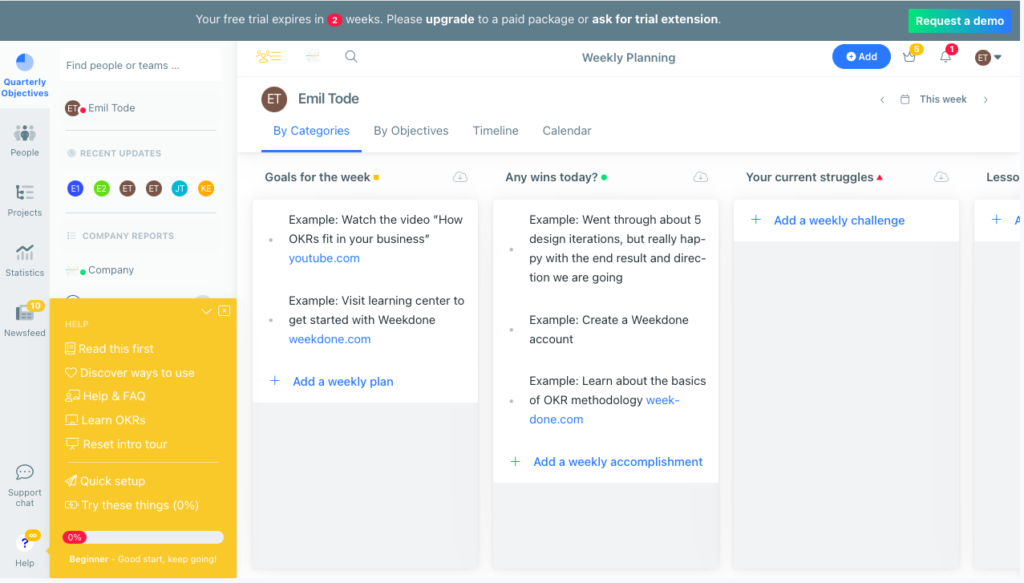 Take advantage of online Kanban boards for enhanced collaboration, accessibility, and real-time updates. Explore Weekdone, our premium project management solution designed for modern teams. Revolutionize the way you manage tasks, collaborate, and achieve success.
Key Features of Weekdone:
Elevate your project management experience with Weekdone's distinctive features:
Ready to experience the future of project management? Explore Weekdone and elevate your team's performance today.