In this era of digital transformation, companies are adopting new and modern tools and technologies to break down workplace silos and enable a collaborative workspace. The challenge that many face is the management of different strategic priorities and aligning the goals of cross-functional teams and employees.
Our tailored Managers Toolkit is designed to enable managers and leaders to develop and define goals, organize tasks, and stay on track toward achieving their objectives. With ready-to-use templates, you can easily define company goals, execute outcome-focused project planning, organize tasks, and manage meetings for employees from different departments.
To navigate through this Managers Toolkit, let us dive into each section.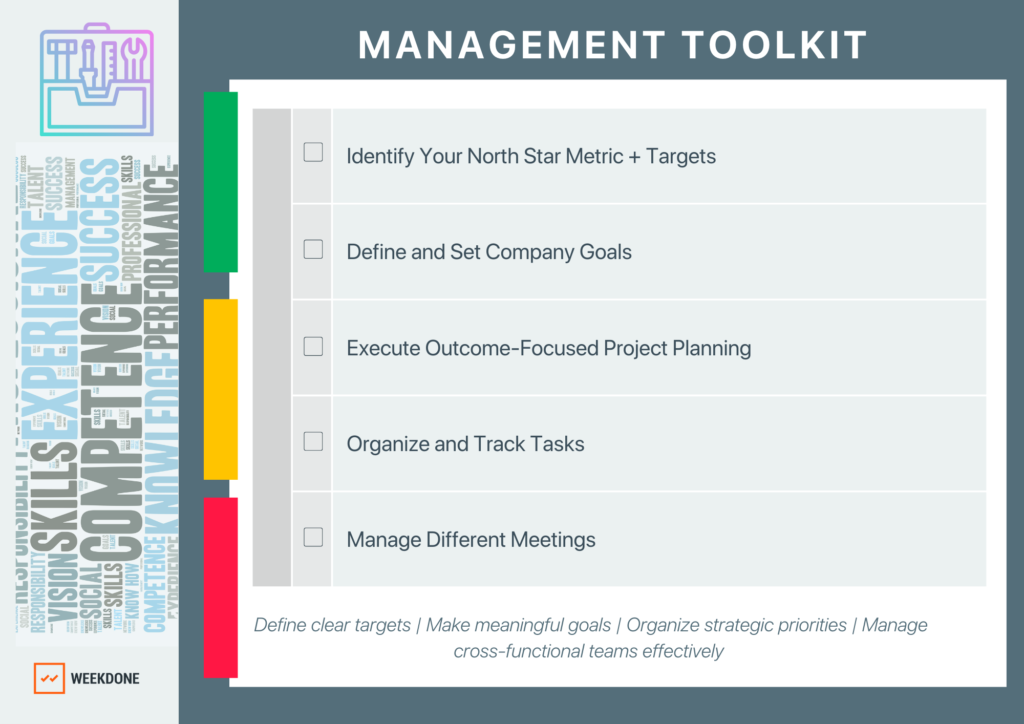 Identify Your North Star Metric and Target
What impact does your company want to make? What is the value proposition? What are your long-term strategic priorities? Answers to questions like this serve as a good foundation when managing goals in a specified period and defining your quarterly OKRs.
When long-term strategic goals are not defined, a North Star Metric can help drive your goals forward. For instance, if your North Star Metric is related to customer retention, then the focus areas for improvement, and the objectives, initiatives, and key results, can be aligned to achieving this high-level goal.
Define and Set Company Goals
Business goals often reflect the wider purpose of a company and define the direction that employees need to move toward. To manage goals successfully, many best-in-class companies use a goal framework that provides a systematic way to break down high-level goals into actionable objectives and initiatives.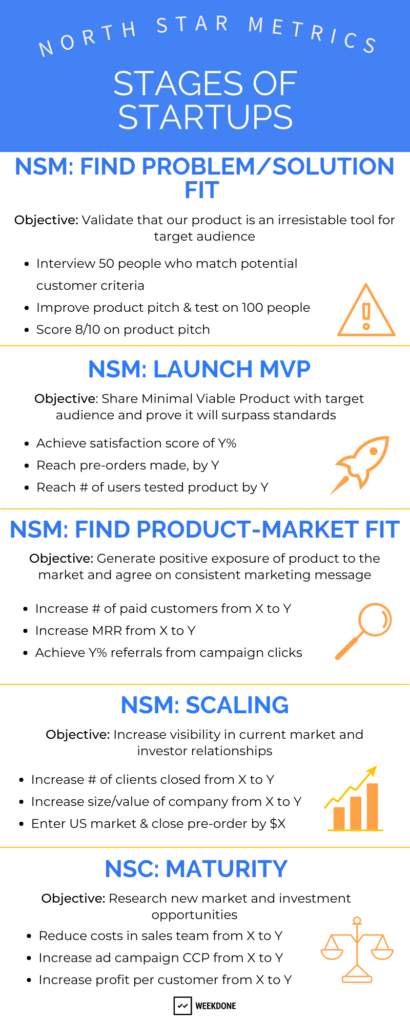 Adopting a goal management framework can support the development of meaningful goals, simplify the process, and ensure higher success in achieving them.
Keep in mind that goals are different from objectives. Goals are typically broad and achievable in the long term. On the other hand, a company objective is specific, measurable, and achievable in the short term (quarterly).
High-level goals can be used to inform strategies and set the direction, objectives help identify how the goal can be achieved.
💡 Curious to learn more about the difference between goals and objectives? Read this blog
In the Managers Toolkit, the company goals template allows you to record your Directional Objective - what do we need to impact and why?
The best practice that managers and leaders use when adopting the OKR framework is setting one Company Objective and 3 to 7 Key Results per quarter while different teams could have one Objective and 3 to 5 Key Results.
❔ How many OKRs to create? Find out the best practice

👉 Wondering how all your Objectives and Key Results align from the Company level to different teams?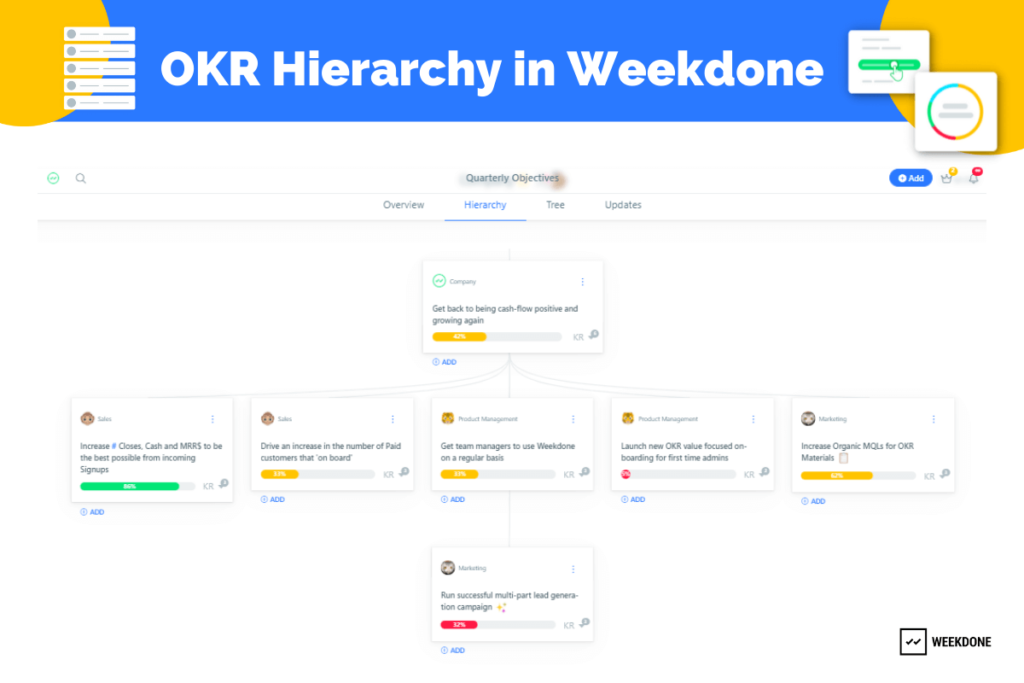 Execute Outcome-Focused Project Planning
Starting with the end goal in mind, this project planning template is outcome-focused. It is a straightforward and intuitive template that allows you to identify your problem statements and record the solutions, customer research input, and assumptions related to the potential impact of your efforts.
💡 Using this Project Planning template together with the OKR framework can help to develop actionable objectives and drive the focus on improvement areas to effectively support leadership goals and the vision of the organization.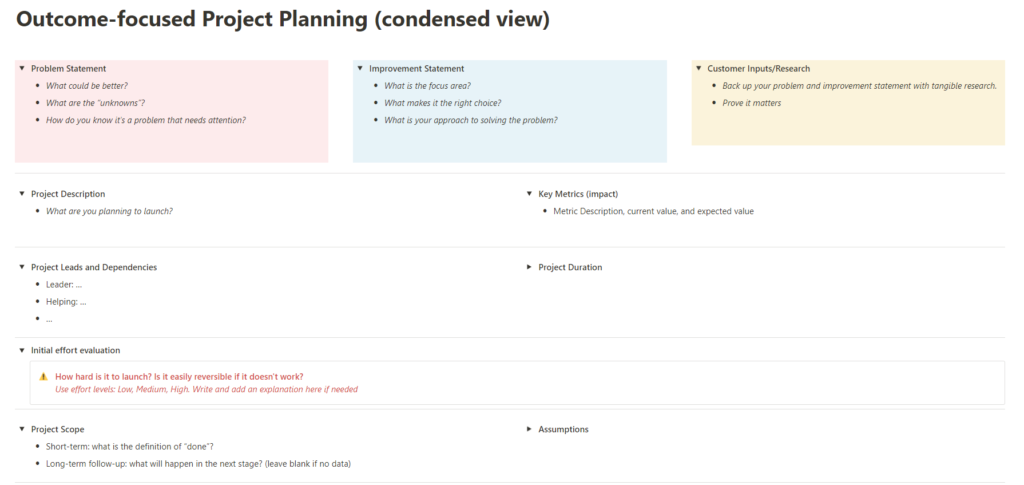 When using this template, consider these important questions to identify problem and improvement areas, project dependencies, assumptions, and key metrics:
Problem Statement:
➤ What could be better?
➤What are the "unknowns"?
➤ Why is this considered a problem?
Improvement Statement
➤ What is the focus area?
➤ What makes it the right choice?
➤ What is the approach to solving the problem?
Customer Inputs/Research
➤ Substantiate your problem and improvement statement with credible research
➤ Find proof that the focus area matters
Key Metrics
➤ How can impact be measured?
➤ What are the measurable outcomes you want and expect from driving this change?
Project Description
Record details about the project - the manager and leader of the project, the team, new role (if required), and duration. Add an explanation about the level of difficulty to execute this project. Can it be easily launched? What needs to be done if the results are not optimal?
Project Scope
➤ Short-term: what is the definition of "done" or "completed"?
➤ Long-term: what will happen in the next stage?
Assumptions
➤ What results or improvements do you expect?
➤ What needs to be true for this project to be successful?
Plan of Action
➤ What are the activities and project milestones?
Other info/meeting notes
➤ Are there other links to documents or meetings related to this project?
To see how this template can be used, check out this example about launching a newsletter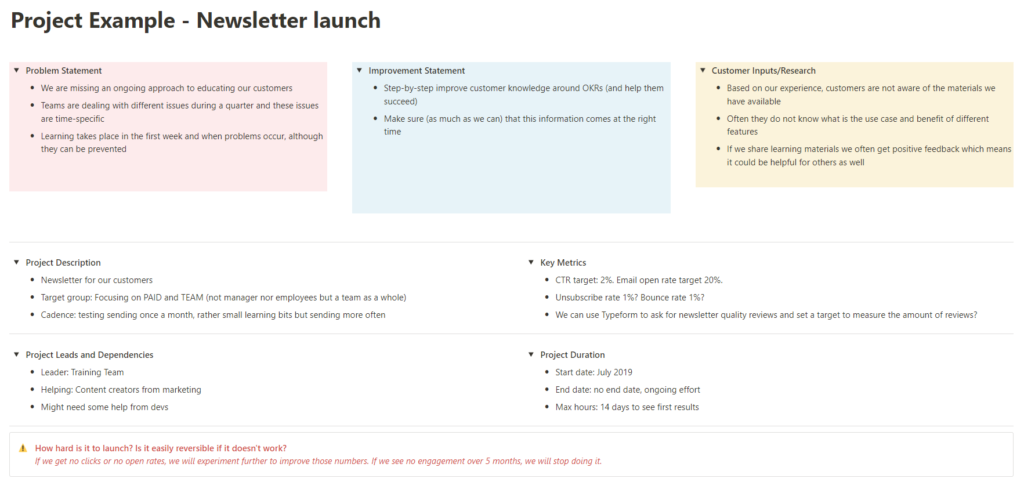 OKR Examples for Different Teams
If you looking for OKR examples for different teams, refer to this playlist or explore more examples for specific teams in related links below:
Use a Systematic Approach to Goal Management and Alignment
A good place to start the goal-setting process is to use this Managers Toolkit to develop your goals and objectives. The next step is to manage, track, measure, and assess progress toward achieving your goals.
Using dedicated OKR software is an effective way to set, track, and align your goals from the company level to the team level.

With automated reports and interactive dashboards visualizing the progress is easier. OKR software makes goal setting more efficient, by automating reporting and ensuring that everyone is accountable and motivated to achieve the organizational goals and drive success.
🎯 Ready to set your goals for different teams?