In Weekdone we spend a lot of time helping and consulting companies on how their managers can work smarter. We try to find out how a manager can do his job and stay positive. Recently we conducted a survey among our users to see what are the biggest challenges someone in a managerial position faces and how we can overcome these together.
Happy manager guarantees a productive workforce.
According to Gallup, managers account for 70 percent of variability in employee engagement. That means that a weak and unmotivated team lead will definitely decrease your company's overall productivity.
Yet, 51 percent of them are not engaged in their work and another 14 percent is actively disengaged. That translates into a lot of unproductive work time, fake work and lost profits.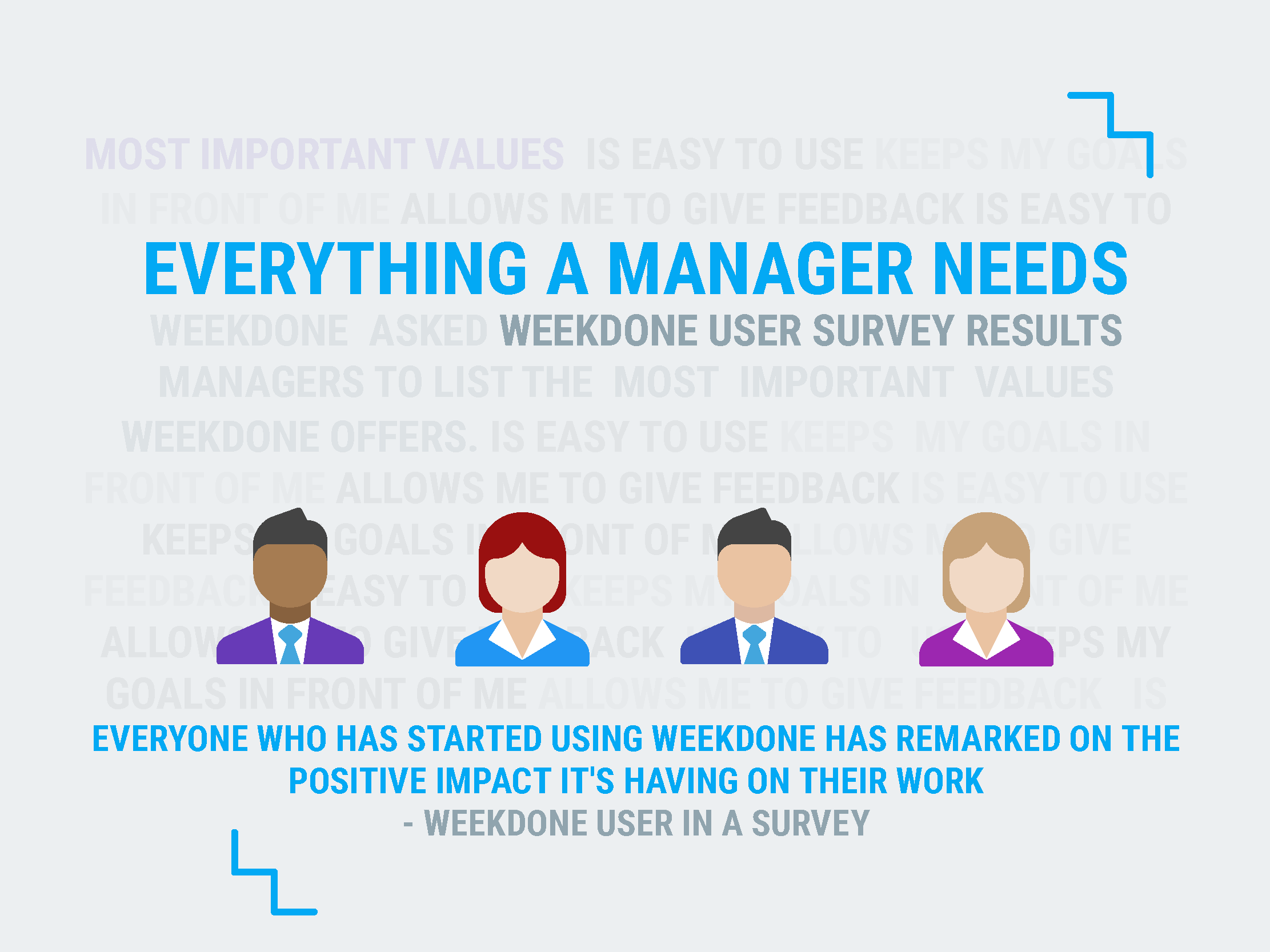 3 things that make managers happy.
We've learned that when it comes to work satisfaction, the three things most managers want are:
Clear goals;
Tools to do their work well;
An easy feedback system.
Managers, like most of the employees, want simple things. To know what is expected of them, tools, to do what's expected and feedback on their work.
Unfortunately a lot of people still work in environments that don't offer some of those basic elements of success.
That is sad.
Weekdone weekly reporting.
Weekdone reporting offers all of those things. Our OKR system helps both leaders and employees set goals and employee weekly status reports make sure that these plans are constantly followed.
According to our survey, the biggest values Weekdone offers are:
Weekdone is easy to use;
It keeps goals in view;
Weekdone allows to give feedback to employees.
Interestingly, most managers valued our weekly reporting tools and quarterly goal-setting systems equally important. That shows that managers understand the need for both long- and short-term planning.
There are many products that offer goal setting or reporting tools. But Weekdone is the only product that offers both.