Team Compass provides you with visual reports on work progress, employee satisfaction, goal progress and more.
Try it! It's free for small teams, offers a free trial and is just $29/month for larger teams.
---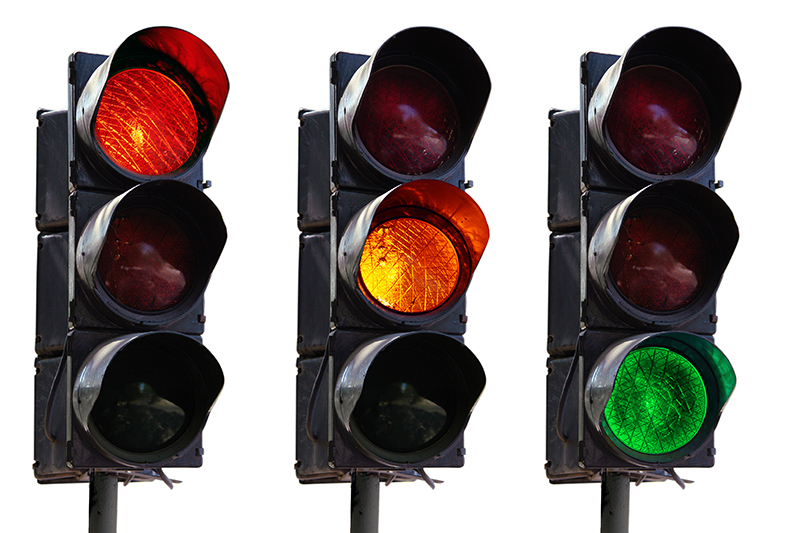 The RAG system is a popular project management method for rating status reports. Basically, it's based on traffic lights using red, amber (yellow), and green to signify different scale ratings.
You can flag, prioritize, and group items in your weekly status report using Team Comapss. Click on the star to select your option.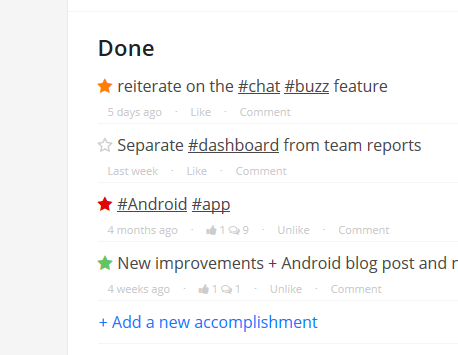 When writing a status report it's very important to record how a milestone, project, program, or portfolio is performing. Project managers use a RAG rating to indicate if a project is on track or at risk. Green typically indicates normal levels of production, amber indicates that production has slowed (or attention is needed), and red indicates that production has stopped or the line is down.
Using the RAG rating scale in Team Compass, there are no written rules. You can assign your own meaning to each of the colors. Some examples include:
highlighting bigger and more important tasks to distinguish them from smaller ones
marking items that are on hold
highlighting issues which need help from your teammates
showing which items you are currently working on
measuring your Objectives and Key Results
Other Project Management Automation Strategies
Your time matters
You can use the Pareto principle to figure out the one Objective your team needs. The principle states that 80% of the effects come from 20% of work. . If you want to be good at your job, you need to figure out which tasks are most important and focus your full attention on them. Hint: it is not weekly reporting.
This is why you need to automate managerial processes like goal setting and task management. That way both you and your team can focus on being effective and staying ahead of the competition.
A manager is more than an organizer
I started using automated weekly reporting when I understood that I didn't want to be the manager who does nothing more than organize work. I wanted to accomplish impactful goals as well. It can be hard to work on personal goals when you need to manage 20 or more employees.
To handle my team and set up everyday reporting I use the Plans, Progress, Problems (PPP) in Weekdone. PPP enables and encourages employees to report their tasks without feeling like they are wasting time. Simultaneously, this ensures that I have all the information about their work that I need. This is the automated assembly line increasing efficiency for everyone.
As. Toby Young, CTO of Ebury explains that "Real-time reporting is very important for retrospective reasons and to see what is going on, if other teams have problems, I can help".
Getting your employees to try new project management systems
When it comes to implementing new systems at work, no one can be left behind. It doesn't matter if we are talking about goal setting, weekly reporting, or performance management, if even one employee doesn't embrace the system, you will fail. For that reason, it is vital you also test new software and systems with as many people as possible right away.
[Tweet "The two keys factors for making sure everyone comes along with a new system, are simplicity and benefits."]
Simplicity: the new system must be as understandable and intuitive as possible.
Benefits: the new system needs to have benefits for every employee. For people to adopt new systems, they must have a crystal-clear understanding of how it helps them personally. While pleasing their manager motivates some people, helping themselves is a motivation for all ambitious employees.
Should you want to test out new software, rest assured that Weekdone will do everything in our power to support the onboarding process. Our customer success team is happy to offer team training, product demos, and monthly check-ins.
This makes sure your company can maximize the benefits out of our service. If you need any help using Weekdone, don't hesitate to contact us. We take great pride in helping teams improve their performance.
Try out RAGs with full team management for yourself in Team Compass.
Read a follow-up for this post: "RAG+B traffic light rating system – expanding established design patterns".