So you're the designated planner for upcoming virtual holiday party and don't know where to start? You've come to the right place.
Whether you're here searching for virtual holiday party ideas to engage your remote team, or COVID ruined your big plans of decorating the office with all the mistletoe and menorahs – we are here to help.
We've compiled a list of our favorite virtual holiday party ideas. We have included activities for corporate groups to small teams – there's certainly something for everyone!

Before you move onto the list, rest assured knowing that each activity has met and exceeds the following PARTY criteria:
Popular and positively reviewed 🌟
Actively engage participants
Really fun 🥳
Totally festive
Your teamwork skills will be revealed (sometimes even challenged)
12 Best Virtual Holiday Party Ideas
1. The Escape Game Game Show (Holiday Edition)
Ever dreamt of being on a game show? Now you and your team can compete in a holiday game show competition hosted by The Escape Game! Your host will greet you in one big Zoom call where you'll do some icebreakers and learn the game rules.
You'll be split up into teams and play games like Return to Sender, Synonym Cookies and Present Pyramid! Breakout rooms will be competing for the highest score and winners will be announced after 5 exciting rounds and everyone is back together for the debrief.
This is The Escape Game after all so be on the lookout for hidden surprises and bonus points along the way!
Get Custom Pricing For Your Team Now!
2. Frosty's Virtual Holiday Trivia
"Our Event Facilitator was such a fabulous host and entertainer! He brought quick wit, great charm, and fantastic energy to the events!"

Netflix
Who doesn't love trivia?? Kick the season off with a themed virtual trivia event. Split up into teams and see who can get the most points during the allotted time of your event. This event is hosted by an engaging specialist who knows exactly what makes corporate parties worthwhile!
We suggest this as an "icebreaker" activity, book 30 – 45 minutes for your team to enjoy some laughs together, the day before your holiday break. It's certainly something to remember.
If you're looking for something to keep your team online a bit longer – Frosty's Virtual Holiday Trivia can be planned for groups (4 to 1000 + participants) for up to 2 hours! So – grab a drink, plan some prizes for the winners, and make an evening of it!
3. Virtual Euro Trip
It's a Virtual European Holiday Extravaganza!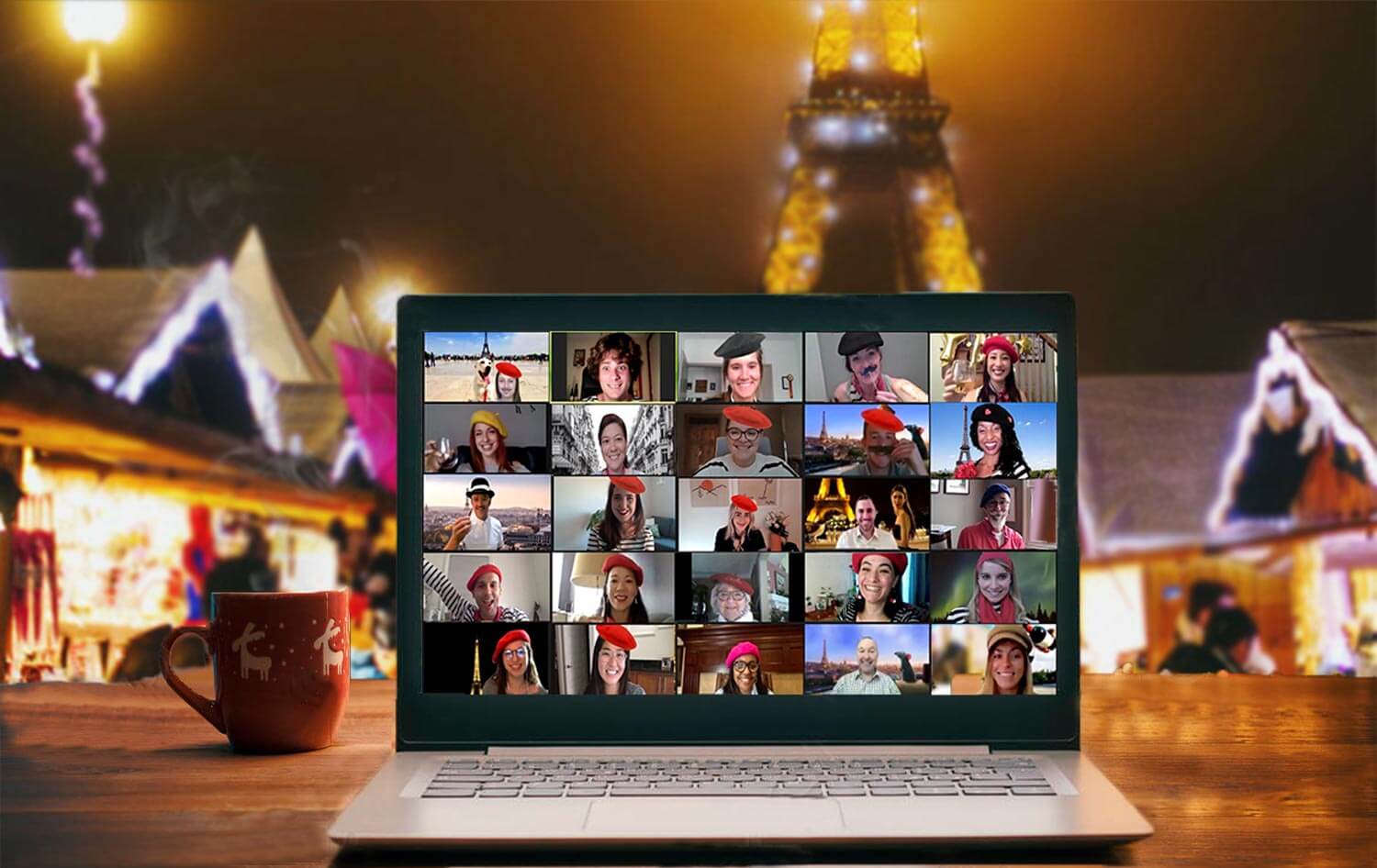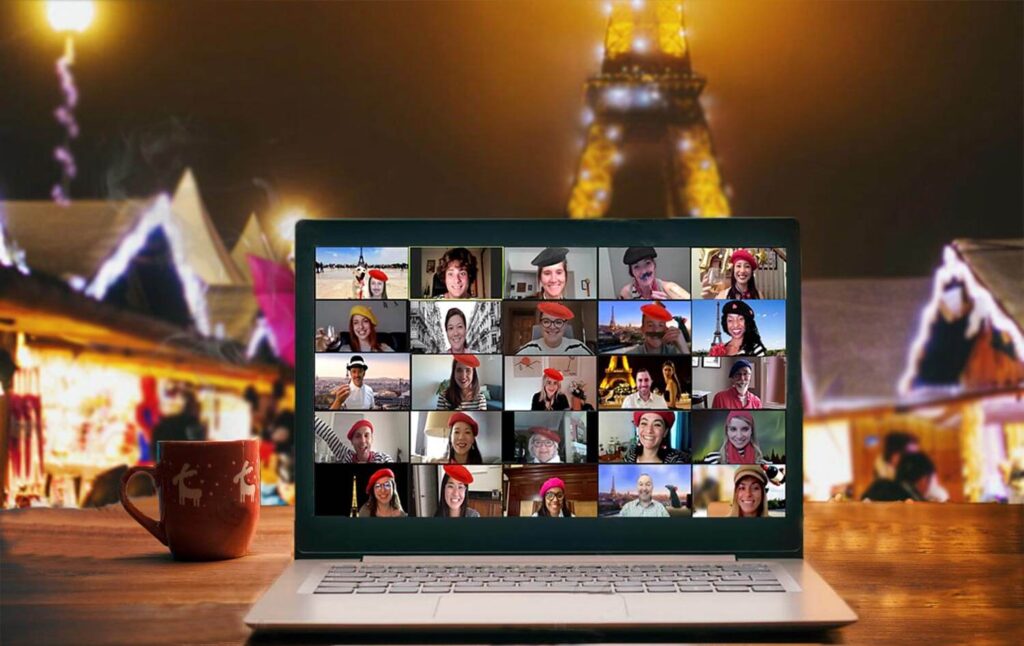 Zoom your team off to Europe for a 60-90 minute virtual holiday party experience. Get all cozy with 'Live from Paris with Love', laugh until it hurts with 'Woyago's Wacky Barcelona Christmas', or unleash your competitive spirit on a 'Scavenger Hunt in Italy!'
Let your laughter run wild with this fun and unique holiday party your team won't soon forget.

Host Party Tip: Encourage coworkers to dress up, or down – holiday PJ Party anyone?
4. S.O.S (Save Our Santa)
Your team will be plunged into a superb immersive-theatre-style escape room run by professional elves and of course Santa! Time is ticking with Santa gone missing! Your help is desperately needed and time is running out, can you deploy your team for this impromptu operation?
Armed with only a ransom note and a half-eaten mince pie, your team will join Operation Blizzard as junior agents, on the quest to Save Santa, who has been kidnapped by a mystery enemy. Get ready for action, loads of laughs, and a mission full of twists and turns. This may be one of the toughest jobs you've ever experienced this year, but you've got this!
5. Create a Team Jingle
​​Get the end-of-year party started with an incredibly fun team experience hosted by a professional DJ! Jam out with your teammates and experience an innovative music-making escape that is sure to energize and inspire your team. Together, you'll create a unique jingle that will become your team anthem. It's the perfect way to get everyone pumped, and celebrate!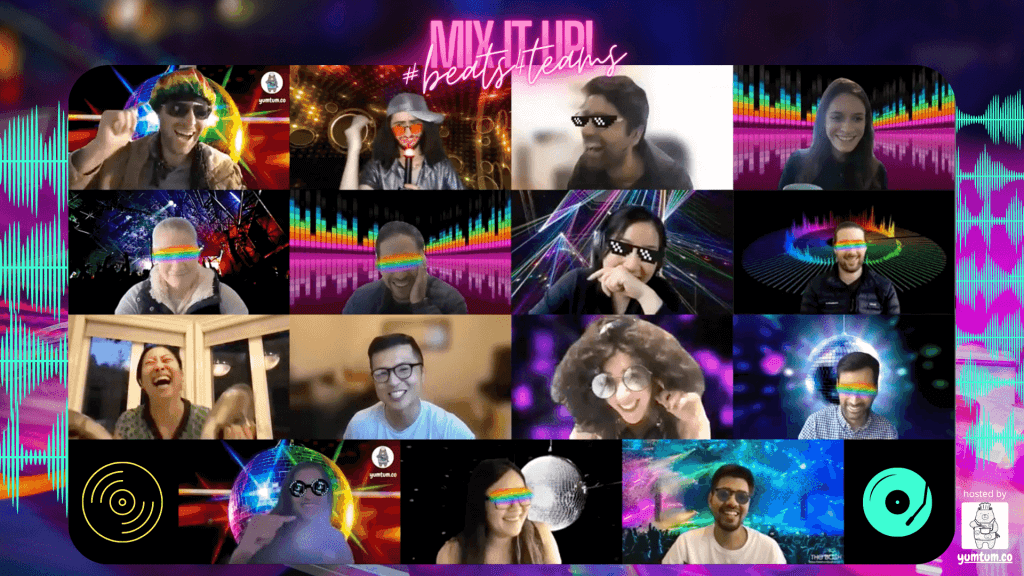 The best part? You'll get a copy of your team jingle and mash-up! So why not start by scrubbing some records?
*No prior experience in music or music-making required! Get a Quote today!
6. Holiday Hijinks
Everyone was engaged and very much enjoyed the holiday team building event. We are so happy we could do something to celebrate, thank and entertain our team. Thank you!

ReMax
Need a virtual team building activity for your remote team as the holiday's approach us (where did 2021 go?!)? It's hard enough to coordinate a big party with all your team members taking time off at different times during the holiday season! But, with Holiday Hijinks, you just send an email invite and let the party goer's come to you!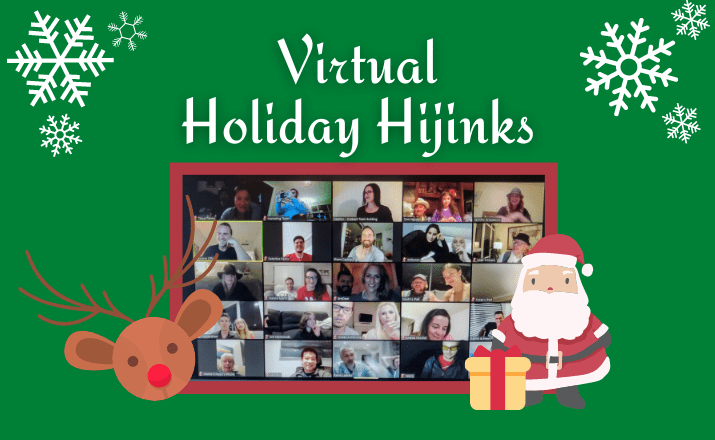 This virtual holiday party idea encourages festivity, communication, collaboration, and teamwork.
Split your team into groups and race against the clock and try to outpace the competition as they work through a variety of holiday-themed challenges. Each completed challenge will earn teams points and help them climb up the leaderboard to be crowned the Holiday Hijinks Champions!
7. Sip with Mrs. Claus (aka: a professional bartender)
Nothing says getting cozy with your co-workers like a virtual cocktail making party! This is the ultimate holiday party idea. Celebrate the end of the year, or the beginning of the new by making the perfect drink with a professional bartender and entertaining emcee.
The company, YumTum has plenty of experience hosting events for companies like: Google, Pinterest, Atlassian, Canva, Pokémon, Unity, and more! As we promised, it's highly recommended!
You can choose to have participants grab their own ingredients, or make it easy on everyone and have the professionals at YumTum take this experience into their own hands. They even offer the option to ship a beautifully packaged cocktail box to every team member.

Did someone say Eggnog White Russian? Yes, please! Click to get a quote now!
8. Online Escape Rooms
I know we promised "festive" but, we have to include something for teams who may want a more 'team building' focused event to thank their teams – without all the extra frills. You can still celebrate a successful year with these themed remote adventures!
Keep your team laughing, engaged, and ready for a challenge!
Remote adventures is one of the best virtual escape rooms we've ever tried here at Weekdone. We split our company into teams and raced against the clock. The host from The Escape Game walks around your escape room in real time with you; so it's up to you and your team to work together and keep the host moving and showing you anything and everything around them in the space! Solve puzzles and use the clues to escape. Can you escape in an hour?!
You can even suggest your team wears their ugliest Christmas sweaters – to make the competition more fierce! Who completes the challenge first, AND has the best/worst sweater!
Maybe the hosts will even hide some holiday clues in each of the rooms at you request!
9. Great Festive Feast
Nothing says "holidays" like a giant food filled gathering! Grab your computers and colleagues, put on your aprons, and bring out the pots and ladles. Get ready for an immersive cooking experience with your team with an interactive MasterChef kitchen.
This virtual holiday party will take your team through an unforgettable culinary journey with some of the best chefs around.
That was a fun evening, so much fun and oh-so-delicious!!! My daughter Ella joined in and loved having a lesson too. We all enjoyed it and got a chance to learn some fun trivia about each other. The chef was so calm and made it easy. We made 35 dumplings together as a team in under a minute! Yay team!

Christina C – Head of Talent Acquisition, Cisco
Like Christina said, it's fun for the whole family too! Challenge your team to complete an instagrammable dish in under 2 minutes! YumTum helps you tailor the experience to your needs. Options to host companies up to 500 people! Now that's a party!
10. Honor your Inner Elf – Wreath Making Classes
Elves make toys, so they MUST be the hands behind beautiful wreaths, right? Well, you can cut them a break this year and make your own.
We recommend heading on over to Eventbrite and choosing from their list of options to best suit your team needs.
You can choose a virtual wreath making class here. They offer a great selection of activities with different pricing options, activity lengths, and wreath style!
These events are best for small teams as the price may get expensive as you add more participants. Most activities send you a bag o' goodies for you to use on the day of the event. Aside from an awesome activity to do with your team, you'll walk away from the party with a tangible item to hang in your home, or gift to someone special!
11. Send a Holiday Goody Bag O' Snacks
Maybe your team isn't up for the whole activity thing, but you still want to show them your appreciation during the Holiday season. Companies like Universal Yums are great for sending packages of snacks from different countries each month!
Choose to gift 1 month, 3 months, or up to a year of treats from different countries! This is best for small teams, or companies with a big budget 🙂
As a virtual holiday party idea, send the package as a gift to everyone in your team, and open them at the same time over whatever communication platform you use! Taste each treat together and imagine yourselves in the country of origin!
12. Watch a Holiday Movie Together
Die Hard is a Christmas classic, right?
There you go! Have a quick debate with your team over what constitutes as a "holiday movie" – certainly you'll have some coworkers challenging each other over what qualities makes a movie "holiday" official.
Schedule a time for everyone to gather on a Friday after work. Use your Netflix account and chat away with Teleparty to stream your favorite movies together. Take it one step further, put a Christmas hat on the corner of your TV or computer. Whenever someone in the film wears the hat, you all should take a sip of whatever you're drinking – hot cocoa, or an Irish coffee!
Wrapping Up a Successful Year
And, that's a wrap!
I speak on behalf of the Weekdone team – we hope you get a chance to try some of the mentioned activities from the list! If and when you do, we'd love to hear about your experience. Send us an email at hello@weekdone.com and tell us about your event!
Wishing you a successful end to an…eventful year. Cheers to you and we wish you a healthy and prosperous 2022 🥳 🥂