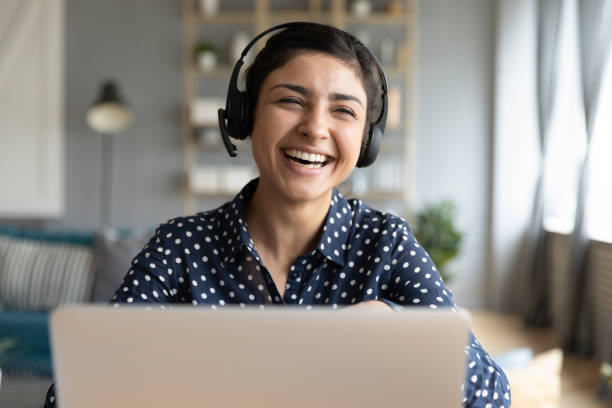 Kicking things off with virtual team meeting ice breakers is a great way to avoid some of the most common challenges of video conferencing, including discomfort with being on video — which affects 30 percent of workers.
Have you and your team members been struggling to stay engaged and collaborate during virtual team meetings? If so, consider starting with an ice breaker before jumping into the main discussion topic.
Read on to learn more about the benefits of ice breakers and find a list of some of the best ones to try today.
Why Do You Need Virtual Team Meeting Ice Breakers?
The idea of getting started with team meeting ice breakers in virtual meetings might seem a bit cheesy or unnecessary at first — especially if everyone already knows each other. However, a simple ice breaker question can work wonders for your remote team-building efforts and will get everyone on the same page before the meeting begins.
Here are some other noteworthy benefits ice breakers have to offer:
Increase relaxation and help team members to feel more comfortable sharing ideas or contributing to group discussions
Encourage team members to speak up and take more ownership of the meeting environment
Build rapport among team members and foster stronger relationships
Prepare team members to work together and collaborate on other projects in the future by increasing their comfort with one another
It doesn't matter if your team has always been remote or if you've recently transitioned to a remote work environment. The benefits of virtual team meeting ice breakers will encourage stronger relationships and lead to more collaboration. These results, in turn, can also boost productivity, improve performance, and help you to accomplish your team objectives faster.
Top 15 Best Virtual Team Meeting Ice Breakers
1. How is everyone feeling today?
This simple question helps you to get a sense of the general mood among your team members.
Are they energetic and eager to get to work? Are they tired and in need of a little pep talk?
Let their answers guide you. That way, you can adjust your tone and expectations as the meeting progresses.
2. Would you rather…?
"Would you rather" questions are a fun way to get everyone talking. The answers won't take up too much time at the beginning of the meeting. However, they'll still start things off on a lighthearted note.
3. In one word, how would you describe the past week/month/quarter?
This question provides you with a better sense of how your team is doing and their assessment of the past week, month, or quarter.
This can be a great discussion starter. It will help you dive deeper into people's thoughts about past performance and what they think could be done differently in the future.
4. What was your highlight of the past month?
The answers to this question can be work-related or life-related (or both). Leave it up to your team to decide what kind of highlight they want to share, but this helps you begin the meeting in a positive way.
5. What's one thing you're grateful for?
This is another question that lets you start your team meeting in a positive and mood-boosting way. It's especially appropriate to ask around Thanksgiving, but it's also never a bad time to consider the things one appreciates.
6. Show ss the last picture you took on your phone
Ask everyone to get out their phones and show the team the last (work-appropriate, of course) picture they took. This is a fun way to generate conversation and help team members find common ground.
7. This or that?
Similar to "would you rather" questions, "this or that" questions are simple and get people talking in a fun and lighthearted way. From "pizza or tacos?" to "cats or dogs?", the options for these questions are practically limitless.
8. Tell us the last song you played
You might be in need of some new music, and your team members might be in the same boat. Asking everyone to share the last song they listened to is an easy way to learn more about each person on the team, gain some insight into their unique interests, and potentially find common ground.
9. Show us your favorite item on your desk
Desk show and tell is a popular virtual team meeting ice breaker that also provides more insight into the inner workings of each team member. If you have a little more time than usual, ask everyone to pick an item on their desk and explain its significance.
10. Introduce us to your pet
If you want to make your team's show and tell even more fun, bring everyone's animals into the mix. Ask team members to introduce their cat, dog, mouse, or any other pet they have. If they don't have a pet, they can share the kind of pet they wish they had.
11. Two truths and a lie
The two truths and a lie game is another fun ice breaker that lets you learn a little more about each of your team members.
Basically, everyone tells 3 things about themselves — 2 that are true and 1 that's a lie. Then, the rest of the team has to guess which one was the lie.
12. What is your go-to self-improvement activity?
If you want to encourage more self-development among your team, this is a good ice breaker question to ask. It'll give everyone some inspiration for how they can level up their performance at work and in life in general.
13. What are you drinking?
It's pretty common to sit down with a beverage at the start of the workday or at the beginning of a meeting. Finding out what everyone is drinking as an ice breaker is an easy way to get all your team members feeling comfortable.
14. Team trivia questions
Consider keeping a bank of trivia questions at the ready. Then, ask one at the beginning of your next team meeting. This is a simple way to generate some friendly competition and get people's brains working.
15. Online quiz results
Send everyone the link to an online quiz before the meeting starts. Begin the meeting by asking about everyone's results.
This will get your team talking and can create bonds between people who might not have known how much they have in common otherwise.
Try These Virtual Team Meeting Ice Breakers Today
The best virtual team meeting ice breakers help to put everyone at ease, get the conversation rolling, and make meeting a lot more enjoyable.
Virtual team meeting ice breakers encourage collaboration and foster deeper relationships between team members.
Starting with an ice breaker can set the stage for enhanced teamwork in the future, which can lead to increased productivity and better results.
There are lots of virtual team meeting ice breakers worth trying, from a simple "would you rather" question to discussing everyone's results from an online quiz.
Try our list of 30 + virtual team building activities – schedule an event once a month with your team to boost morale!
If you need more help improving your virtual team meetings and making them more productive, give Weekdone Team Compass a try today. This team management software uses "light" OKRs to improve goal-setting and helps you manage your team with ease so you can move into more strategic discussions, making effective use of your time.