In the new version of Weekdone we focused on a new feature of managerial reviews and weekly feedback to each employee. Here's how it works.
Managerial reviews
For many people the problem with any reports is not getting any feedback from their manager. You write the reports, but a black hole seems to suck them in. What's good in that?
We now made it easy for team managers to quickly review each person's weekly report. You can quickly give feedback to people by clicking one of three buttons at the end of each report. Think of it as three levels of happiness.
"Great" shows the person had an excellent week. It's like a hug and pat on the back together.
"OK" means the report has been read. You're happy with how the person performed, but there is still room for him or her to do something excellent.
"Ask more" is used when the manager wants to know more about the person's week or feels that something was lacking.
The manager can also add comments and questions after clicking one of the buttons. Here's how it looks: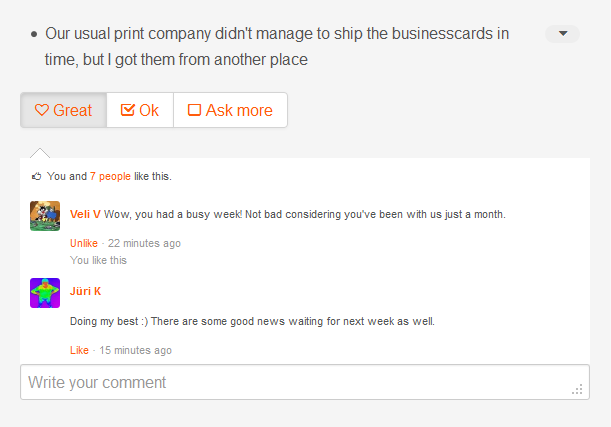 The review rating and comments thread is visible only to the manager, employee and other team managers. The Review links are now also in manager's weekly report e-mails.
You can configure who is a team manager and who is a company administrator under Settings -> People & Teams.
Our new walkthrough
If you have not seen it yet, have a look at our new walkthrough.
You can always sign up for free here.