With over 10 years of experience, Weekdone has provided tens of thousands of teams from startups to Fortune 500 with a simple goal-setting, status updates and progress reporting tool. This is why we developed Weekdone.
Weekdone is your solution for connecting managers and employees through real-time updates, e-mail reports and social newsfeed. Try it here! It's free forever for small teams and offers a free trial for larger ones! Read about the benefits here.
---
Project status reports are an invaluable tool used to monitor and track project progress. When used correctly, they provide the necessary visibility into the overall health of a project and allow stakeholders to gain insight into its success or failure. As such, it is essential that all team members understand their importance and know how to use a status reporting template properly in order to maximize the effectiveness of these reports.
In this article, we will discuss what project status reporting is, explore different benefits associated with regular reporting cycles, detail best practices for creating an effective report, and finish by providing you with an example weekly project status report template.
What Are Project Status Reports And What Are They Used For?
A project status report is a document that provides information on the current state of a project to project stakeholders. It may include details on the project's progress, budget, risks, and issues.
The report is typically created on a regular basis, such as weekly or monthly, and is used to keep stakeholders informed about the project and to help identify any problems that need to be addressed.
Project status reports can be useful for managing expectations, making adjustments to the project plan, and communicating with team members and stakeholders.
Benefits of Weekly Project Status Reporting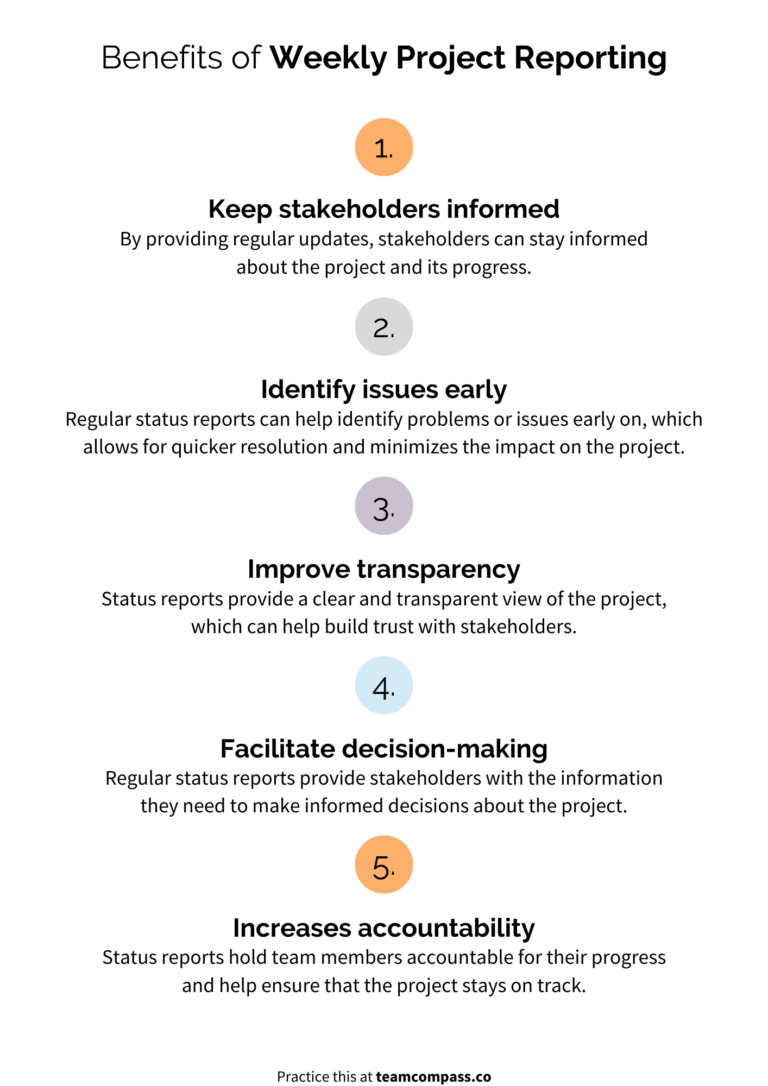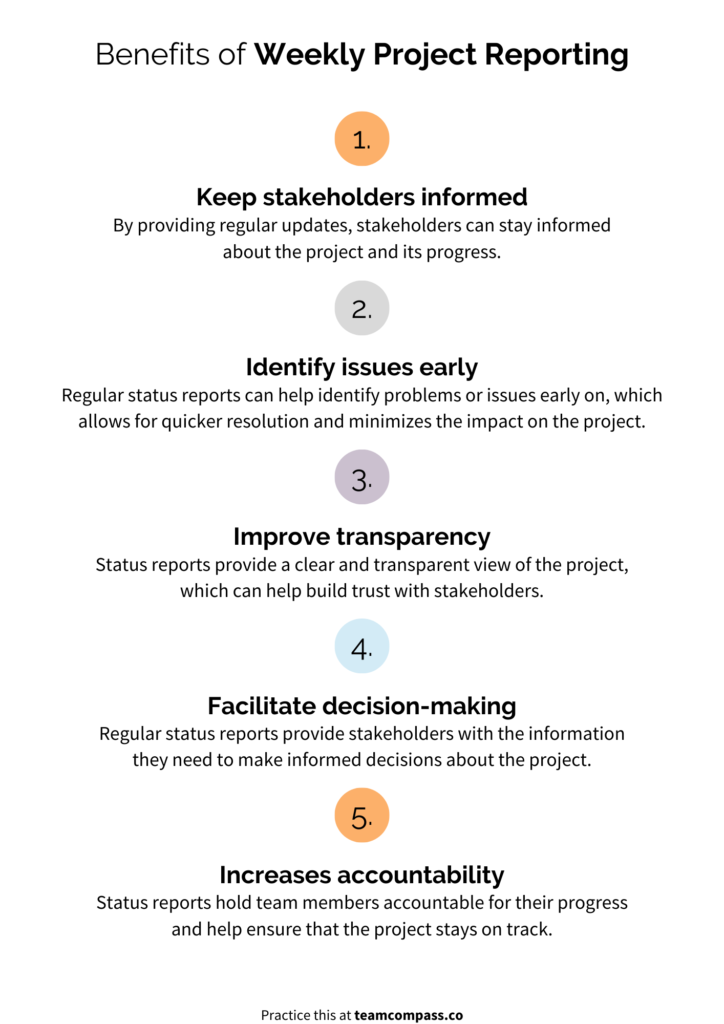 Best Practices for Project Status Reporting
Creating an effective project status reporting template is essential for ensuring the success of any given project. The template should be clear and concise, outlining all of the necessary information in a way that is easily understood:
Set a consistent frequency: Determine how often you will provide status updates (e.g., weekly, biweekly, monthly) and stick to that schedule.
Identify your audience: Consider who will be reading the status report and tailor the content accordingly.
Use a consistent format: Use a standard template for your status reports to make it easier for stakeholders to understand and compare progress.
Focus on key information: Include only the most important information in the report and avoid including too much detail.
Use clear language: Use simple, straightforward language to ensure that the report is easy to understand.
Include a summary: Start the report with a summary of the most important points to provide context and make it easier for stakeholders to quickly grasp the status of the project.
Request feedback: Encourage stakeholders to provide feedback on the status report or ask for clarification on any points.
Follow up on action items: Make sure to follow up on any action items or tasks that are assigned as a result of the status report.
Free Weekly Project Status Report Template by Team Compass (PDF Download)
---
A Simpler Version of Project Reporting in Team Compass
This template featured above is more thorough and gives excess amounts of information that are usually important for managers, stakeholders etc. but not necessarily for team members themselves.
In Team Compass, we have features for simpler project planning and tracking so that the project team has constant overview but is not overwhelmed by excess information.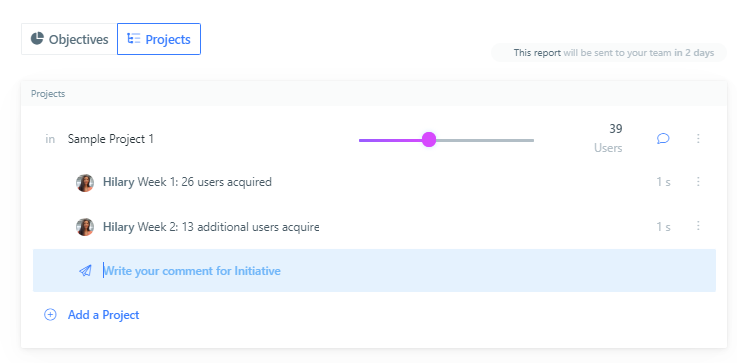 Team Compass is free for up to 3 users and has a 14-day free trial. Beyond that, the price will always stay at $29/month regardless of the amount of users.