Last week we told you about the results to our survey: "What employees really think of their managers."
We also asked a second open question: "What practices could your manager implement to make you more happy at work." Again over 1000 people gave their answers of what their managers should improve.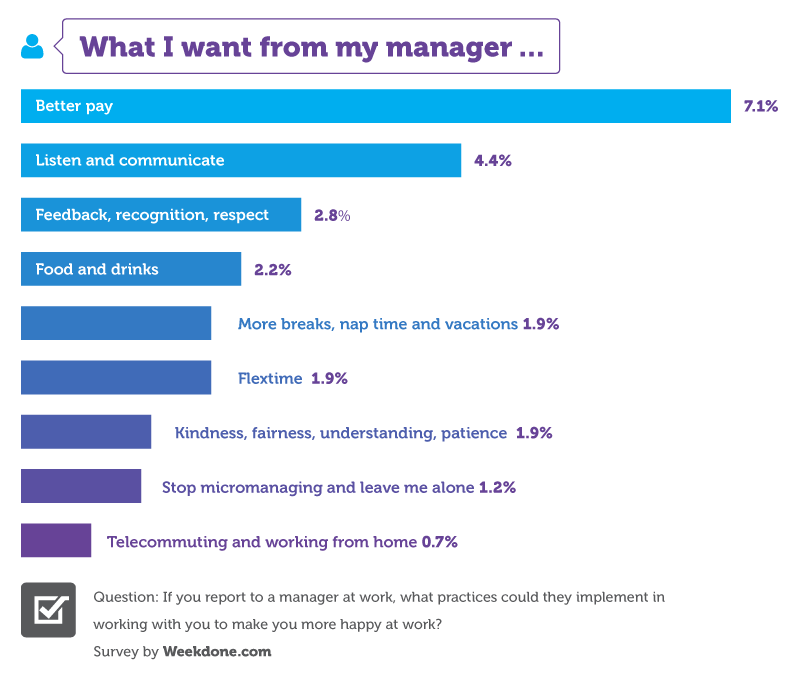 While salary and pay came up as number one, it was followed by manager having to listen and communicate much better. Quite often employees feel they are left too much alone and there is neither enough face time with the manager nor online back and forth communication. This is what Weekdone is based on as well: providing managers with a way to know what their people is up to, and then giving constructive regular feedback to them. Communication is always two-way, from employees to their leaders and back from the managers to their people. You get good results and a happier more productive team only by having information flowing in both directions.
Closely related, what followed, was feedback, recognition and respect from managers. That included also human things like being nice, smiling and saying thank you more often. One of the related points that came up in top 10 was also kindness, fairness, understanding and patience. While doing it at the meetings and face to face is always preferable, many of these things can be done well online as well. It can be via positive feedback to reports or by celebrating important achievements and progress.
Work hours management was mentioned often. That included better vacation time, more breaks, more time off possibilities, longer lunch and even nap time. Quite many requested flexible hours and flexitime, something more and more popular in many companies. Responsible employees can often manage their work hours and location well. Telecommuting and working from home was requested just as much. Again, having a system
How are you as a manager doing these things? Why not pick one or two of these things and improve them in your team already today.
Have a look also at our survey: "What employees really think of their managers."