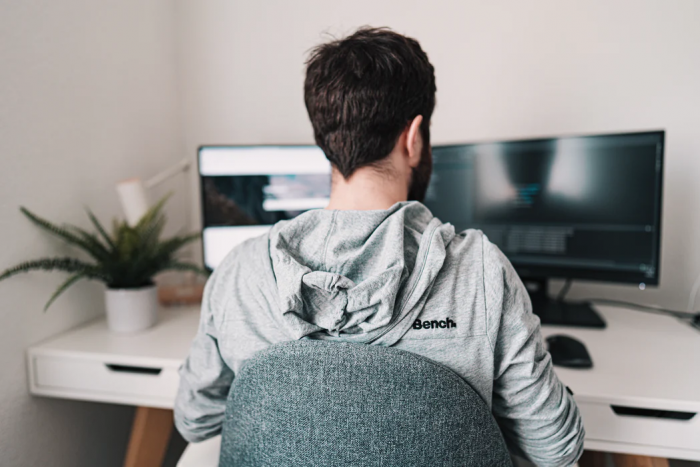 Throughout the United States, approximately 4.7 million workers spend at least half of the week working remotely. In light of the COVID-19 pandemic, though, more people are working from home than ever before. Because of this, having good project management software for remote teams is absolutely essential. Here, we cover the best project management tools for 2020.
With so many more people working from home, many team managers and supervisors are struggling to keep up with their teams and provide them with the support and feedback they need. This is where project management software for remote teams can come in very handy.
1. Weekdone
For remote teams looking to increase engagement and encourage collaboration and communication, Weekdone is the perfect solution. Weekdone might not be the most traditional project management app. However, it has a lot to offer remote teams of all kinds.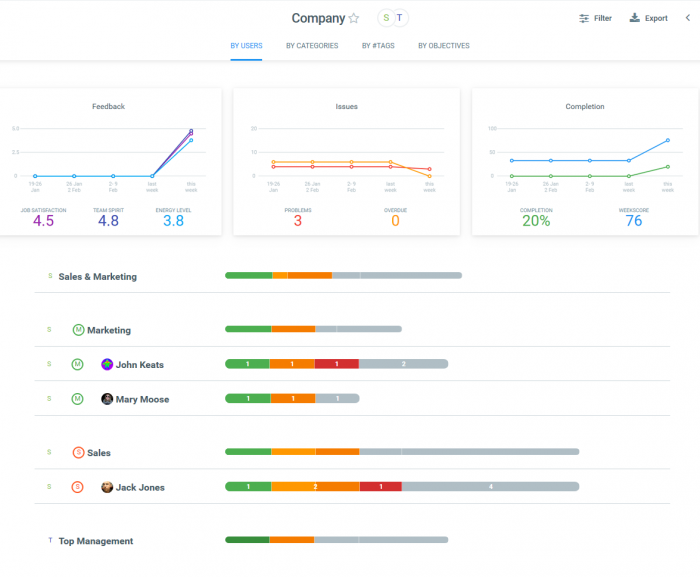 Weekdone uses the OKR (short for Objectives and Key Results) methodology. It helps team members set clear, long-term goals (or objectives) and identify measurable key results that they can use to track their progress and stay motivated while working toward their goals.
By using this approach, teams can ensure that every project they take on fits within the larger goals of the company. If they find that it doesn't, they can reevaluate it or choose to revisit it at a later date.
In addition to clear and precise remote reporting, Weekdone also does a great job of providing overall direction to remote teams. It makes it easy for team leaders to stay in touch with team members, conduct weekly reviews, and provide feedback and praise as it's needed.
This is a very affordable project management software for remote teams, too. For teams of three or fewer, Weekdone is always free. For teams of four or more, pricing begins at $9 per user per month.
2. monday.com
monday.com is another good option for virtual teams looking to improve communication and manage projects in an effective way.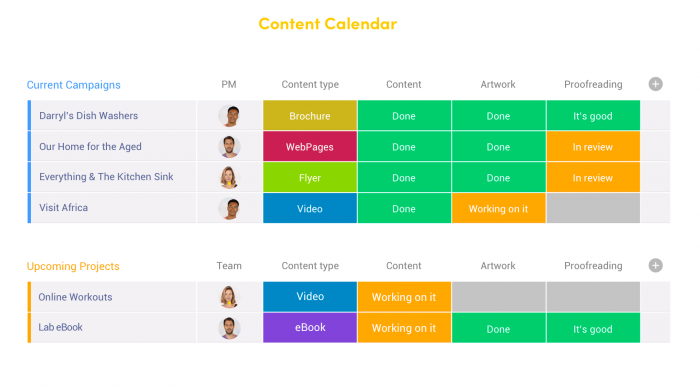 This software takes a very streamlined approach to project management and centralizes communication with a single dashboard that displays the team's entire workload. It also allows leaders and supervisors to create tasks and projects that can be assigned to various team members.
Using the dashboard, team leaders and members can monitor progress and plan their workloads accordingly. It's easy for them to leave comments and provide feedback, too.
Pricing for monday.com starts at $49 per month for teams of five or fewer users. Pricing scales up from there. All new users also have access to a free trial period.
3. Wrike
Wrike is a popular cloud-based software tool that many remote teams utilize. It works well for a variety of teams, including marketers and creatives.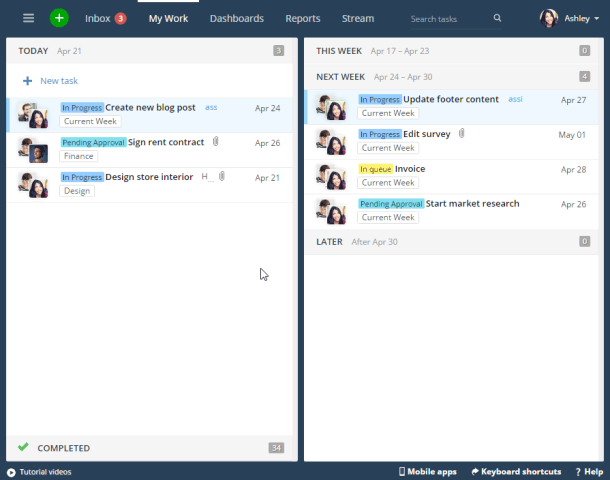 Wrike features a customizable dashboard that is meant to help simplify the organization process and keep everyone on task. Using this dashboard, team members can automate various work processes, request forms, and manage files to ensure nothing falls through the cracks.
In addition to assisting with a variety of project management tasks, Wrike is also useful for time and budget tracking, as well as resource management. It allows for easy collaboration with personal dashboards and email and calendar synchronization.
For teams fo five or fewer, a free version of Wrike is available. The premium subscription starts at $9.80 per user per month.
4. Trello
Those who prefer a highly visual tool for keeping their teams organized might enjoy using Trello. Trello is an online planning and collaboration tool that many virtual teams utilize.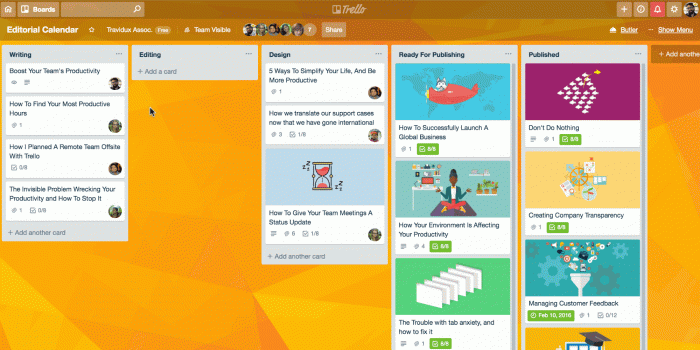 This simple, straightforward app provides some basic, easy-to-use project management tools for all kinds of teams. It uses the kanban project management style and allows team leaders to create different boards. These boards can be used for organizing projects, assigning tasks, and aligning schedules.
The nice thing about Trello is that it makes it easy for users to define workflows, assign tasks, and set deadlines. It allows for simple commenting and document sharing, too.
Trello comes with a freemium version that's a good fit for most teams. A premium option is available, too, starting at $9.99 per user per month, that allows for more administrative control and increased privacy options.
5. Jira
Jira is one of the most popular project management options for remote software development teams. It has a straightforward layout and helps to centralize a variety of processes, from planning sprints to prioritization and time tracking.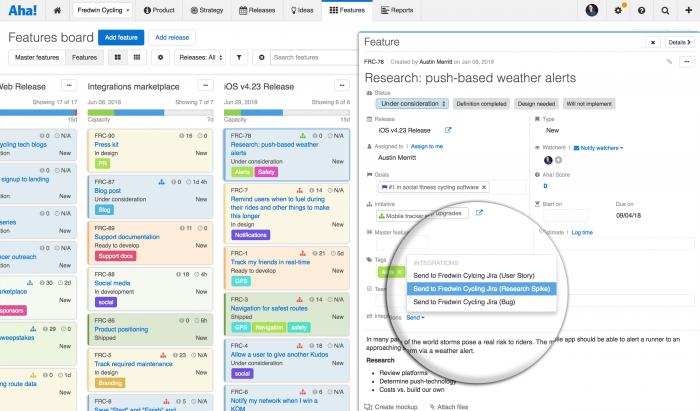 Jira helps to simplify development projects and also provides real-time performance updates. For agile teams looking for a simple but effective project management software, it's definitely worth considering.
Pricing for this software starts with a flat fee of $10 per month for teams of 10 or fewer users. For teams of 11-100 users, pricing starts at $7 per user per month.
6. Basecamp
Basecamp was one of the first project management software options to come on the scene for remote teams. It allows for easy collaboration between teams, team members, and clients and keeps track of various tasks to ensure everyone stays in the loop.
This software offers regular messaging features, as well as the option to assign tasks and share documents. Basecamp automatically generates weekly reports, too.
Basecamp is available for a flat fee of $99 per month. Users can also try it for free for 30 days before committing.
7. Asana
Asana is another well-known and frequently used project management software.
Asana offers easy file sharing and file storage, as well as simple dashboards that provide quick overviews of various project elements, including due dates and other important details. Asana makes it easy for team members to send messages back and forth to provide feedback and seek clarity without having to rely on email, too.
The free version of Asana works well for individuals and small remote teams. Larger teams that want access to additional features can also purchase the premium version, which starts at $10.99 per user per month.
8. Hubstaff
Hubstaff provides a very simple, streamline project management option for team leaders who want to keep things as straightforward as possible.
This app is very useful for teams that need to break down projects and monitor the amount of time spent on them and what they're going to cost. It helps with budgeting and time tracking and makes these often-onerous tasks much easier to handle.
For teams of two or more, Hubstaff pricing starts at $7 per user per month. It comes with a free 14-day trial, too.
9. Bitrix24
Bitrix24 is a good project management solution for teams that want to have everything accessible through one platform. It provides a variety of project management tools and assists with a variety of other important tasks, including CRM analytics, customer interaction, voice call integration, reporting, and scheduling.
This software might be a bit overwhelming for some teams. However, it does offer a lot of options for those who are looking to centralize all aspects of team and project management.
Bitrix24 comes with a free basic version. For teams that want access to additional features, pricing starts at $24 per user per month.
10. Scoro
For teams who want to keep all information as centralized as possible, Scoro is a good project management tool to consider.
Scoro features an easy-to-use dashboard that showcases projects in columns based on specific stages. Projects managed using this software are broken down into four stages: Planned, Completed, Needs Attention, and In Progress.
Scoro also allows tracking for tasks, contact management, billing, and reporting. It makes it easy to handle invoices and quotes with templates and dashboard customization options.
Scoro's essential plan starts at $26 per user per month, making it one of the pricier options on this list. There is no free trial or freemium option.
Try These Project Management Software for Remote Teams Today
There are lots of different options when it comes to project management software for team leaders struggling with working from home. Whether you and your team members are brand new to remote work or have been handling tasks from home for a while, the right software can make all the difference.
For remote teams looking to stay on top of their goals and keep in touch with one another with ease, the best software by far is Weekdone. Weekdone uses the OKR methodology to assist with goal-setting and to help teams stay motivated and engaged with the help of weekly reviews.
It's an effective option for any remote team, and it's affordable, too. Register here to try Weekdone for free today.
Image source: Unsplash