I don't know about you, but growing up I played a lot of Nancy Drew Mystery games on the family desktop computer. My cousins and I would round up our chairs, turn the volume up, the lights off, and dive into some sleuthing for hours on end (yeah, probably just me). Little did I know, we were actually developing our virtual escape room team building skills for the future.
Fast forward to today, I'm suggesting the same to you. No, I'm not implying that you and your coworkers should skip a whole day of work to engage in computer games. However, I am recommending that you dedicate an hour or two at least once a month to enjoy non-work related activities with your team.
Team building is important for any type of organization, but for remote teams we highly recommend something fun, engaging, and interactive.
At Weekdone, we love virtual escape rooms. So we've dedicated this post to solely those. But if you're looking for more than that – we have another article that highlights 30 + virtual team building activities, ranging from scavenger hunts, to beer tasting events.
Click & skip: What do you want to see?
Our Top Picks
What is an Escape Room?
Pre-pandemic you and some friends could gather in a small room filled with puzzles, gadgets, and riddles – all serving as clues, coloring the story you've stepped into. In a race against the clock to free yourself from the room, you work together to crack the case!

In 2022, technology and COVID-19 have changed the game on us and we can now experience these themed adventures online. Many of our favorite virtual escape rooms began as in-person experiences, but they've adapted with the times quite nicely.
Making the Best Choice for your Team
Size
The size of your team is important when choosing which virtual escape room you want to enjoy. Most importantly, because some companies only service small teams of 3-5, while others are more suitable for larger companies with unlimited space.
Time
Remote teams should especially be aware of the activity time. If you're new to the remote team building experience, try to designate a specific time for team building activities once a month. For example: on Fridays, choose a time during the work day to give your team a small "brain break". Most team members are already tapped out of work mode, so you have a great chance of getting full participation! Many escape room companies have allotted event times in different time zones, but having a specific time request may give you an opportunity to speak to customer service about scheduling something outside of their usual game times!
Difficulty level
These escape rooms can be challenging, but they should always be fun. You will be able to work together to solve clues using different skill sets. As you work down our list, you'll notice that some companies explain each game in detail and include the level of difficulty or skills the game focuses on using. If you're planning this as a CEO or manager, think specifically of your team and where effort is lacking, how can you have fun and benefit from an experience like this at the same time?
The Top 10 Virtual Escape Rooms for Remote Teams
Welcome to the list, we're glad you're here! Below are our top picks of the 10 (+ 1 bonus) best virtual escape rooms for remote team building.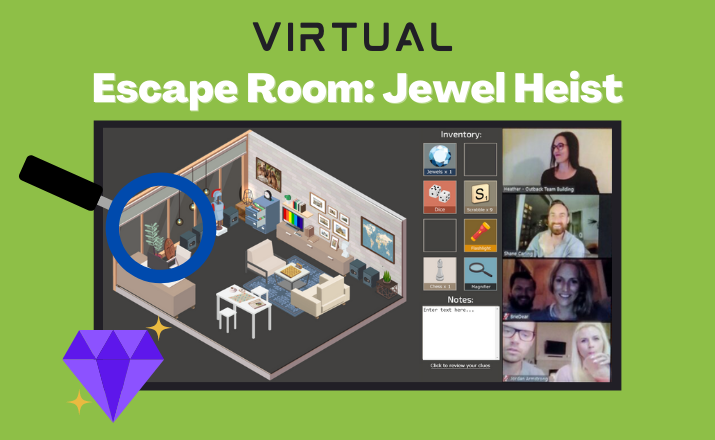 As part of Outback Team Building & Training's selection of 14 virtual team building activities, they've converted their popular in-person corporate escape room activity into a virtual escape room experience designed specifically for remote teams.
An infamous burglar has stolen precious jewels and hidden them in this room. You and your team will have to put your heads together and solve a series of brain-boggling challenges to locate the jewels before time runs out.
While you're at it, check out some of their other most popular virtual activities like:
This is a dream for those of us whose friends never got around to hosting a murder mystery party before the pandemic. Gather your team, put on your fancy garbs, grab a pen and paper, and solve a murder! Work together to find out who had the means, motive, and opportunity to commit a deadly crime.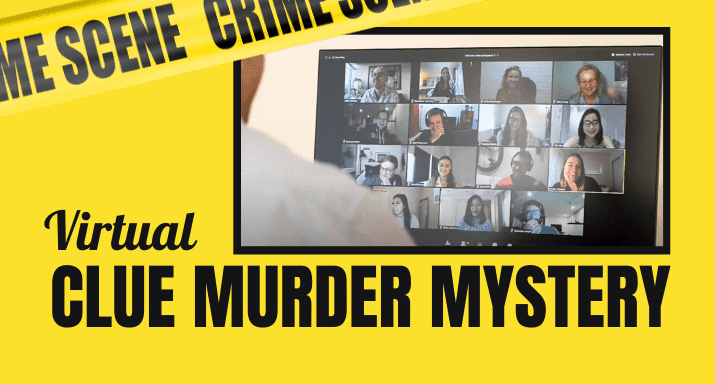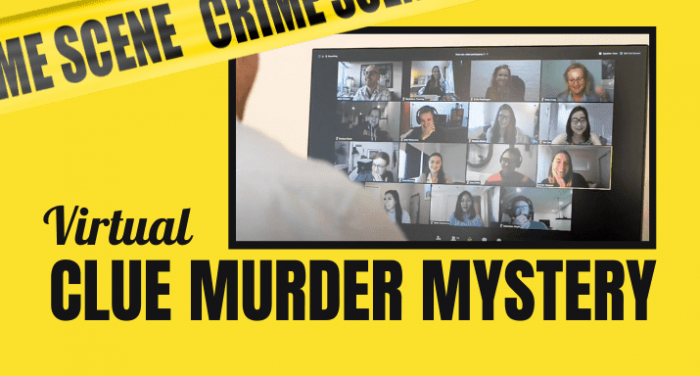 Useful Details
1-3 hours to complete
Price varies according to team size – contact for quote!
Quality customer service tailored to your teams needs
Outback Team Building specializes in corporate team building events, leading your team from start to finish so you can sit back and enjoy. Their game options are a bit different than your traditional "escape room", but the idea remains the same – work together to complete a series of mental, physical, skill, and mystery challenges. Virtual Game Show Extravaganza, Virtual Team Pursuit, Virtual Code Break, and our recommendation, Virtual Clue Murder Mystery.
You've been wrongly accused of a crime and you're sentenced to life in prison without the possibility of parole. Your new "home" is a cell that once belonged to an inmate who disappeared without a trace…or did he? Some claim he escaped. Others swear he was murdered by the infamously cruel warden. No one actually knows…can you escape before you suffer the same fate?
Our teams at Weekdone played and even managed to escape (with a hint or two from our lovely guide shown below).
Useful Details
3-8 players per team. Contact for larger groups
$32 per person + tax
60 minutes of play (75-90 minutes for total event time
You and your teammates are mission control, guiding the most skilled thieves in the world as they take on the world's most audacious heist. The Qianlong Vase, a historical Chinese masterpiece has just been found and sold, for 43 million pounds. Can you swipe the antique before it makes it's journey to the hands of its new owner?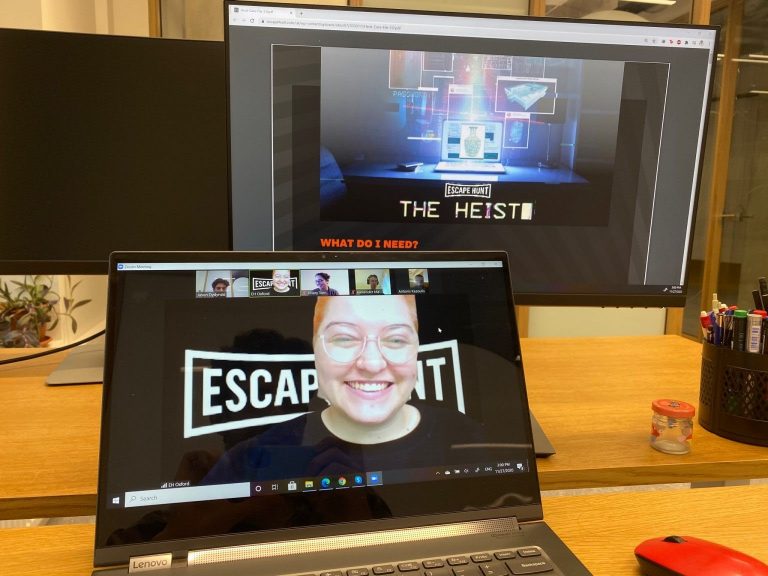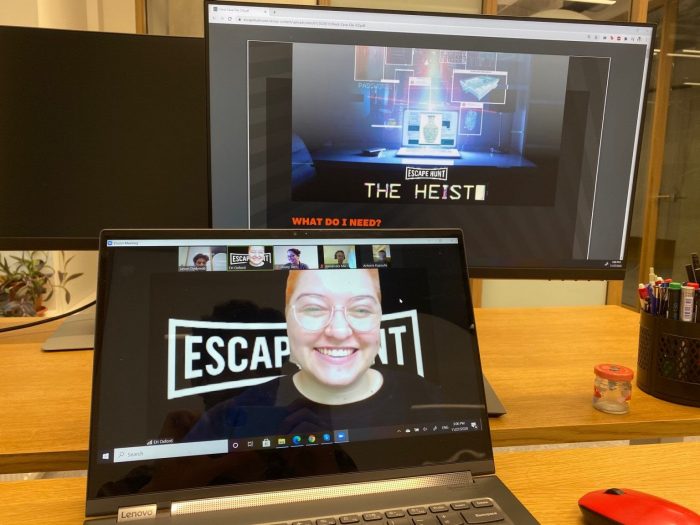 As you can see from the picture above, I wasn't kidding when I said we like virtual escape rooms. The Escape Game has all of their games listed online with availability to book during US working hours, but if you're from outside the US they're happy to run games specifically for you – just ask! The website is very user friendly which is a major plus! Take a look at their other games: The Depths, Gold Rush, Rugrats: Search for the Lost Toys, The Heist, and Ruins: Forbidden Treasure.
Useful Details
6 players per team, unlimited group size
90 minutes of play time
120 £ per team
You'll also need your mobile device for codes to enter the next level!
Keep your eyes on Escape Hunt, from Sydney to Paris, Dubai to Houston – they are a growing global phenomenon in the world of gaming! In under 2 years, players worldwide have racked up over 25 million minutes playing these games. Each game is played through Zoom, and connected to your mobile device or tablet with their game app for controlling.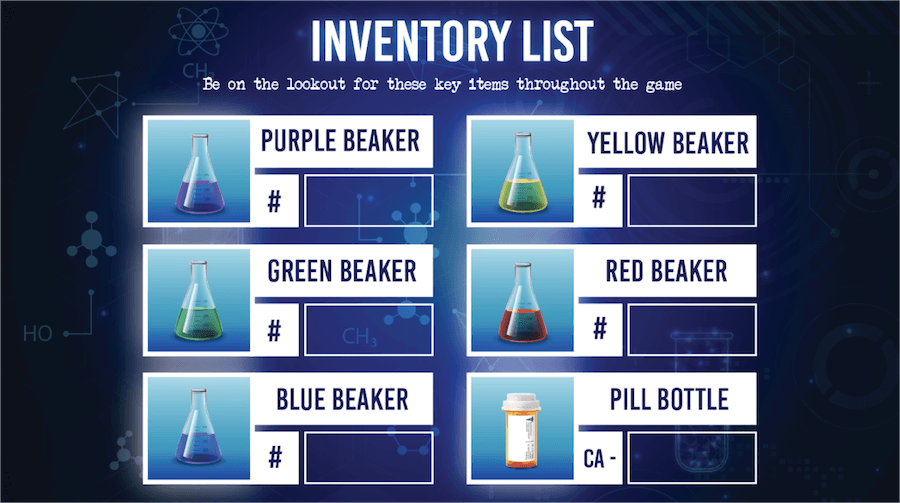 A group of scientists have been experimenting with the longevity of human life. Unfortunately, their experiments have gone horribly wrong, unleashing the rise of the walking dead!
Uncover the Omega Protocol and save the world from a zombie apocalypse before time runs out as you work with your team to race through a series of puzzles and clues spread through 3 levels of a fully rendered 3D environment!
Useful Details:
Group size 30-150; Teams of 4-6
90 minutes of total event time (75 minutes of game play)
Learn more about Omega Protocol
Picture this: you've awakened trapped in a pirate's cell. While Captain Blackbeard and his crew are away raiding the island, you and your crewmates must complete a series of puzzles and challenges spread throughout 4 levels of the vessel in your quest to abandon ship!
Created by the same team who brought you Omega Protocol – they're bringing you to the deep blue sea! Enjoy!
Useful Details:
Group size 30-150; Teams of 4-6
~60 minutes of total event time (55 minutes of game play)
1912 in London Town. As top notch detectives, you're itching to take on your first big case. Why not choose one that Sherlock himself is trying to solve?
Don't drink too much, you'll need your wits, a keen eye for detail, and NOTES! During your investigation you'll come across quite a few Brits who will hopefully help connect the dots and lead you in the right direction. Think fast, look closely, and…don't panic!
Useful Details
8 players per team, unlimited group size
35 £ for 9-16 players (discounts available for larger teams)
No time limit – may the best team win!
The Panic Room is based out of the UK and is evolving with the pandemic, they've created a detailed process from start to finish. With an understanding that teams are scattered across the world, you get to choose the suitable playtime for your team. Most games are playable by a simple link, ready to share with your team at the most convenient time for you!
Midway through an arctic expedition, your team gets separated from your hiking guide. With a storm setting in and nightfall approaching, you become increasingly disoriented, losing your sense of direction. As the storm worsens and temperatures drop, you're forced to abandon your expedition in search of help. Energy levels are depleting and supplies are running low. You find a small abandoned hut, inside is an explorer's bag filled with their belongings! Using what's available, crack the code for the generator to call for help! Does your team have what it takes to escape before you're unreachable by an emergency team?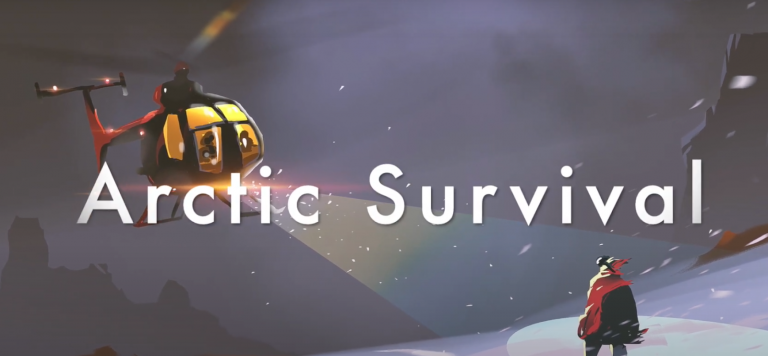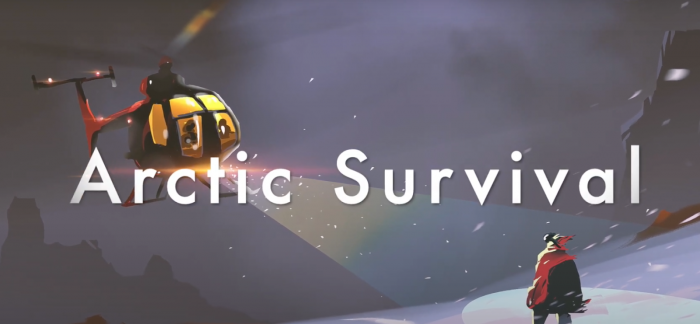 Useful Details
4-6 players per team, up to 250 people (can accommodate more – contact)
12 £ + VAT per person
90 minute playing time
Playable through mobile devices
Wildgoose does a wonderful job of exploring the use of mobile devices to play the game and search around the room by tapping objects to find clues. Each game requires your team to employ thoughtful strategies and put time management skills to the test! Wildgoose has a remote game series as well, which provides team building activities through quizzes, and creative challenges!
30 years after the mysterious disappearance of Simon Richards, you decide to take on the challenge of discovering what really happened that night in 1989. Equipped with the only copy of Simon's final at-home workout video, "REC", you must immerse yourselves in the world of an 80's workout video to uncover hidden secrets of the film to uncover the truth behind his disappearance. Don't get stuck in the 80s!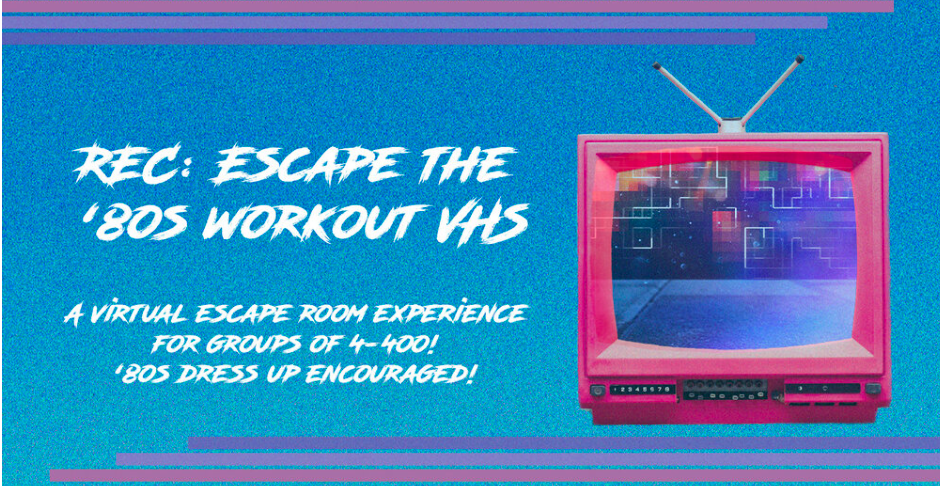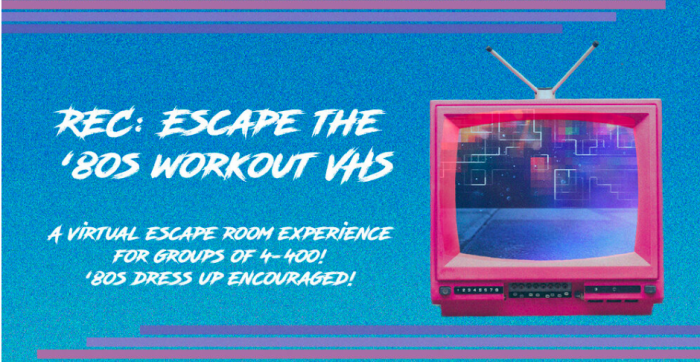 Useful Details
Plan through event coordinator for large groups
75-90 minute playing time
$10-20 per player, with options for adjustment within your budget if needed
Virtual Escape Games has 2 additional throwback games for team building experiences: Survive a 90's Summer Camp Horror Movie, and Relive The Early 2000s Internet Experience. Don't forget to check out the About Us section to learn about Jorge, the creator of the company and games. He is committed to bringing fun to family, friends, and companies around the world – we appreciate his mission and can't wait to play!
All shuttle flights have halted and an astronaut is stranded on the Lunar Station. Your teams have an hour to launch a rescue mission in an epic space race. Will your team be the first to reach the moon?
Useful Details
250 person team maximum
60 minutes playing time
$30 per person
AI Assistant, live host and remote control access through your computer
Try Reason has 4 games which focus on space – if this is your thing, head on over to see what it's like on the Moon!
Set in the year 2035 a zombie virus has reduced the population by 90%. You are tasked with commanding teams to bring survivors to safety. You pick up radio transmission broadcasting that the US military infectious disease division has developed a vaccine against the virus. You send your best men to investigate the coordinates…until communication is lost. With connection to only one operative and zombies quickly approaching – you must find the vaccine before the place is overwhelmed. Can you survive?


Useful Details
70 minutes: includes 60 minutes of play and 10 minutes of preparation with game host
Price not listed on website
Time available after the game for reflection with your team
In addition to The Vaccine, Escape Experience in the US has 3 other games available for virtual team-building experiences: C-Block Prison Break, The Inheritance Mystery Room, and The Bunker.
Because of course, I have to call it back to Nancy Drew. You and your team are supposed to meet the infamous Nancy Drew at the lavish Forsyth Mansion, but she's nowhere to be found. Search for letters and piece together clever clues left behind. Slip through elegant hallways, parlors, and libraries to discover the reason behind Nancy's absence.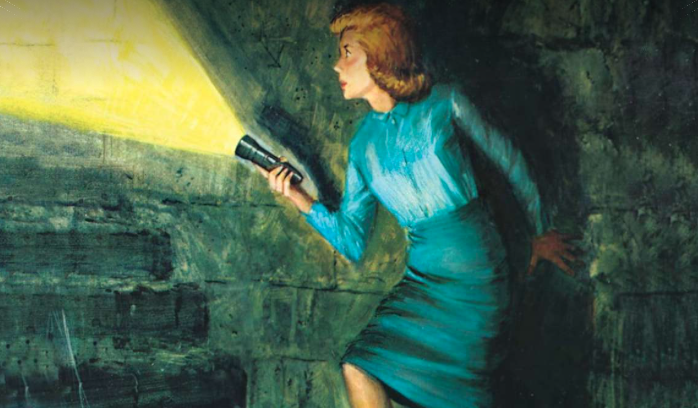 Useful Details
6-12 player limit for team building events
60 minutes of playing time
Mystery Escape game gives a breakdown of virtual team building focuses and recommends the best game for you and your team based on your needs. Nancy Drew is recommended for team coordination. Some other focuses are; team collaboration, learning agility, and team communication.
Make Team Building Fun Again
There you have it – our top 10 list of virtual escape rooms for remote team building!
Our team at Weekdone has made "virtual escaping" one of our go-to team building activities over the past year, and we're so glad we did! Hopefully this narrowed list helps you find a suitable playing option for your company's extracurricular needs.
---