With remote teams and teleworking becoming more of a norm than exception many managers have started looking for team management software as a solution.
Team management solutions come in a variety of forms as the look to solve different jobs to be done.
Task management software centers more around individual work items that employees have to deal on daily basis,
Project management apps focus more on the birds-eye view of collections of work items.
Time tracking, as it says on the tin, centers solely on tracking the actual time spent.
CRM focuses on tracking sales contacts, prospects, opportunities and deal flow.
Communication features like e-mail, chat, messenger or video conferencing solutions are often best of breed separate solutions, but sometimes embedded into a broader suite of applications
If the core of your issues is improving the management process as a whole, you should look at:
Focused team management solutions, covering goal setting, metrics, short cycle planning / reporting and social interaction that is not covered in other purpose-built systems
When choosing a team management solution, the most important consideration to keep in mind is, what is your actual management problem and what can you do in order to cope with your daily challenges.
Best Team Management Software
Now you have probably figured out what approach you should take in selecting a perfect team management software solution. Here are the top 10 team management tools:
1. Team Compass – Best for Team Management Overall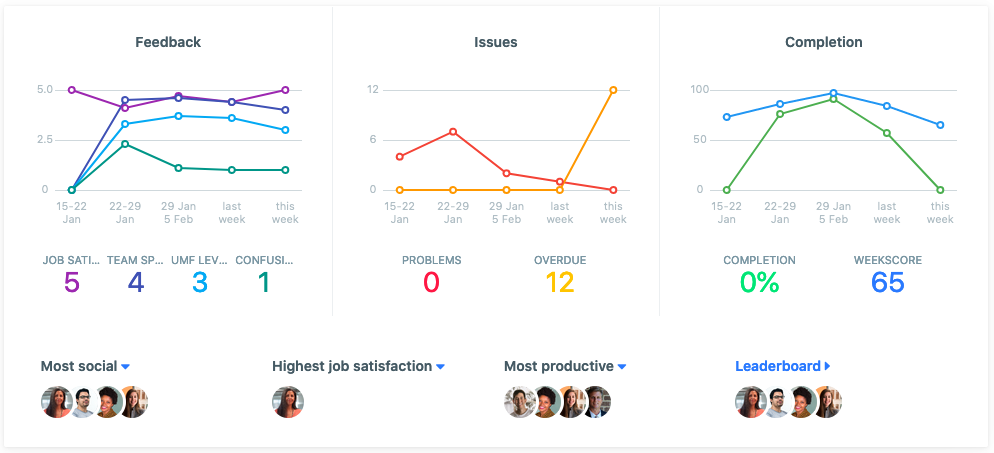 Source: weekdone.com
Team Compass hits the sweet spot for team management software both for CEO-s, managers, and team members. You can set your goals, define metrics to measure the achievement, plan and track the progress of your work and that of your team members, while giving and getting feedback on progress and issues.
Team Compass has a wide feature set focused in four areas:
Goal-setting and tracking
Weekly Planning & Reporting
Pulse Surveys & Check-ins
Meeting Preparation & 1:1s
The clear and simple user interface presents you easy to understand progress charts, metrics indicators and progress bars, that that you can filter and report on according to your preferences. Comments, reactions and the buzz in the aggregated feed of changes and updates creates a feel of presence and interaction even in remote work situations.
There is a free package for up to 3 users. Paid subscriptions follow the simple model of $29/month for unlimited users.
Pros:
Promotes transparency in remote team communications
Informative Weekly Progress Reports
Visually appealing dashboard, graphs, and interface
Cons:
Not ideal for enterprise companies
Customization options could increase setup time.
Users' Opinion on Team Compass
"Our primary challenge of being in different locations and the need to be productive, was knowing what all the people are currently working on. Weekdone helped keep everybody to be aligned and in the loop." – User, Managing Director
2. Trello – Simple task assignment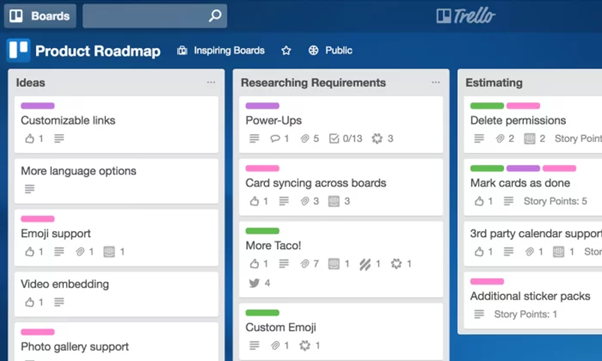 When it comes to the everyday task management in team management apps, Trello makes the list on a regular basis. The approach is simple – task cards are grouped into columns by status, but due to its flexible nature, you can use Trello to group, order and sort any items that come to your mind.
Cards contain all the basic information you need for a task (name, description, URL etc) and you can use custom coloring to differentiate between different task types.
The multi-column dashboard look gives you an overview of your task-load, helps to track the status of various jobs and manage the team from an operational perspective.
Trello comes with a free option limited to 10 boards and one functional extension (what they call Power-Up) per board. If you find that too limiting, a $10 per user per month will give you the extra freedom you might need.
Pros:
Good overview of your tasks and their status if not too many of them
Simple and straightforward to get things going
Cons:
Lacking capabilities for more advanced team or project management tasks
Beyond the initial impression and user interface, the seeming simplicity may become a limitation
Users' Opinion on Trello
"Trello is an effective and efficient tool to organize and conducts task . It is the best managerial tool I have used yet. We can make documents on this software. We can also communicate with our team members through this tool. We can easily create and edit different types of projects on this software. We can easily conduct various types of projects through templates. Trello should update some more features so that the big projects and tasks can also be handled on this software. The cost of purchasing this tool is bit high. otherwise, it is a great tool to use." – User, Social Media Coordinator
3. Bitrix24 – For internal communication and collaboration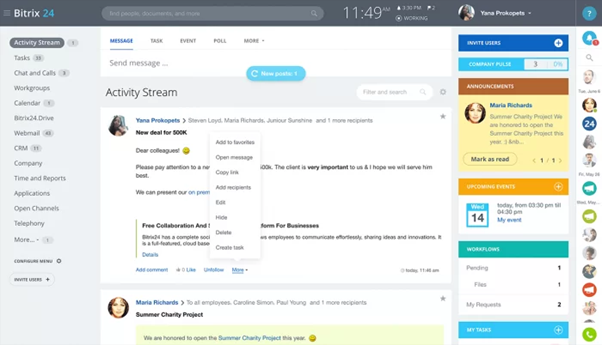 Source: bitrix24.com
Bitrix24 combines a project and task management approach with a variety of communication and collaboration tools. There is chat, calendar, webmail and even a CRM-like functionality. All that may become at times overwhelming, but if you lack the specialized tools for those purposes, Bitrix24 may be a way to consolidate your communication channels.
There is a free plan available with limited features. Specialized and user count limited plans for CRM and project management range from $19 to $55 per user per month if paid annually. More full-featured Standard and Professional plans will set you off $79 and $159 per user per month accordingly, if paid annually.
Pros:
An array of messaging and communication features if you lack alternative tools
Good for granular task and project management
Cons:
The variety of features may be overwhelming at times
May run into unpolished features as the solution is in constant development
Users' Opinion on Bitrix24
"Many employees immediately began organizing numerous work & project groups. They are now communicating internationally and collaborating on documents without having to resort to unsightly e-mail newsletters or time-consuming searches for the most relevant and latest document versions." – User, Internet Coordinator
4. Zoho Workplace – An integrated suite of office apps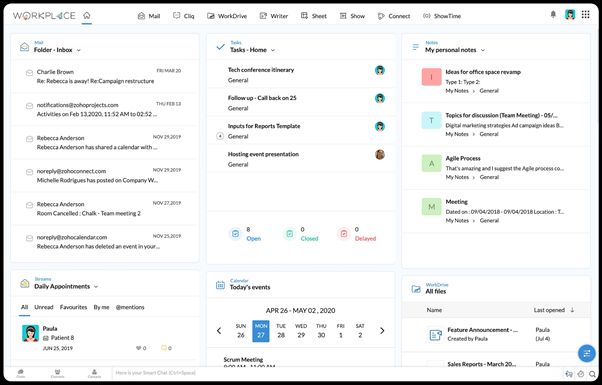 Zoho takes a different approach to bundling office and productivity software. Similar to Google Workspace or Microsoft Office 365 it includes a bundle of traditional office applications like text editor, spreadsheet and presentations adding file management and communication tools. The suite approach extends even to CRM, Accounting and HR with respective applications.
The somewhat limited standard plan starts from $3 per user per month and the professional plan is priced at $5 per month. There is a more affordable mail only plan. For the CRM, Finance and Recruit applications you have to pay separately and quite some more.
Pros:
You integrated suite of office applications
Ability to extend to CRM, Accounting and HR
Cons:
The number of features may get overwhelming
Feels more like a collection of different apps rather than an integrated productivity solution
Users' Opinion on Zoho Workplace
"We found Zoho Workplace to be very functional and there are a lot of solutions that make sense for us in one single package, like email, calendar, file management, and productivity solutions. This makes our work more systematic across the whole company and we are able to collaborate more efficiently." – User, Chief Technology Officer
5. Toggl – The light and simple time-tracking app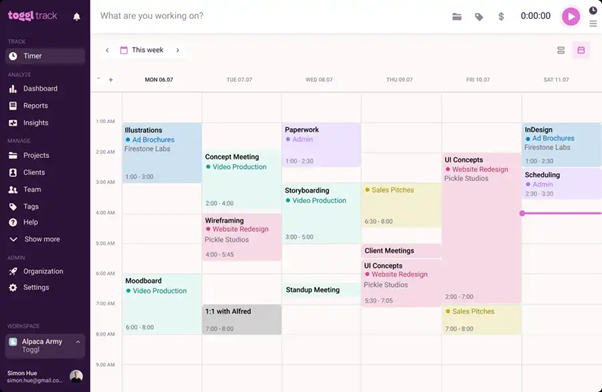 If raw time tracking is your key issue to address, then Toggl is your best bet to make time tracking as painless as possible. If you need to keep track of your billable hours or just need to get an understanding where time is spent, you can use the simple and intuitive user interface of Toggle to record your time-keeping.
Toggl has pre-built integrations with a variety of project management tools, so you can get your time tracking started even if you already use some project management solution. To give you an idea, how simple it is – you have an easy 'toggle' timer button where you can clock in and out from tasks or different projects. On top of that you have reporting to get a summarized view of the time-sheets. Toggl has both on-line and offline time tracking.
Aside from the limited free plan, Toggl Starter is from $9 per user per month, with a Premium version with more reporting features at $18 per user per month.
Pros:
Simple and intuitive user interface
Easy to get started with a variety of existing integrations
Cons:
Focused on time tracking and less on planning
Users' Opinion on Toggl
"Toggl Track's custom reports allow us to create project summary data quickly and efficiently for customer invoicing, with the bonus of looking professional." – Company, Perception Engineering
6. Brightpod – Project and time tracking for creative teams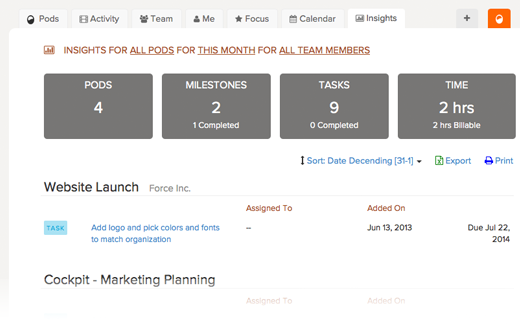 If you need to plan and track your project progress and track related time in an integrated manner, Brightpod is the easiest integrated solution to get you started. In a simple user interface you have projects (they call 'pods'), tasks, milestones, calendar and analytics, all focused to get your creative projects done.
Extra to the project management core, Brightpod has useful features for creative agencies like the editorial calendar. There is integrated time tracking, but you have also an integration to Harvest Time Tracking. You have file sharing, but also an integration to Dropbox, Box and Google Drive.
Pricing ranges from $29 per month for Professional till Agency Plus at $199 per month.
Pros:
Simple and intuitive user interface
All needed and nothing more for straightforward project tracking
Cons:
The approach good for creative agencies may not be a good fit for your business
The focus is on project management, so you may need extra solutions for other aspects of management
Users' Opinion on Brightpod
"Brightpod editorial calendar has been wonderful, especially because we manage about seven blogs for ourselves and clients. It is almost impossible to keep up with all of them individually on the WordPress calendars. As the manager of everything and everyone for all of the companies, I find it so helpful for everything to be on the Brightpod calendar and then in my iCal/GCal." – User, Chief Executive Officer
7. MeisterTask – Kanban style workspace for collaboration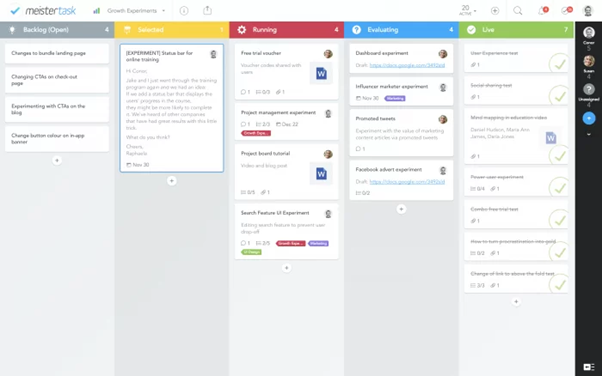 MeisterTask reminds the familiar Kanban board looks of Trello, but adds a few bells and whistles with more engaging user interface and in-built automation to streamline your team management. Automations are triggered when task cards are dragged over to new columns, that gives a handy way for receiving alerts on events you are interested in.
Other than that, MeisterTask has the same flexibility to use the multi-column, drag and drop card layout for whichever purposes you see it fit. Be it task management or even brainstorming. Being a sibling of the well known mind-mapping and ideation tool MindMeister, MeisterTask is well integrating allowing to transfer you project breakdowns from MindMeister to MeisterTask for execution.
Up to 3 projects can be managed in the free version. Paid plans start from Pro – $8.25 per user per month.
Pros:
Easy and colorful user interface
Integration to MindMeister for easy work break-down transfer
Cons:
Perfect for Kanban, limited for full-blown project management
May become limited when more advanced team management features are needed
Users' Opinion on MeisterTask
"At Lost Spirits Distillery, we've streamlined our workflow by using MeisterTask to declutter all but the most relevant steps." – Company, Lost Spirits Distillery
8. Replicon – Projects and Advanced Time Billing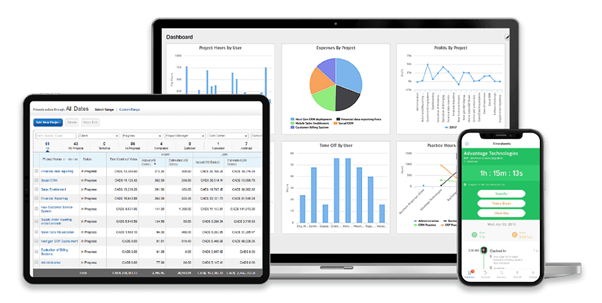 While some solutions focus more on project management and others are good at time tracking, Replicon has project management with some pretty advanced capabilities in time tracking and billing.
Special attention has been given to project time estimation and planning while on the tracking side, the capabilities go well beyond basic time-sheets extending to workforce management, pay and time off.
Pricing starts at $60 for 5 users per month for basic time billing. The core project management feature set is available from $18 per user per month, but if you want advanced billing, add $22 per user per month.
Pros:
Good fit if you are deeply into time-billing and related workforce management
Advanced billing features included
Cons:
Will get costly when all the suggested features are added
If man-hour based invoicing is not the most important in your business, the billing related features may seem excessive
Users' Opinion on Replicon
""We are now able to measure efficiency of our people and finally have accurate effort estimates that." – Company, Fujitsu
9. Neetrix – A balanced sales, finance and operations bundle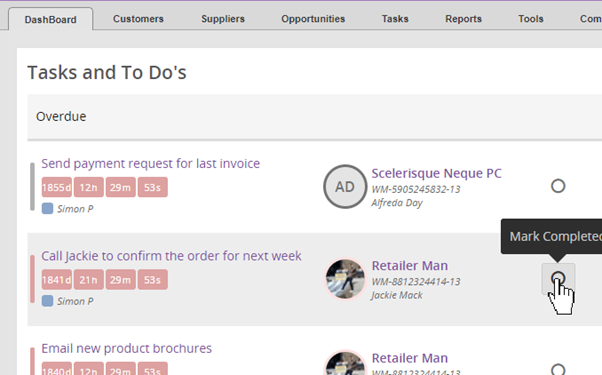 If your are looking for a tool that has a subset of both sales, project management and finance features for your sales or service business, Neetrix may be worth a look. Consisting of Contacts, Accounting, BackOffice, StoreFront and SiteFront modules, Neetrix covers a selection of capabilities that may be just enough to get your business under control.
Contacts is a straightforward sales and CRM application that helps to track customers, opportunities and related details. Accounting provides a full accounting suite for your whole business. BackOffice is your light job management application. StoreFront and SiteFront enable building and running a website and e-commerce storefront in an integrated manner.
Pricing starts from £70 per month.
Pros:
One solution to run most of your service or sales business
Ideal for companies that require the scope and depth of available features
Cons:
May become limited if you need more advanced features in CRM, finance or project management
Accounting features may be less useful outside of UK
Users' Opinion on Neetrix
"Easy to change and reorganize every page and have unlimited flexibility to make pages unique – and the customer support is outstanding." – Company, ProTom Fitness
10. ActiveCollab – Project management with more social features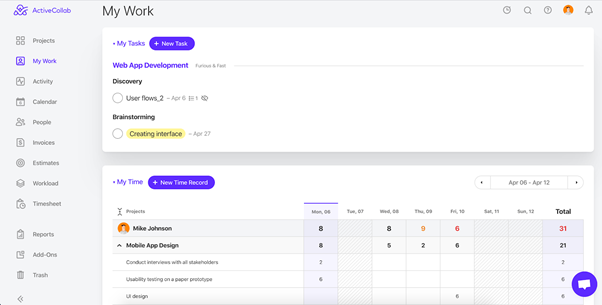 ActiveCollab takes yet another approach to managing your team including project and task management, Gantt-like project planning and a shared calendar for planning and collaboration and time tracking with billing.
What sets ActiveCollab apart is the use of social features of commenting and messaging across all the features. And yes, you can award your thumbs-up and smileys when due. On the more serious note, you get your projects planned, task completion tracked and customers billed – all in a well-rounded product suite.
Pricing starts from $6.25 per user per month for project management. If you want all the power of time management and billing, add $3 per user per month.
Pros:
Well-rounded package for creative agencies and project management
Clean and friendly user interface
Cons:
Limited if you need more advanced project planning and tracking
Have to take the full bundle to benefit from all the features
Users' Opinion on ActiveCollab
"Great thing about ActiveCollab is that I know that every single team member is going to receive an email in the morning that has a to-do list that is specific to them. This way, they know exactly what their tasks are for the day." – User, Managing Director & Producer
Different team management software and tools contain a vast variety of features you may like, but it is always worth remembering what are the most important ones to solve your management issues at hand.