With Weekly Team Summary, you can share a weekly summary about your Team OKRs or overall progress. Use it as a part of your Weekly Check-in process after you have updated your OKRs. Provide details about your team's OKR status, progress with initiatives or any blockers your team is currently facing. You can also share how your team is doing in general. For example, how the team performance has been or what kind of interesting discoveries and wins your team had this week.
Save time on reporting, be a better Team Manager, and boost goal attainment by regularly checking-in and reflecting on your team's progress.
When to use it
There are different options on how to use the Weekly Team Summary. You need to keep in mind that first, it has to make sense and second, it has to provide value.
Use the Weekly Summary as part of your Weekly Check-in meeting or add it on the last workday of the week. Share what brought success or what OKRs didn't move, and give an update as to why. Keep in mind that detailed information about each Key Result or Objective belongs in the comments of the Key Result or Objective. The Weekly Team Summary is all about summarizing. Stick to 1-3 paragraphs and keep the paragraph length ideally at 2-4 sentences.
How to add a Weekly Team Summary
Go to your team page in Quarterly Objectives or Home
Click "Timeline" open
Select "This Week"
Click to add a Weekly Summary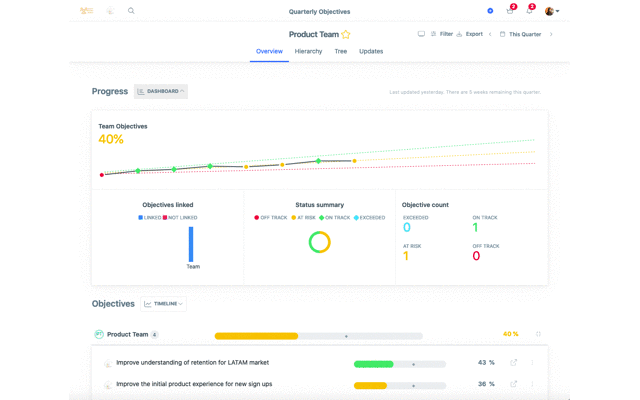 Read more about how Weekly Summary works.
How to write a good Weekly Team Summary
Here are some tips on how to write summaries that everyone will want to read.
Keep them short. It's about summarizing, not sharing all the details. If someone wants to know more they will ask. If you keep writing essays, people would not want to read them. Short and on point is the way to go.
Share what's important. You could make a summary about everything but not everything is worth sharing. Think about what are the key performance indicators or metrics that provide a good overview and interest other people. You might even ask from other team managers which information they find useful.
Stick to the same questions. It's best if you choose certain questions that you answer each week. It makes writing summaries easier and others know what to expect. For example, answer these questions in your Weekly Team Summary:
Was it a good or bad week based on progress made?
If the results were good what are the 1-2 things that worked well?
If the results were low, what might have caused it?


Viewing your or other Weekly Team Summaries
Once a Weekly Team Summary is added it will be visible to others. It doesn't disappear over time which means you can always go back and look how your team has been doing week-by-week. If you need to report to your stakeholders about your team's overall progress then you can easily show them the history of Weekly Team Summaries.
To view your or other teams Weekly Summaries:
Go to Newsfeed
Click on a team which summaries you want to see
Choose "Weekly Summaries" from the top of the page