"I love it when a plan comes together," Hannibal Smith smilingly said in the 80s hit show A-Team, watching a huge bright explosion in the background.
While most of us can't relate to being a mercenary soldier who blows stuff up for a living. I bet you can relate to the feeling of accomplishment when a plan goes your way! But getting what you want doesn't come without hard work. You need an awesome plan to help get you to the finish line – this requires consistent weekly planning.
By definition, weekly planning is the set of activities you do every week for yourself (with your team in mind) in order to get the most important work done. It is a way to prioritize and organize your day to day, keeping an overview of your short term plans.
There are many templates and methods for weekly planning. At Weekdone Team Compass we use the PPP – Plans, Progress, Problems methodology. This status reporting and weekly planning method pairs especially well with the goal setting framework Quarterly Objectives and Key Results (OKRs). The combination of the two will have you channeling your inner Hannibal Smith in no time!
Using PPP for Your Week
What is the Plans Progress and Problems methodology we just mentioned? Good question! PPP (for short) is a very simple way to handle your tasks.
Each week, you need to set 3 – 7 plans that you want to finish. These are not knucklehead stuff, but the important things that move you towards your long term goals. When you finish a task like this, you can consider it Progress! If you run into challenges along the way that slowed down your momentum – list those in the Problems section. This helps you understand your personal productivity and how to make improvements week by week.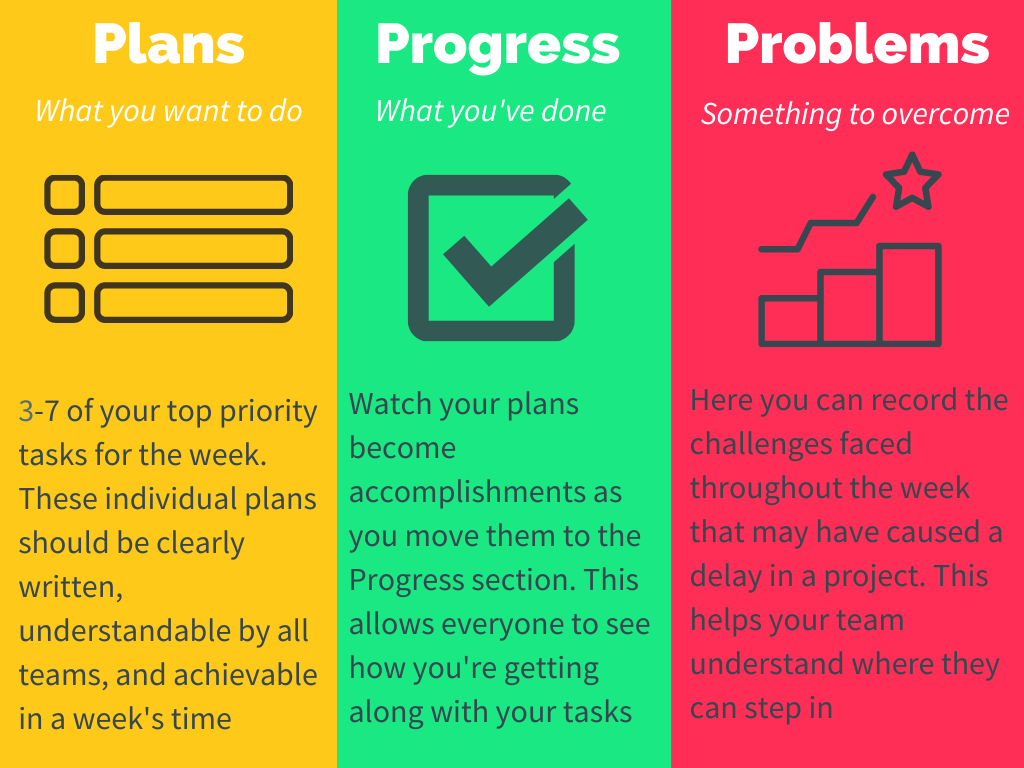 Implementing PPP for weekly planning and reporting on a team or company level provides team leaders with a quick overview of what everybody's working on and how others can help! Transparency is key with this methodology – everyone shares in order to succeed!
Benefits of Weekly Planning
Most readers probably don't need convincing that having a plan is good. Still, here are the boons you get from spending time planning your week. Every week. And all these benefits will double and triple, if implemented in a team. As in a team the whole is definitely more than the sum of its parts.
Having a great plan is a key to doing great things. Here is our list of reasons you should spend more time planning your time and making sure you work on the right things.
🗓 Use Weekdone Team Compass for weekly planning – get more done!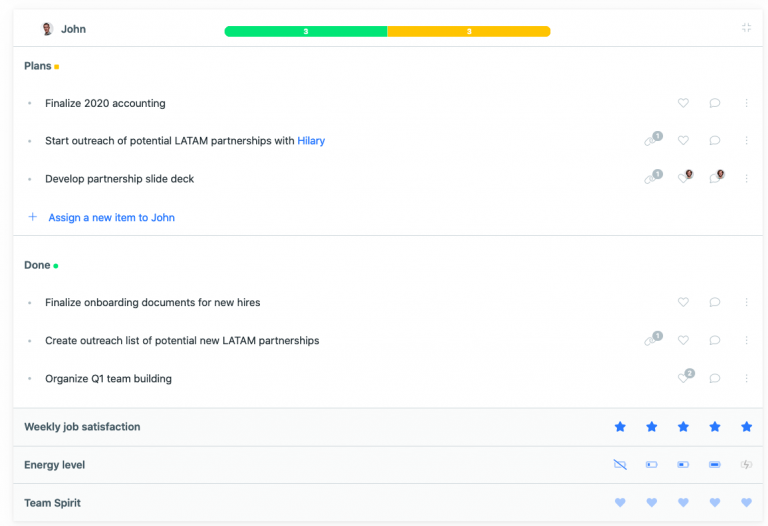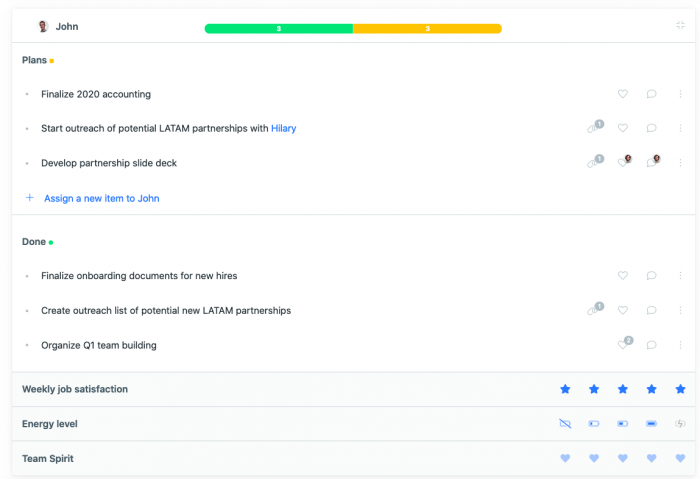 1. Planning makes you more productive
Being productive doesn't have to mean you're always working! Come on! With different prioritization models and frameworks, people are working more efficiently, and getting more done than ever before!
Work smarter, not harder. It's more about doing the right things – focusing your energy on what matters and reaping benefits from that.
2. Weekly planning helps you with work-life balance
Planning your time effectively means you can enjoy more free time! Who doesn't love that?
How the workplace effects emotional well-being and mental health has become a hot topic among companies all over the world. In fact, there are discussions about offering a 4-day work week! Tasks don't dwindle, but your time in the office does. If you're able to manage your same workload in 4 days time – who could say you don't deserve a break?!
Weekly planning can be the starting point to providing you with more work-life balance. Make a plan, hold yourself accountable, and exceed your own expectations.
Read our article that shares examples of work-life balance to help you manage your time wisely, and keep your mental health in check.
3. Weekly planning teaches you when to say "no"
Having a plan every week helps you understand what aspects of your work are useful and productive in the long run and what parts contribute very little to your overall success.
It's the Pareto Principle or 80/20 rule that states that "80% of success comes from 20% of work."
If you have a weekly planner that you review every week; in a few months you'll start to see where that 20% came from! From there, you can begin either, reducing your workload by automating certain tasks, rejecting projects that don't move the needle forward, or shelving a certain activity for another quarter when it's more relevant to your goals.
4. Weekly Planning keeps you up to date with what's going on
At work, we usually have a crazy amount of small tasks that demand our attention. So many, that at the end of the day we can hardly remember what we accomplished, or what we even did 30 minutes prior, let alone the beginning of the day!
Sticking to a written plan helps us remember those tasks weeks later as well. Whether it is a personal task sheet or a weekly employee schedule, having your "to-do's" in one place helps you stay on top of your progress and what still needs to get done.
5. Weekly planning teaches you to share
Sharing your plans and progress with your team and managers helps to improve the company culture as a whole. This is why it's wise to invite your team to use a weekly planning software like Weekdone Team Compass, together! When plans are public, everyone knows what others are working on – increasing accountability, trust, and collaboration in teams.
Using weekly planning with OKRs ensures that everyone knows the company's long-term goals for a given quarter. Then, weekly plans are more focused on how to drive certain outcomes. And that increases engagement and teamwork's quality.
Read about Weekdone, our OKR software for setting quality goals in you company.
Weekly Review in Weekdone Team Compass
Team Compass by Weekdone allows you to set your plans with the PPP based weekly review. This method has many extra benefits for both co-located teams and those who work remotely.
The most important benefit is the ability to always have a quick overview of what is going on. As a leader, you can take a quick look and get an overview of everyone's reports and see:
where the problems are,
what are people working on
and how well things are progressing
And for employees, the main benefit is the simplicity and ease of the system.
As an example, I obviously use our software 😉 So I spend about an hour every Friday reflecting on my week and making plans for the new one. My team prepares and does the same (on their own time) – and when we come together in a status meeting on Monday, I'm ready to:
share exactly what I plan to accomplish,
listen to what my co-workers are working on,
connect on how our individual plans will drive the team goals forward.
Using weekly planning with our simplified OKR goal-setting and tracking system helps you make the connection from your weekly activities to your team goals.
Being good at what you do doesn't have to mean endless days and stress filled weekends. It means executing a well-thought out vision and doing it without much fuss.
Free for teams 3 or less. $29 / month for everyone else! + a 2-week free trial!