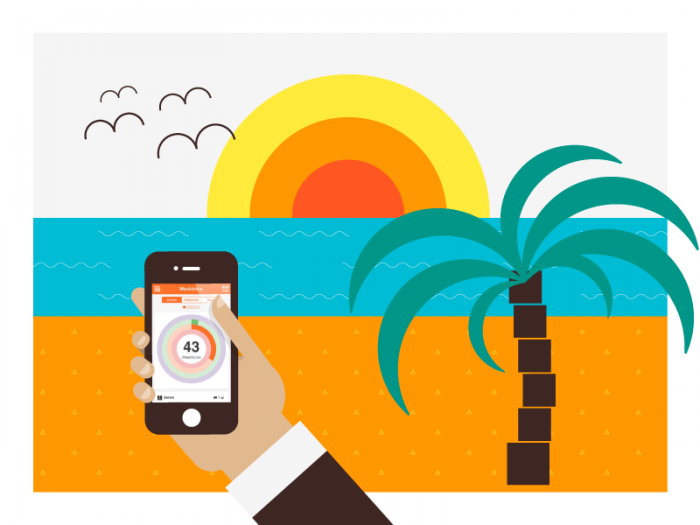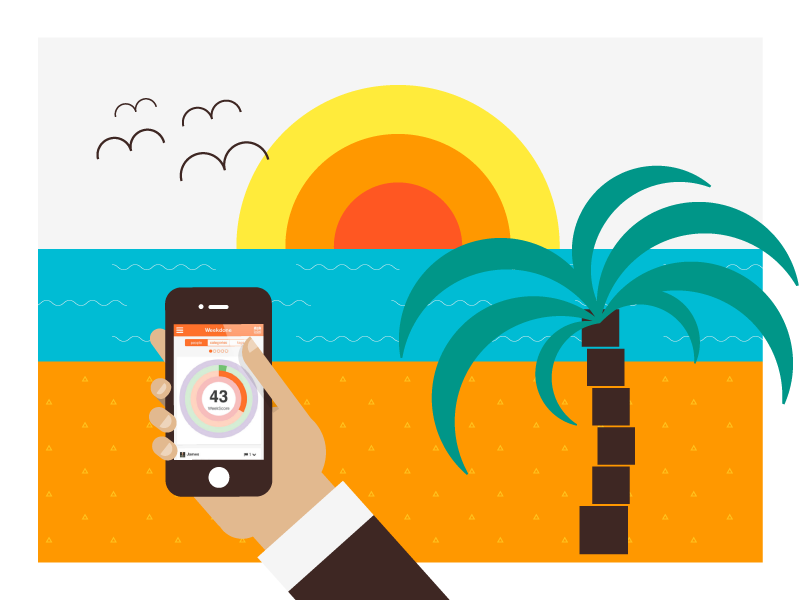 Having some or all your staff work from home has many advantages. One of which is the reduction of both time and office costs. Remote.co tells us, employees who work from home save a lot of time by not commuting and are more productive and healthy than those with long commutes. Remote workers take fewer sick days and are happier. However, managing a remote team can be tricky. It is harder to connect with people and understand their needs. A lack of face-to-face time makes it difficult for employees to work as a team.
We at Weekdone checked out some tools to help bring the best out of remote teams. Here is a list of the best ones.
FAQ – Frequently Asked Question
I have a fixed budget. How do I know which software is the right one?
A very common issue and fortunately an excellent chance to understand your team's needs. Do a roadmap about containing all of the aspects of team work such as communication, management, work, file-management etc. Then proceed to write down problems regarding every aspect in a listicle form. When you feel like you've completed it, analyze all of them and figure out the best software based on your hardships.
Our Top 10 Picks
Weekdone
Skype
Litify
Hive
Grammarly
Bear
Join.me
Meistertask
Screenleap
1Password
---
1. Weekdone for Remote Teams
You can use Weekdone weekly reporting tools to monitor your remote team from your computer, tablet of smartphone. Weekdone uses real time status update methodology. This helps you and your remote team know what everyone is working on and helps to bring everyone together. Weekdone can be used for managing both remote and local teams.
| | |
| --- | --- |
| Pros | Cons |
| Mobile app and browser extension available | No Gantt charts yet |
| Elegant UI | |
| Active support | |
| Deeply asynchronous communication tool | |
| Great Goal Setting System using OKRs | |
2. Skype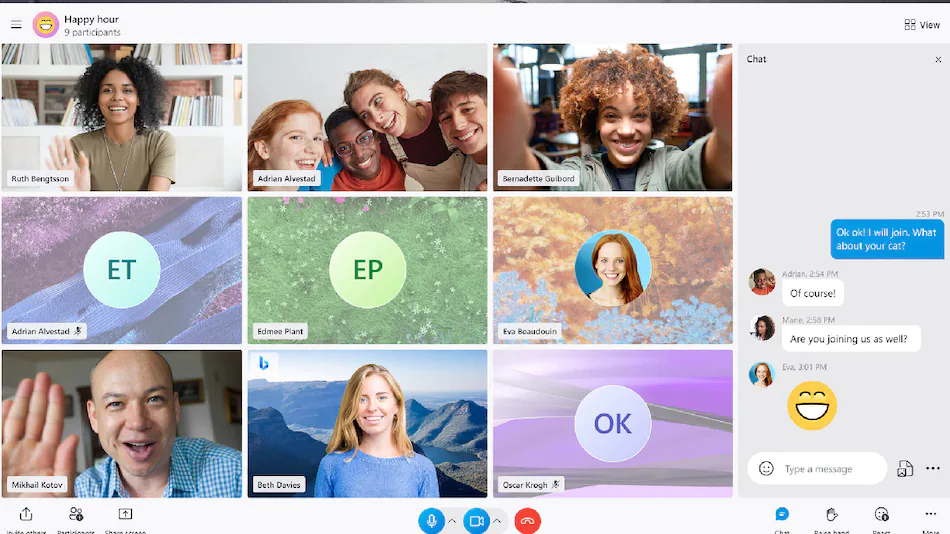 Skype needs little introduction, being one of the most popular communication apps in the world. It has everything you need for day-to-day communication in a remote team: chat, voice conferences, file sharing, and the ability to make phone calls.
| | |
| --- | --- |
| Pros | Cons |
| Widely popular software | Relatively rigid functionality |
| Connected to Office 365 | Regular connection problems |
3. Litify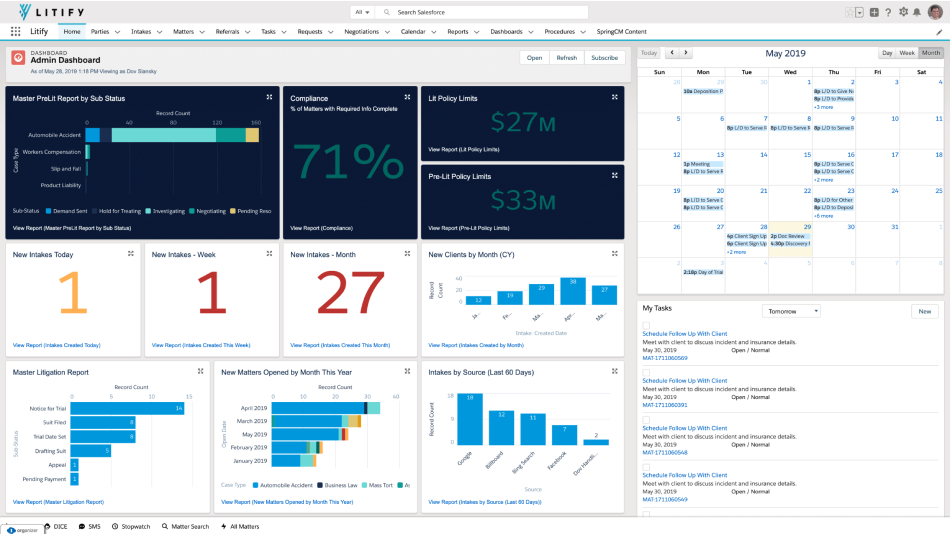 Litify is a fully integrated and powerful SaaS platform built for law firms and legal teams. Their practice management software combines legal case and legal matter management, document generation and management, intake, reporting and more—all in one place to help law firms operate as efficiently as possible. In addition, Litify is built on Salesforce, which gives users full access to all the integrations, resources, updates and capabilities that come with secure cloud technology.
| | |
| --- | --- |
| Pros | Cons |
| Specific Use Case for lawyers | Expensive cost per user |
| Control and customization options | Salesforce may cause complications |
| Cloud Based Software | |
4. Hive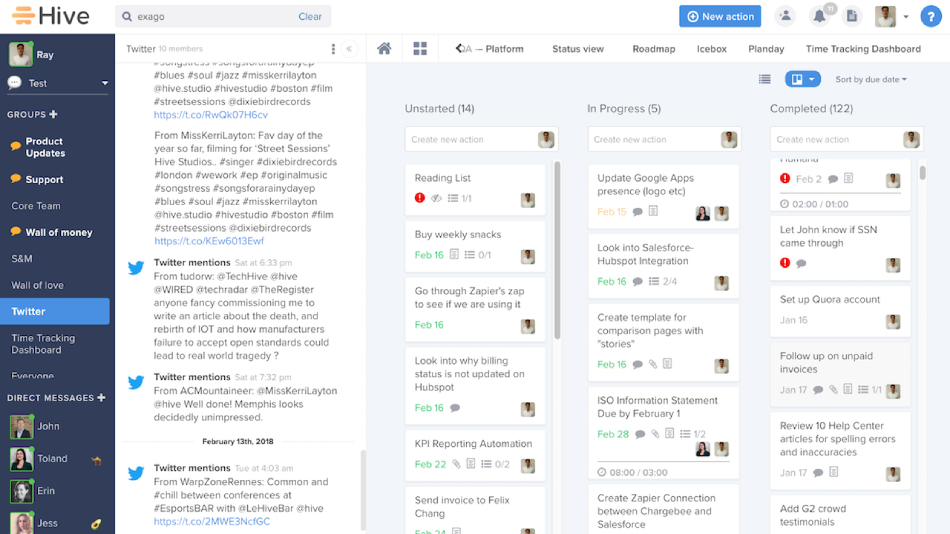 Hive is a productivity platform that offers a wide range of tools for remote teams. It offers your team the flexibility to plan their projects in the way they work best. Organize projects in a gantt chart, kanban board, or calendar. You can also plan and repeat tasks using templates that reduce the time people spend on reporting
| | |
| --- | --- |
| Pros | Cons |
| Interactive | Slow processing |
| Various views of projects (Kanban boards and Gantt charts) | Not very intuitive, takes some getting used to |
5. Grammarly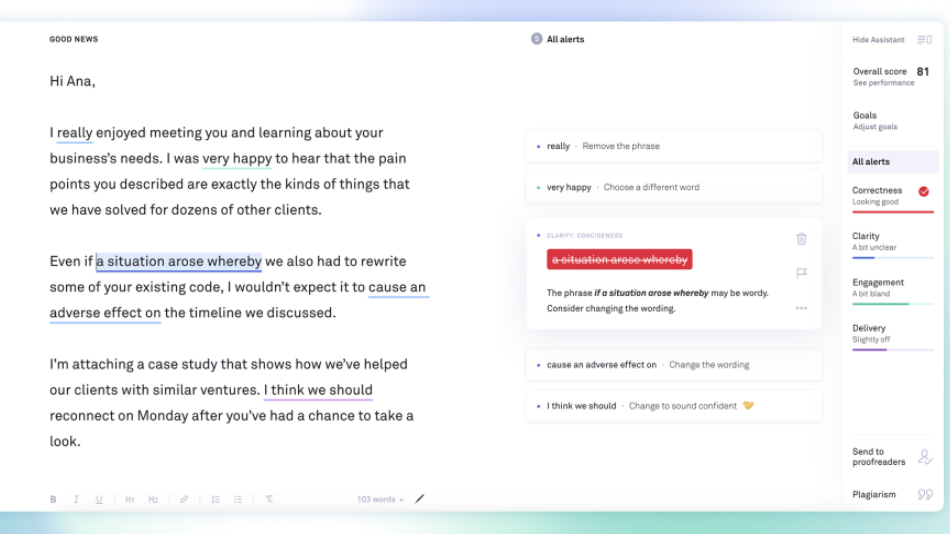 As remote teams communicate mostly in writing, Grammarly is a great tool to have. It helps your team members avoid stupid mistakes and produce quality text for everything from emails to social media posts. And it is free.
| | |
| --- | --- |
| Pros | Cons |
| Great for multilingual teams | Can become a bit overwhelming |
| Chrome extension | |
6. Bear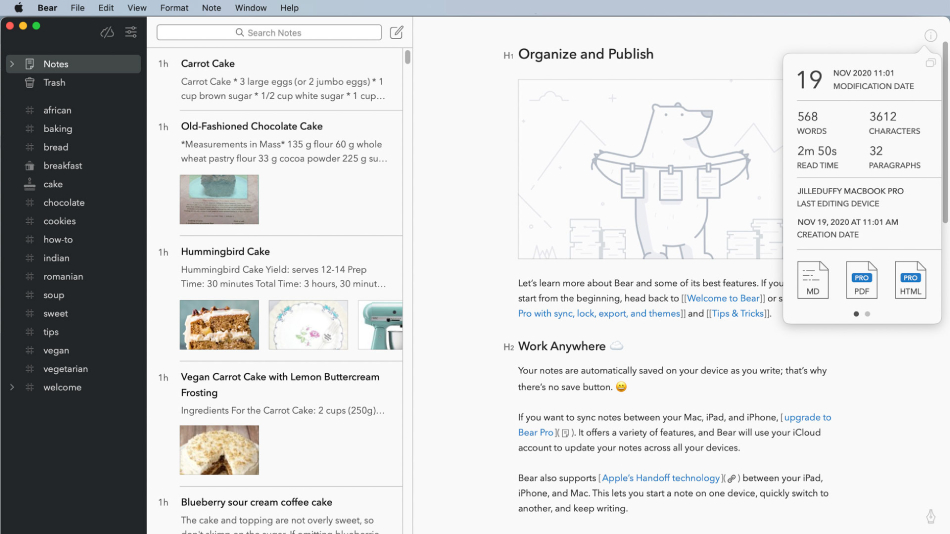 Bear is a writing and note taking app for Apple products. It is perfect for everything from quick notes to in-depth essays. It has a focus mode that helps you concentrate and advanced markup options with full in-line image support. While it has less features than some other similar apps (Evernote), it is faster and easier to use.
| | |
| --- | --- |
| Pros | Cons |
| Focus mode for more working space | Only Compatible with Apple products |
| Well designed interface | Low data storage |
7. Join.me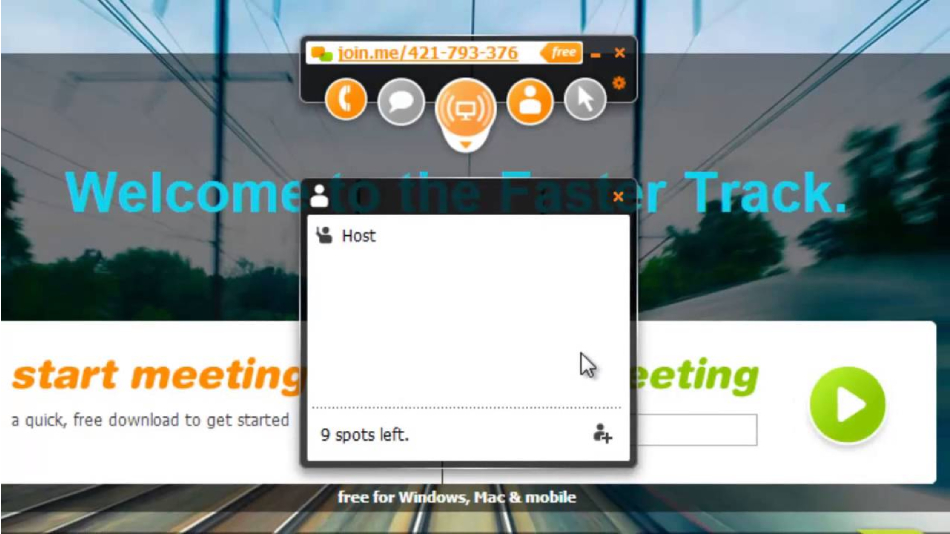 Join.me is a collaboration app that helps you easily run meetings online. It offers video conferences, screen sharing, and scheduling. Also, it allows you to mute/unmute individuals or the whole group to minimize distractions and easily identify who's talking (or who is calling from a crowded hotel lobby). It also has an option to record your audio and screen share. As a downside, it doesn't have quite as many features as other meeting apps.
| | |
| --- | --- |
| Pros | Cons |
| One space for all your meetings | Features are limited |
| Ease of use once downloaded | Not very intuitive set up |
8. Meistertask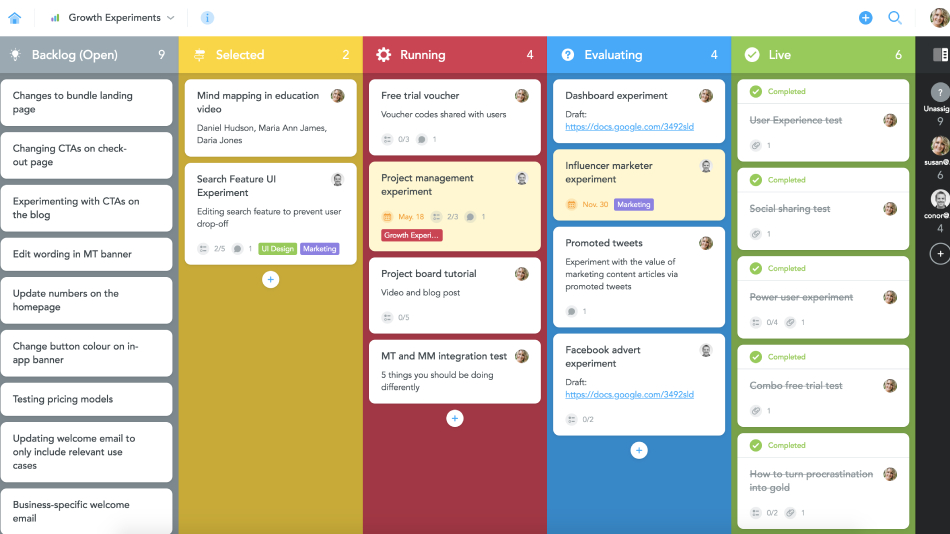 Meistertask is a task management app. In MeisterTask, you can diiscuss the details of tasks with your team members, upload files, set due dates, and add checklist items. A log of your activities is saved in the task's activity stream for easy traceability. However, the app doesn't integrate well with other tools.
| | |
| --- | --- |
| Pros | Cons |
| Helps teams get organized | Limited integrations with other tools |
| All tasks are visible in one place | |
9. Screenleap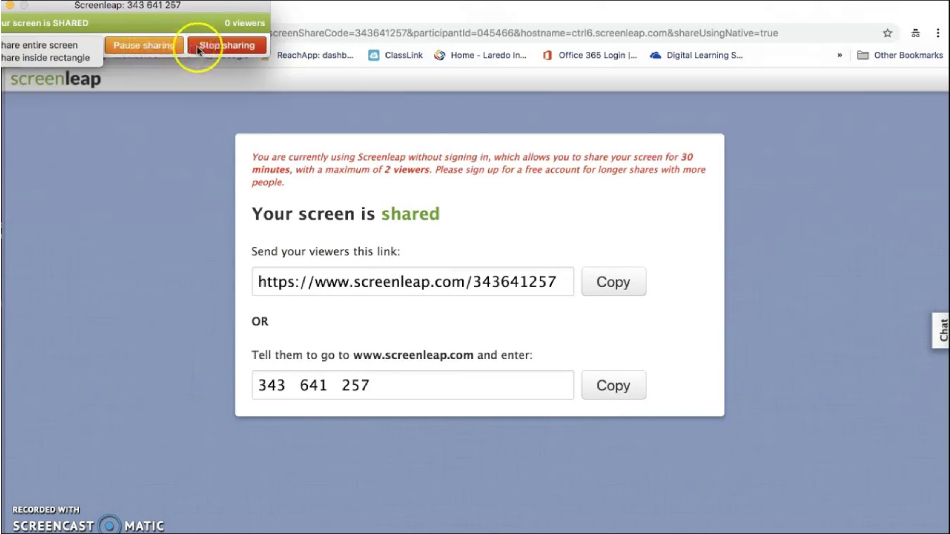 Screenleap is a free screen sharing application that helps you run better meetings. The bonus of this app is that it doesn't require other parties to sign up for the service to see your screen. That saves a lot of time when talking with potential clients and partners.
| | |
| --- | --- |
| Pros | Cons |
| Easy screen sharing | Easy to join for invited users |
| Remote control options for paid plans | 14 day free trial |
10. 1Password for Teams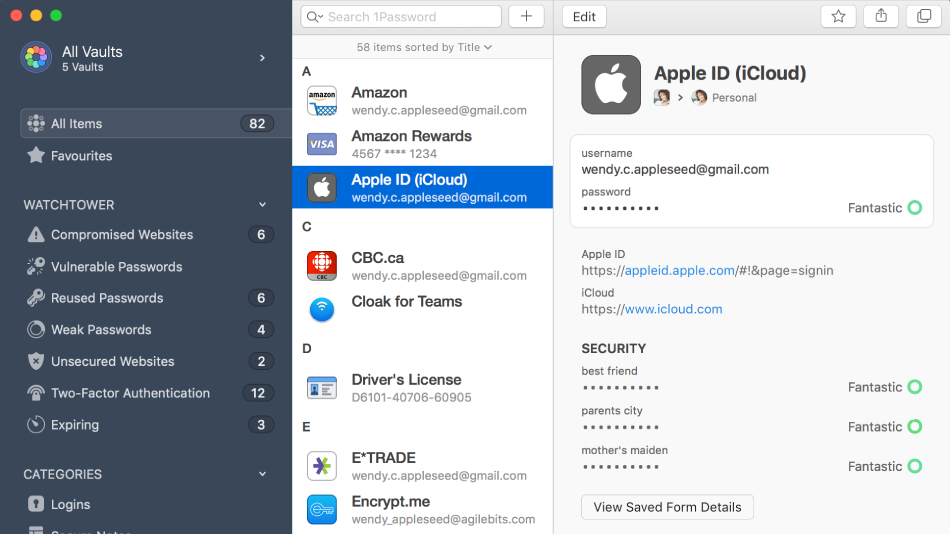 1Password for Teams gives you full control over who has access to your team's most important information. Manage what your remote team can see and do using the Admin Console. Instantly deploy, grant, and revoke access to shared vaults. You can even securely recover locked-out user accounts.
| | |
| --- | --- |
| Pros | Cons |
| Promotes document security | No camera integrated feature |
| Universal team space for password security and retrieving | Cannot automatically change a password from within |
| Various pricing options | |
Managing Remote Teams
At Weekdone, we encourage working remotely. It has many benefits for a company but only when it is done efficiently. We have spent a lot of time testing different products to find what works for us.
From this list you should be able to find the right tool(s) for your company as well. If you think we missed some good applications, let us know – send us an email at hello@weekdone.com