Approximately 70 percent of adults use a digital calendar to help them organize their lives. Wouldn't it be great to incorporate this idea into your team workflow? Digital planners you stay connected, organized, and in sync, even when working asynchronously!
Implementing digital planners and calendars can have a positive shift on how you manage your team. This new tool can help organization, goal tracking, and overall productivity!
Read on to learn more about the benefits of digital planners, as well as the 10 of the best digital planners to consider using in 2022.
What Is a Digital Planner?
A digital planner is a more accessible version of that paper planner you're already carrying around in your bag, but never actually pull out to look at…yeah that one!
Digital planners can be used on a variety of devices, including your desktop computer and phone, and can often be synced with other people's calendars to help everyone stay in the loop.
Benefits of Digital Planners
A quality digital planner should incorporate a variety of quality features that benefit your team. Imagine the communication channels like Slack…or any Slack alternative you use for optimal team communication. What do you love about the tools you use? Those are the benefits.
So let's dive into what is so great about using a digital planner with your remote, asynchronous, or co-located teams:
Stay Organized
Of course, any type of planner can help you stay organized and keep better track of tasks and to-dos. Going digital with your team planner is great, though, because it provides your entire team with a synchronized platform. Imagine a world where the most important tasks get completed on time!
Nice, right?
Save Time
For most people, a digital planner is much more efficient than a paper planner. With digital planners, it's easy to copy and paste tasks from one date to the next. You can also quickly drag and drop items to different lists as needed and easily erase items that are completed or no longer relevant.
Prevent Confusion
Because many digital planners can be synced and easily shared, they help to prevent confusion among team members.
This is particularly important for asynchronous teams. When everyone's dashboard is automatically updated every time someone checks off a task or moves something around, it helps everyone stay in the loop and minimizes mistakes and oversights.
Reduce Waste
Digital planners also reduce waste. If you and your team are looking to be more eco-friendly in 2022, switching to digital planners will save you from throwing out so much paper. Not only will you be more organized and informed, but you'll be doing your part to help out the planet, too!
How to choose your Digital Planner App?
There are tons of digital planners to choose from, but they're not all created equal. When shopping for digital planners and narrowing down your options, be sure to look for tools that offer the following:
Single View
Ideally, your team's digital planners will provide a single view that lets them see all their upcoming appointments, meetings, and important tasks in one place. This type of view helps to further prevent confusion and improves organization across the board.
Integrations
Consider looking for a digital planner that integrates with other project management or organizational tools. When your team knows they don't need to get rid of a tool they already love using – they'll be more inclined to join your new one!
With integrations, teams run more efficiently – from wherever you are!
Continuous Improvement
Your team's digital planner should encourage continuous improvement, too. It should make it easy for you and your teammates to reflect on your time usage, monitor progress over time, and identify patterns.
10 Best Digital Planner Apps for 2022
Now, let's get into the best digital planners for 2022. Here are 10 excellent options to consider to keep your team organized and on track in the new year.
Team Compass is an all-in-one team management tool that even employees love. Individuals can update their weekly tasks and move them along as completed, or report blockers should they come about. The team view allows you to see everyone's plan at a glance.
You'll get more than just a digital weekly planning tool. Your team will improve their status reporting process; giving everyone a better understanding of team progress toward goals. Managers also receive automated progress reports helping facilitate better meetings with a clear agenda.
Check out Team Compass features to learn more about how the software promotes: planning, reporting, goal-setting, communication, and engagement.
Team Compass integrates with a variety of other tools, too, including (but not limited to) Slack, Jira, Microsoft Teams, and Basecamp.
The software is free for teams 3 or less or just $29 per month for unlimited users.
The Friday Digital Planner is a great organizational tool for individuals. It provides a simple one-view so users can easily see what they need to do on a particular day, and it encourages users to block out time regularly for reflection and goal-setting.
We love the option to see your daily schedule planned out, and add directly to your "agenda" via the calendar. When you integrate Friday Planner with your Google Calendar, you'll be able to see your daily meetings and "to-do's" at a glance.
For teams, there are options to share check-ins and see co-worker's responses to icebreaker questions, and kudos, which increases engagement and is fun for everyone. However, the check-ins are a bit time consuming to fill out, which may cause employees to ignore them. Which isn't ideal when trying to get a grasp on what everyone's up to in your team.
Habitica is a free and unique productivity app that allows users to gamify various tasks, habits, and to-dos. With each completion of a task, you earn coins for different rewards like: costumes, swords, dragons, and more! In each section you can automate reoccurring tasks on a weekly, or monthly basis. In the habits section, you can tag something as "positive" or "negative", allowing you to reflect on habits you want to keep or break. All of these features hold individuals accountable and make getting things done, fun!
However, Habitica lacks in the collaboration for teams area. Users cannot see what anyone else is working on; and while, comparing avatars and rewards is entertaining – it doesn't keep teams in sync like a digital planner should. You'll need other tools to stay connected on projects and tasks.
Things 3 features a simple, streamlined design and acts as an interactive checklist for you and your team.
With a drag-and-drop interface, you and your team can easily use Things 3 to move tasks around for straightforward status reporting. This app also allows users to create headings for various to-do lists to minimize confusion and distractions.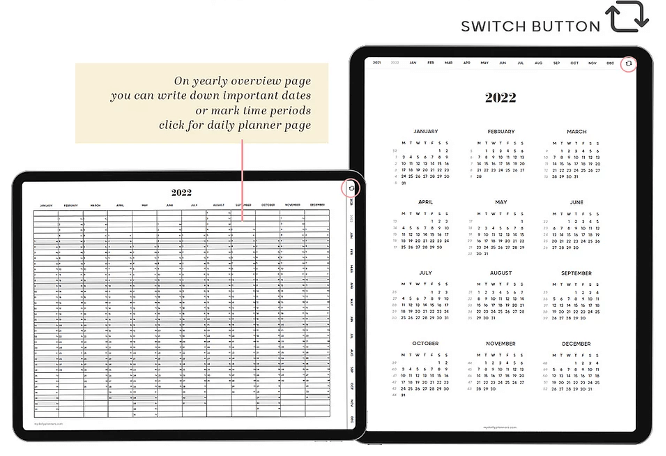 MyDailyPlanners is a digital PDF available on iOS devices.
This planner app features daily, weekly, and monthly planning pages to help teams stay organized. It also provides templates for project planning and taking notes during meetings.
MyDailyPlanners comes in 4 different languages, too, so it provides a greater amount of accessibility for global teams.
Todoist productivity software is designed to help team members simplify and organize their workday. This digital planner makes it easy for you and your team to organize and prioritize tasks, see a clear overview of tasks for the whole company, and assign tasks to different teammates for maximum productivity.
Any.do digital planner is one of the most widely accessible digital planners. It's available online, via mobile app, via tablet app, and even via smartwatch software.
This app streamlines the planning process and features an easy-to-read dashboard, which includes a to-list and calendar. It allows you to easily drag and drop tasks into your schedule, too.
Chances are, you already use some form of Google app throughout your day – in addition to your active search browser!
Google Calendar is a tried-and-true favorite among many teams, including remote and co-located teams. It is easy to use, offers smart suggestions for people, places, and event titles, and can even add events to your calendar right from your email. It brings synchronicity to a new level.
Trello is another popular project management tool for teams of all kinds and sizes. It features built-in workflow automation, syncs across a variety of devices, and makes it easy for users to drag and drop tasks onto different boards for simple progress monitoring and organization.
Trello uses the popular quality management methodology Kanban in order to optimize your team's workflow. Allowing you to choose the name of your boards and funnel them through until completion.
Notion provides teams with an easy-to-use workspace for note taking, project management, and collaboration. This app helps you to secure company information and stay in the loop regarding various projects. It even allows you to attach files and YouTube videos for simple document sharing.
Check Out These Digital Planners Today
The right digital planner can make a huge difference when it comes to staying organized, keeping everyone on the same page, and maximizing productivity.
If you're looking for a digital planner that offers a wide range of features, is easy to use, and helps teams plan (and execute their plans) effectively, Weekdone Team Compass is a great choice.
Try it out today for free!