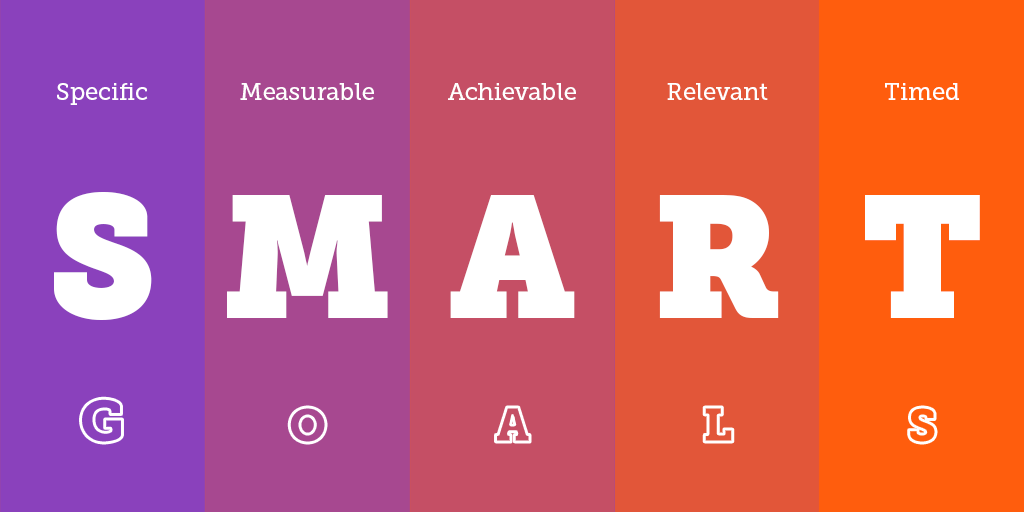 Did you know that 95% of business owners fall short of meeting each of their goals set within a year? We get it. It's tough to stay on top of your goals and business objectives when you're not confident with how you're tracking them, or the best method for setting them in the first place.
When you're working toward big picture company objectives within a team, simply tracking details in a collective to-do list or even a Kanban board just doesn't cut it.
A good goal tracking app for 2023 can be an invaluable tool based on your team's specific needs. By allowing you to keep track of goals progress, you'll have the visuals for motivation, keeping your eye on the prize and increasing the chance of success.
This 2023 update of team and work goal tracking software guide provides a framework for setting and achieving goals through an in-depth analysis of some of the best goal-setting apps and tools.
When choosing the 2023 goal tracking app for your team, make sure it implements SMART goals:
Specific – Assigned to a person, team or department
Measurable – Visualized by number, percentage or done/not done
Achievable – Agreed on together with whole team
Relevant – Driven by higher level company or department goals
Timed – Annual, Quarterly, Weekly or with Due Dates
Best Goal Tracking Apps for Work
In our list of best goal tracking apps for teams and businesses for 2023, we'll share a bit about each tool, notable features, and pricing details. Read more to see which tool you'd like to test to help achieve your goals efficiently as a team.
Best Goal Tracking App for Teams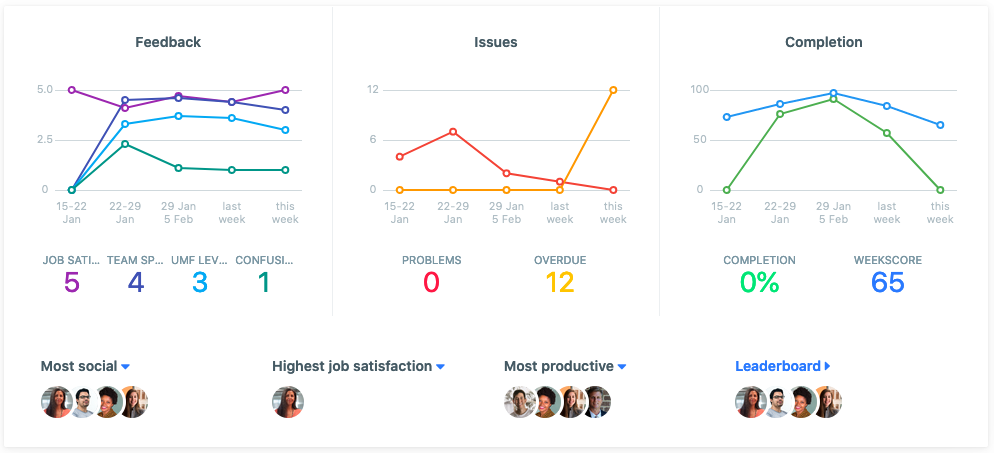 Team Compass is great if you're just starting to set goals and objectives for your team. In Team Compass, everything can be set us a goal:
Annual and Quarterly Objectives
Key Results, Metrics and KPIs
Projects and Initiatives
Tasks, Plans and Todos
Any other action items
Key Features
Built for teams, Team Compass has also support for hierarchy of company, department, team and personal goals that can be aligned together.
Set SMART goals at work.
Track and monitor progress.
See visual progress charts and dashboards.
Add weekly plans, progress and problems.
Give and get employee feedback.
Pricing
The best thing is Team Compass is free for up to 3 people. Others can enjoy a free trial and switch to an affordable subscription of just $29/month. Even if you have hundreds of users!
Best OKR Software for Companies
When it comes to the best app for quarterly OKR goal tracking, Weekdone ranks at the top. Using our leading OKR software, you're able to align activities throughout your organization and track weekly plans with a simple click.
The ability to provide feedback to keep everyone moving in the same direction reduces miscommunications that can lead to costly mistakes. And, as the biggest plus, it helps increase the type of employee engagement that fosters a more unified workplace.
Weekdone Key Features
OKR coaching and support
Sample OKR data for various teams
Weekly planning and reporting
Data visualization dashboards
Conversations, feedback, and recognition
Integrations
All in all, Weekdone is the right software for you if you need to learn about, implement and track OKRs across your teams.
Weekdone Pricing
Try Weekdone free for 14 days or, if you only have up to 3 users, enjoy all software features for free – forever!
Need to align OKRs across the entire organization with various departments and teams? No sweat! Enjoy all features at a price per user cost – check out Weekdone pricing details.
If you and your team want to ensure that all your work is organized, planned, and executed as projects within set deadlines, ProofHub can be an ideal goal tracking app for you. After all, project is one of the most important types of goals to get done.
A powerful work management and team collaboration software, ProofHub offers a wide range of features that allow you to allocate tasks to the right people, set deadlines, and monitor progress through multiple views such as Board view, Table view, and Gantt view.
Using ProofHub, you can seamlessly collaborate with others through features such as Chat, Online Proofing, Discussions, Time tracking, File management and sharing, Note Making, Real-time updates, etc. Users can directly add comments to tasks and @mention people to bring their attention to a particular suggestion.
Best for tracking simple goals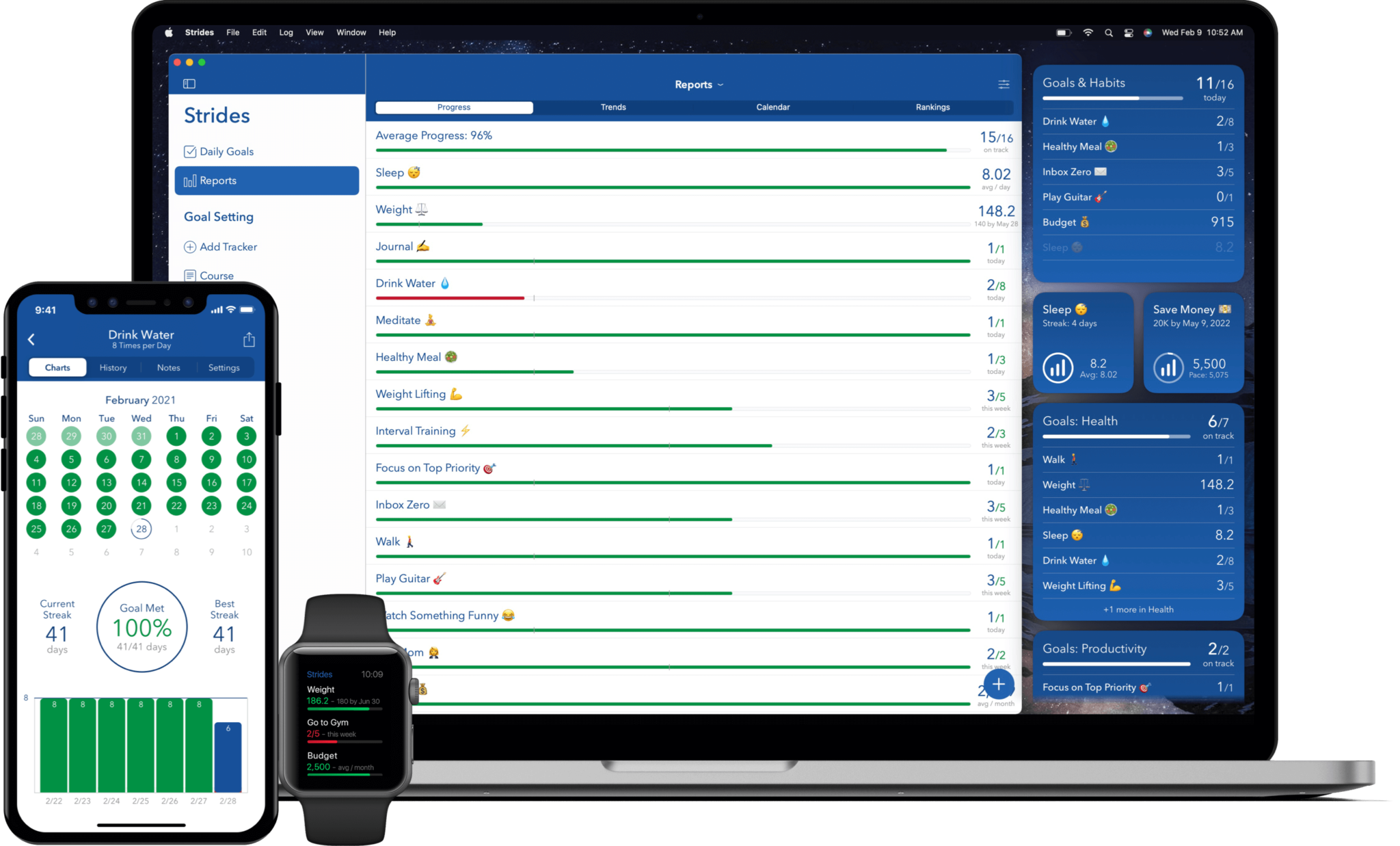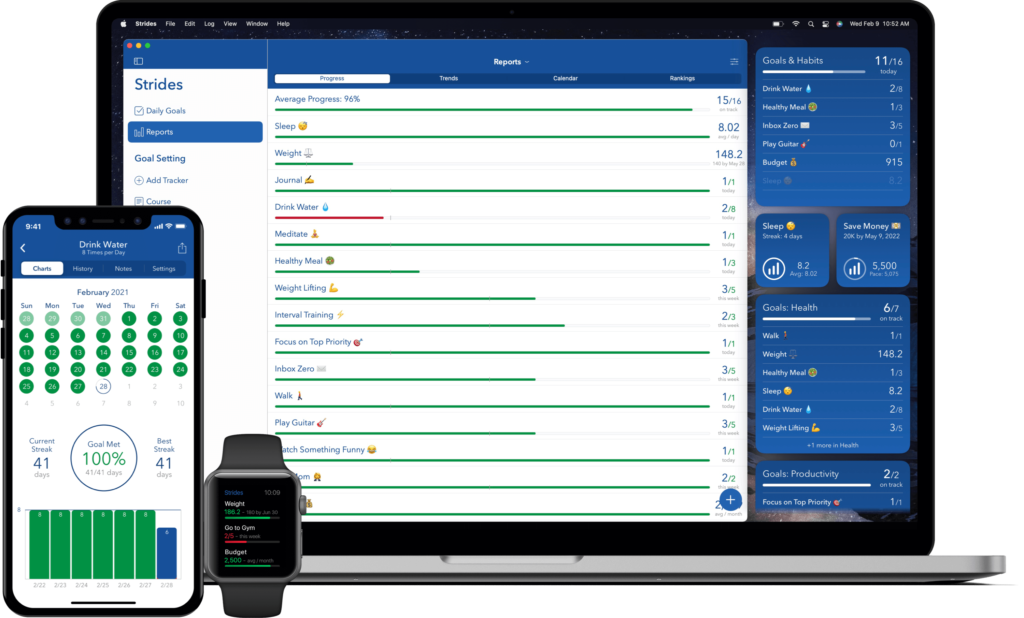 Strides allows you to easily track your progress, receive reminders, and set goals that are specific, measurable, achievable, relevant, and time-bound.
Strides also offers a variety of features that make it easy to stay motivated, including the ability to create streaks (a streak is a chain of consecutive days on which you complete your goal), set personal bests, and join challenges.
Overall, Strides is a good online team goal tracker option if your team lacks motivation or if you need frequent reminders.
Strides Key Features
The ability to set and track daily, weekly, monthly, quarterly, and yearly goals
Detailed tracking of your progress
Customizable reminders
A goal library with goal suggestions from other Strides users
A tracker template to set SMART goals
While the software is quite comprehensive, where it really shines is in the ability to view goals from others as a way to gain valuable insight into how others have set and achieved their business objectives.
Strides Pricing Options
Strides has both a free version and a paid plan that starts at $4.99 per user per month.
Best for productivity and automation
ClickUp provides users with a simple interface for tracking goals, assigning tasks, and measuring progress. It allows you to set, edit and track personal goals like the other app on this list.
The differentiator here is that ClickUp integrates with a number of other productivity apps, making it easy to keep all of your business goals in one place.
ClickUp Key Features
Aside from simply setting goals and tracking progress, with ClickUp you can also enjoy the following features:
Task management
Workflow automation
Team collaboration
Document management
Time management
ClickUp is great for goal-setting for sure. However, it's best as a tool for businesses that want to improve their task-management processes or gain insight into how to automate certain workflows.
ClickUp Pricing Options
ClickUp offers three different pricing options to choose from: free, paid, and enterprise.
Paid plans starts at $5 per user/month and goes up to $19 per user/month, depending on the features and storage you need. Choose enterprise plans for large businesses with custom pricing based on your specific needs.
Best for HR employee tracking
With a focus on performance management – this app is perfect for Human Resources managers or larger enterprise organizations with a top-down approach to goal setting and management. Employees can set goals on the personal level, as well as in teams – which management can keep eyes on. Great for remote companies who need help facilitating better engagement surveys and reviews!
Trakstar Features
360 degree reviews with custom templates
Cascade goals from organizational level to individuals
Set strategic, SMART goals
Trakstar Pricing Options
Unfortunately, Trakstar doesn't share their pricing details as it is an enterprise solution – meaning you'll get a custom quote depending on the size and needs of your organization – get a quote here.
Best for managing team projects with OKR support
Wrike has plenty of use cases for teams, most notably in the project management sphere. But, as a team goal tracker it provides the most value with its OKR tracker template. You can use this template to enhance your projects by setting Objectives and monitoring their progress with action items and Key Results.
Wrike Features
Organize different levels with folders
Custom metric fields, and item types (deliverable, action items)
Various dashboards and chart views (Kanban, Gantt)
Wrike Pricing Options
Plans for teams using Wrike start at a monthly rate of $9.80 / user. For larger businesses with multiple teams you'll gain more customizable features at $24.80 / user monthly. All plans gain access to the OKR template.
Best for Team Project Time Tracking
With Clockify, you can track an unlimited number of goals, and always keep an eye on your goal's progress. And because Clockify is cloud-based, you can access your goals from anywhere, at any time.
Clockify Key Features
Clockify's key features are designed to help you better manage your time, which can ultimately lead to better goal tracking and productivity insights:
Break down your goals into smaller tasks
Easily access an overview of your task trends
Help you identify areas where you may be wasting time
Track employee hours to measure productivity
Access your productivity trends
Organize your tasks according to your most productive times of the day
Clockify also has a mobile app so you can track time on the go.
Clockify Pricing Options
Clockify is a great goal-tracking app that is free to use. If you want to boost Clockify with some extra features, the paid version starts at $3.99 per seat/month.
Best for visualizing performance metrics
Databox is a central dashboard that enables you to mix and match metrics from multiple software platforms to get a more complete picture of your team's performance against sales, marketing, and operations goals.
Databox Key Features
Databox makes it easy to see how your team is performing relative to its goals and provides the tools and functions you need to track progress and make necessary adjustments, including:
The ability to connect to and pull data from numerous data sources, including popular business intelligence tools like Google Analytics, Salesforce, and Zendesk
Real-time alerts, so users can be notified as soon as any changes or anomalies are detected in their data
Databox is available on both mobile and desktop devices, so users can access their data anytime, anywhere.
Databox Pricing Options
The Free Forever plan is perfect for small businesses or individuals just getting started with data analytics. However, Databox's Starter, Professional, and Performer include more connections, users, data boards, and frequent updates.
Best HR tool for supporting employee goals
Namely's goal setting and tracking functionality enables leaders of midsize companies to give personalized attention to employees, setting and tracking individual goals as well as linking these objectives to higher-level team goals and initiatives.
This helps ensure that everyone in the organization is aware of the company's objectives and working towards them.
Namely Key Features
Namely software allows managers to set individual employee goals, track progress, and link objectives to higher-level team goals and initiatives. Other key features include:
Objective linking
Performance notes
Feedback
Where Namely features shine is in the software's ability to allow managers to set clear expectations, track progress, and identify areas of improvement.
Namely Pricing Options
Namely pricing is based on the number of employees in your company. The core Namely product includes features such as payroll, benefits administration, and performance management.
However, Namely also offers a la carte features, such as recruiting and advanced reporting, which can be added to any plan for an additional fee.
Lattice is a people management platform that helps companies reach their goals by tracking OKRs and employee engagement. The platform provides a clear and simple way to track progress, identify issues, and make sure everyone is on the same page.
Lattice Key Features
Lattice offers people management features for 1:1 meetings, interactions and goals. Other key features include:
Performance management
Employee engagement insights
Transparent goals and OKR settings
Compensation reviews, simplified
Lattice also offers tools to help with goal setting, performance reviews, and feedback. In addition, the platform provides a way for employees to give and receive recognition.
Lattice Pricing Options
Lattice offers a few different pricing options to choose from depending on the features you need.
Pricing starts at $11.00 per person per month. Performance Management and OKRs & Goals can be purchased separately (at $8 per person/month).
Best for simple visualization and note taking
Goalscape is an effective tool for visual workers because it allows you to see your goals and progress visually. The software uses principles of neuroscience to help you set goals that are achievable and motivating.
Goalscape Key Features
You can set and track progress on goals, visualize them in Goalscape, and get motivators to stay on track. The key features of Goalscape allow you to:
Create a visual goal structure
Set priorities and track progress visually
Add goal background details
Filter goals and create an action list
In short, if you or your team member are highly visual workers then utilizing Goalscape might be a great way to really ensure everybody can benefit from the visual goal structure features offered.
Goalscape Pricing Options
Goalscape offers a free 14-day trial. However, paid plans start at $99 per year for the Pro plan while the Enterprise plan starts at $2,160 per year.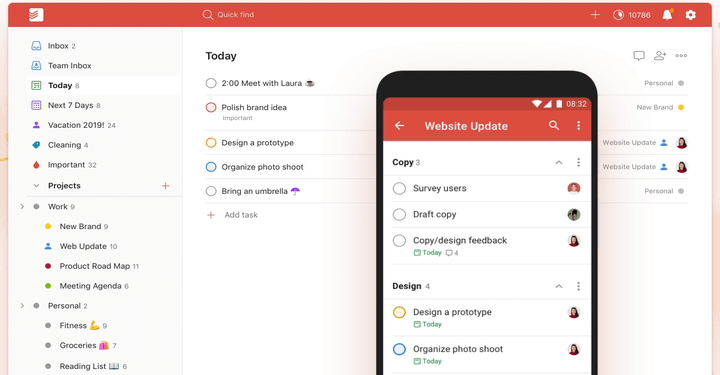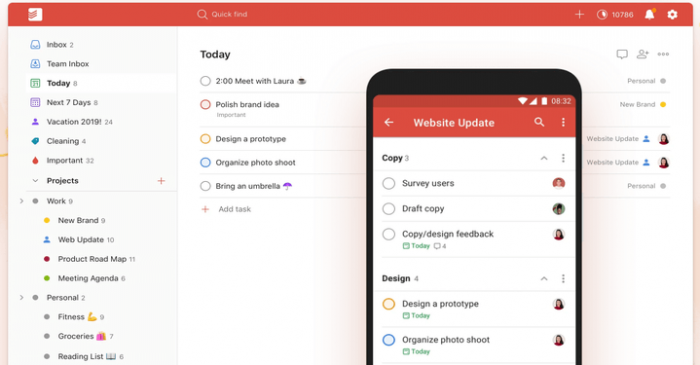 For those who prefer a simple, straightforward approach to team GTD implementation, Todoist is a good app to consider. Todoist allows for easy "brain dumps" but also comes with plenty of features to help users organize their ideas and prioritize tasks based on their importance.
You can use Todoist to set due dates and recurring reminders, and you can assign tasks to others. It creates useful charts and graphs for visual performance tracking, too.
This helps workers stay organized, see where their teammates are at when it comes to certain projects, and ensure that everyone is in the loop about changes or important deadlines.
Best for software development teams
Jira is a top-rated software development tool for issue tracking and management. It's great for agile teams. Why? It uses the Kanban approach and flexible planning to enable value-driven prioritization of tasks and extensive reporting with actionable results.
Jira Key Features
Powerful agile boards
Roadmaps
Reports and insights
Project flexibility
Drag and drop automation
If you are looking for a tool to help you manage your software development process, Jira is definitely worth considering. However, teams that aren't software-focused might not be able to benefit from all that the platform offers.
Jira Pricing Options
Jira starts free for up to 10 users.
For groups with many users, Jira Standard is $7.50 per user and Jira Premium is $14.50 per user (on average)
Best variety of charts for goal visualization
Asana marries collaboration with goal tracking to keep your team progressing. This is beneficial because it enables you to manage projects, communications, and tasks all in one place.
Asana Key Features
Workflow builder
Timeline and deadline views
Boards and calendars
App integrations
Reporting
When it comes down to it, Asana's key features make it an essential tool for project management but lack the comprehensive features that other goal-tracking apps on this list offer for goal setting and review.
Asana Pricing Options
You can enjoy Asana for free with the Basic plan. The Premium plan is currently $10.99 and includes additional features such as team collaboration and unlimited tasks.
The Business plan is the most expensive subscription at $24.99 and includes all Asana features, including the goals-focused feature.
Best collaborative Kanban board with tons of automations


Using Trello for team collaboration is a great way to power your production workflow. The intuitive features allow you and other members of the project to enjoy project or event planning capabilities. While this isn't necessarily directly related to goal-tracking, it's a great way to plan projects around goals once you've identified what they are.
Trello Key Features
Trello has a number of features that make it a great tool for project management. Create boards to organize your projects with the following features:
Templates
Automation
Integrations
Power-Ups
In short, if you've already identified goals and understand how to work them into your team's processes, Trello can help you keep your projects organized and on track with those goals at the forefront of everything you do.
Trello Pricing Options
Trello currently has four pricing plans: Free, Standard ($5), Premium ($10) and Enterprise ($17.50).
Best employee engagement overview plus OKR goals
15Five is a software that combines education and a supportive community for an integrated ecosystem of performance management, development, and training. This helps leaders manage their teams by setting goals, tracking progress, and providing feedback.
15Five Key Features
15Five offers a number of key features that are designed to help managers get the most out of their team. The benefits of these features include:
Helping managers become their most effective selves
Fostering transparency, accountability, and quality feedback
Optimizing remote and distributed teams
With 15Five, managers have everything they need to build a high-performing team. This is great for employee-focused teams and managers looking to track goals as part of employee engagement efforts.
15Five Pricing Options
15Five offers four different pricing options to choose from that start at $4 per month and go up to $14 per month for access to the platform's full range of features.
Best for simplicity and tracking employee engagement
As an employee engagement software first, Õfficevibe has done a great job of understanding that achieving goals starts with the people within. Through team management and alignment features, Õfficevibe creates a great "vibe" and promotes transparency across the organization.
Õfficevibe Key Features
Share updates, progress and activity on goals
OKR methodology for goals on all levels
Create sub goals for better cross team collaboration
Õfficevibe Pricing Options
The free plan offers goals, integrations, and engagement features. With the essential and pro plans $5 – 7 per user per month you'll be able to enjoy longer data history, advanced reporting and exporting.
Best for team organization and collaboration
Likely you're familiar with Notion for its ability to help you collectively take notes and collaborate with your team online! Like a digital notebook – you can add emojis, highlight specific texts, change fonts, and customize to your preferences. Notion has awesome goal setting templates for those teams just getting started with goal setting. Adding a goal setting template to your existing company or team homepage makes it easy to locate and keep track!
Notion Key Features
Library of customizable templates for different goal setting use cases
Document organization centrally located on one page!
Integrations with communication apps for better workflow automation
Notion Pricing Options
For the Team plan you'll pay $8 per user/month when billed annually. If billed month by month, you'll pay $10 per user / month. Of course, should you want to try the functions without the commitment, the free plan allows you to share with 5 members of your team.
With GoalsOnTrack, you can set goals for yourself, and track your progress over time. You can also share your goals with other people, and get feedback from them.
GoalsOnTrack Key Features
The key features of GoalsOnTrack include:
Goal dashboard
SMART goals
Multi-level subgoals
Progress tracking
Vision board
With its comprehensive set of features, GoalsOnTrack is an essential tool for anyone serious about achieving their goals. However, it ultimately lacks the in-depth data and analytics that other apps on this list boast for tracking term goals and OKRs.
GoalsOnTrack Pricing Options
GoalsOnTrack offers an annual subscription only for $68 per year with a 30-day money-back guarantee.
Engagedly is performance management software that helps to increase employee engagement. It does this by onboarding employees and then focusing on performance execution. This enables Engagedly to drive employee engagement and professional development.
Engagedly Key Features
The key features of Engagedly are:
Performance reviews
OKR and goal alignment
Talent analytics and mobility
CXO insights
Engagedly's key features make it an essential tool for any business that wants to engage in goal tracking as part of a department-wide or company-wide effort to increase productivity and engagement in the workplace.
Engagedly Pricing Options
Engagedly's starting annual agreement is $5,000 with pricing tiers for Practitioner, Leader or Champion levels.
Monday is a work management platform that helps teams boost their alignment, efficiency, and productivity by customizing any workflow to fit their needs. Monday allows users to create custom columns and fields to track anything they need for their specific workflow.
Monday Key Features
Monday offers a range of features that can help you get the most out of your and your team's workweek, including:
Easy-to-view dashboards
Integrations and automations
Gantt and Kanban views
Where Monday really shines isn't as much in goal-tracking capabilities as it is in simple task management and workflow features. Monday also provides users with powerful collaboration tools, such as chat, video conferencing, and file sharing, so teams can stay connected and work together more effectively.
Monday Pricing Options
Monday offers a variety of pricing options to fit the needs of any business. The Individual plan is free for up to 5 seats with the Basic, Standard, and Pro plans costing $8 per seat/month, $10 per seat/month, and $16 per seat/month respectively.
Friday allows teams to continue to use their tool of choice while relying on Friday as the glue that holds all the work together. How? Friday is part of an integrated solution that includes a project management tool, a task management tool, and a collaboration tool.
Friday Key Features
Centralized and accessible dashboards
The ability to share progress with ease
Integrations with Slack
With Friday, your company will be able to save time and money while increasing productivity. However, note that goal-tracking capabilities aren't that robust and are only accessible if you have a paid plan.
Friday Pricing Options
Free
Individual
Team
Company
All levels offer goal-tracking services, except the free version.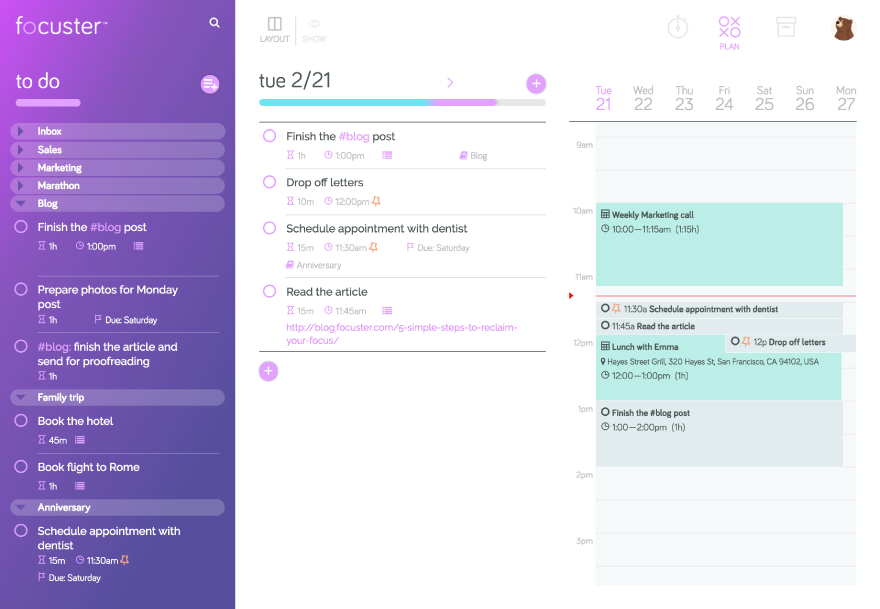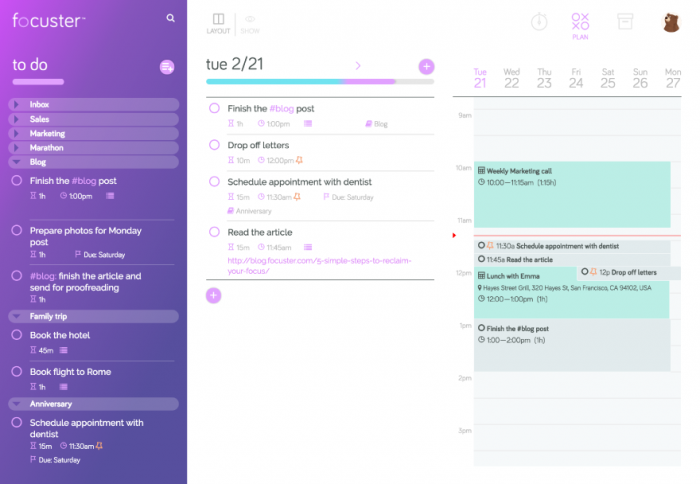 If you and your team members need help focusing, Focuster may be a good app to use. It helps users to visualize everything they need to accomplish. It also integrates with Google calendar for easy organization and scheduling.
Whether you need to keep everyone informed about when the next weekly review will take place or want to ensure your team members hit an important deadline, Focuster simplifies this process.
It also helps with appointment sorting, so you can keep everyone on the same page during your weekly reviews when it comes to talking about what needs to be planned or where potential problems may lie.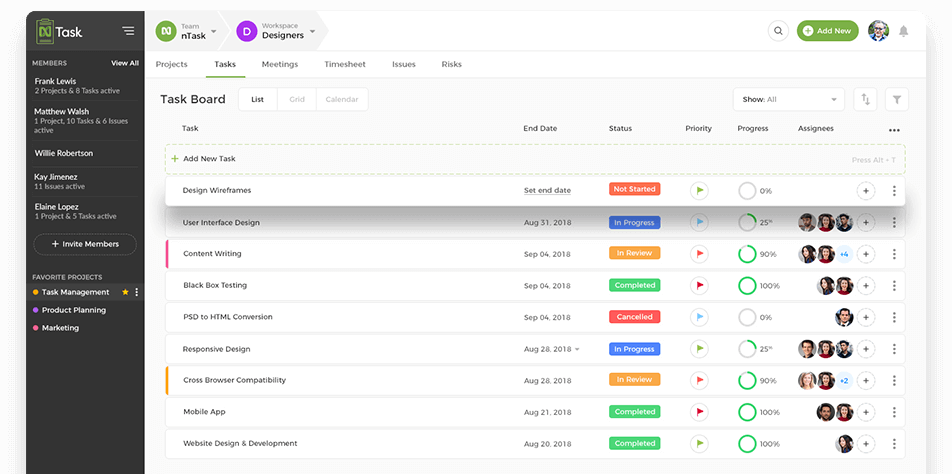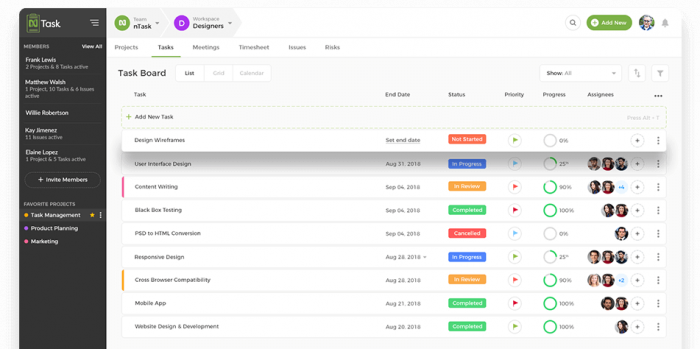 With nTask, it's easy to implement the GTD method and get all of your team members on board. It's specifically designed to help teams and project managers keep track of various tasks and see where everyone is at in the process of completing them.
Using nTask, it's easy to set priority levels for tasks, set reminders for them, and use filters to keep things sorted. It allows users to provide reviews and feedback on a regular basis, too.
This helps to simplify the weekly review process and helps everyone get a clear view of what they've accomplished and where they need to continue placing their energy moving forward.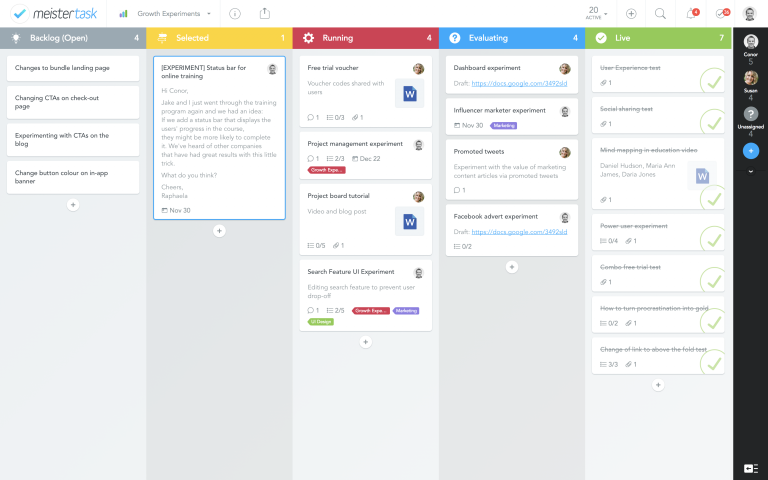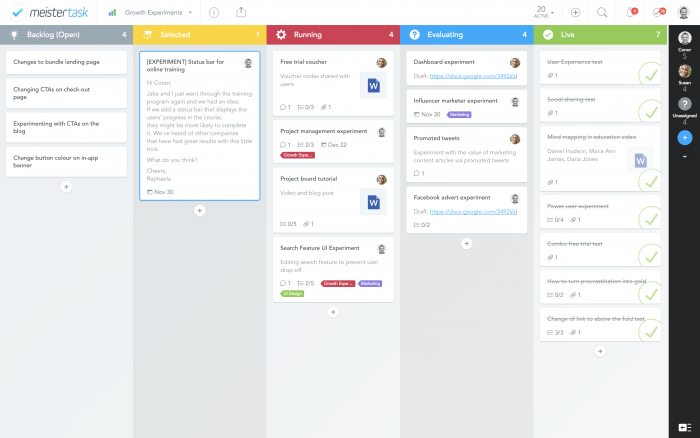 MeisterTask takes the Kanban approach of Trello and other team management apps and levels it up a notch with the addition of bright colors and dashboard wallpaper.
It also uses automations that are triggered when tasks get dragged over to new columns. For example, managers can set it up so that they automatically receive an email when a task gets moved to a specific column.
MeisterTask helps team members to brainstorm new ideas, too.
With the MindMeister integration, they can plan out projects in mind maps, then drag the maps over to MeisterTask and turn each part of the map into its own task (which then gets assigned to a specific team member or group of team members).
MeisterTask's basic plan is free. The upgraded Pro plan costs $8.25/month/user.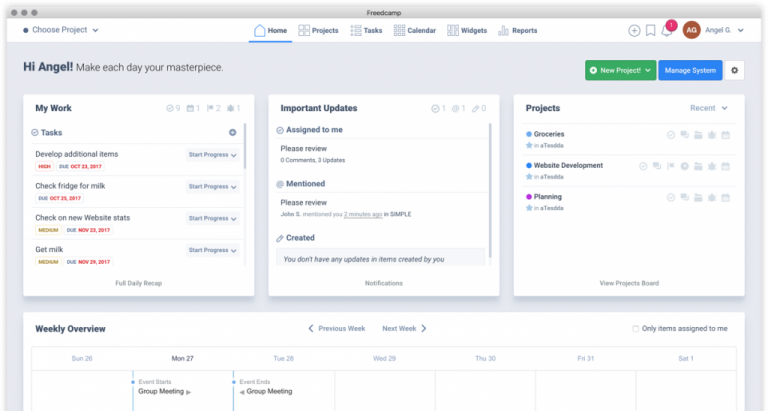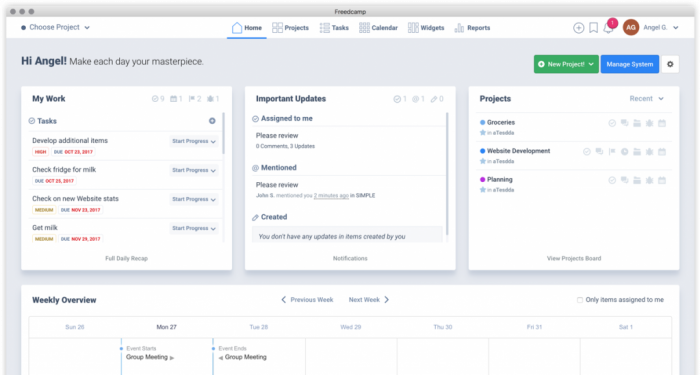 Freedcamp provides managers and team members with a place to manage all their tasks as well as milestone tools that make it easier for them to schedule projects and set specific due dates.
It allows users to organize tasks based on a traditional to-do list or in a Kanban column style. Freedcamp makes file storage simple, too, and provides teams with a central hub for all of their documents.
Freedcamp offers a free version of the app with unlimited users. The upgraded plan costs $1.49/month/user and provides access to premium support while also lettings users upload attachments up to 25M in size.
Nifty is a very easy to use project management software that incorporates task management, collaboration, docs and file management leading to an effective all in one platform.
With Nifty team members can begin using the GTD method immediately and it takes no more than 20 minutes to become a Nifty platform expert and get your projects set up.
Nifty supports Kanban boards and list view for task management and the ability to interline tasks with docs, and milestones leading to a more centralized workflow throughout the entire organization.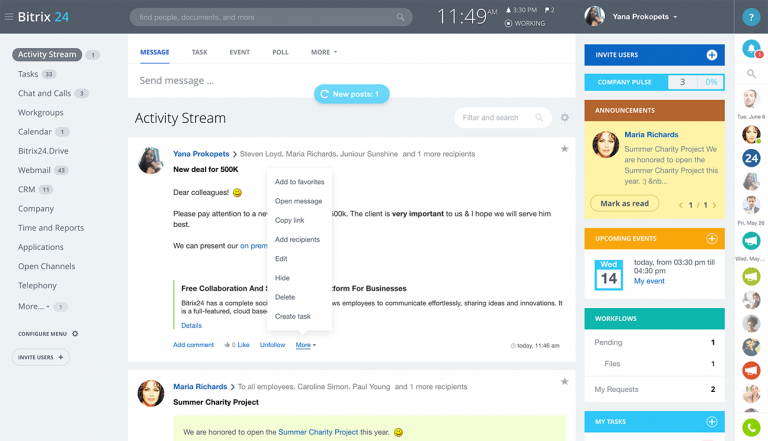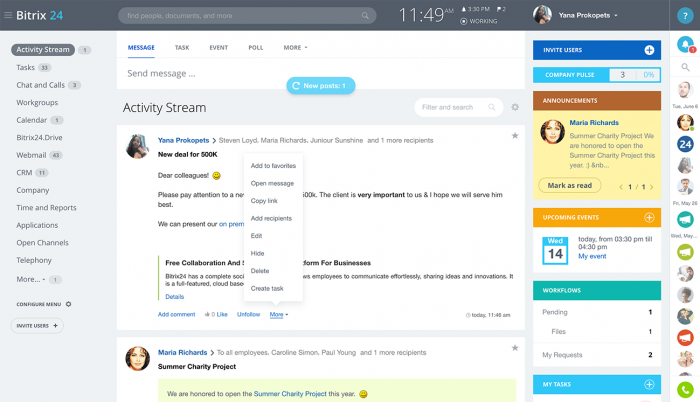 Bitrix24 combines traditional project management tools and features with native collaboration tools. It allows for in-app video conferencing, screen sharing, and easy client management, so it's a good all-in-one tool for managers who want to connect with team members and keep clients happy.
Bitrix24 uses a Gantt chart to keep everyone on track. It lets managers monitor employee workloads and deadlines to ensure no one is getting burned out or taking on more than they can handle.
Bitrix24 is free for up to 12 users. The upgraded version costs a flat $39/month for up to 24 users.
Best OKR management tool for large enterprises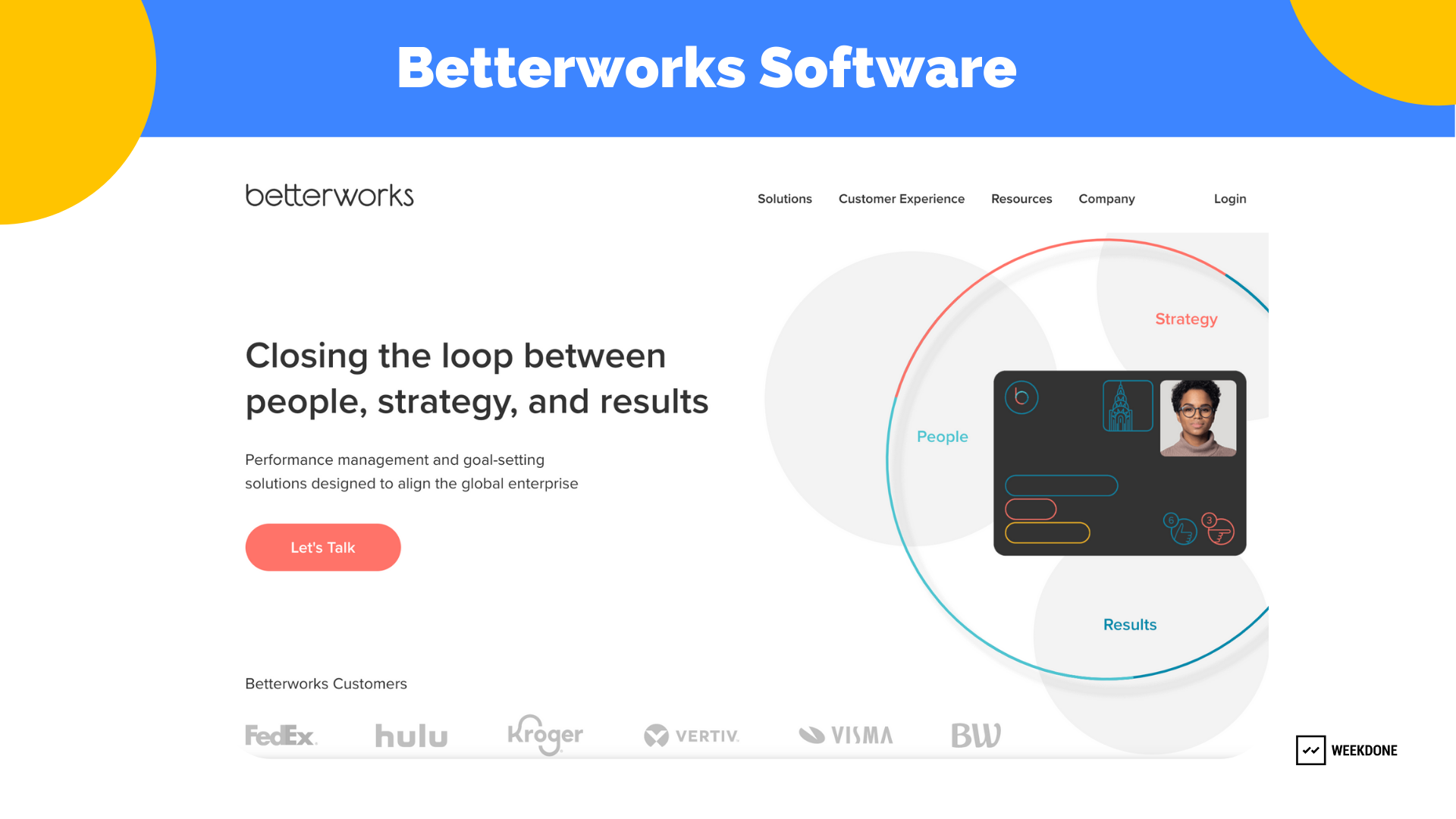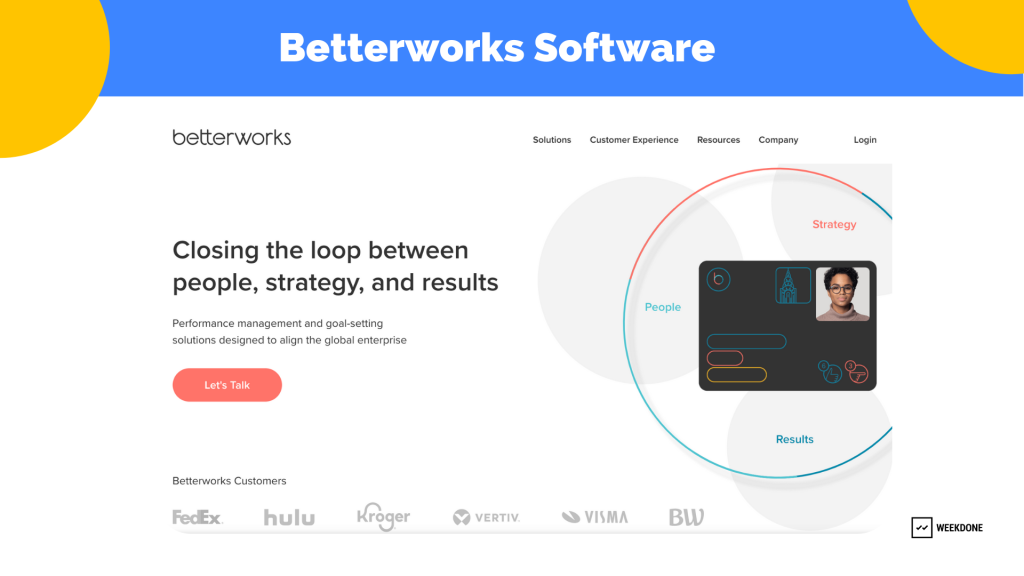 Betterworks at a glance
Betterworks is an ideal OKR management tool for a 250+ employees company that implements an organization-wide KPIs/OKRs system to measure employee performance and track corporate goals and progress. It's specifically useful for OKRs management and promoting transparency and accountability.
Key Benefits
Easily update progress on goals/OKRs
Easily manage your performance process
Make team meetings more effective with 'Meeting View'
HR software for performance-oriented companies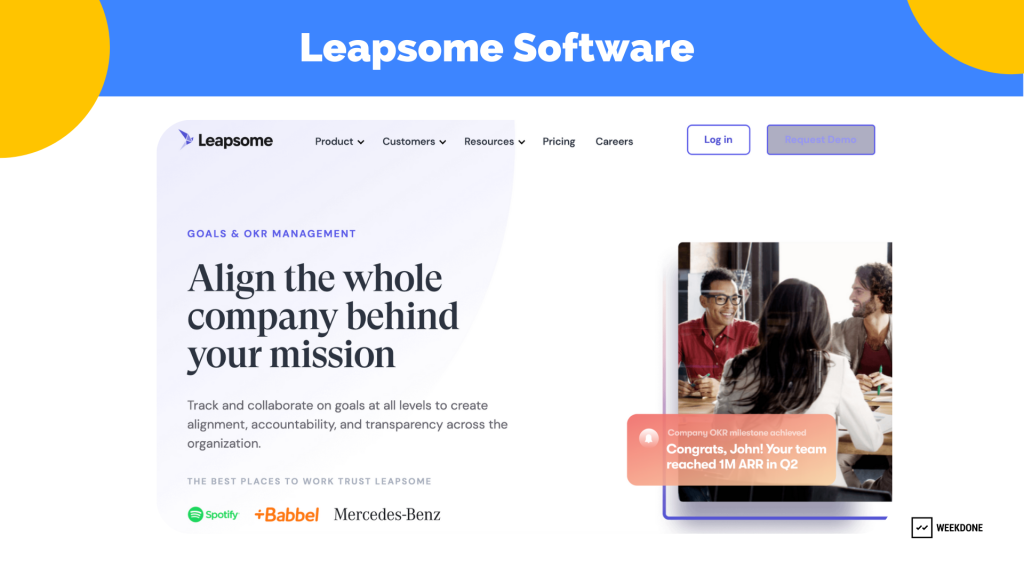 Leapsome at a glance
Leapsome is a people management platform combined with the tools for goals setting & OKRs management, 360 performance reviews, employee learning & onboarding, employee engagement, and meetings. It's especially handy for HR professionals or CEOs who are supervising the hiring process.
Key Benefits
The goals module to set up personal, team, or even company goals and easily keep track of them
Globally standardized and documented feedback process
Easy-to-analyze employee engagement surveys
Project management software with simple OKRs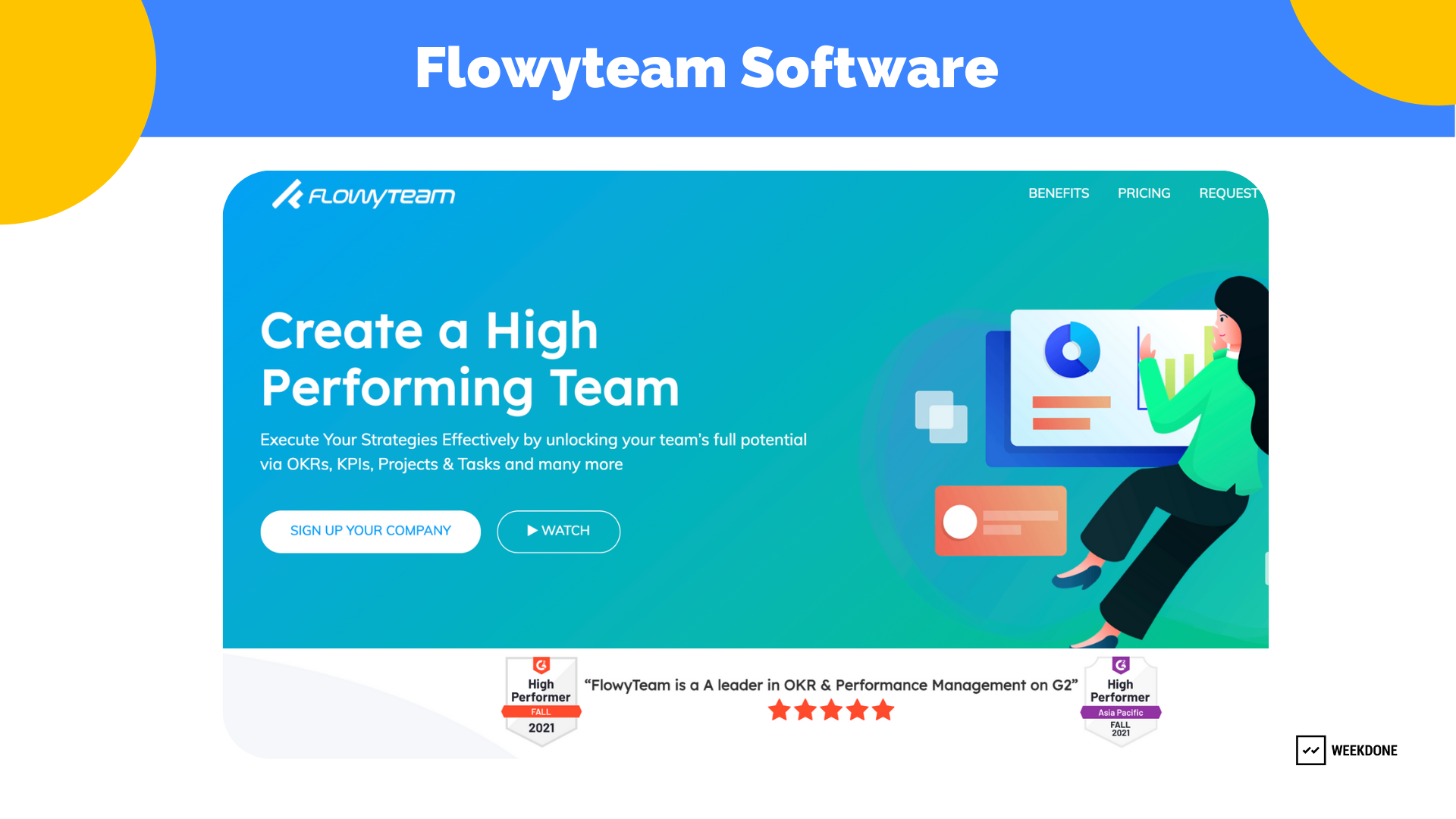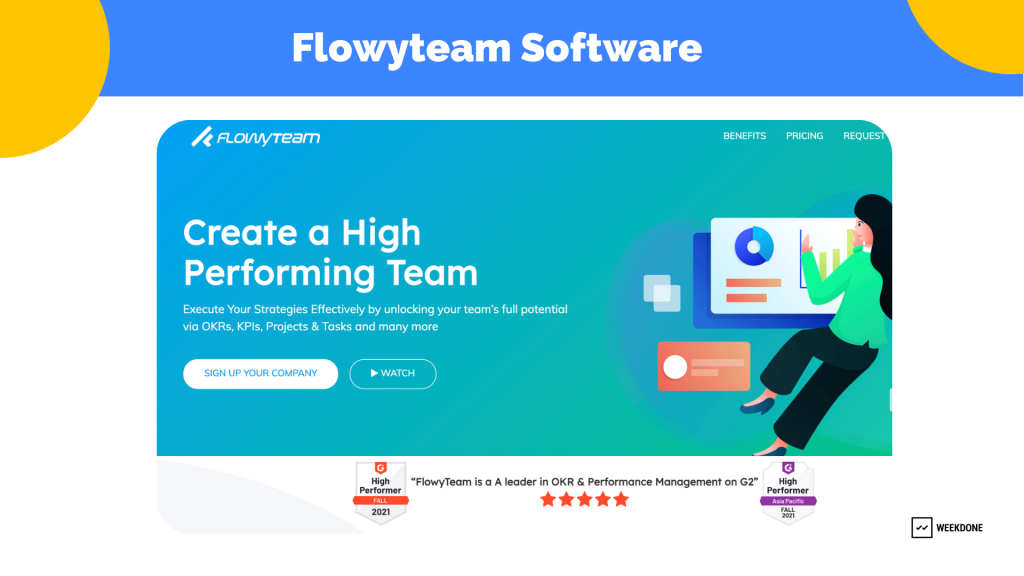 Flowyteam at a glance
FlowyTeam is a 360-degree feedback software designed for organizations of all sizes and industry sectors, which want to implement an engaged performance measurement culture via OKRs and KPIs.
Key Benefits
One-on-one review sessions to help leaders assign tasks among team members on a unified interface
KPI reports to assess individual and team performances and offer personalized rewards to motivate employees
Large enterprise KPI and goals tool for hybrid work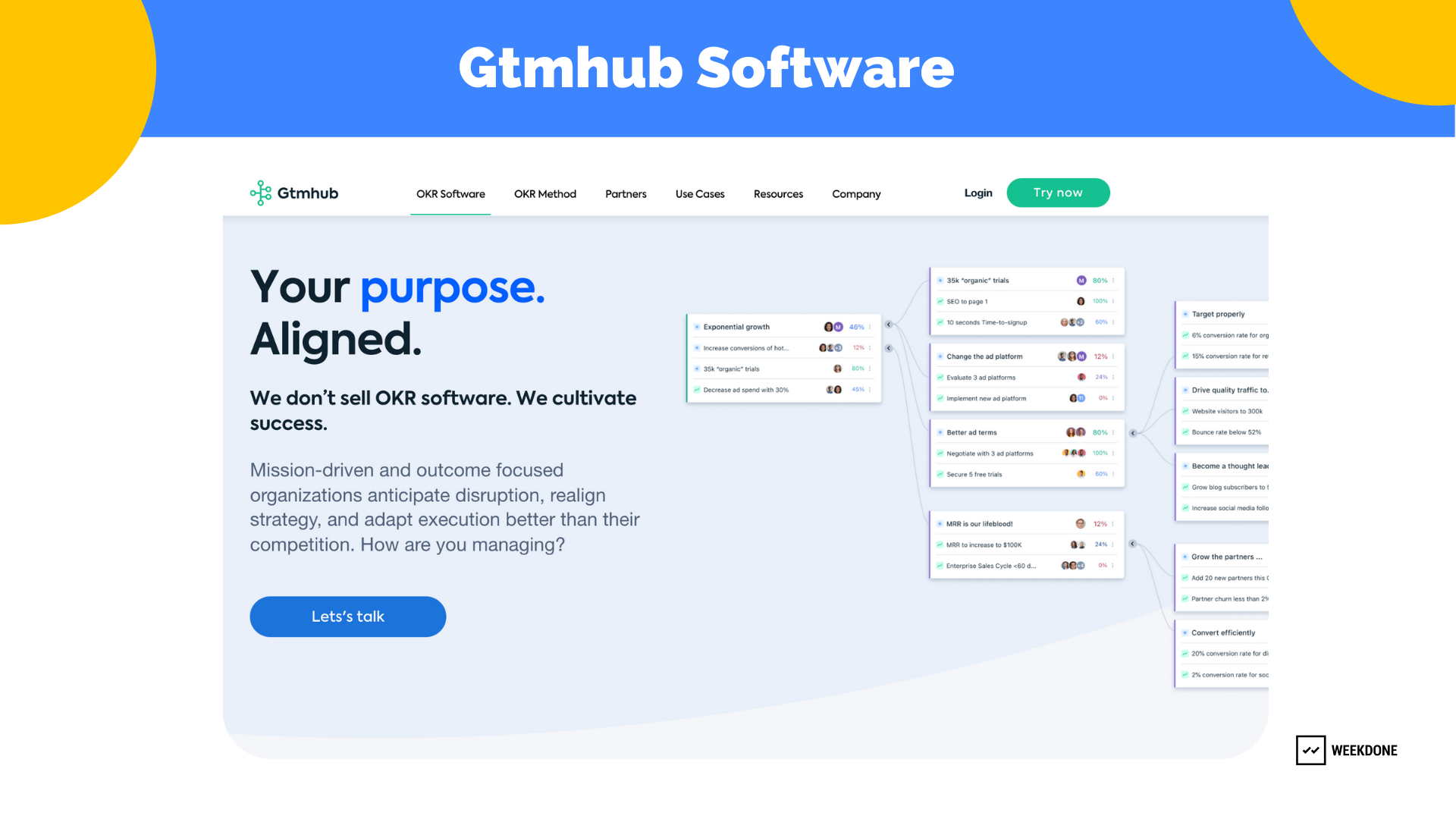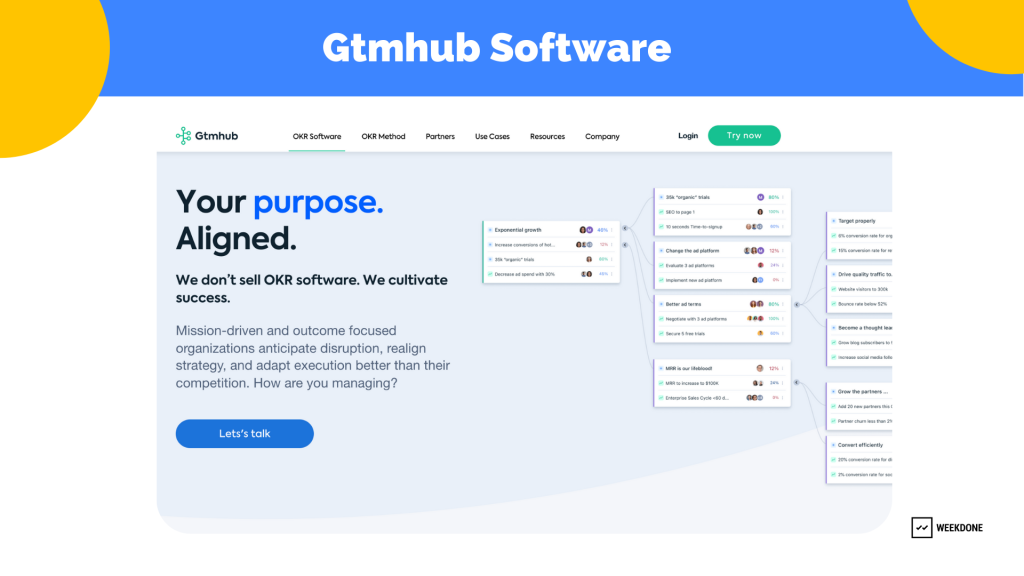 Gtmhub at a glance
Gtmhub positions itself as a results orchestration system that includes KPI, OKR and employee success management features that allow businesses to align company, team, and individual goals with corporate purposes. Apart from setting and managing OKRs, the tool enables task management, automated progress updates, continuous feedback management and employee recognition.
Key Benefits
​​Set configurable deadlines for Key Results to enable mid-session deadlines and give awards to employees
The Whiteboard to collaborate in a shared space and ideate around the upcoming Objectives
Goals Measurement in a Project Management Solution
ClickUp at a glance
ClickUp project management software helps consolidate company and team projects, goals, and communications in one place. With their Goals feature – you can easily set, visualize, and track OKRs over their designated timeline.
Key Benefits
Easy sharing of OKR progress with others (even outside of your organization)
Single dashboard view with data insights for priorities, project status updates and time tracking
Goal Tracking Apps for Personal Use
If you want to use the GTD – Getting Things Done – approach to set goals and get more done yourself, you can find free GTD templates online. But filling out reports by hand can take time and be less efficient than apps. These GTD apps for goal setting are all great ones to try out: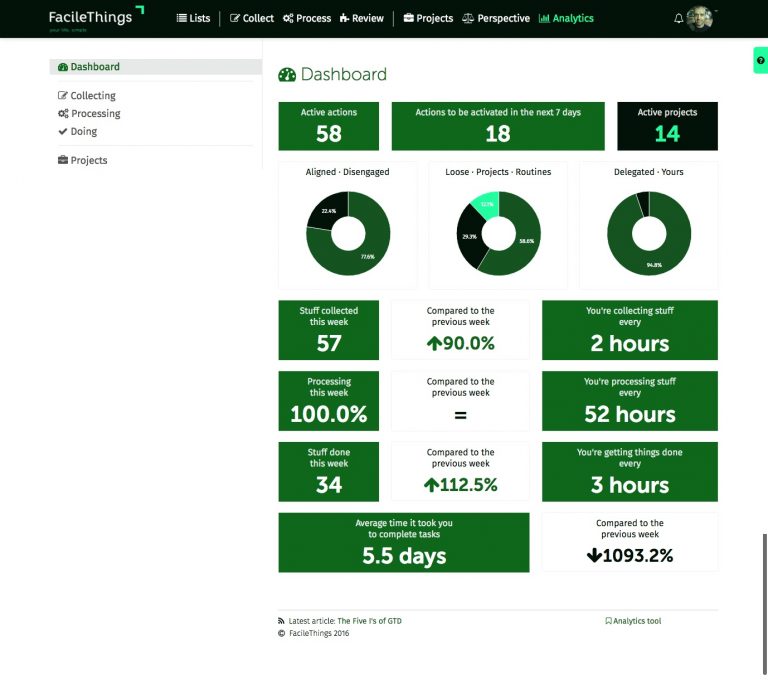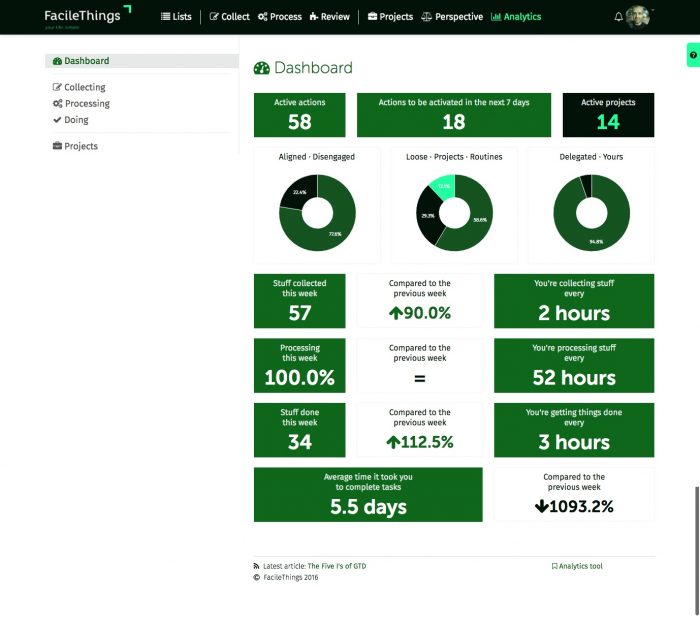 FacileThings is one of many apps designed with the specific intent of helping those who abide by the GTD philosophy.
FacileThings makes it simple for you to not only capture your thoughts and ideas but also for you to organize and manage them. It has an easy-to-use, aesthetically pleasing dashboard that keeps everything in view, so you never have to worry about anything slipping through the cracks.
It helps you break down tasks into more manageable steps, as well. That way, when the time for a weekly review rolls around, you'll be able to see exactly where you are in the process and how much work you have left to do.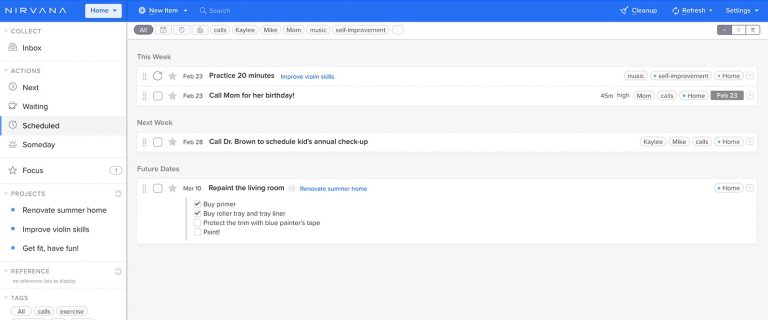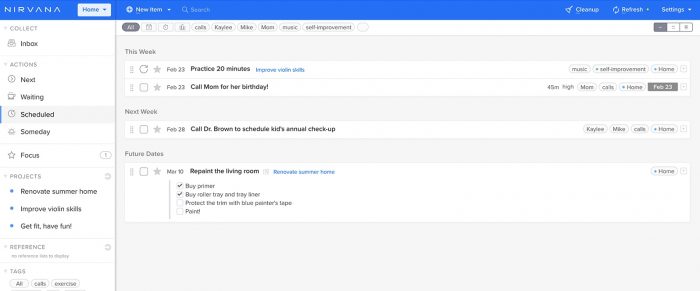 Nirvana is a cloud-based task management app. It's another one designed specifically with the GTD method in mind.
One of the great things about Nirvana that separates it from other apps is the fact that it comes with built-in features to help you gauge how much time and energy it'll take to complete a task. This, in turn, makes it easier for you to set due dates and deadlines that are realistic and attainable.
Nirvana also has pre-loaded lists with labels like "Next", "Waiting", and "Scheduled". This especially helps with the implementation of the "Clarify" portion of the GTD method.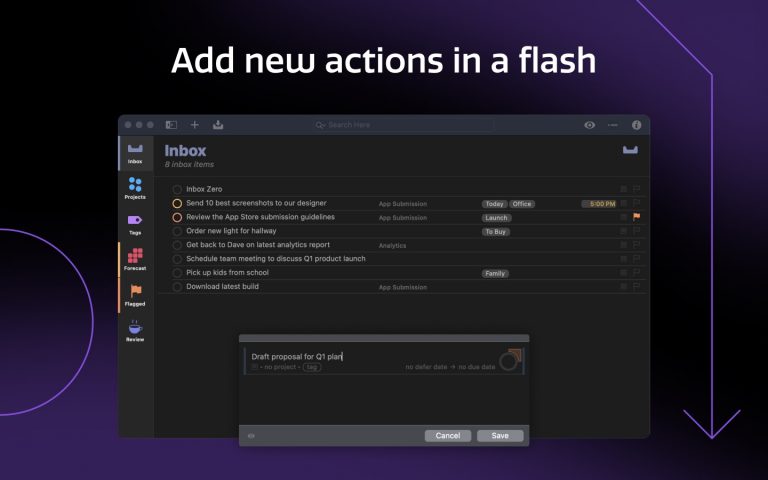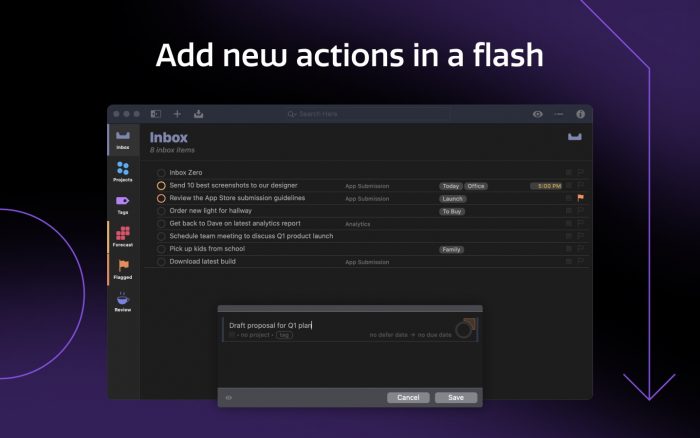 OmniFocus is the perfect GTD app for those who use Mac and iOS devices. OmniFocus is one of the most beautifully designed GTD apps on the market, and it's a favorite among GTD fans.
This app even allows you to use Siri to take notes and capture your thoughts. That way, even when your hands are busy, you can still utilize the GTD method and clear out mental clutter efficiently.
OmniFocus is very structured as well. It comes with lots of options for adding perspective and context to projects to help you understand what needs to be done, when it needs to be done, and where it falls on your list of priorities.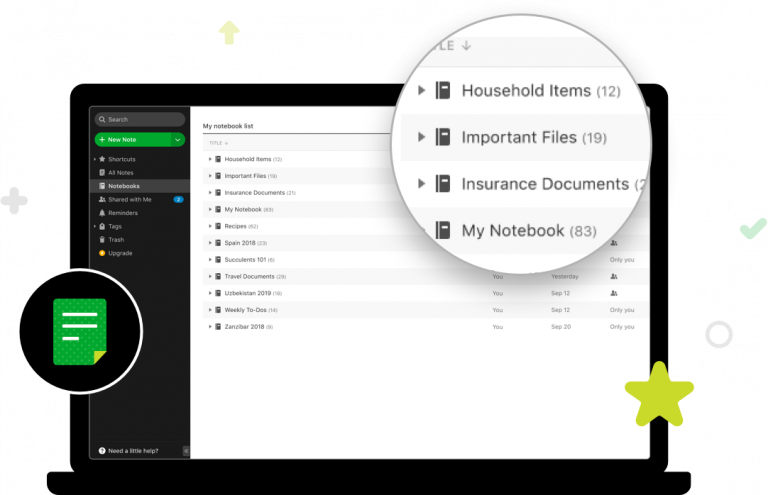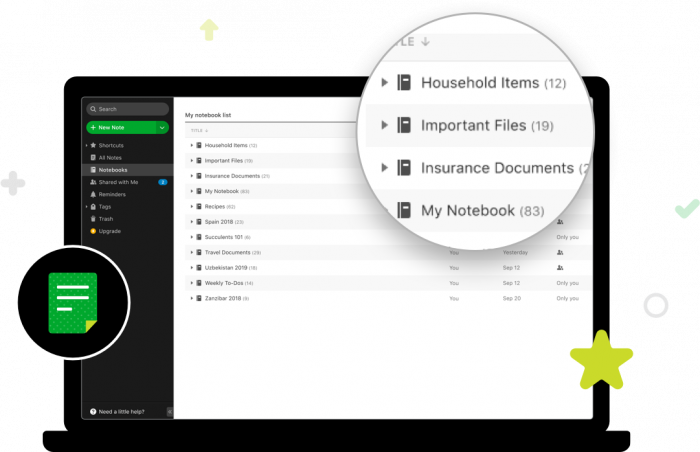 Evernote is one of the most popular note-taking apps on the market. It may not be specifically designed for those who follow the GTD approach, but it's a useful app, nonetheless.
It comes with lots of built-in features that make it easy for you to capture your thoughts, as well as clarify their importance and organize them for easy access during weekly reviews.
Evernote also works with Siri and Google, so you can take notes and get things down using voice command rather than typing if that's your personal preference.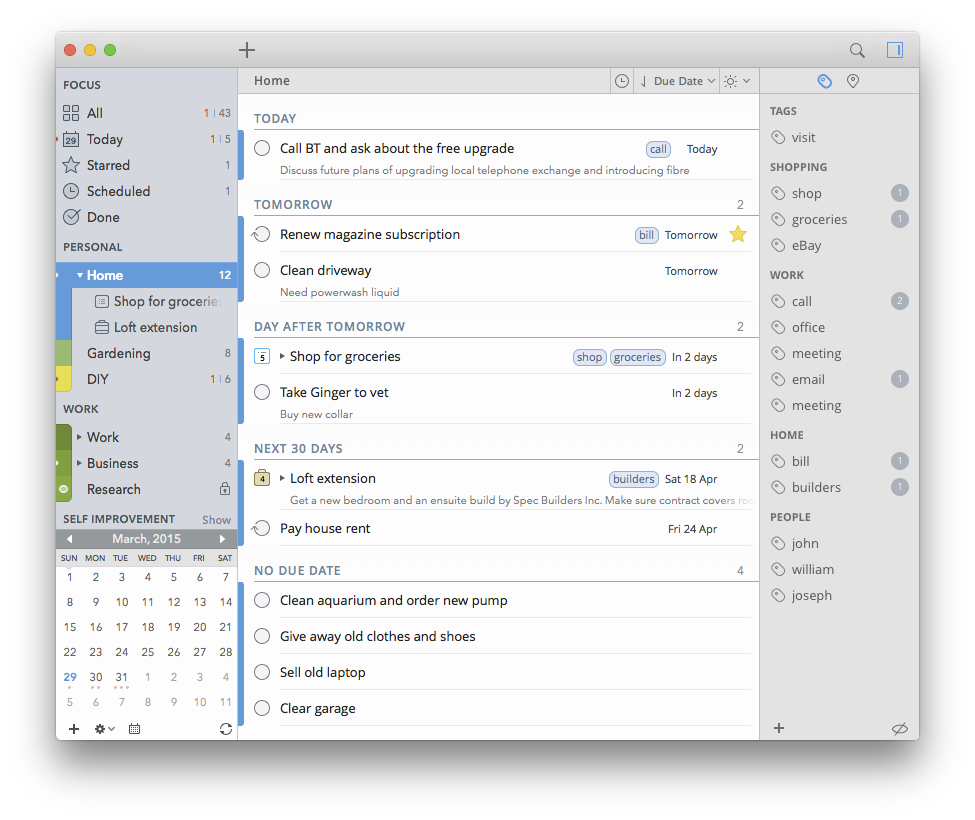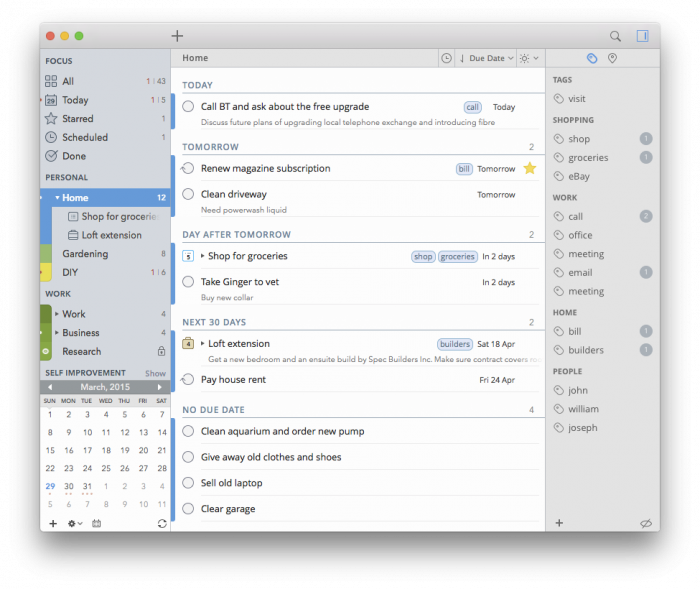 2Do works for both Android and iOS users. This app allows you to take notes and create task lists with just a couple of taps or clicks.
It also makes it easy for you to add tags to customize these lists and simplify the process of finding them. You can color-code important items, for example, or even batch several tasks together and drag and drop them to your calendar.
These kinds of features come in very handy, especially when you're trying to put together an effective work schedule for yourself or keeping things organized for your weekly review.
The Importance of Goal Tracking Software
Whether you choose the best goal tracking tool for work or a simple goal-setting app to create better work habits in the office, you'll need to analyze your progress over time. You need to know where you are starting from, where you are going and what milestones to meet along the way.
The best team goal tracking software will allow you to set targets and deadlines while also providing useful insights and analysis so that you can adjust your strategy as necessary.
In short, goal-tracking solutions are an essential tool for any leader, manager, entrepreneur, and worker interested in achieving their goals.
Get Started With Team Compass
Still unsure which one to try? For a top-rated goal tracking tool loved by managers and employees for over 10 years, give Team Compass a try! Team Compass makes it easy to set and track goals, objectives, KPIs, metrics, projects and tasks on all company levels from top to single employee, and focus on regular updates that drive them forward. Click here to try it out.