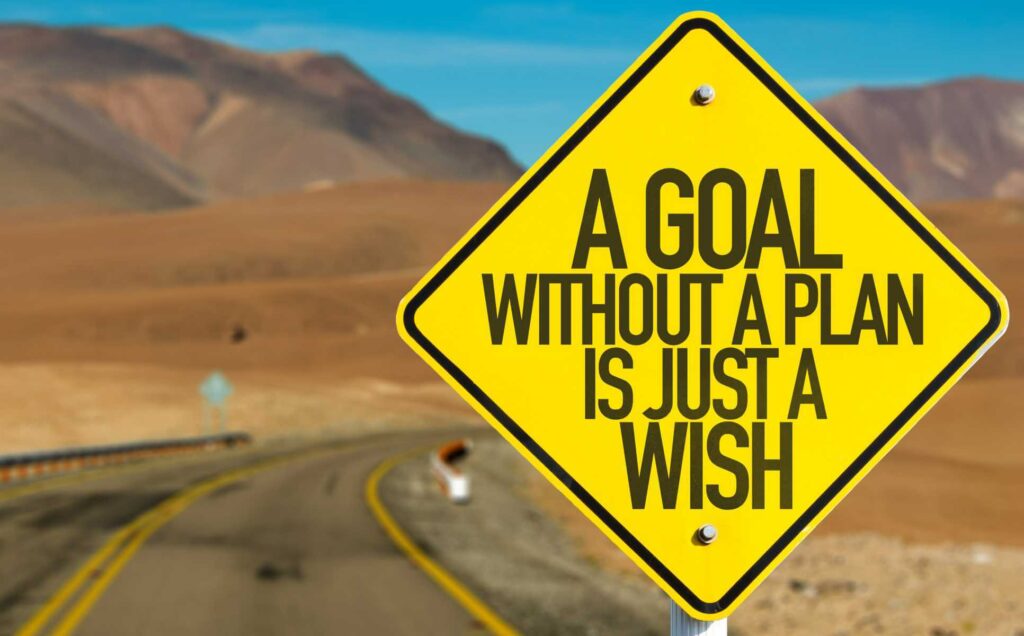 Individuals who set goals are 377% more successful than their peers.
CoSchedule's 2022 Trend Report on Marketing Strategy
As a business leader, you probably realize it can be challenging to track individual employees' goals without micromanaging and spending a lot of time. Here's where business goal-tracking software programs can simplify management processes and make them more effective - and your employees will thank you for it!
Streamlining the process of tracking goals using an OKR software platform may be your key to success. Not only can you track team progress, but you can also monitor company performance metrics. Goal management has never been easier with the online tools available to you now. 
👇If you're wondering "Is there an app to track your goals?", here's a snapshot of the top 15 goal-tracking software applications covered in this article:
What is a Business Goal Tracking Software?
The purpose of goal-tracking software is to help business owners measure the success of company objectives while keeping an eye on progress to confirm things are on track for completion. Some software platforms are better suited for small startups, while others offer enterprise packages for big corporations. Regardless of business size, there's a solution for better goal tracking out there for your organization.
👇"How do I track progress of my goals?" If you're wondering where to begin check out this beginners guide or find out how you can track the progress of employees.
How CEOs, Team Leaders, and Employees Can Benefit
A goal management tool with tracking features should inadvertently lead to higher productivity levels and efficiency in the workplace. An investment in a goal-tracking software platform is a long-term solution that addresses the challenges and makes internal processes more efficient.
Benefits for CEOs and high-level executives
CEOs benefit from goal-tracking solutions because they gain visibility into metrics, KPIs, and numbers all in one dashboard. When users input information, it is tracked and stored in the software which CEOs can then export and review on demand. The access to analytics and proof of achievement (or lack thereof) allows for making more informed, strategic decisions on business development opportunities.
Benefits for team leaders and management
Managers need to view what's happening with individuals and the team as a whole. By gaining an overview they can better understand the day-to-day activities and assess where their time is most valuable. With a tracking software platform process updates are always visible, helping managers lead their teams with proper direction and develop a result-driven mindset.
Benefits for employees
Employees benefit from using goal-setting and tracking tools because they can communicate in one place with their teammates as they work together toward the same goal. Through document sharing, note-taking, and updating progress on projects and goals – they can see how their work makes an impact over time.
Notable Goal-Tracking Software Features
Here's a checklist of the features that you should look for in a goal-tracking software platform:
How to Derive Maximum Value From a Goal-Tracking Software Platform
Goal-tracking software platforms work well because it helps stakeholders focus on improvement areas and measure the level of success. Here're a few tips to derive the maximum value from a new goal-tracking software:
1. Test 3-5 software options
Choose a "pilot team" of 1 to 3 users within your leadership team or a specific team that you feel can begin implementation. Use your company email address so that the data is stored in the system and you can invite users right away if you choose to continue.
2. Onboard everyone to the software
Send out an email, or Slack notification, or host a workshop to share and understand important features and define expectations of using the software.
3. Set your company, team, and individual goals
Conduct a discussion on all levels to share ideas about various focus areas of improvement. Once you agree upon the goals and responsibilities of individuals – input those goals into your tracking tool, along with the metrics for measuring their success.
4. Conduct regular check-in meetings
On each level (company, team, 1:1) make sure you communicate and share Plans, Progress, and Problems on a regular/weekly basis. These meetings ensure that your goals are always top of mind.
5. Facilitate quarterly reviews
Host a company-wide retrospective meeting to review team goal progress, its impact on the company goal, and to discuss challenges and improvement opportunities for the next set of quarterly goals.
6. Rinse and repeat
Repeat the steps above and make it a part of your goal-setting and tracking process. In time, you will be able to customize it for your business requirements and align the focus toward a common goal.
Top 15 Goal-Tracking Software Platforms
"What is the best goal tracking app?" There are many types of software and OKR platforms in the market. To make it easier we've outlined 15 top goal-tracking software platforms for you to consider.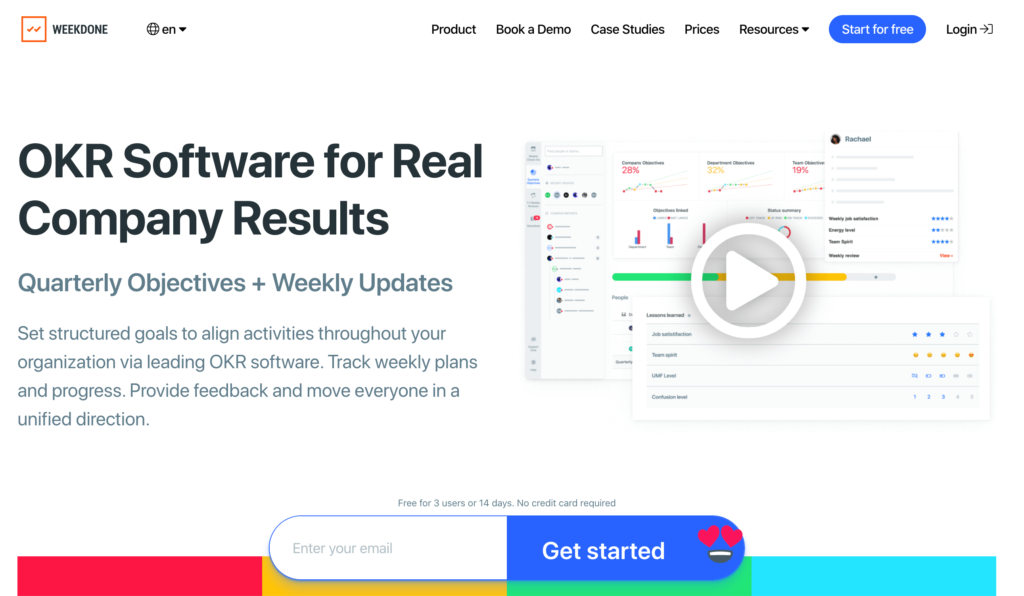 Weekdone is an OKR industry-leading software built on the methodology's best practices. The Objectives and Key Results goal management framework have notably improved transparency, alignment, and collaboration among companies.
Weekdone features support the OKR process every step of the way – from setting high-level company objectives to sharing individual weekly plans, everyone is more connected to the big picture.
Using Weekdone allows business owners to set and track the things that matter. Having that clear overview helps leaders to make more strategically informed decisions thanks to short-term quarterly progress updates. Stay agile, focused, and driven by outcomes.
Weekdone Features
Quarterly and/or annual OKR tracking
Set, link, and track progress on Initiatives and Weekly Plans
Real-time KPI and OKR reporting and dashboards
Sample OKRs and OKR writing assistant
Comments, tags, and notifications
Automated Progress Reports via email
Integrations with Slack, Asana, Basecamp, Google Sheets & Tasks, and more!
Free OKR coaching is included for paying users
Weekdone Pricing
Weekdone has a free option for 1-3 users. Try all features free with unlimited users for 14 days. After your trial, you'll pay a price per user cost.
2. Engagedly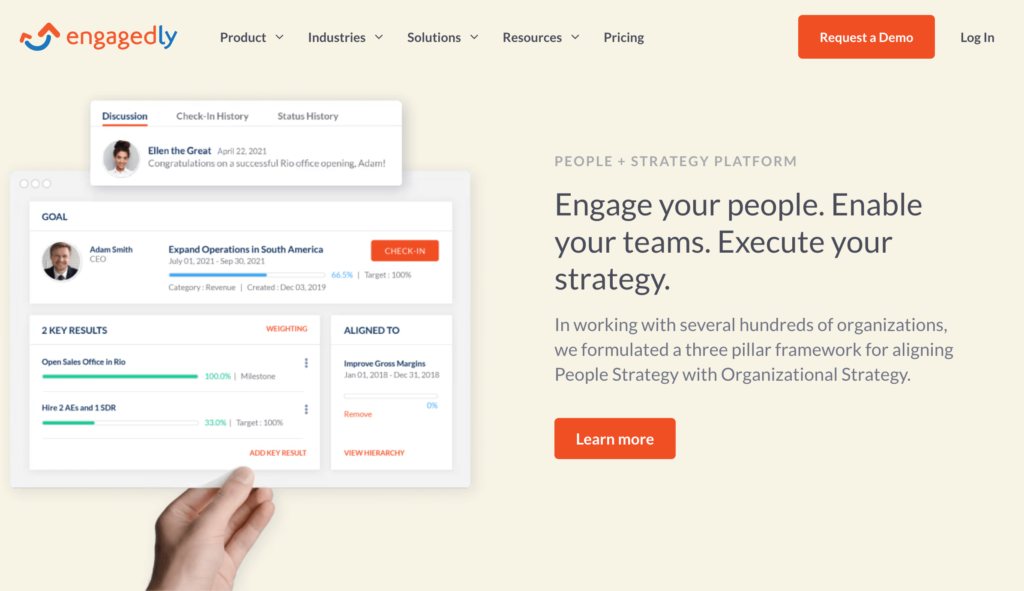 Engagedly not only tracks goals but also provides a complete 360 platform to manage talent. This software focuses on employee engagement and management.
By connecting goals with employee engagement activities, managers can maximize results. Leaders can set high-level goals and assign roles throughout the team to reach them. This shows each employee how they contribute to the organization's overall value.
Features
OKR and goal setting and tracking
OKR and goal alignment
Talent analytics
C-suite insights
Real-time feedback
Gamification
Pricing
Engagedly pricing starts at $5,000 per year. There are three tiers to choose from when using this platform.
3. Trakstar Perform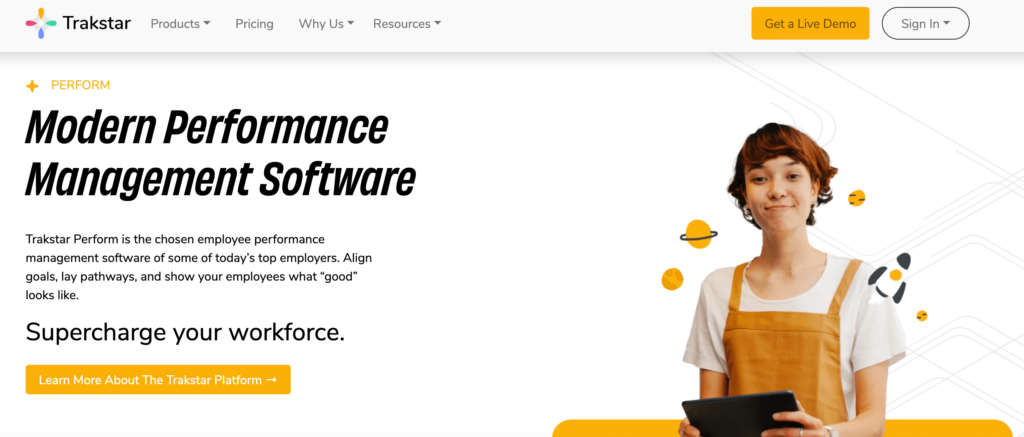 Trakstar Perform is a platform for both employees and managers to monitor and track goals. It aligns goals with the company's overall objectives for a clear view of the bigger picture.
The platform allows managers to connect productivity with company objectives. This gives team members a deeper understanding of their contributions while viewing their progress toward goal completion.
Features
Performance management
Expectation alignment
SMART goal setting
Real-time reporting
The insights option includes:
Data visualization
Pricing
Pricing for Trakstar isn't readily available. Businesses must request a quote from the company to get a price.
4. ClickUp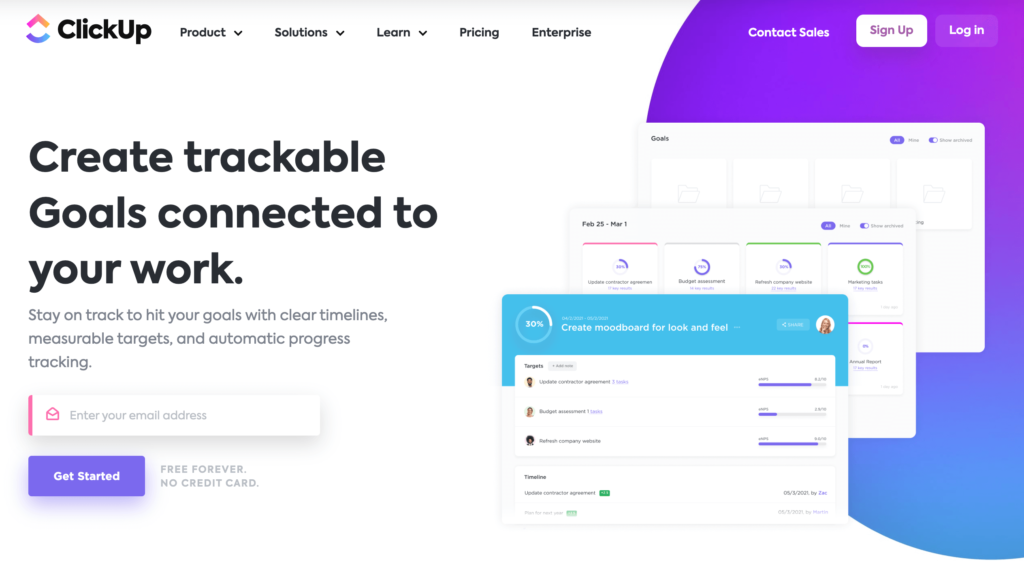 ClickUp helps users set mindful goals. The main goal of ClickUp is to increase the productivity of team members. Not only is the most simple version free, but it also offers a comprehensive goal-setting process.
ClickUp is a platform for businesses of all sizes. It allows users to set up goals with defined timelines and targets. The automatic progress tracking makes sure teams remain updated on how close they are to their goal.
Features
Goal folders
Dashboards
Weekly scorecards
Reporting
Easy-to-use interface
Online and offline modes
Collaboration features
Pricing
ClickUp has several pricing tiers. They range from free to $19 per member, per month.
The free plan has limited usage and simple features. All of the paid options have unlimited usage and essentials. The paid tiers also offer more and more benefits with each increase.
5. Asana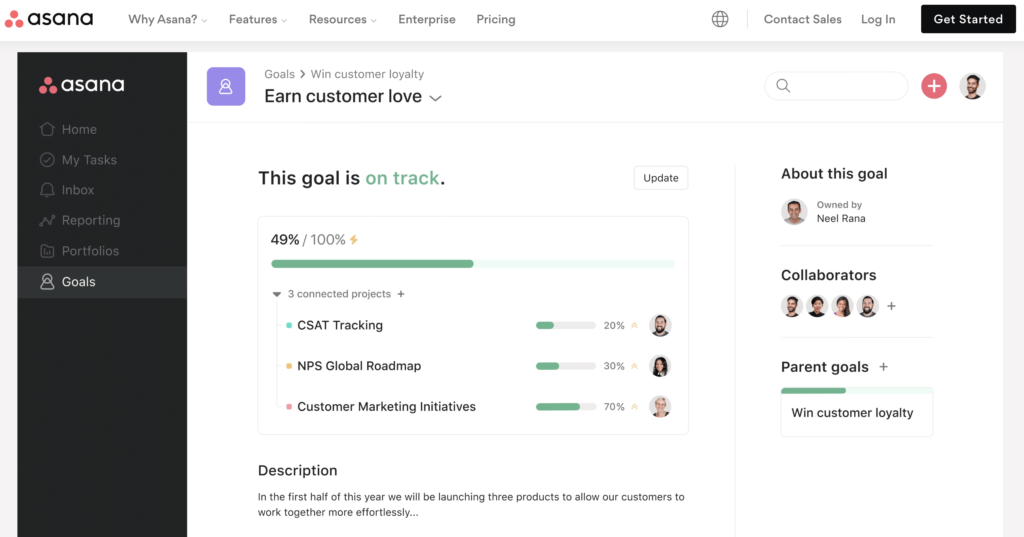 Asana lets users create and manage projects. This includes goal setting and tracking. It has an easy way to communicate with team members to know what is going on with each activity.
Asana positions the company's objectives front and center. This ensures teams are not confused about what they must do or how they contribute to the organization.
Features
Workflow creator
Project boards
Calendar
Real-time reporting
To-do lists
Well established integrations
Dashboards and charts
Pricing
Asana has three pricing tiers. The first one is free. The prices then range from $11.99 to $24.99 per user, per month.
6. Empxtrack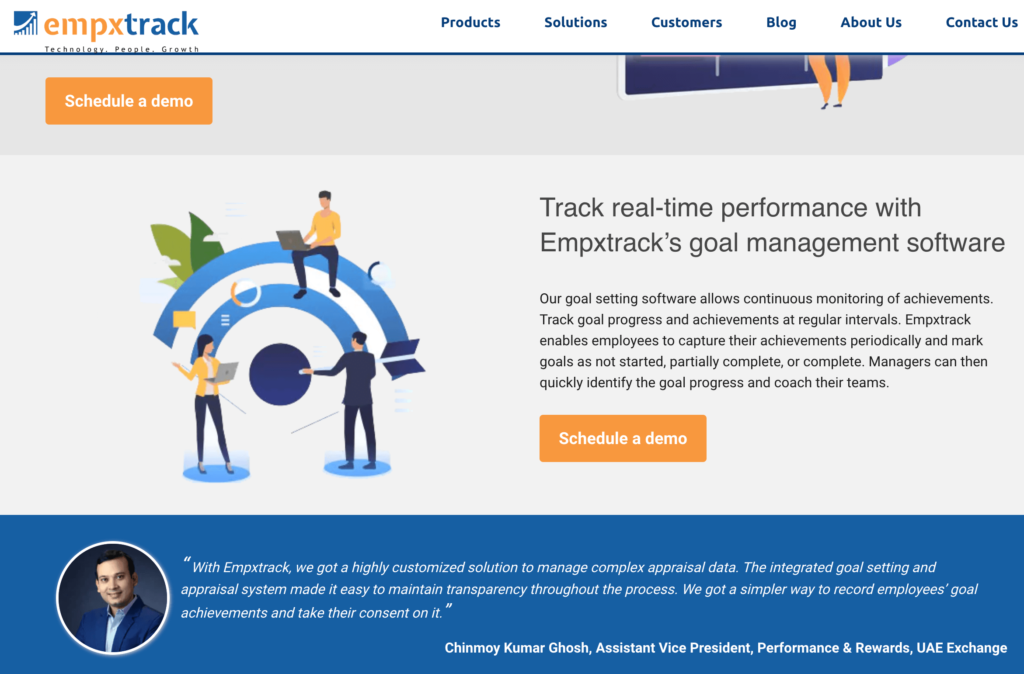 Empxtrack may seem like a HR servicing platform but its goal-tracking solution is quite robust. As it's an HR-focused software, it should come as no surprise that frequent check-ins and clear descriptions of expectations are encouraged.
With the goal-setting features, leaders can cascade them down throughout the team. The platform alerts team leaders to complete frequent check-ins and reviews to ensure team members reach their goals. Employees have a clear vision of what to complete at any given time.
Features
Goal linking and cascading
SMART goal methodology
Pre-configured goals and templates
Simple goal assignments
Goal libraries
Intuitive reporting dashboards
Pricing
Empxtrack offers several pricing packages. The company offers a build-your-own HR package deal. This means there aren't any set prices. The pricing ranges from $0.75 to $24.75 per month, per employee.
7. Namely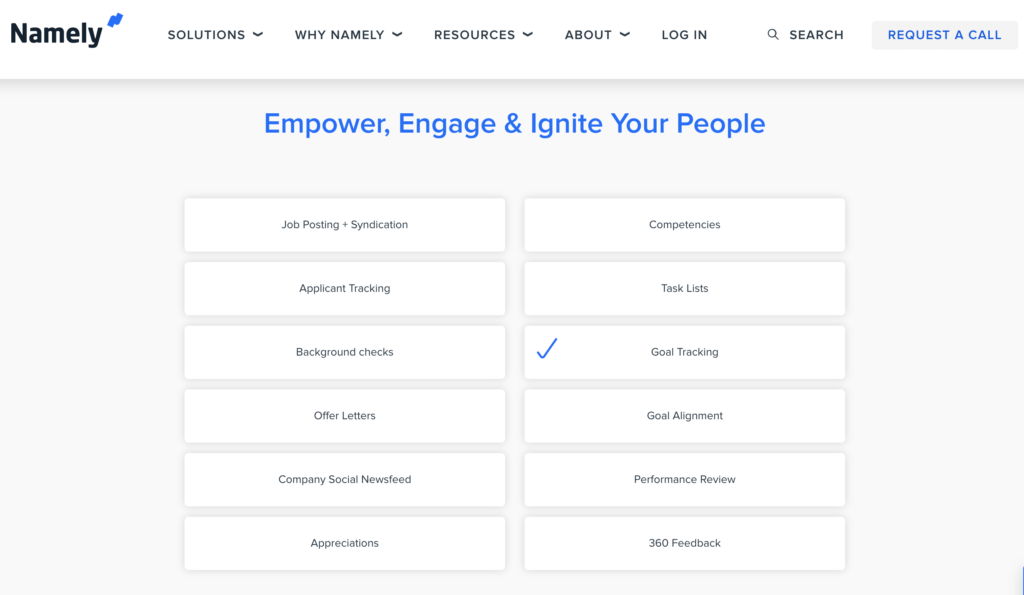 Namely allows companies to align individual and company goals on one platform. Managers can link individual goals with performance reviews for maximum feedback. The platform focuses on goal setting and tracking.
Leaders can improve organizational performance with this platform. By aligning individual goals with company goals, employees have a clearer understanding of how they add value to the organization.
Features
Namely has several options for managers to choose from. The following features are related to the talent management product:
Goal setting and tracking
Goal alignment
Performance reviews
Task lists
Pricing
Namely does not have transparent pricing. The site has a request-a-call option on every page, so businesses would have to discuss it directly with the company to learn the price.
8. Confluence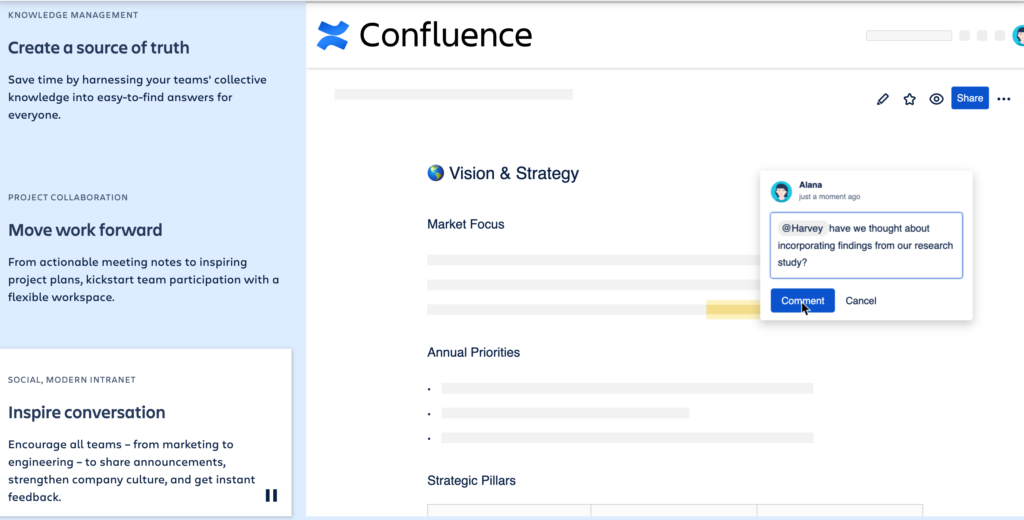 Confluence by Atlassian provides concrete collaborative templates which allow individuals to set personal and company-wide goals. It is a highly collaborative workspace to streamline operations.
Confluence's easy collaboration tools make users aware of organizational objectives and ongoing goals to meet. When employees have a clear picture of these, they are better performers with higher productivity.
Features
Structured page trees
Unlimited spaces and pages
Templates for best practices
Page insights
Analytics
Team calendars
External collaboration
Pricing
Free for up to 10 users
The standard plan for up to 35,000 users is $5.50 per user, per month
Premium is for up to 35,000 users for $10.50 per user, per month
Enterprise pricing is available upon request
9. Lattice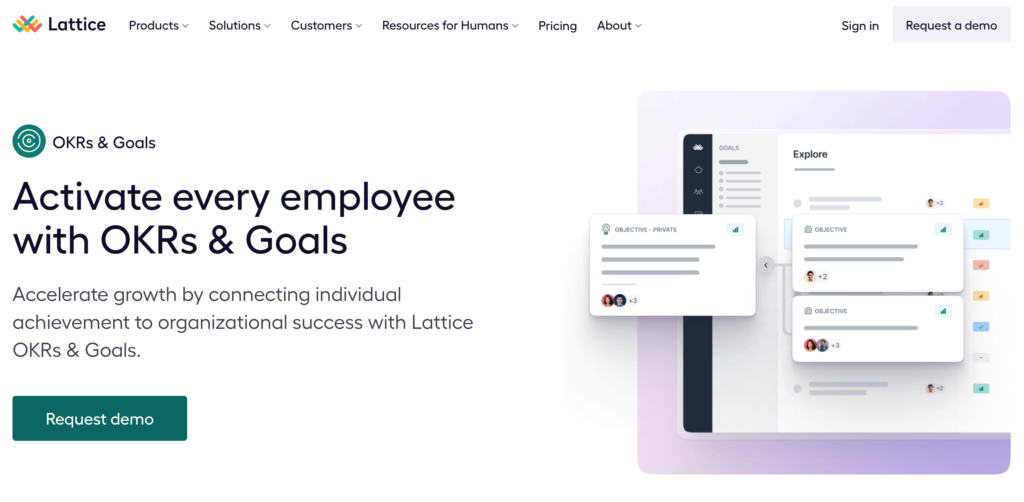 Lattice's platform focuses on setting OKRs and engaging employees. It allows users to manage goals and people from one convenient platform.
Lattice's cool features help to improve organizational performance. It enables leaders to monitor goals, performance, and OKRs to guide strategic decision-making.
Features
Connects HR, managers, and employees
One-on-one meetings
Employee-manager interactions
Goal setting and tracking
Track OKRs and SMART goals
Analytics
Performance management
Pricing
Lattice has several pricing tiers. These start at $11 per user, per month. It costs extra to add on engagement, growth, and compensation features.
10. Strides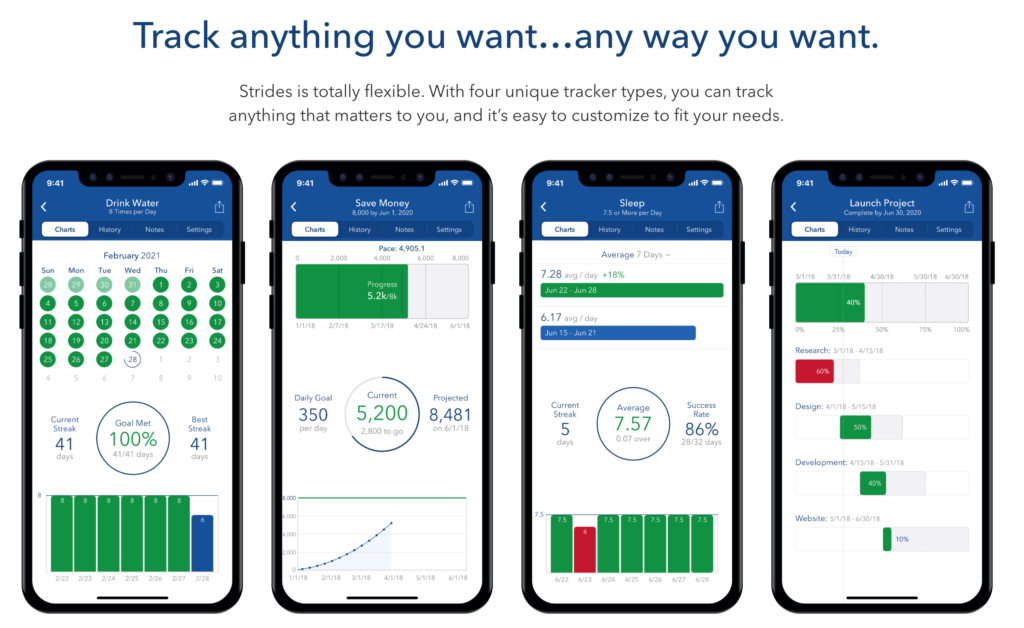 Strides is a flexible app that tracks good and bad habits. It also allows users to set SMART goals. The site offers a free goal-setting course for anyone to take.
This app is more suitable for individual goal tracking and not teams. This software makes it easy for individual team members to monitor goals through charts and streaks. Managers can motivate team members to meet goals by helping them set targets, alerts, and more. With a focus on any type of individual goal – this app promotes healthy habits and mental well-being.
Features
Goal tracking
SMART goal template
Progress for streaks
Chart for successes
Calendars
Line charts
Reminders
Specify what you want to become a habit
Easily see achievements with color-coded goals
4 unique goal types
Pricing
Strides offers a free goal-tracking option. For premium membership, it is $4.99 per month.
11. Clockify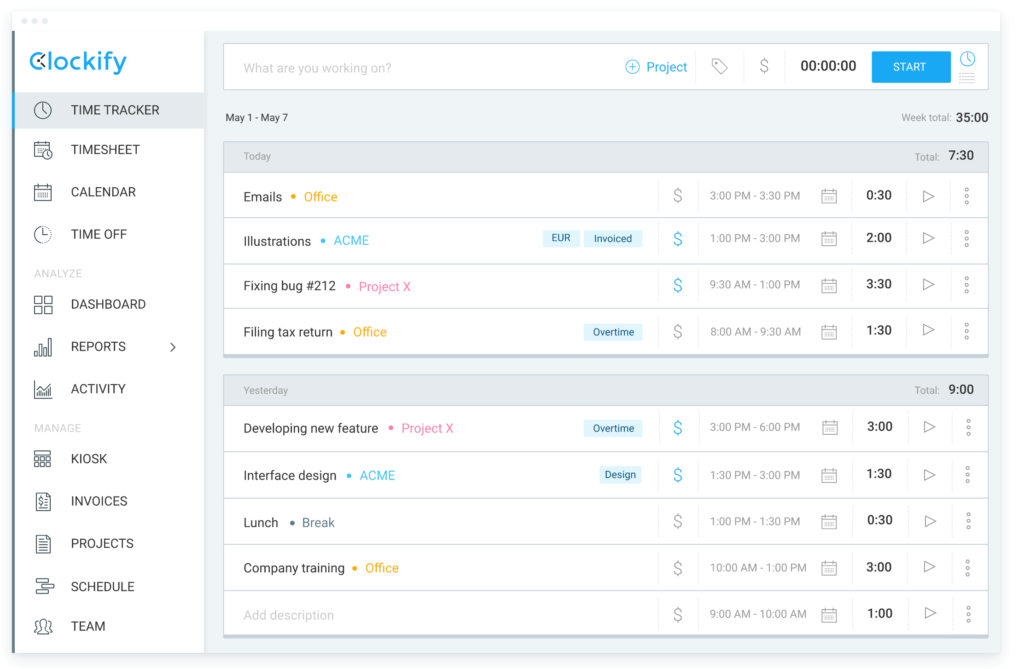 Clockify is a time tracker and timesheet used by teams and individuals. You can also set and track an unlimited amount of goals. We would recommend this platform to support another in your toolkit. Maybe you're working on improving team management, but not quite ready for a software platform – try a goal-tracking spreadsheet and use them together.
Clockify makes managing a team and its goals simple for managers. Not only can they approve timesheets, but with a glance at the dashboard see a breakdown of what each member has worked on daily. This platform helps meet goals while also overseeing time-consuming team management tasks.
Features
Reports
Calendar
Dashboard
Activity tracking
Team collaboration
Goal breakdown and tracking
Productivity trends chart
Task time estimates
Pricing
The main benefits of Clockify are free. There is a paid option where you get advanced benefits that starts at $3.99 a month per user.
12. Team Compass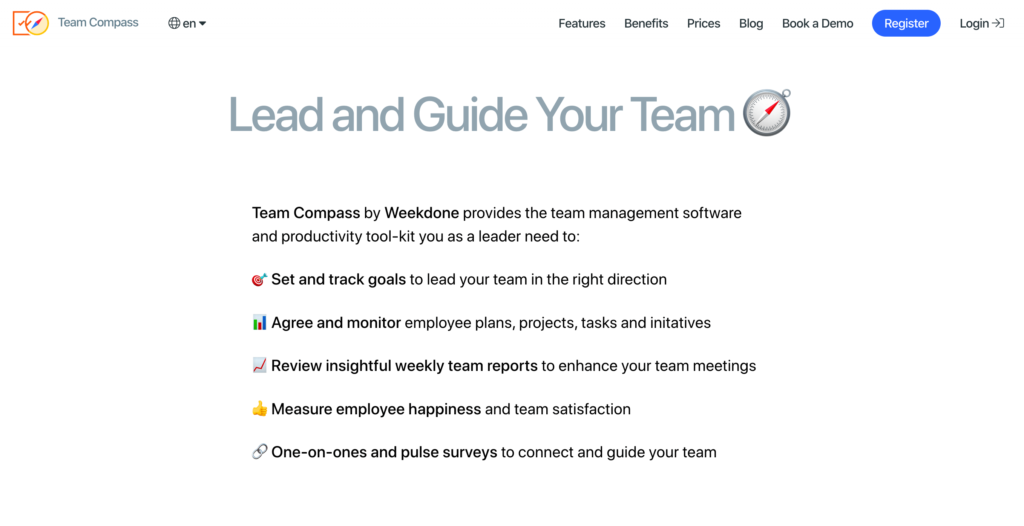 Team Compass is a comprehensive software allowing teams to manage goals with the use of "light" OKRs. It showcases transparent updates of all team members. The platform makes it easy for managers to see what employees prioritize and are working on.
Managers can set, track, and assign goals while also analyzing team performance and satisfaction. It makes it simple for leaders to stay connected to their team – keeping an eye on any plans, progress, and problems as they come.
Features
Goal setting and tracking
OKR creation and tracking
OKR linking
1:1 Weekly Review Chat
Meeting agendas
Weekly status reports
Prioritization
Pricing
Team Compass is $29 a month for unlimited users. They have an annual plan for $265, which gives two months free. There is a free 14-day trial for all new users.
13. Hypercontext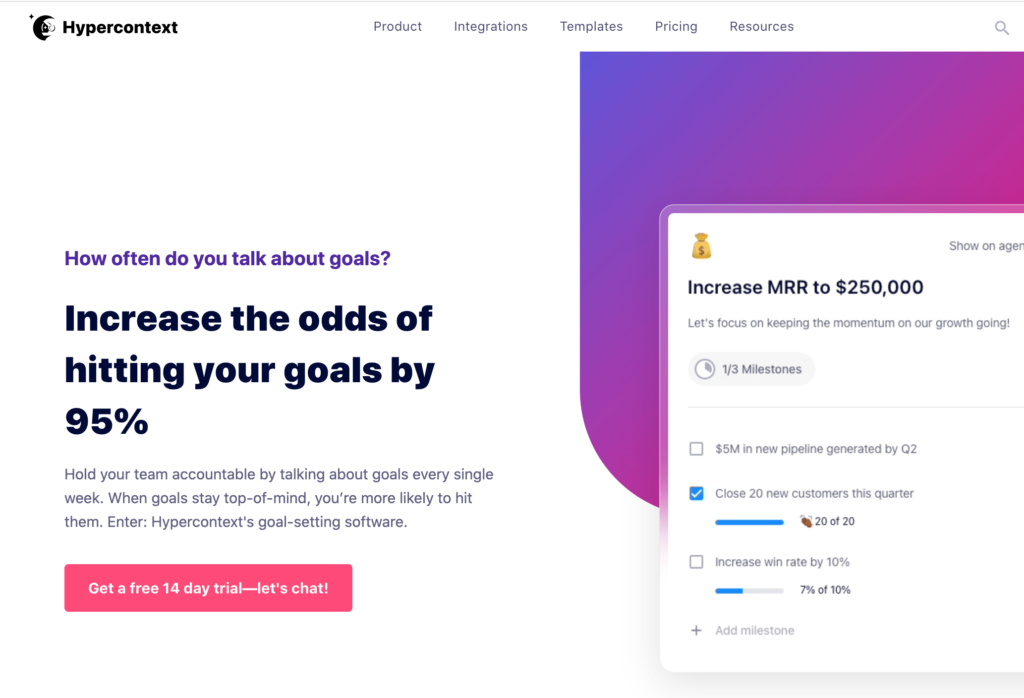 Using Hypercontext you can save notes and keep everything in one place. Managers can streamline goals, meetings, and employee morale in one single workflow to save time and money.
The platform makes goal achievement easier than ever. The system encourages one-on-one meetings, connects goals to meeting agendas, and empowers team members to set their own goals.
Features
Keeps goals at the forefront of everyone's mind
Access to 360 goal templates to guide decisions
Ability to add milestones
Track progress
Evaluate goals in meetings
Pricing
Hypercontext offers flexible pricing. It has a forever-free option. The paid tiers range from $5.60 to $8.80 per person, per month when paid annually.
14. Leapsome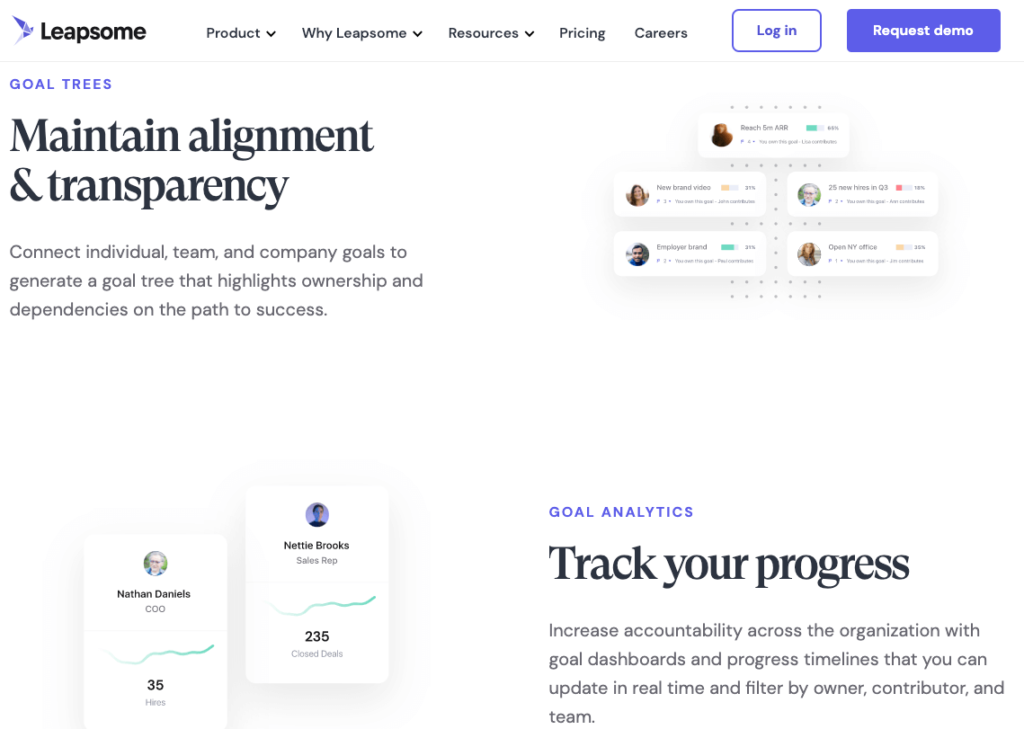 Leapsome has many benefits for those managers needing a better understanding of their employees – how they're performing, and other engagement metrics in addition to goal analytics.
Managers can support their teams in meeting their goals through check-ins and regular feedback – making the engagement features in the product useful as well.
Features
Flexible goal methodology
1:1 meeting
Engagement surveys
Feedback templates
Pricing
Try Leapsome for 2 weeks free. After that, they have 5 plans with different features and costs – all beginning at $8 per user/monthly. We recommend the "Align" plan, key features highlighted above.
15. Spider Strategies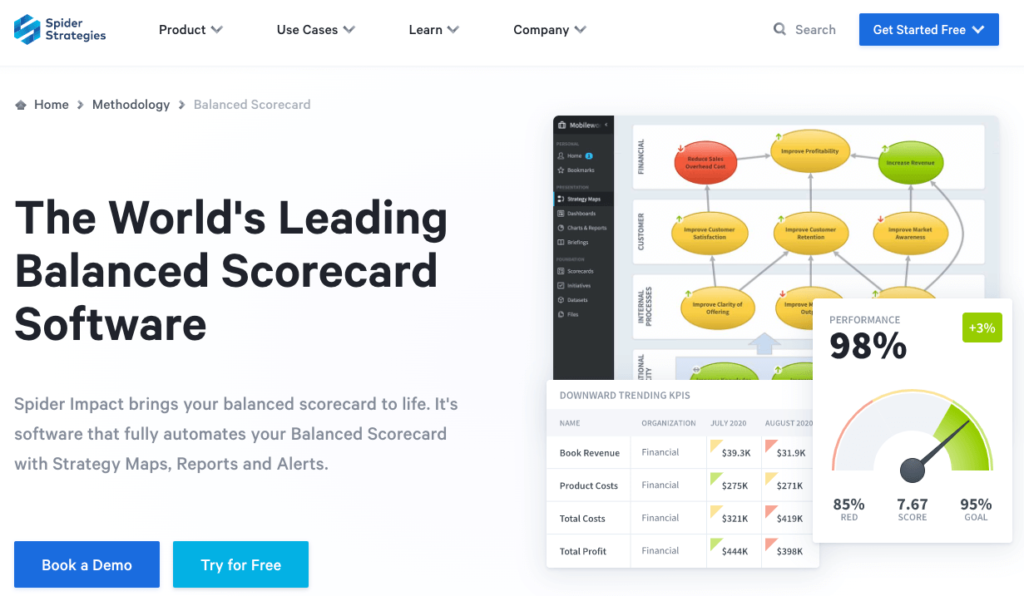 Spider Strategies is an adaptable platform that allows leaders to quickly change direction when needed. It focuses on simplified strategic planning and execution. For those interested in the balanced scorecard method this software is worth testing.
The platform empowers team members by showing them the bigger picture across the board. With clearly defined goals and progress tracking, leaders can drive performance improvements with this platform.
Features
Balanced scorecard
Metrics and KPIs
Performance analysis
Goal monitoring
Strategic initiatives
Pricing
Spider Strategies does not have transparent pricing available. Users can sign up for a free trial to test the system.
Take a Right Step Forward with an Ideal Goal-Tracking Software
Setting and tracking goals is a long-term process. By implementing a goal-tracking system you can gain more insights into your teams and how to work effectively in the same direction.
👉 Find out more about how to track goals and know what your team is doing
It is important to note that to develop a goal-driven mindset across the company the best practice is to implement the Objectives and Key Results framework. To ensure that team members can set clear goals, align them with the company objective, prioritize tasks, drive improvements, and share their progress, a software platform built on OKR best practices works well.

A goal-tracking software platform helps you break down your overarching goals into digestible tasks. This makes it easy to define and achieve goals successfully.
👉 If you want help help setting, tracking, or implementing OKRs, connect with our OKR experts or take a personalized walkthrough and see for yourself how Weekdone can elevate your goal-setting and tracking process.
Ready to get started?