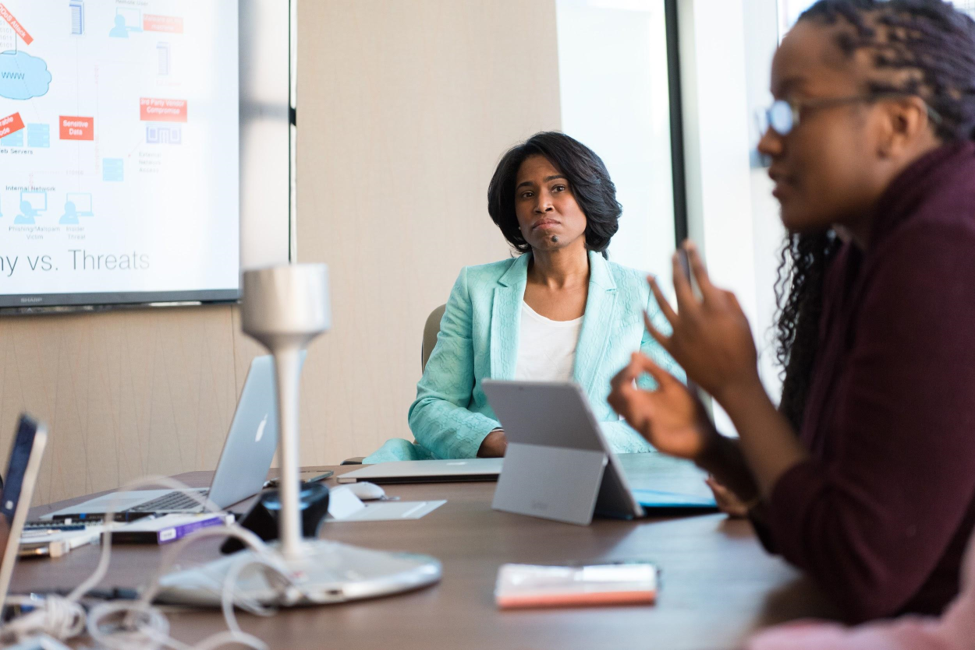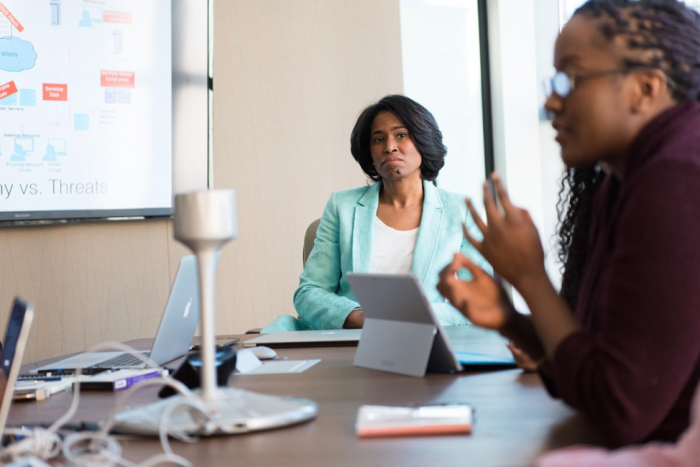 There are lots of reasons why team managers can benefit from using team management apps. The following are some of the most noteworthy positive changes they experience when they start using these tools:
More transparency and easier project monitoring
Easier task reporting, scheduling, and delegation
Improved resource management
Team management apps help to keep everyone on the same page and ensure that no one (and nothing) falls through the cracks. When using these apps, it's easier for managers to check-in with their team members and find out what they need early on, before problems can arise. Listed below are 10 of the best team management apps you can use to keep everyone on track, monitor their progress, and guide them toward accomplishing their goals.

Or, if you want to jump to FREE team management apps – click here
Criteria to Consider
When it comes to choosing a team management app or tool, there are tons of options to choose from. Some are more effective than others, though.
When considering the different apps available to you, here are some criteria you ought to keep in mind:
Your specific team needs: Where does your team run into trouble? Is the issue a matter of project management? Communication? Meeting deadlines? Look for an app that fills in the gaps and helps to address these needs.
Ease of use: How easy is the app to use? Can everyone on your team utilize all the features it has to offer?
Special features: What does one app do that separates it from others? Are its extra features useful to you and your team's specific needs?
Implementation and integration: Does the app work with existing programs you're already using? Is it compatible with everyone's computers, smartphones, and other devices?
Bandwidth: How much can the app support? Does it provide adequate document storage, for example? Can everyone on your team have an account and use it with ease?
Your budget: What can you afford to spend monthly or yearly on a team management app?
These are some useful questions to ask when deciding between different management tool options. They'll save you from choosing something that's too expensive or not effective for your team's needs. It is also important to include your team in the process and get their feedback in choosing apps.
10 Team Management Apps
These team management apps all meet the criteria outlined above and are good options to consider to help you keep your team on track:
1. Team Compass – Best for transparent team updates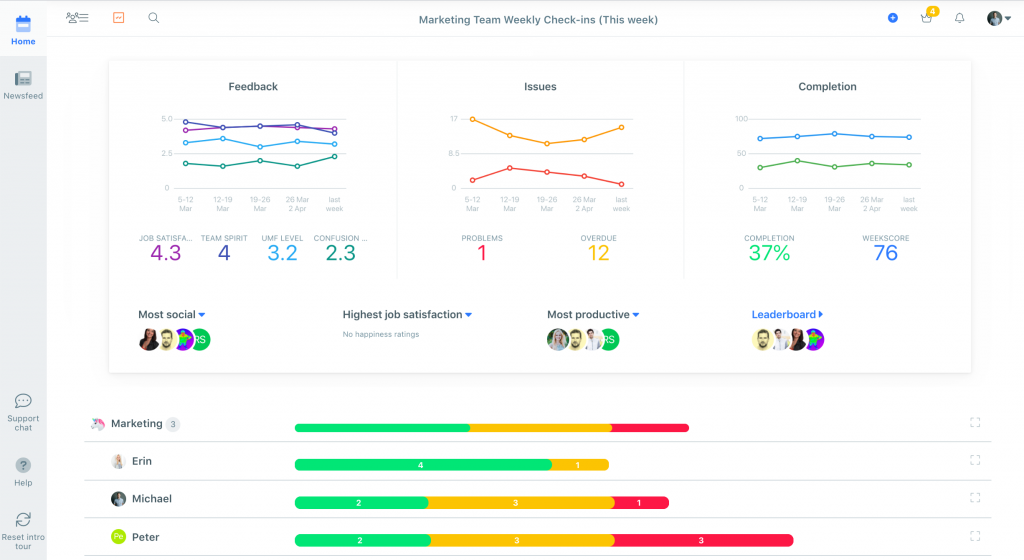 Team Compass is the perfect team management app for managers who want to monitor their team members progress and easily understand everyone's priorities.
With Team Compass you can set and track goals to provide guidance and direction for your team. Users can mange their own work and projects with weekly planning and task management.
Leaders get weekly reports on plans, progress, and problems of their teams which can be used to enhance meetings and strategy. Beyond that, there are plenty of engagement and team building features like one-on-ones, pulse surveys, and feedback and recognition. These help connect leaders with their teams and also allow for teams members to support each other.
Pricing is $29 a month, for unlimited users. Or $295/year for the annual package (2 months free). There is also a free version with all the bells and whistles for teams of 3 or less. All teams get a free 14 day trial period.

Key Features:
🎯 Set and track goals to lead your team in the right direction
📊 Agree and monitor employee plans, projects, tasks and initatives
📈 Review insightful weekly team reports to enhance your team meetings
👍 Measure employee happiness and team satisfaction
🔗 One-on-ones and pulse surveys to connect and guide your team
Pros
Promotes transparency in remote team communications
Informative Weekly Progress Reports for employees and managers
Visually appealing dashboard, graphs, and interface
Cons
Not ideal for enterprise companies
Customization options could increase setup time.
2. Weekdone – Team management with OKRs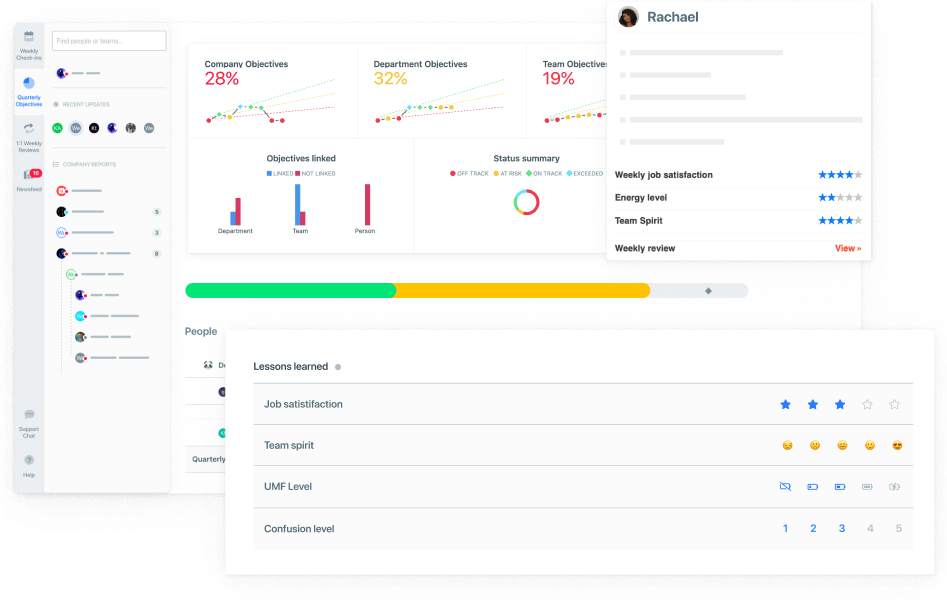 Managing a team requires clear focus, with Weekdone, team managers are given that clarity with the help of the OKR (Objectives and Key Results) methodology. Setting and tracking OKR goals connects teams with a shared mission they collectively set to accomplish. Moreover, Weekdone promotes company-wide transparency; giving leaders (and employees) the ability to see what's happening, provide public feedback, and make better decisions based on shared information and real-time updates.
Key Features:
OKR hierarchy view for a detailed picture on how each team's OKRs align with the company Objective.
Weekly Check-Ins to share transparent status updates with the PPP methodology.
Integrations with Slack, MS Teams, Asana, Google Tasks, and more
TV dashboard to present OKR progress and keep teams engaged and motivated to share updates on OKRs
Pros
Weekly progress reports emailed to managers for team highlights.
Simple interface, everything you need in a few clicks!
Quality onboarding experience
All features are available regardless of plan. No hidden fees or additions required.
Cons
No video conferencing to facilitate team meetings
Best suited for those using or planning to use OKRs
3. Workvivo – Seamless social sharing across the company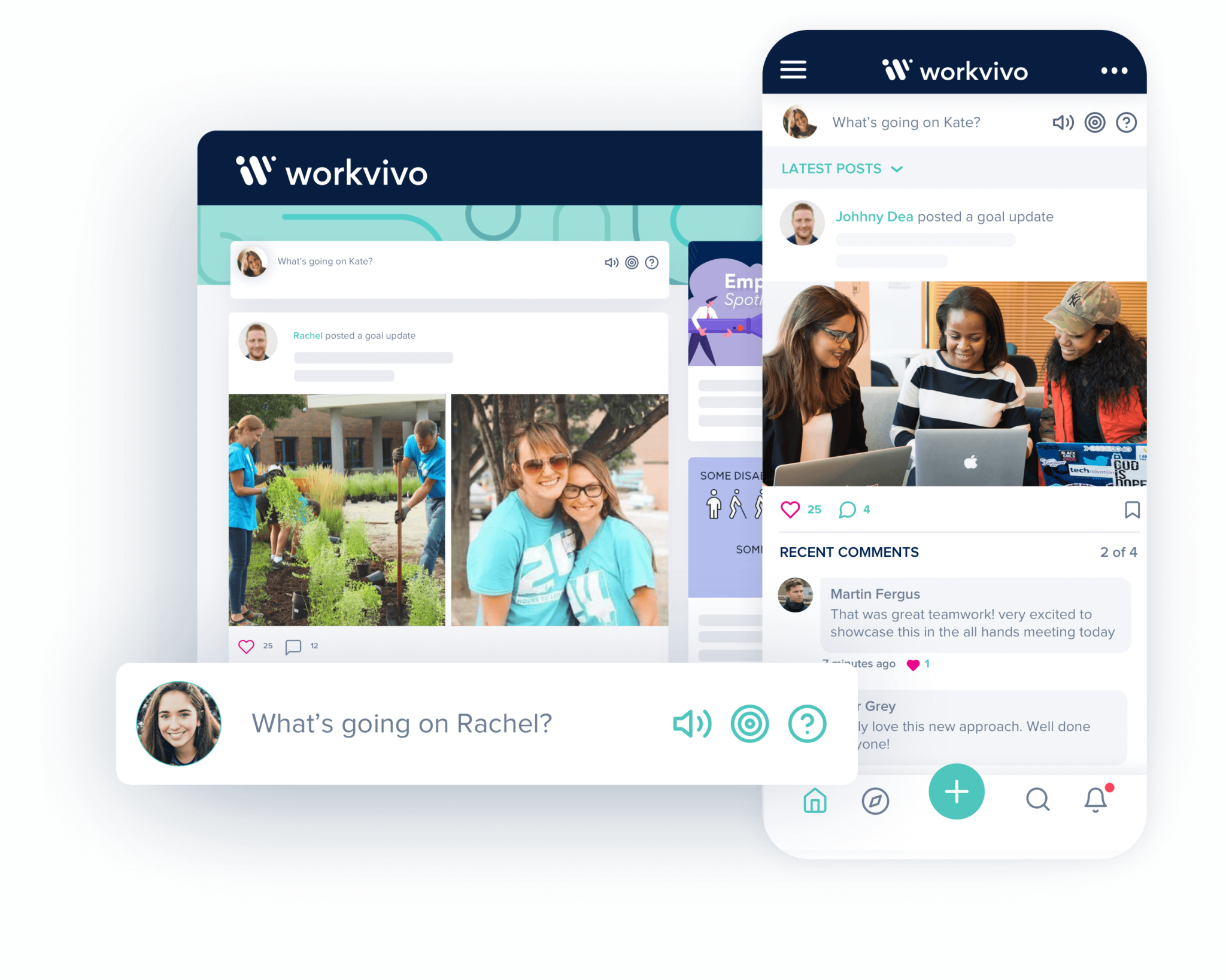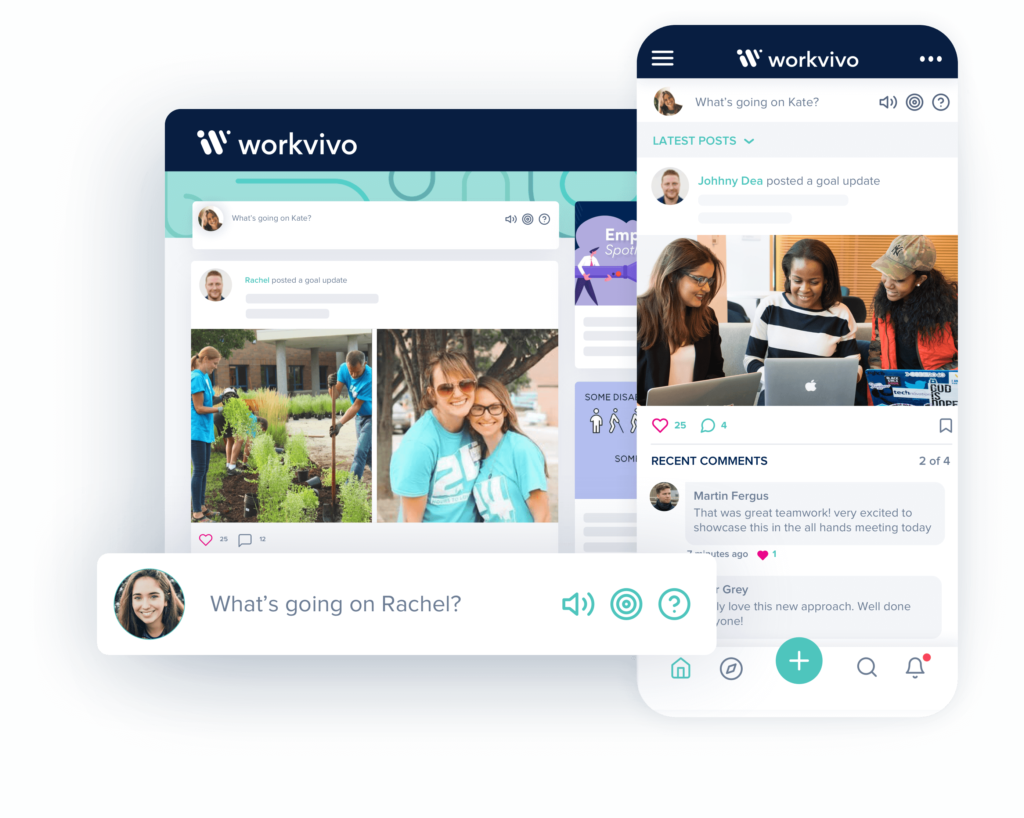 We love Workvivo for many reasons, some of the top being: ease of use and plenty of engagement opportunities. High team engagement numbers help you achieve a positive organizational culture. Workvivo's social sharing platform was designed similar to your favorite social media sites; making the learning curve practically non-existent. We're sold!
By developing a social space where everyone is encouraged to share personal and professional updates, workvivo has hit the mark when it comes to employee satisfaction. Additionally, you'll get a secure space to store, share, and access files and analytics for measuring company and employee engagement.
Key Features:
Employee communication with posts and content
Employee engagement tools
Employee experience tools to build culture
Social intranet document and file sharing
Workplace Insights on employee engagement
Pros
Great for teams of any size, especially larger remote teams
Easy to use, attractive interface
Integrations available with the tools you already use.
Cons
Some employees may have trouble disconnecting from the social content overload.
4. ProofHub – Powerful project management and seamless team collaboration
When it comes to simplified project management and seamless intra-team collaboration, ProofHub is a preferred tool for more than 85,000 teams and businesses worldwide. What makes ProofHub a useful tool for project managers and business owners is its ease of usability and powerful features offered under one roof. You can easily manage both in-office and remote teams from any device, from any location.
Advanced features like task management makes it easy for project managers to create and assign tasks to team members while setting due dates and estimated time. Group chat and Online Discussions enable users to quickly start work-related conversations on a single platform.
Project managers can use Gantt charts to visualize the project's timeline and adjust plans as deadlines shift. You can also convey project-specific or other information using Announcements feature and subscribe people to them.
We like how ProofHub offers so much at an affordable price. Fixed pricing plans mean that you only end up paying one-time charges. The Ultimate Control plan is priced at $89/month, billed annually. You get a free 14-day trial period to get the hang of ProofHub before subscribing to paid plans.
Key Features:
Project Management
Collaboration
Project reports and views
Admin project control
Pros
Ease of use
Powerful features in a single location
Fixed pricing plans
Scalable and Multilingual
Custom reports
Integrations with tools you already use
Intuitive interface
Cons
ProofHub doesn't currently support Table View in the mobile app but is being planned in the upcoming updates to the product.
5. Trello – Simple task assignment dashboard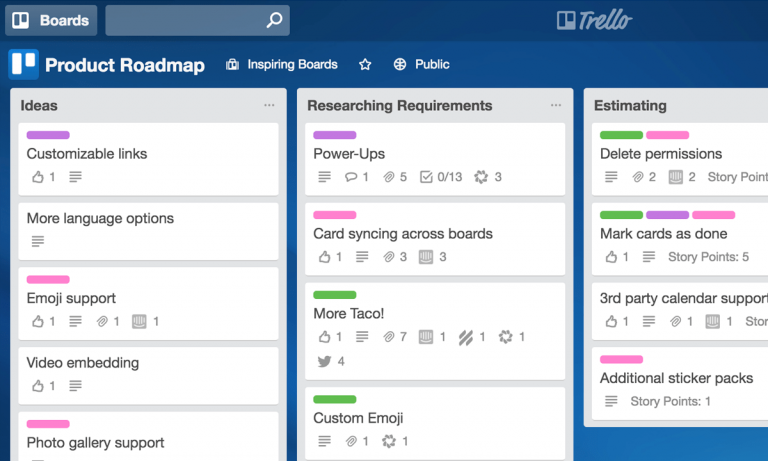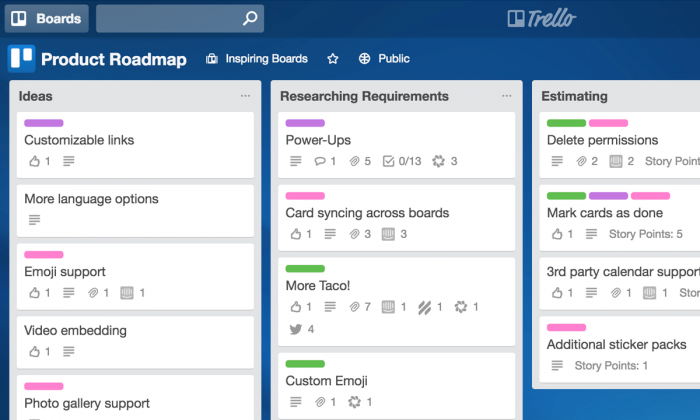 When it comes to lists of great team management apps, Trello regularly makes an appearance. This is a free, Kanban-based team management tool that managers can use to assign their team members cards (specific tasks).
Team members can then move these cards around into differently labeled columns to show how they're progressing when it comes to accomplishing that specific task. These columns are labeled as follows: Backlog, To-Do, In Progress, and Done.
This system helps you see how your team members are doing and whether projects are on track to be completed in a timely manner. Trello allows for the creation of subtasks and checklists, too, to break tasks down into smaller and more manageable chunks. It's a good option for those who prefer visual reminders and like to have everything laid out for them.
Trello comes with a free standard plan with access to up to 10 boards. The upgraded version offers unlimited boards and costs $9.99/user/month.
Pros
Great for small teams and short-term projects
A list-lover's dream software for team project collaboration
Cons
Tracking comments/updates after time becomes more difficult
Missing an element of "personality" found in some other products
6. Clockify – Great for getting things done on time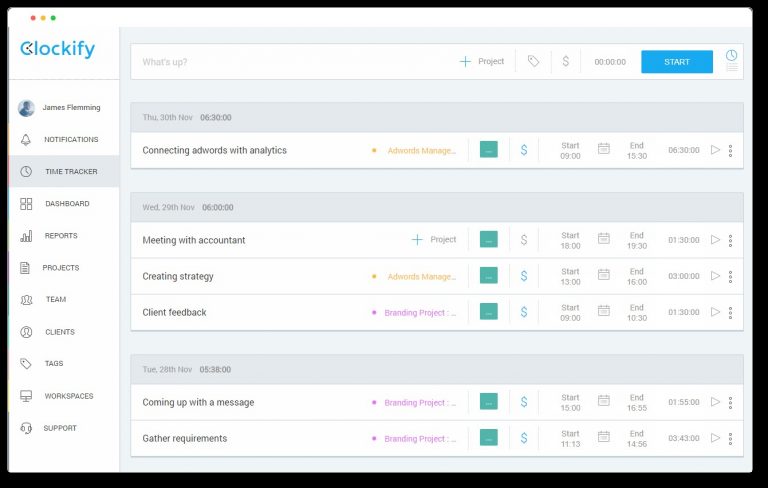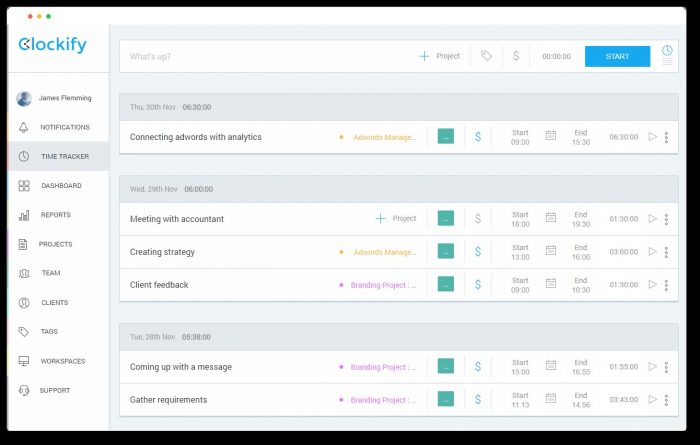 For teams that struggle with time management, Clockify is a good app to try out.
With Clockify, managers have access to free timeclocks and timesheets. This lets them keep track of how team members are spending their time. It lets them see who's working on what, track progress for specific tasks, and measure overall productivity across a longer period of time.
This last feature is especially useful, as it helps managers to identify patterns and potential timewasters. It makes it easier for managers to figure out how much time they should allot to specific projects to ensure workers get enough time but are still being productive and efficient.
Thanks to Clockify's time tracking features, it makes billing a breeze, too. If team managers find themselves wasting a lot of time handling things like payroll, Clockify will simplify the process and free them up to focus on other, more important tasks that promote better levels of employee engagement.
Clockify comes with a free option, as well as an upgraded plan with additional features that costs a flat $9.99/month.
Pros
Easy to use and integrate with other 40+ web applications
Categorize and customize for specific company needs
Colorful graphs and charts for monitoring.
Cons
Familiarizing your team with features and how to use may be more time consuming than necessary.
7. Infinity – Best for remote workspace customization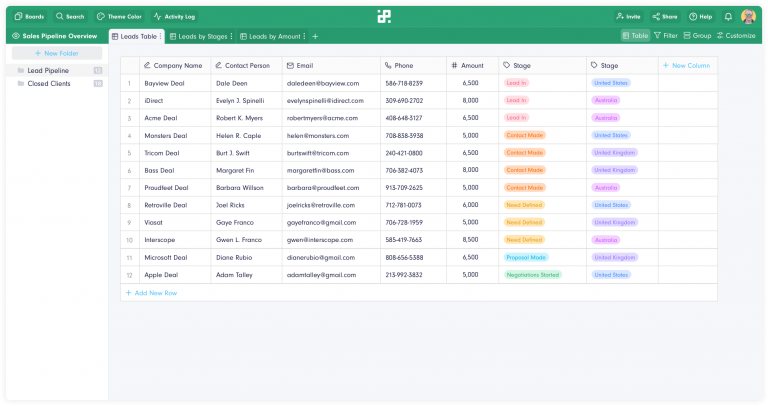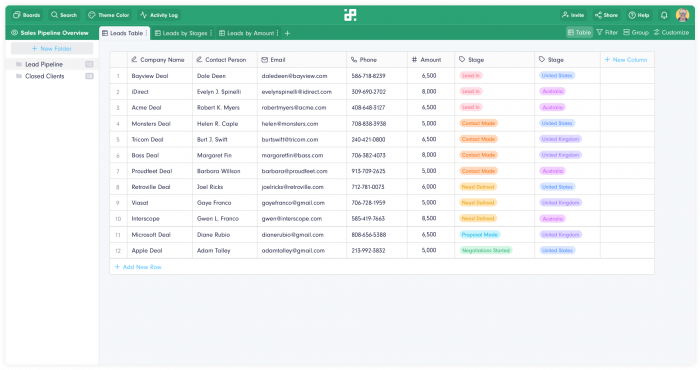 For those who value customization, Infinity can be a great team management tool to use. It features a flexible, versatile structure, which lets team managers, in essence, create their own system that meets all their specific team needs.
Infinity lets team managers create and store all kinds of data, which makes for better accessibility across the team. It lets team members change the way they view this data, too.
They can use the Kanban column approach, a list, a calendar, or a table. It's a breeze to switch from view to view as well, depending on the specific project at hand and the preferences of each team member.
Team members and managers can also use Infinity to break tasks down into smaller pieces. It uses a tree structure that simplifies this process, makes projects feel more manageable, and allows for greater efficiency and collaboration.
Infinity's basic Team package costs $99 for 10 collaborators and one workspace with up to 50GB of storage.
Pros
Various price offers suitable to all team types
All in one organizational tool for project collaboration
Cons
Could use more integration options with communication tools.
Customization overload may require extra time to implement into companies
8. MeisterTask – Kanban style workspace for collaboration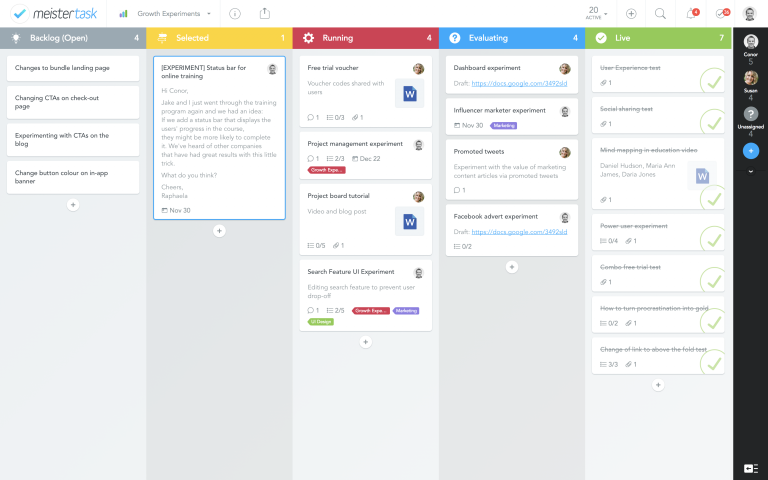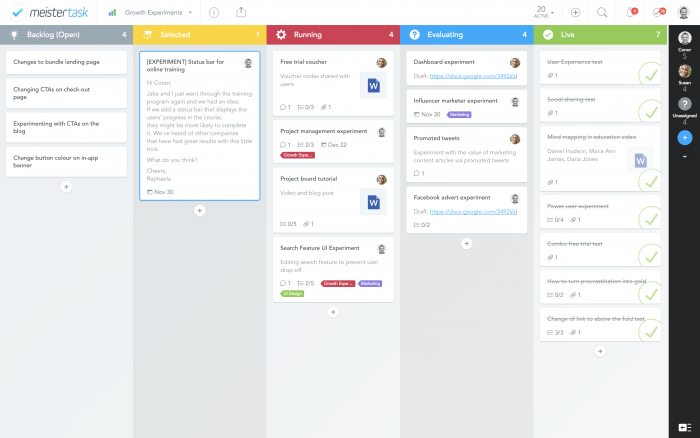 MeisterTask takes the Kanban approach of Trello and other team management apps and levels it up a notch with the addition of bright colors and dashboard wallpaper.
It also uses automations that are triggered when tasks get dragged over to new columns. For example, managers can set it up so that they automatically receive an email when a task gets moved to a specific column.
MeisterTask helps team members to brainstorm new ideas, too.
With the MindMeister integration, they can plan out projects in mind maps, then drag the maps over to MeisterTask and turn each part of the map into its own task (which then gets assigned to a specific team member or group of team members).
MeisterTask's basic plan is free. The upgraded Pro plan costs $8.25/month/user.
Pros
Built in time tracking tool for better focus
You can set up automatic actions and reoccurring tasks as needed
Cons
Basic package limits you to 3 projects
Dashboard strictly for tasks and collaboration, not progress tracking team as a whole.
9. Freedcamp – An intuitive space for team and task management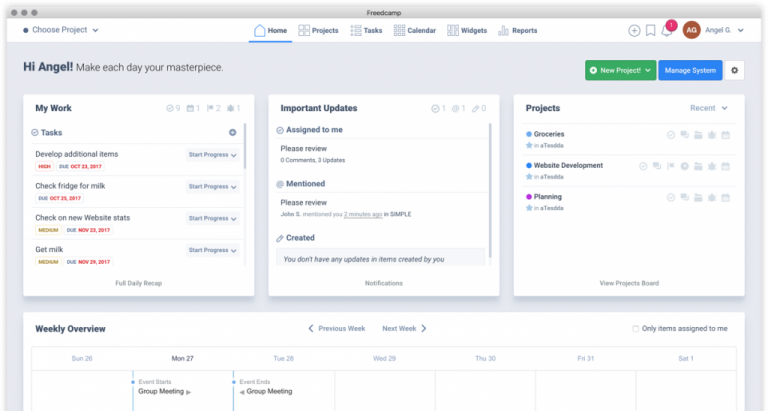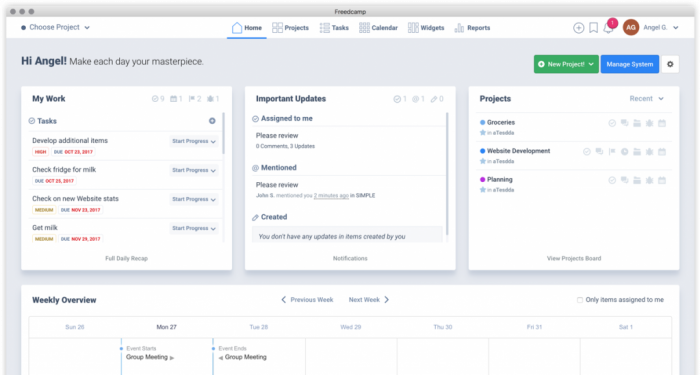 Freedcamp provides managers and team members with a place to manage all their tasks as well as milestone tools that make it easier for them to schedule projects and set specific due dates.
It allows users to organize tasks based on a traditional to-do list or in a Kanban column style. Freedcamp makes file storage simple, too, and provides teams with a central hub for all of their documents.
Freedcamp offers a free version of the app with unlimited users. The upgraded plan costs $1.49/month/user and provides access to premium support while also lettings users upload attachments up to 25M in size.
Pros
Customized views for personal preferences, Gantt charts, Kanban boards, and task lists
A privacy feature allows you to create your own personal to-do lists
Cons
Free version limits attachment uploads to 10MB or smaller
The extensive amount of features may make new users a little slow to start
10. Bitrix24 – Great for internal communication and collaboration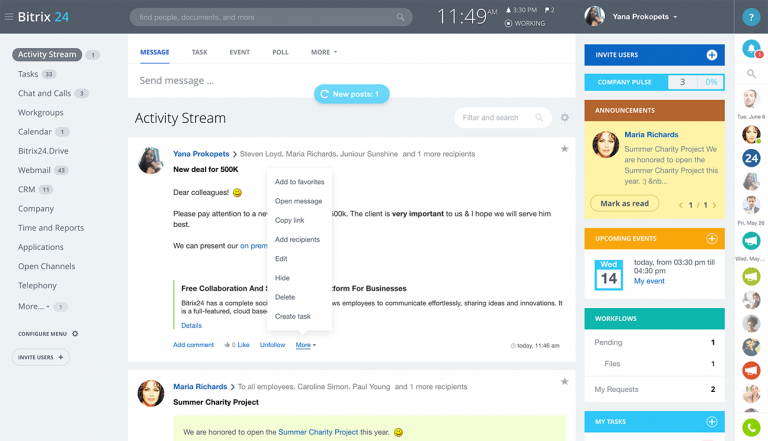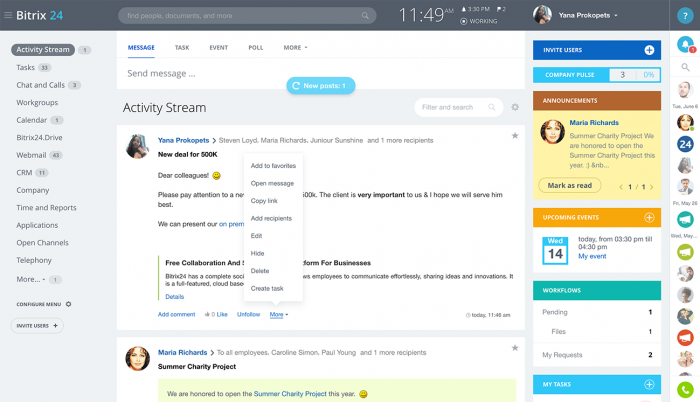 Bitrix24 combines traditional project management tools and features with native collaboration tools. It allows for in-app video conferencing, screen sharing, and easy client management, so it's a good all-in-one tool for managers who want to connect with team members and keep clients happy.
Bitrix24 uses a Gantt chart to keep everyone on track. It lets managers monitor employee workloads and deadlines to ensure no one is getting burned out or taking on more than they can handle.
Bitrix24 is free for up to 12 users. The upgraded version costs a flat $39/month for up to 24 users.
Pros
Activity stream and instant messaging features for fast internal connection with coworkers
Option for 2 way communication channels between clients
Cons
May run into some slow, unpolished features due to the high quantity offered.
The 3 Best Free Team Management Apps
While there are many great paid softwares that come with all the features and tools you need to manage your team, there are some great free options to get you started as well. Many free team management softwares have some limitations to what you can do without upgrading to a paid package. But, you can start with the free package and move on to other apps as the need rises.
1. Team Compass – Free for small teams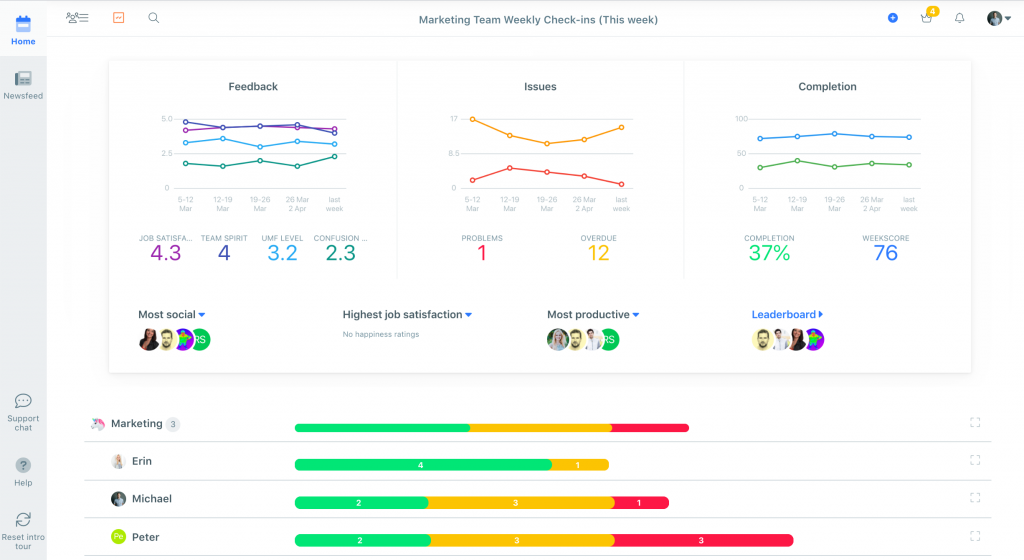 Team Compass is a great free team management app for small teams of up to 3 users. In the free-account you get the full functionality of the paid version, that way if you have a small team you set and track goals, provide 1:1 reviews, and provide a weekly status reporting platform for your team members.
The weekly reports are based on the PPP methodology (plans, progress, and problems) but you can update and customize the report as needed. There is also a variety of team engagement features that allow you to give feedback and for the team to communicate and support one another.
If your have 3 users Team Compass is free forever, but if you add more than that it becomes a paid package, so keep that in mind. Though the pricing is quite simple at a flat $29 per month with no user limit. You can see more about the pricing here.
Pros
Free app has all the accessibility of a paid package
Weekly Status Reports are customisable
Tools for the whole team not just management
Cons
Free version only allows 3 users
Requires paid version for larger teams
2. Trello – Great for team project management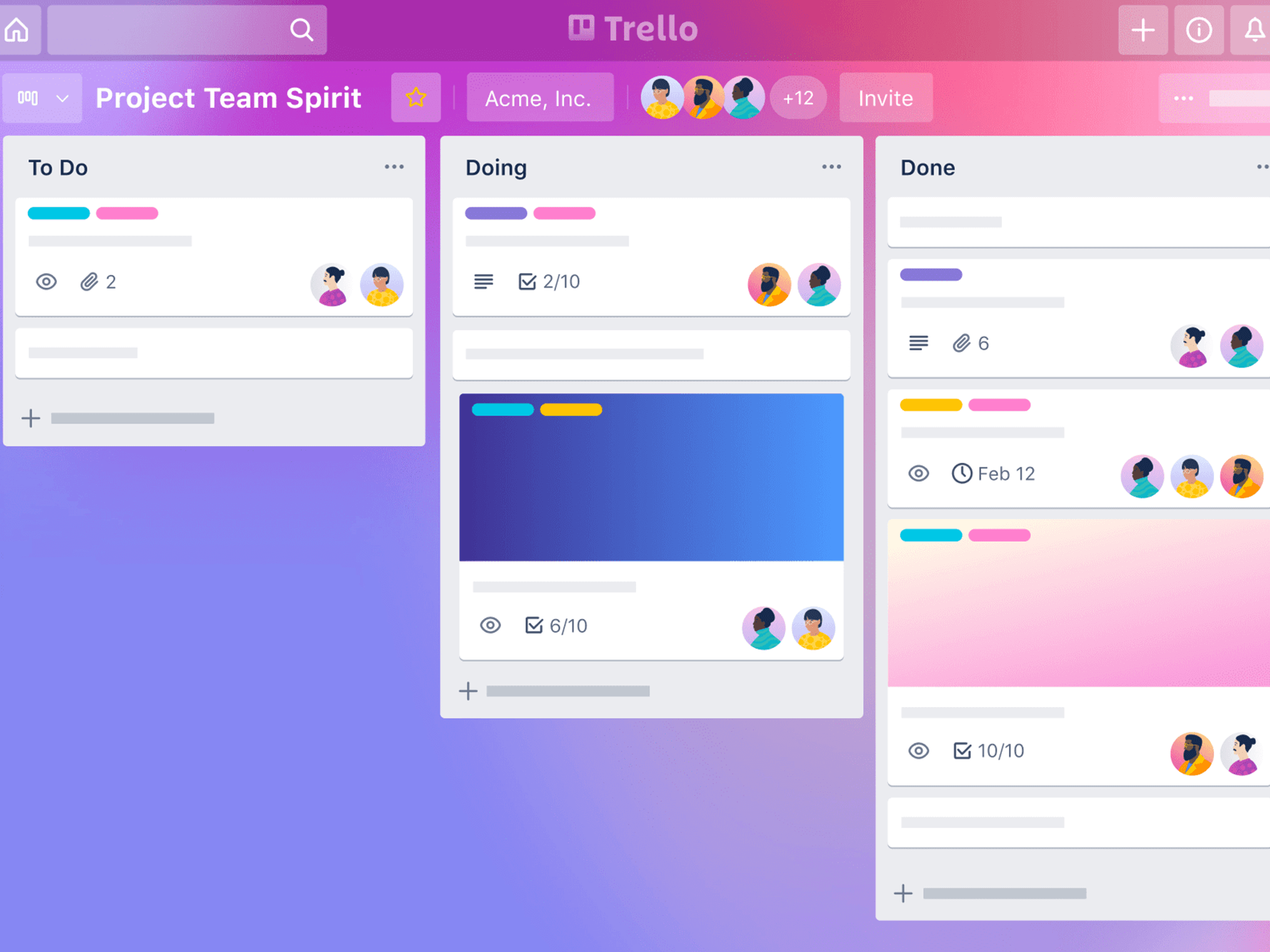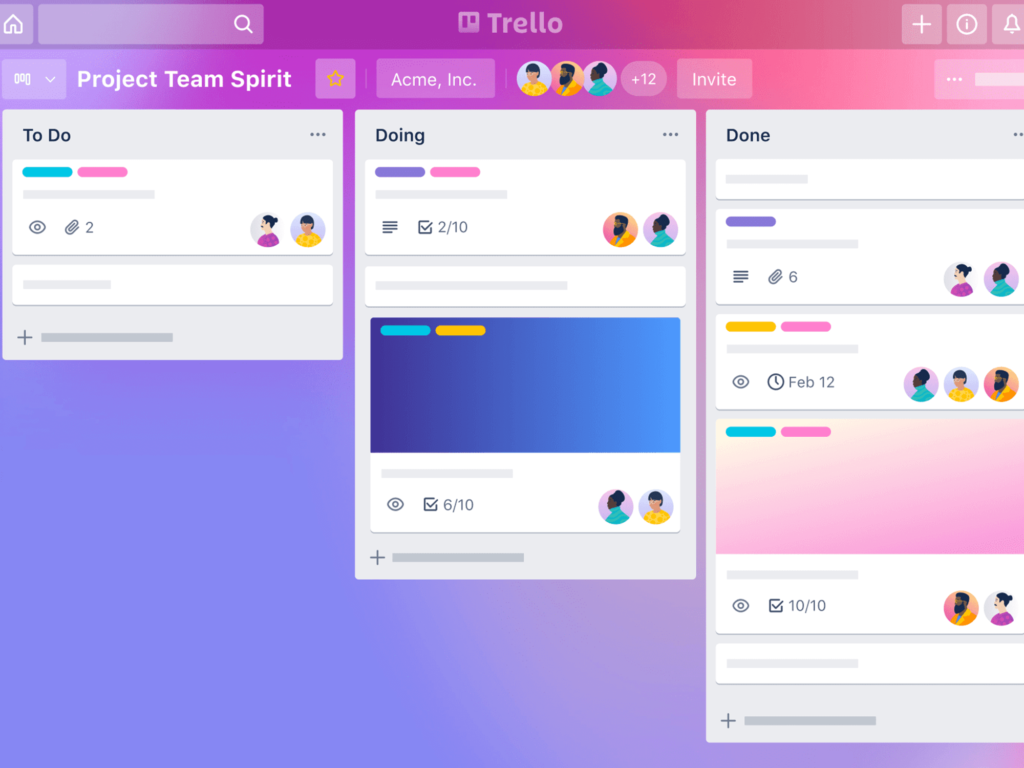 Trello is a great tool for many uses but it primarily excels at project and task management. When it comes to goal setting and feedback it is a bit lacking and requires some creativity and multiple board creations on your part. But if you are looking for a free team management tool with a focus on tasks and projects it is a great one.
The free version does have some limitations including the number of board you can have and total file storage. If you upgrade packaged then you go into a pricing per user.
Pros
Great for project and task management
Ability to create custom boards gives alot of flexibility
Cons
Lacks designated team management features
Limited usability in free version
3. Wrike – Task management for growing teams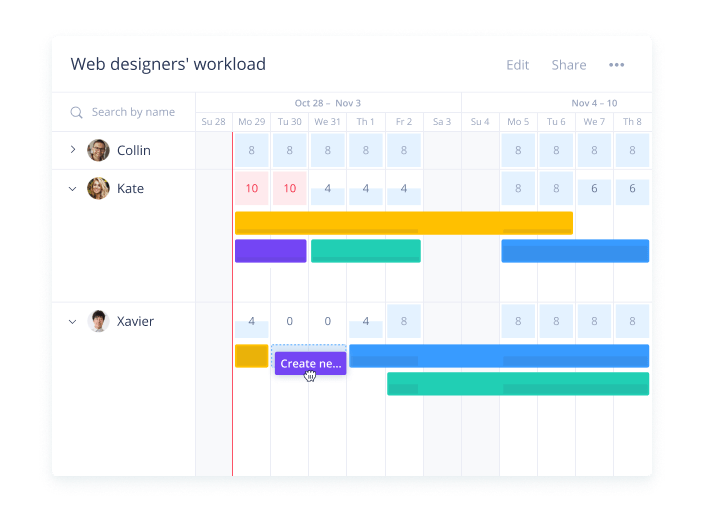 Wrike is largely targeted towards large teams and enterprises, but the still do offer a free version for smaller teams looking for task management. The AI task suggestion can also be helpful if your team has more standard, recurring tasks.
While their free version is quite limited in the number of team management features you get, it can still be a decent task manager if that is what your team is looking for. The price jump from free to paid is also quite alot at $9.80/user, so keep that in mind if you are planning to expand the team or upgrade the account.
Pros
Advanced task management capabilities
Personalized app experience
Great for larger teams and enterprises
Cons
Large jump from free to paid packages
Limited usability in free version
Try These Team Management Apps Today
As you can see, there are plenty of team management apps to use to keep your team members focused on their goals and provide them with the support and accountability they need. Of all these team management app options, though, one stands out above the rest: Team Compass.
Team Compass makes it simple for team managers to communicate with their teams one on one and in groups. It allows for easy praise and recognition, too, to keep team members motivated and eager to continue pressing forward toward their goals. Try it for free today by registering here to see how it works for your team.