Whether you lead a team of three or 33, you know how essential reliable, versatile software is to your success.
Trello is a type of work management software touted as the best solution for all kinds of problems, from project management to brainstorming. You can use Trello for these various tasks, but it's not as beneficial as some other tools on the market.
Are you looking for an effective Trello alternative? This guide features some of the best options to consider.
What are the Most Common Use Cases for Trello?
With its low price point ($0-$17.50 per user per month), Trello appeals to many teams with a wide range of needs. The following are some of the most popular Trello use cases:
Brainstorming: Easily share and keep track of ideas
Meetings: Create agendas to keep discussions engaging and productive
Project Management: Assign tasks, set deadlines, and maintain team alignment
OKR Goal Setting: Measure goal progression, set objectives, and track key results
Task Management: Track, manage, complete, and bring tasks together
Editorial Calendar: Manage content creation, revision, and publishing
Customer Relationship Management (CRM): Help sales teams track and manage leads and accounts
Professional Services: Manage clients and priorities with automation and timeline views 
Finance: Streamline finance operations and avoid missing deadlines
Information Technology (IT): Manage IT requests to keep teams on track and on budget
With so many use cases listed, it's no wonder people treat Trello as an all-in-one work management solution. However, plenty of other solutions work better for specific use cases. That's why we've put together this list of Trello alternatives for team leaders to keep in mind.
Team and Project Management: Use Team Compass
Team Compass by Weekdone is an excellent alternative to Trello for team and project management.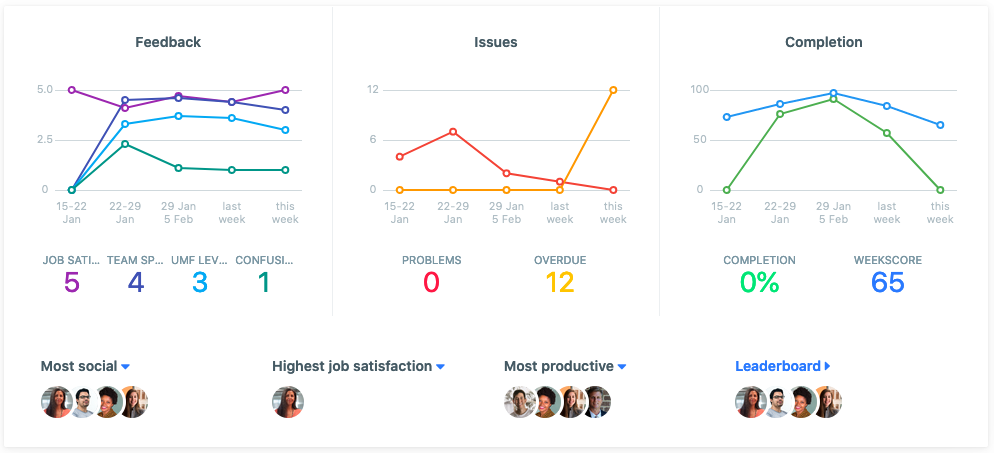 Like Trello, Team Compass helps team leaders assign tasks, set deadlines, and ensure team alignment. It offers the following features to assist with these and other responsibilities:
Identify and monitor goals
Agree on and monitor employee plans, projects, tasks, and initiatives
Generate and review weekly team reports
Measure employee happiness and team satisfaction
Schedule one-on-one meetings and distribute pulse surveys to gain valuable team insights
As a leader, Team Compass lets you quickly understand what's happening with your team and make informed decisions. You can also prioritize tasks and focus on what matters most.
Team Compass differs from other team and project management tools — including Trello — because it features built-in tools to help you measure team satisfaction, maintain organization and alignment, and have more meaningful meetings and discussions.
This tool is also highly affordable. Teams of three and under can use it for free, and teams of four or more can use it for $29 per month (no per-user pricing!).
Customer Relationship Management: Use Pipedrive
Many sales teams use Trello as a customer relationship management (CRM) tool.
With Trello, salespeople create boards and cards for each lead to monitor where each lead is in the customer journey. They also develop advanced checklists and assign tasks to various sales professionals to maintain strong relationships.
If you're looking for a more robust, reliable CRM tool, Pipedrive might be a better fit. It's described as a CRM built by salespeople for salespeople.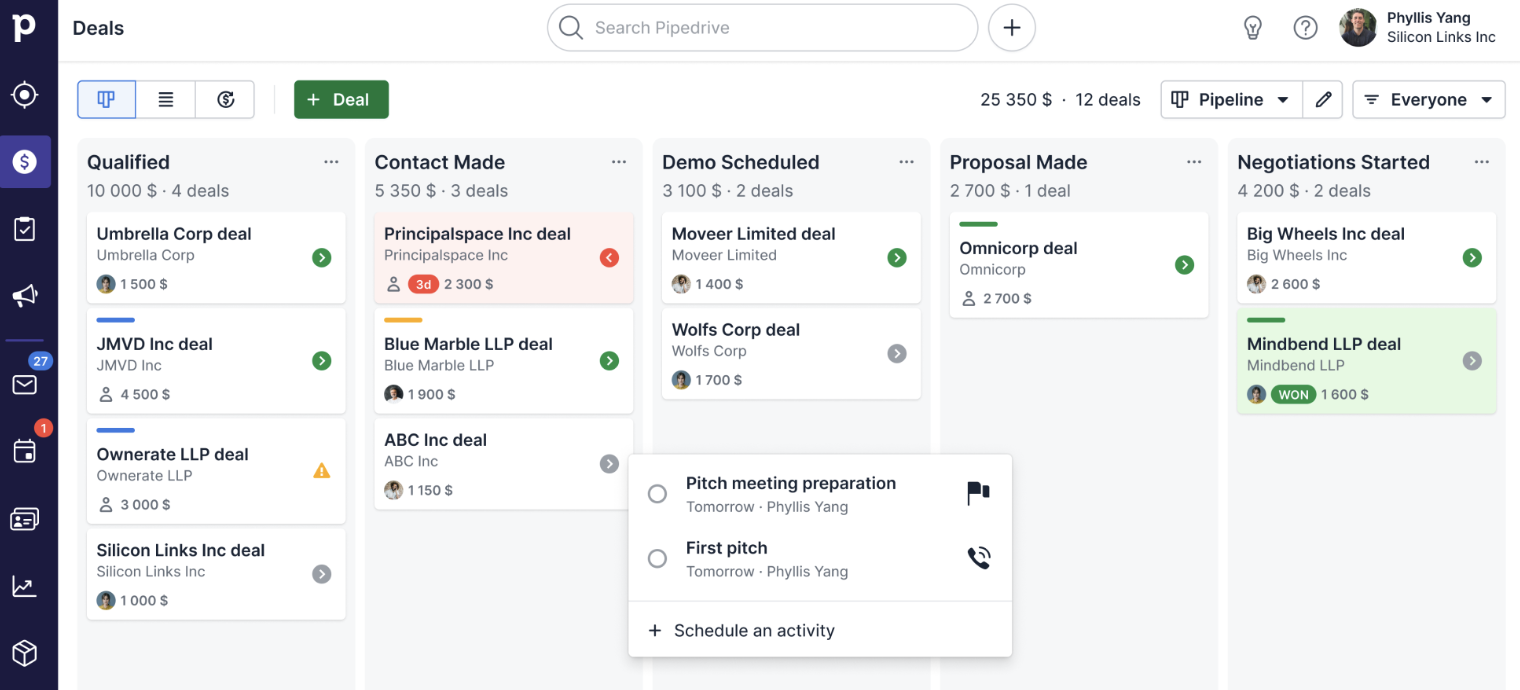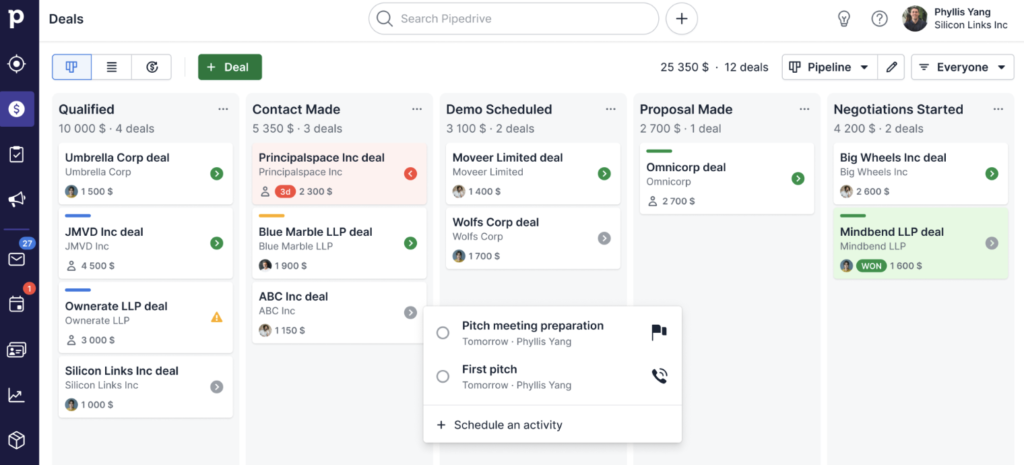 Pipedrive offers many useful CRM features that Trello doesn't, including the following:
Visual sales pipeline to easily see your entire sales process
Customizable pipeline to tailor the process to your specific needs and goals
Team collaboration tools to help you and your fellow salespeople work together
Activity reminders
Lead segmentation tools
Detailed contact history for each lead
Customizable web forms
Detailed dashboards and reporting tools
Revenue forecasting
Users can try Pipedrive for free before deciding to buy. If it feels like a good fit, they can sign up for plans ranging from $14.90 to $99.90 per user per month.
OKR Goal Setting: Use Weekdone
Weekdone is another one of the best alternatives to Trello for teams that use the OKR (Objectives and Key Results) goal-setting framework.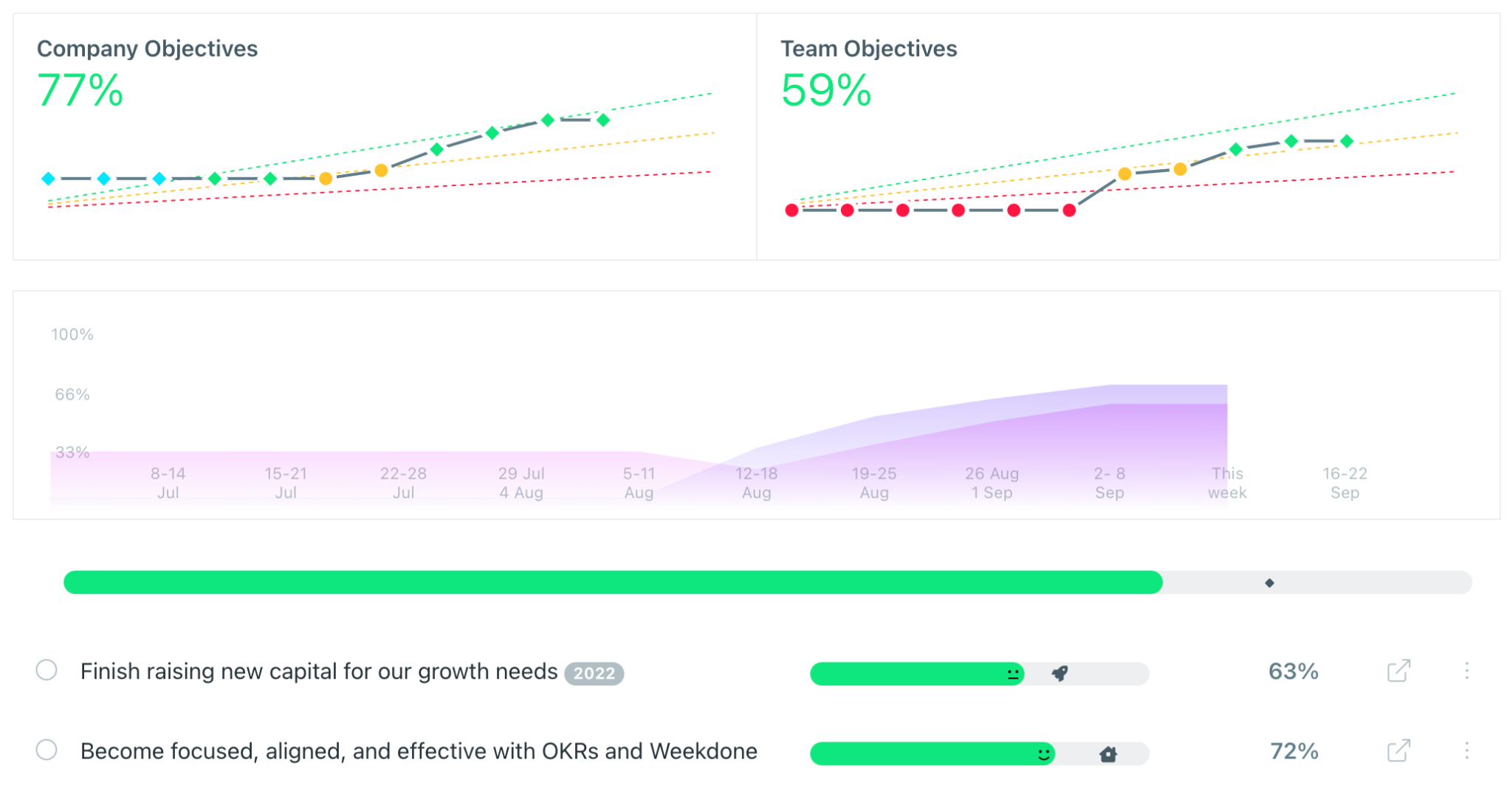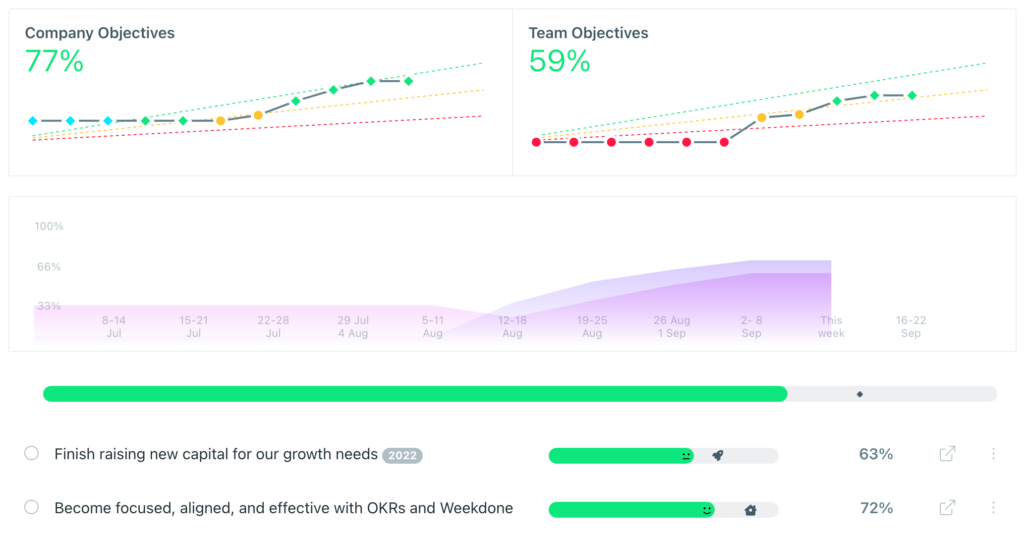 The Weekdone software allows teams to set quarterly Objectives and establish measurable Key Results to track progress.
This tool offers features for tracking weekly plans, monitoring progress, and identifying problems. Team leaders can also provide feedback to keep everyone moving in the right direction.
One of the best features Weekdone offers for goal-setting (compared to Trello) is the visual OKR hierarchy.
This feature provides a clear view of your team's primary Objectives and the specific Key Results you must meet to achieve them. The hierarchy keeps everyone organized and encourages them to stay engaged and focused on the big picture.
Weekdone is free for teams of three or fewer. Pricing increases gradually from here based on the number of users, starting with $90 per month for groups of 4-10.
Brainstorming: Use Miro
Trello does offer some team collaboration features. For example, users can leave comments on tasks and add checklists, attach documents, etc.
Consider Miro if you're looking for Trello competitors that offer better team collaboration tools.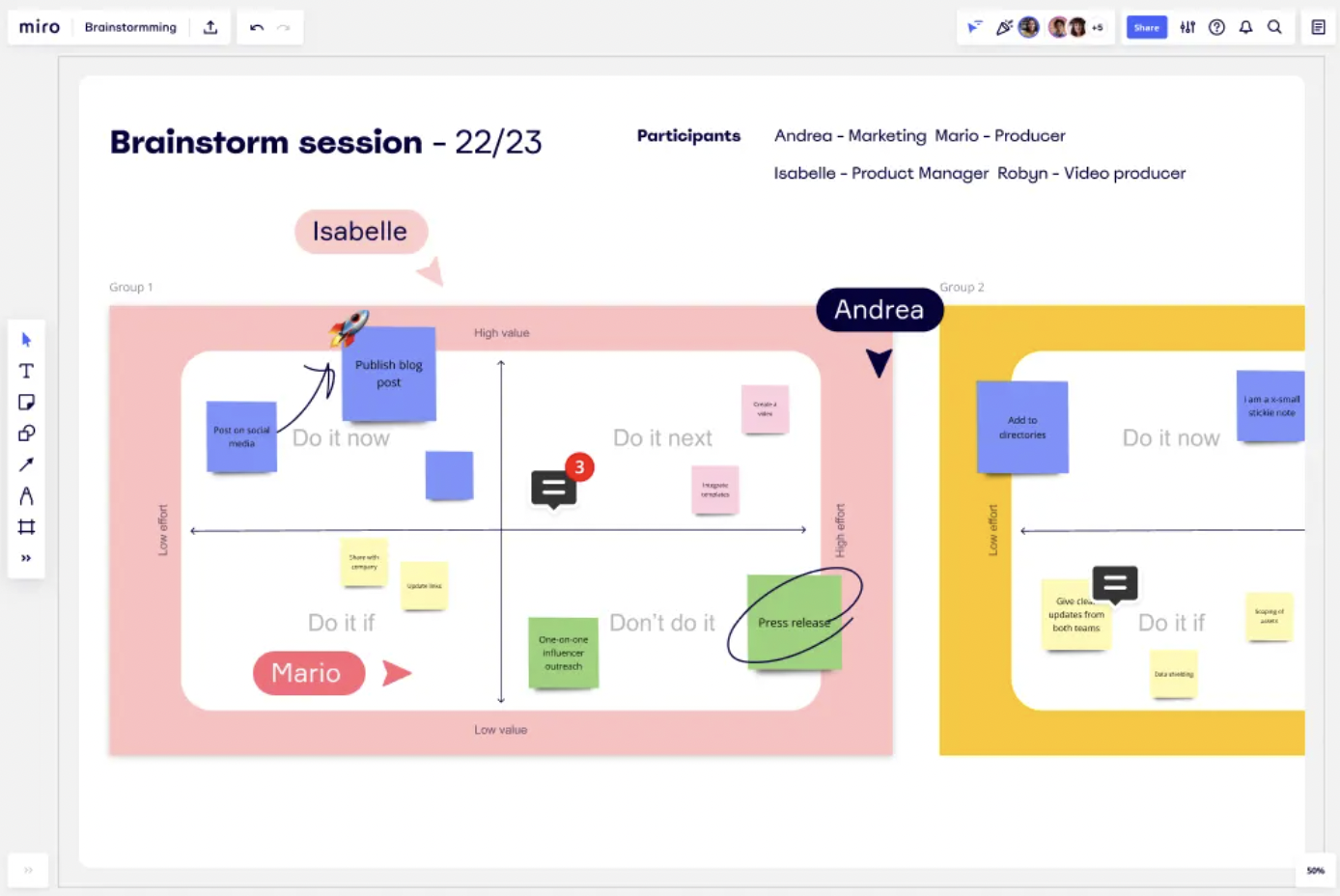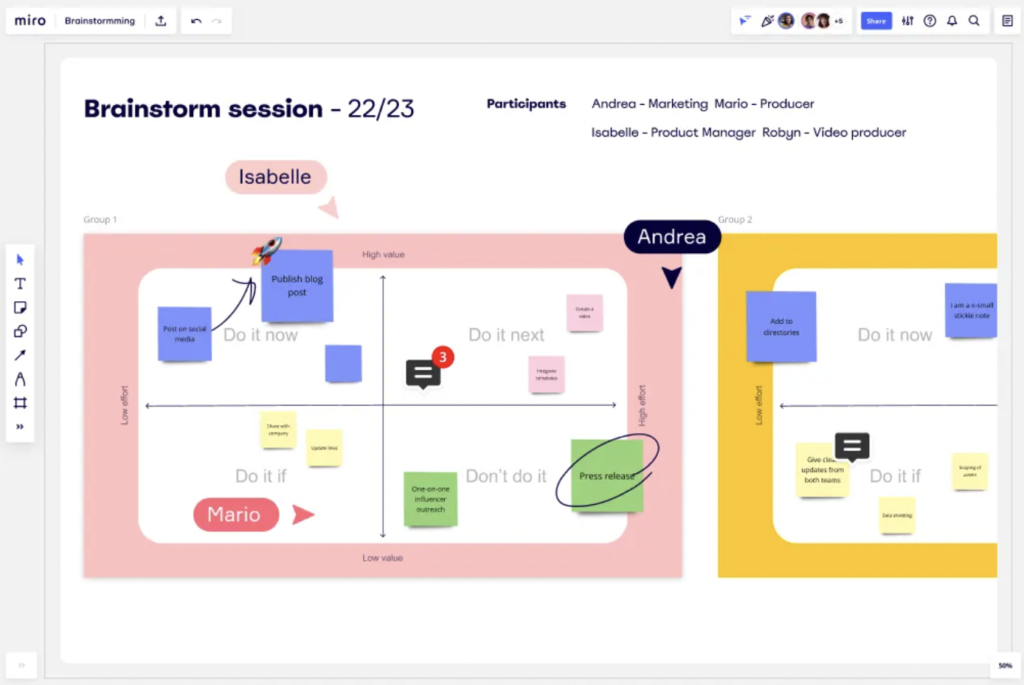 Miro is an online whiteboard platform that allows teams to connect anytime and anywhere. With the help of features like sticky notes, images, videos, mind maps, and drawing tools, you and your team can quickly brainstorm and share new ideas, no matter where you're located.
All kinds of teams use Miro for brainstorming, diagramming, research, and meeting purposes. The list includes UI/UX, marketing, engineering, and sales teams.
The free version of Miro works perfectly for teams that want three or fewer whiteboards. For teams looking for unlimited whiteboards, pricing starts at $8 per user per month.
Editorial Calendar: Use Semrush Marketing Calendar
An editorial calendar helps you and your team to keep track of content ideas, decide when to publish various pieces, and assign revisions and updates as needed.
Trello may serve as an effective editorial calendar for some. However, teams with more robust content creation plans typically prefer a tool like Semrush Marketing Calendar.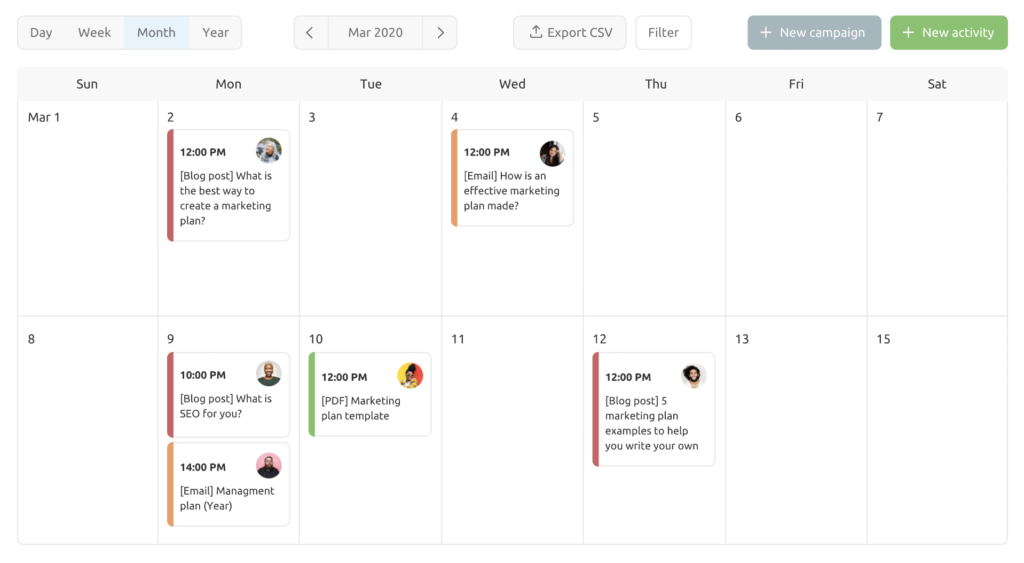 Semrush Marketing Calendar provides a centralized location for organizing, coordinating, and tracking marketing campaigns. You can use this tool to plan content, assign and manage tasks, keep track of deadlines, and monitor campaign performance.
Semrush Marketing Calendar also provides various resources for marketing teams looking to level up their efforts, including detailed guides on creating content calendars and planning campaigns.
The Semrush Marketing Calendar is part of the company's Guru and Business plans, which cost $229.95 and $449.95 per month, respectively. Both options come with free trials.
Meetings: Use Range
Many teams use Trello to organize team meetings, assign tasks, and let everyone contribute. For a more in-depth team meeting tool, think about using Range instead.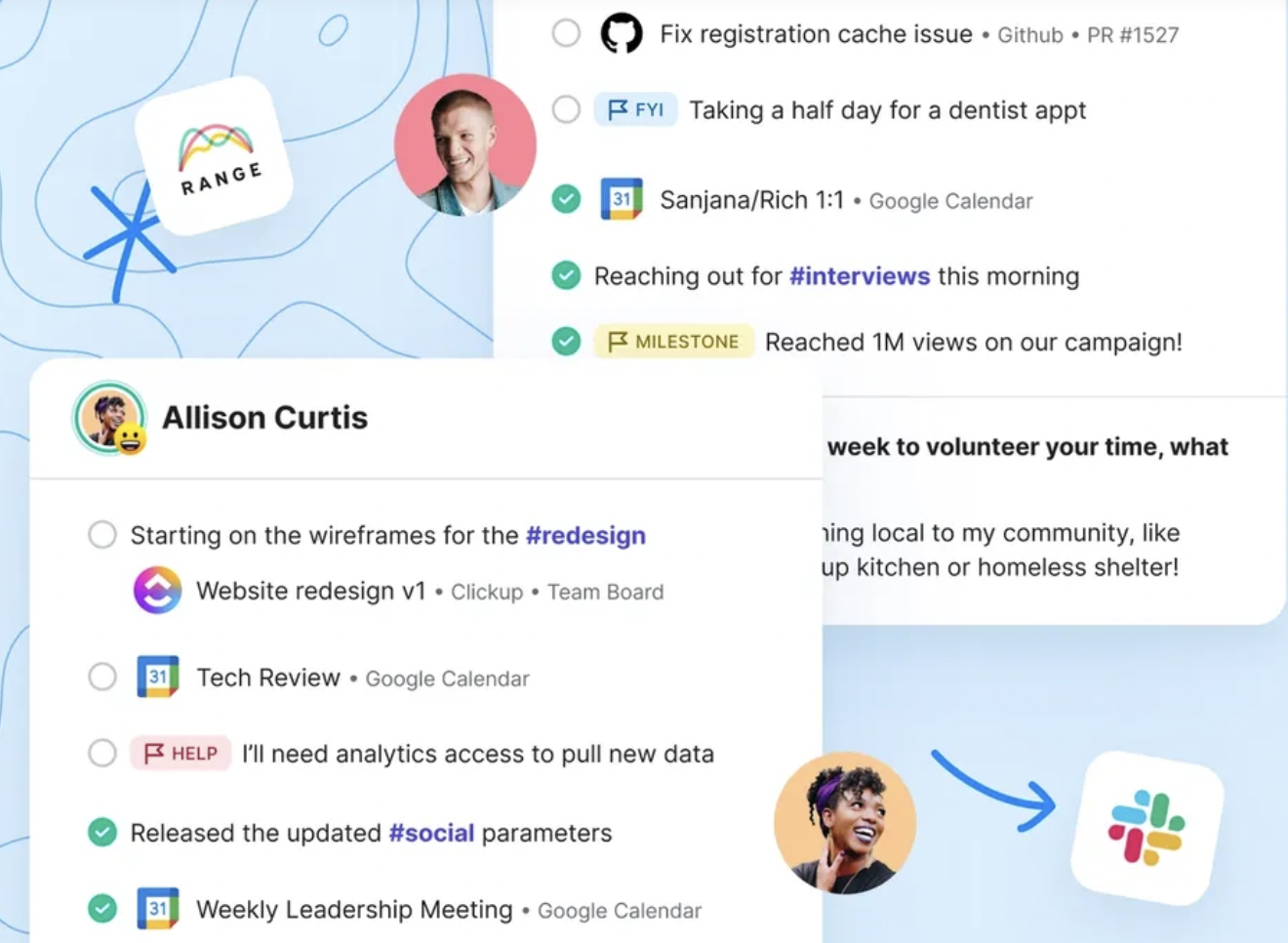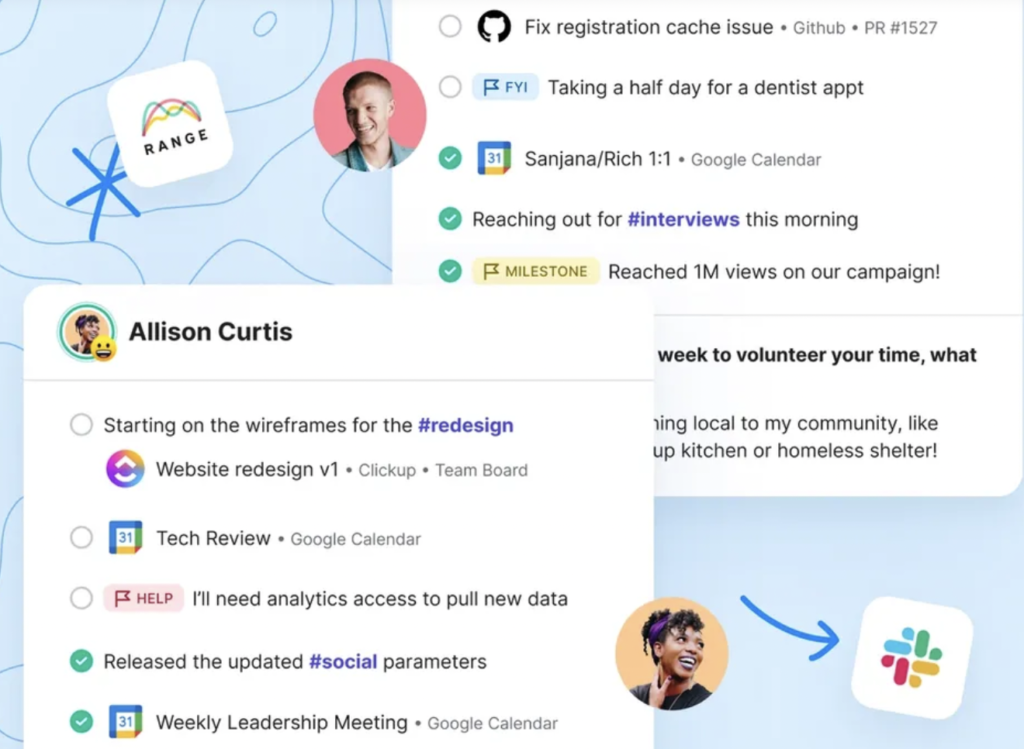 Range is especially popular among hybrid and remote teams. This tool eliminates unnecessary meetings by offering asynchronous check-ins for those who can't attend. It also lets users create action items from their notes and create agendas before the meeting or in real time.
The Range software is free for teams of 12 or fewer. For larger teams, pricing starts at $8 per user per month. You can also upgrade to the premium plan (with custom pricing) if you have a larger team and want more security features.
Finance: Use Quickbooks
Finance teams often rely on Trello to ensure they complete their responsibilities, from payroll and budget management to financial tracking and daily record keeping, accurately and on time.
For a team that handles finances for a small business, Trello might be sufficient. For a team with more responsibilities, Quickbooks can provide more features and resources.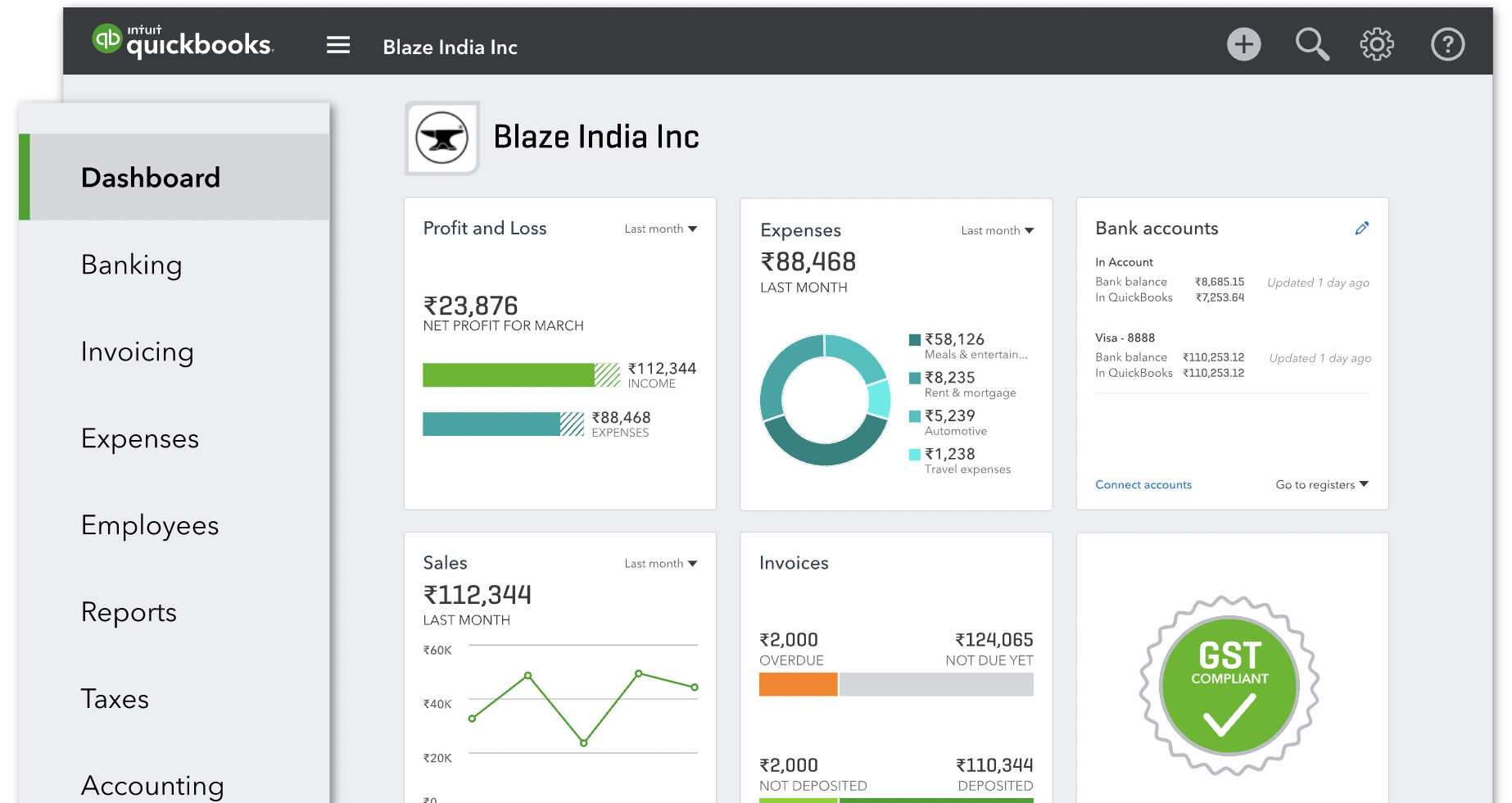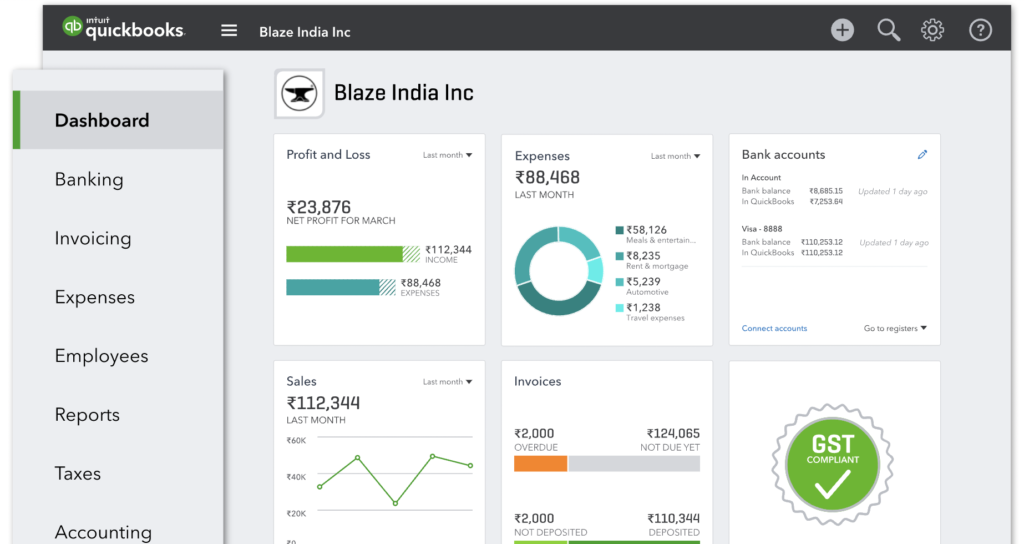 Quickbooks features various tools to assist with the following:
Income and expense tracking
Invoicing and payments
Tracking tax deductions
Tracking mileage
Creating general reports
Capturing receipts
Monitoring cash flow
Tracking sales and sales tax
Creating estimates
Managing relationships with contractors
Pricing for Quickbooks starts at $30 per month, with more advanced plans available for $55, $85, and $200 per month. New users also get 50 percent off their first three months.
IT: Use Jira
Trello can help IT teams manage projects and handle everything from intake to delivery. However, it has limited features for larger IT teams or those dealing with advanced projects.
Jira provides an excellent alternative to Trello for IT teams.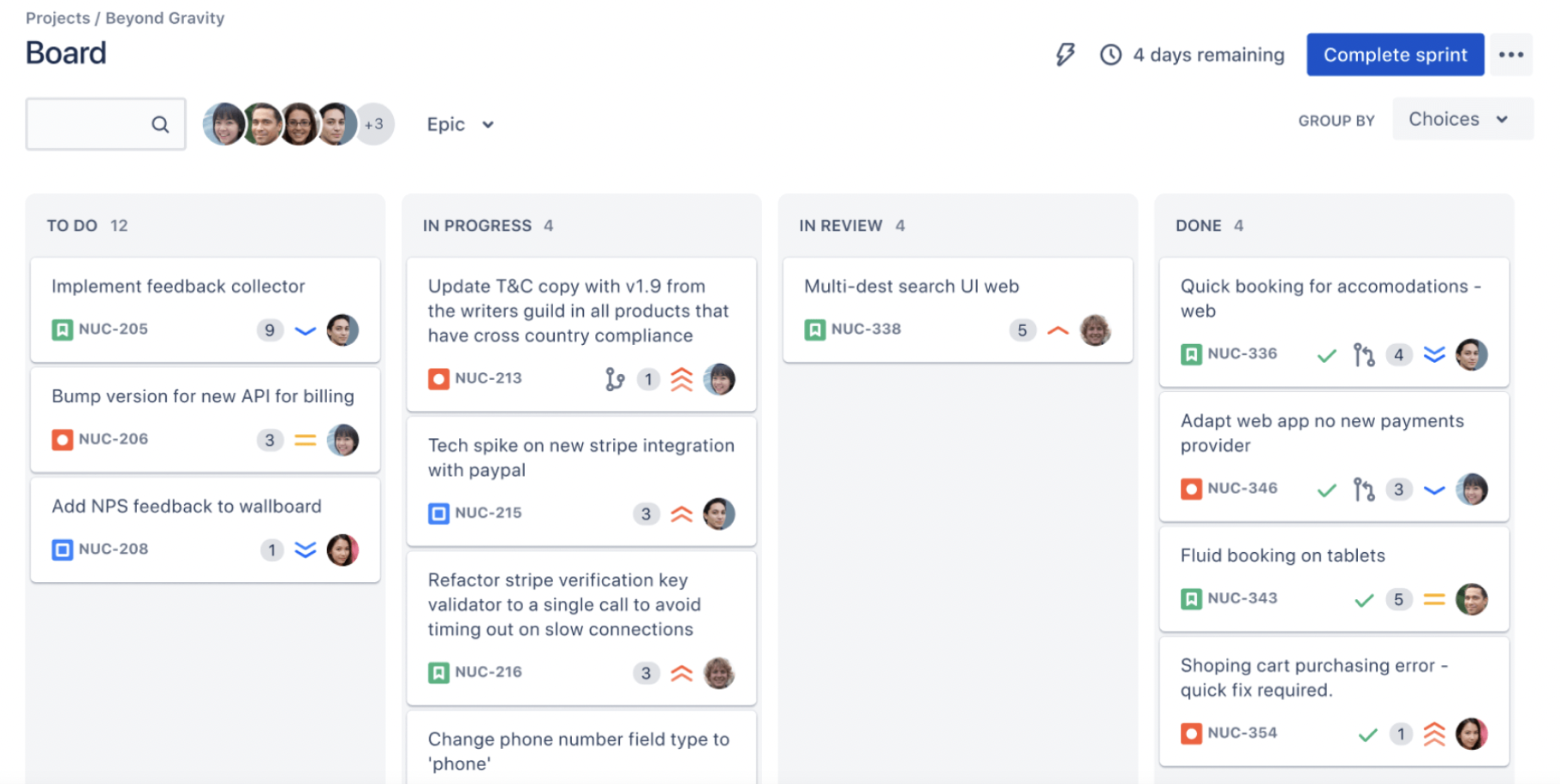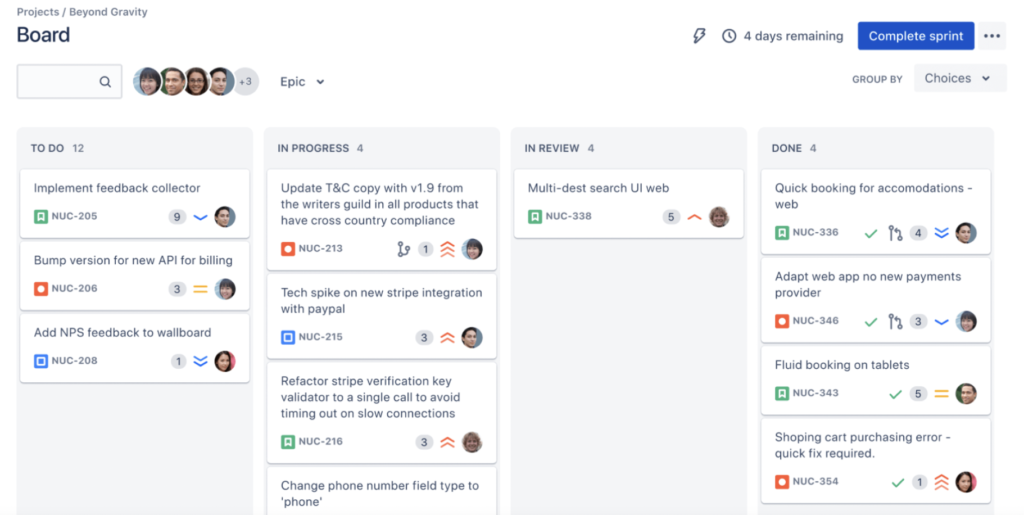 Jira is a software development tool used by Agile teams across the globe.
This tool assists with everything from planning and tracking to releasing projects, reporting on team performance, and automating workflows. It also comes with templates to help new users get a headstart and customization options for teams that want to handle things their own way.
Jira is free for teams of 10 or fewer. Larger teams (up to 35,000 users) can choose from plans that cost $7.50 or $14.50 per user per month.
Choose the Perfect Trello Alternative Today
Have you used Trello as your go-to work management software? If you've found it lacking in some areas, you might want to switch to a Trello alternative — like those discussed above.
If you're searching for better team management, project management, or OKR goal-setting software, check out Weekdone and Team Compass today and sign up for a free trial!