Regardless of your team's size, you've likely found that your employees perform better and get more done when they work together and effectively communicate.
As a leader, you also know how challenging it can be to keep team members on the same page — especially if they're in a hybrid or remote work situation.
A high-performing collaborative work management (or CWM) solution can make a big difference when setting goals, monitoring progress, simplifying communication, and aligning teams.
Not sure which software to choose? This guide breaks down the 14 best collaborative work management tools for your team, highlighting their pros, cons, and costs.
1. Team Compass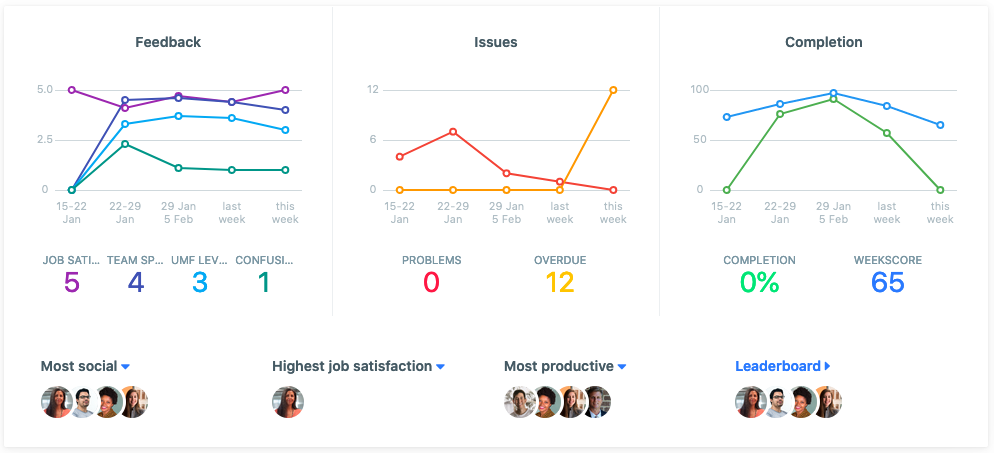 Team Compass is leaders' ultimate work management software and productivity toolkit. It provides tools to help you set and track goals, monitor employee plans and projects, and create insightful weekly team reports.
Pros
Easy to use and implement
Works well for small and medium-sized teams
Features pulse surveys to monitor employee happiness
Helps you align and organize your team
Contributes to more meaningful meetings and discussions
No per-user pricing
Cons
Not ideal for enterprises
Requires some initial team set-up
Pricing
Free for teams of three or fewer
$29 per month for groups of four or more
2. Wrike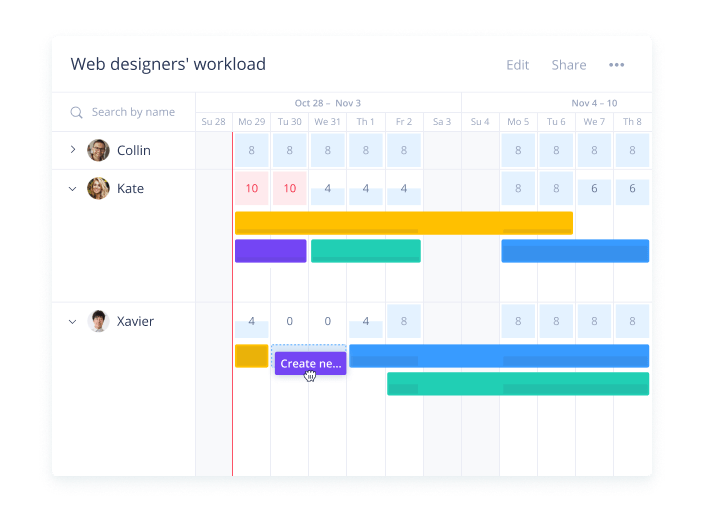 Wrike promises to help users remove barriers, find clarity, and exceed their goals. This highly customizable software features easily configurable dashboards, automation features to streamline processes, and the ability to communicate in real time.
Pros
Offers real-time updates
Uses no-code automation
Highly versatile and customizable
Cons
Per-user pricing might be too high for large teams
Limited features in the free plan
Pricing
$0-$24.80 per user per month
3. Podio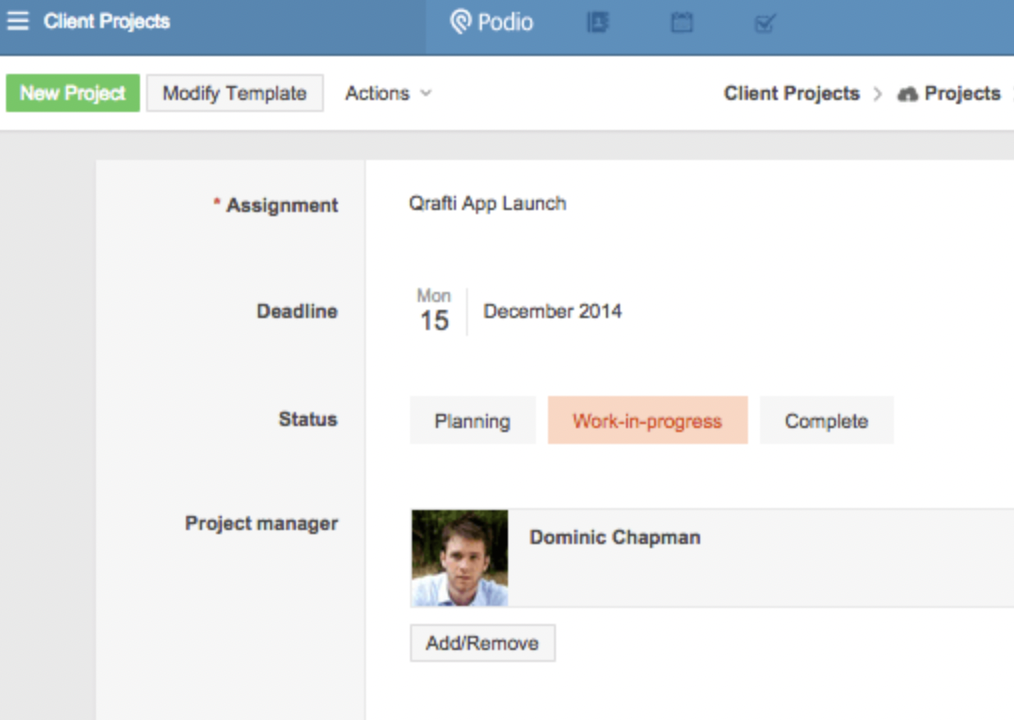 Podio centralizes all of your team's conversations, project deadlines, and files in one easily navigable interface. It saves you and your team time and makes it easy for everyone to get and stay caught up.
Pros
Centralizes essential team information
It comes with a convenient mobile app
Integrates with Dropbox, Google Drive, and Evernote
Cons
Limited features in free and basic versions
Per-user pricing might be too expensive for large teams
Pricing
$0-$19.20 per user per month
4. JIRA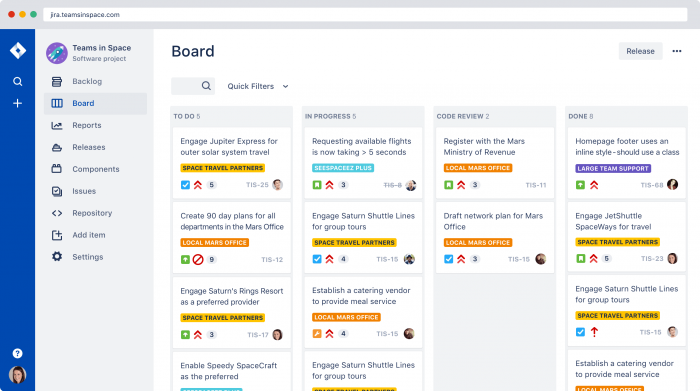 JIRA allows easy and stress-free collaboration between team members, leaders, and clients. JIRA shows users their assigned tasks, lets them leave comments for managers, and will enable managers to prioritize tasks.
Pros
Creates transparency for teams and clients
Helps managers set and share priorities
Great for software development teams
Cons
Limited features in the free version
Per-user price might be too high for some
Pricing
$0-$14.50 per user per month
5. Trello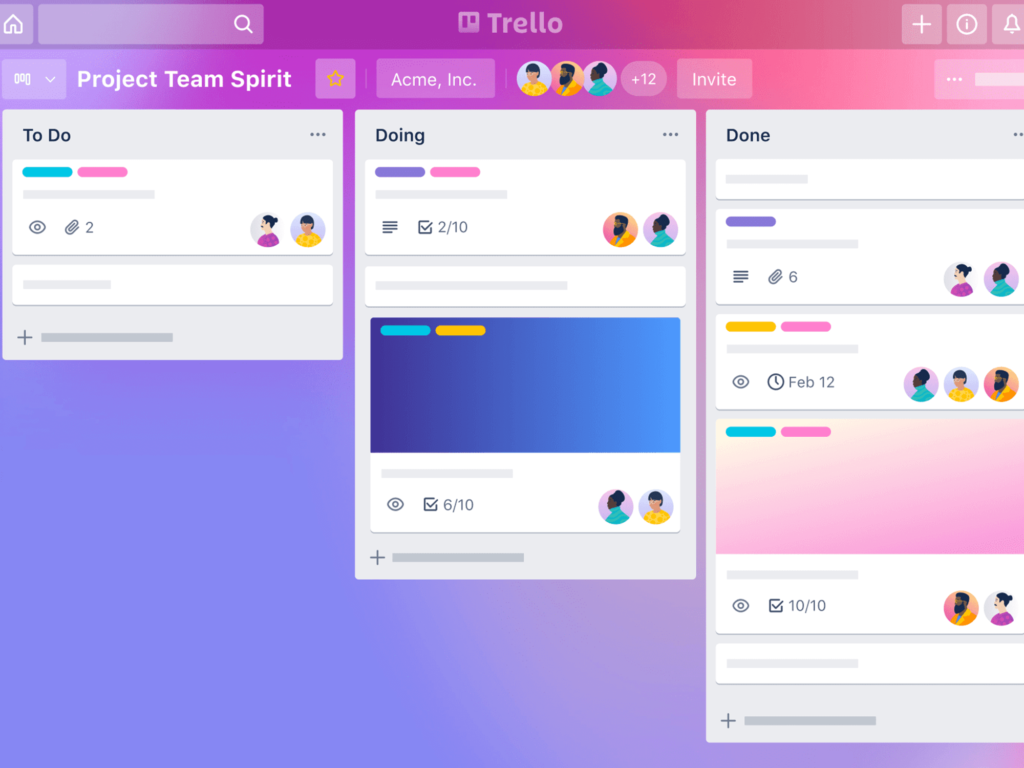 Trello uses lists and boards to help teams stay organized, create to-do lists, and delegate roles.
Pros
User-friendly interface
Convenient drag-and-drop functions
Integrates with Slack, DropBox, and Google Drive
Cons
Free version limits users to 10 boards
Per-user pricing might be too expensive for some
Pricing
$0-$17.50 per user per month
6. Redbooth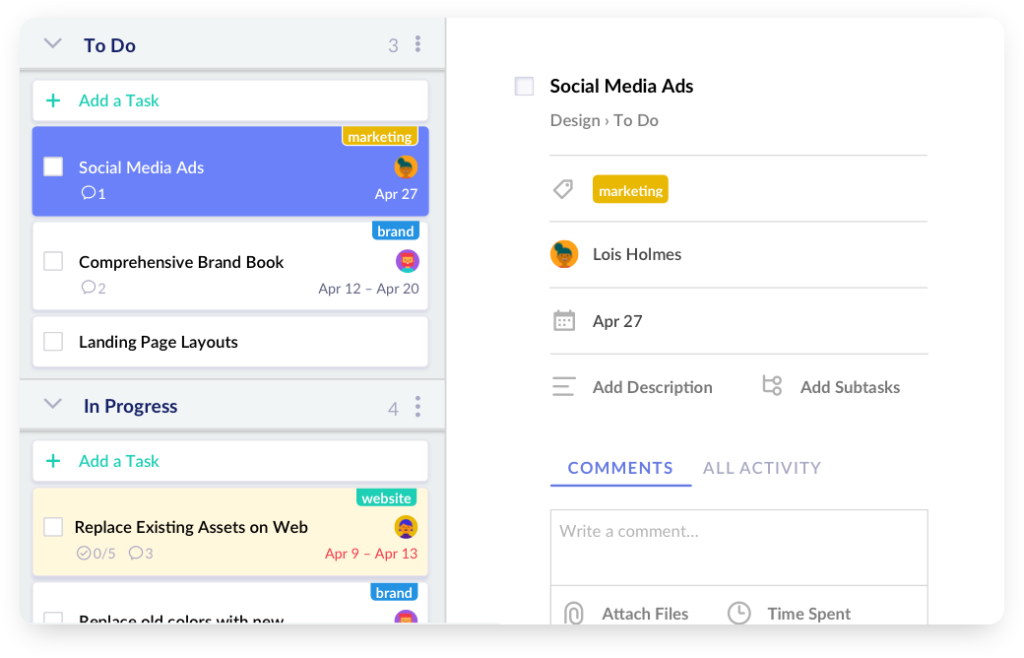 Formerly known as Teambox, Redbooth helps teams stay organized, communicate effectively, and visualize their to-do lists and goal progress. It features an easy-to-navigate dashboard and a convenient mobile app for on-the-go collaboration.
Pros
HD video meetings
Easy-to-use Kanban boards
Clear dashboards to improve focus
Cons
No free plan
Per-user pricing might be too high
Pricing
$9-$15 per user per month
7. Smartsheet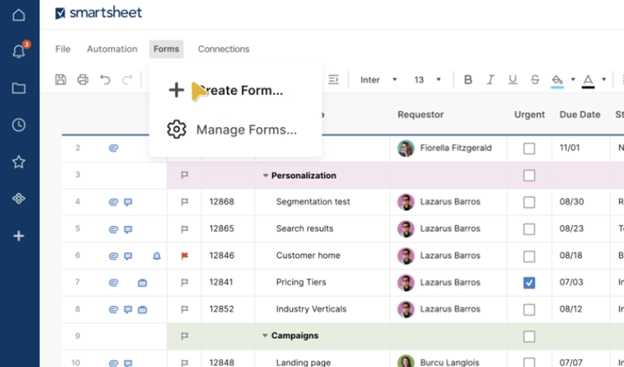 For those who rely on spreadsheets for team collaboration and organization, Smartsheet is the next step up. This tool helps you automate various processes, monitor progress, and easily communicate with team members.
Pros
Easy-to-use spreadsheet-inspired layout
Highly customizable
Multiple view options
Cons
No free plan
The business plan has an exceptionally high per-user price
Pricing
$7-$25 per user per month
8. monday.com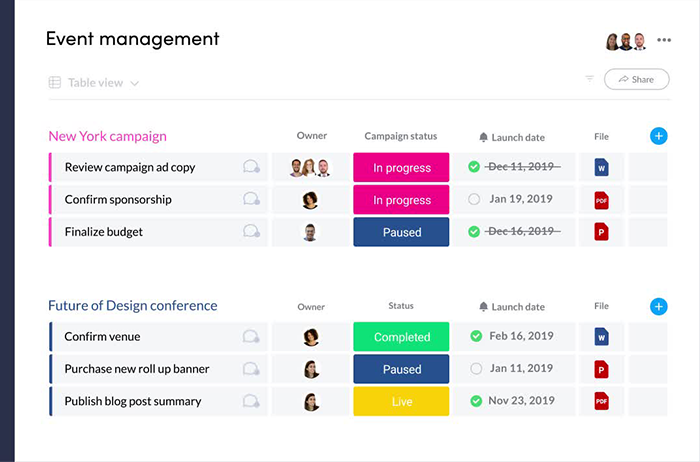 monday.com is a highly user-friendly project management and team collaboration software. It offers convenient drag-and-drop features and allows users to assign and comment on tasks easily.
Pros
User-friendly interface
Easy-to-update team members on project status
Convenient mobile app
Cons
The free plan comes with limited features
Per-user pricing might be too high for some
Pricing
$0-$16 per user per month
9. Asana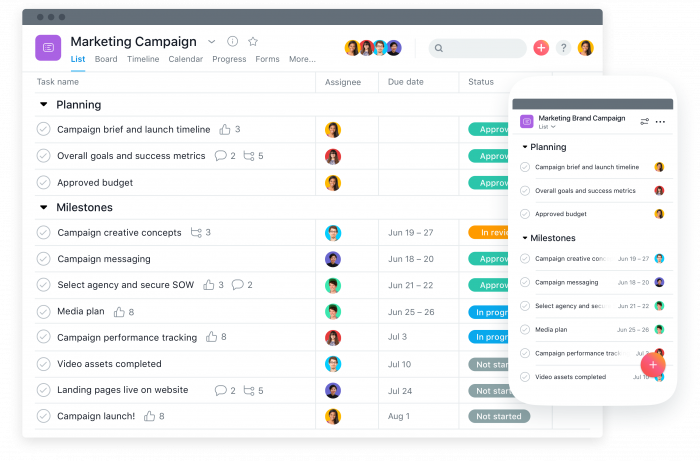 Asana regularly ranks among the best CWM tools thanks to its robust collection of features. It helps with task assignments, organization, project management, and communication between team members and leaders.
Pros
Multiple view options
Easily automate repetitive tasks
Over 200 integrations
Cons
The long list of features could be daunting to new or inexperienced users
Paid plans have higher-than-average per-user prices
Pricing
$0-$24.99 per user per month
10. ClickUp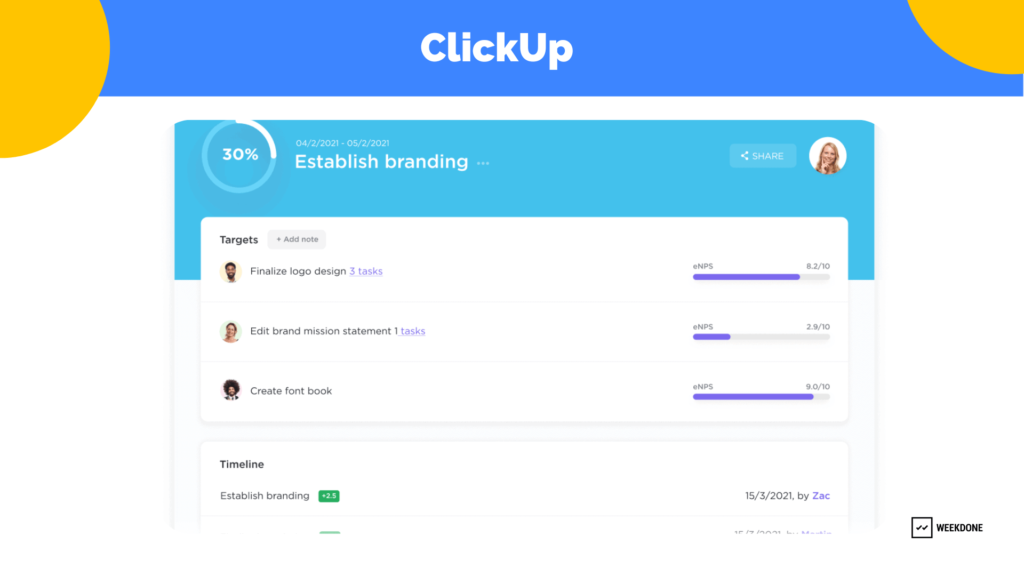 ClickUp centralizes various elements of team collaboration and project management, including task assignments, document sharing, team chats, and goal-setting. It also features over 20 real-time views to see your work clearly.
Pros
Transparent dashboards allow for project and progress monitoring
The convenient chat feature brings everyone together
Whiteboards allow for better brainstorming
Cons
Limited storage in the free plan
Per-user price might be prohibitive for some teams
Pricing
$0-$19 per user per month
11. Profit.co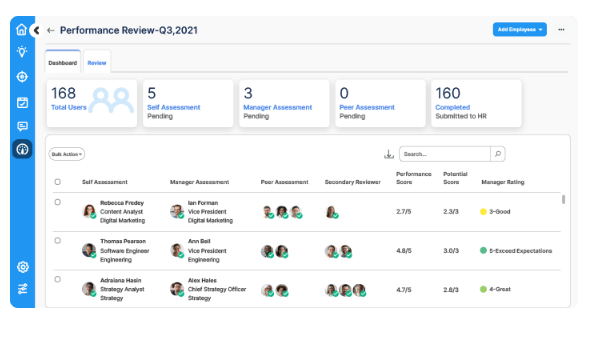 Profit.co is an OKR (Objectives and Key Results) software that helps team members stay focused on their goals, monitor progress, and achieve impressive results.
Pros
Assists with performance management, OKR management, and task management
Boosts employee engagement with awards, pulse surveys, and a company news feed
Cons
The free plan only allows five users
It may be confusing to teams that are new to OKRs
Pricing
$0 for groups of 5 or fewer
$7 per user per month (billed annually) or $9 per user per month (billed monthly) for larger teams
12. Workfront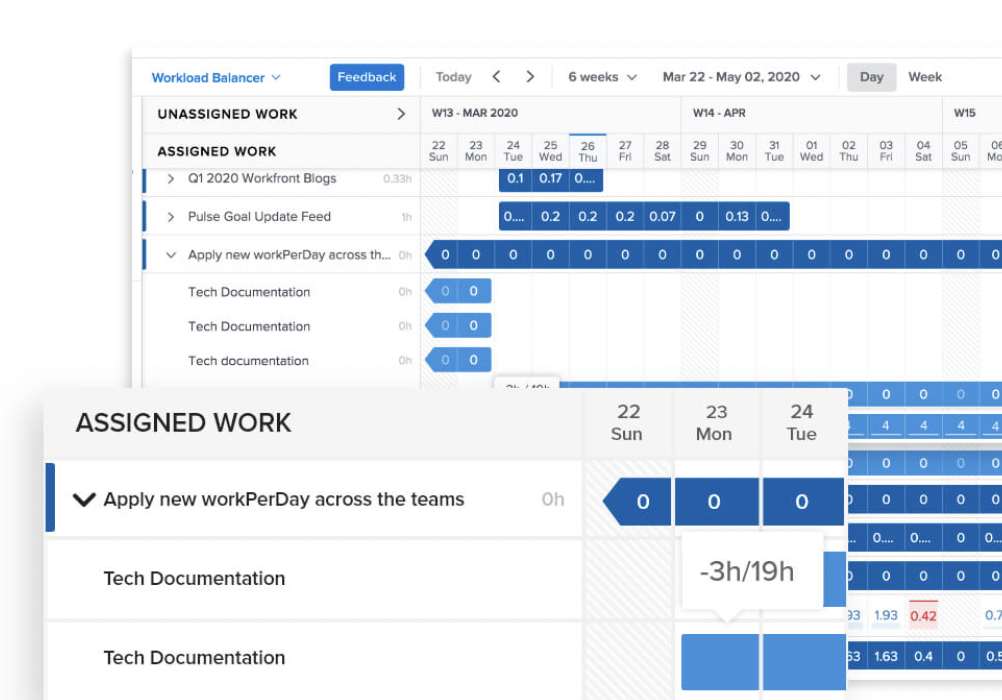 Workfront is an excellent collaborative work management tool for teams that rely on other Adobe products. It's designed to help teams connect, communicate, and achieve their goals.
Pros
Real-time notifications for progress tracking
Easily connect daily projects and tasks to strategic goals
Integrates with other Adobe products
Cons
It may be complicated for those without Adobe experience
No transparent pricing information
Pricing
Must contact Adobe directly for pricing information
13. Celoxis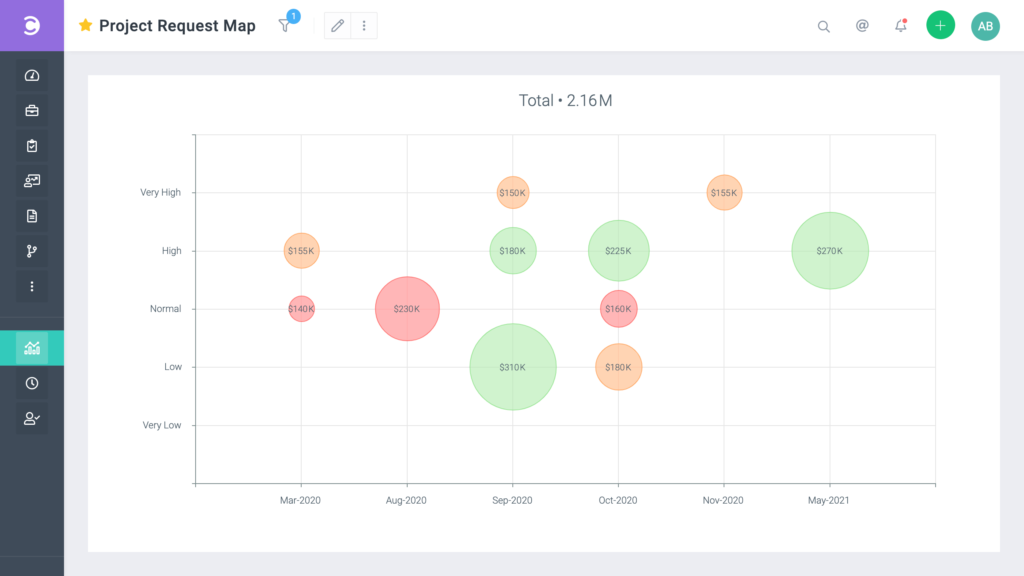 Celoxis is a highly customizable tool that combines project management, Agile trends, and workflow automation to help you and your team work together to get things done.
Pros
Easily share files and chat with team members
Highly customizable for your team's needs
Multiple organization options, including Gantt charts and Kanban boards
Cons
No free options
On-premise pricing is costly
Pricing
Cloud option: $25 per month
On-premise option: $450 per year
14. MeisterTask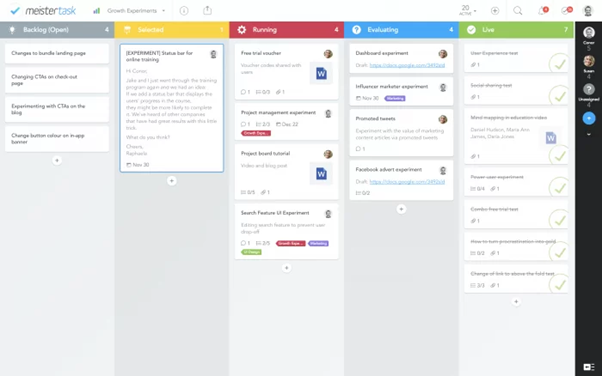 Meistertask is designed to align team members, improve organization, and easily monitor projects and tasks.
Pros
An at-a-glance dashboard increases transparency and accountability
Gantt-style timeline improves efficiency and team alignment
Automates recurring tasks
Cons
The free plan offers limited features
The free plan offers limited customization options
Pricing
Try the Best Collaborative Work Management Software Today
No matter what kind of team you lead, you can find a collaborative work management tool that helps you connect with your employees, brainstorm new ideas, solve problems, and monitor goal progress.
If you want to try a useful, affordable, and easy-to-implement CWM tool, check out Weekdone Team Compass today. It provides everything you need to ensure your employees are productive, engaged, and happy.
Sign up today for a free trial.