The idea behind small business management is to give entrepreneurs the necessary tools to turn their ideas into a successful business. To manage a small business properly, entrepreneurs need to understand a wide variety of business topics and styles of management as well as use proper small business management software. This article will go over all you need to know as a small business owner to ensure your business stays on track. And remember, if you are planning on buying a new business, there is help available at businessbrokersaustin.com.
This list includes things such as:
These skills are especially important when just starting out since most early business owners will not have enough in the way of profits to distribute managerial tasks.

Focusing on 1 Vision
When starting out with managing your small business, it's best for you to focus on one key vision that you plan to accomplish at the company level. Since most small businesses start as passion projects or hobbies, making sure you hone in on your primary company goal should be your first priority. By crafting an ideal workplace environment for yourself and your employees, you can focus on aspirational goals that meet your personal and business values.

Being a small business owner means that you have much more control over the operations of your business and thus, can choose how to move forward based on your personal vision. Because of this as well, it's important to focus on hiring and resource management only on those who align to this vision.

Small Business Management with OKRs
OKRs are well known within the world of business management because of the tons of Fortune 500 countries that use them. But just because tech giants like Google use OKRs doesn't mean that they aren't equally useful for small businesses. However, being organized and unified for one goal is especially important for small business owners and startups.
Some reasons why OKRs are incredibly useful for small businesses include the following:
Provide transparency and good communication
Provide motivation to team members
Can help avoid some of the pitfalls that befall small companies
Help the company grow
Having a Deeper Understanding of Your Business
The management process provides practical, on-the-job experience to gain more knowledge about business and goals. Because of this, many of those starting out don't have the necessary skills to run a business.

Because of this, no guide will be foolproof and you need to have practical experience and understand what your business is to learn. Some things to take into account that you will need to know about small business management include:
Accounting
Business Planning
Financing
Human Resources
Marketing
Remaining Flexible
One of the big things about just starting out managing a business before any expansion takes place is that you need to remain flexible as you figure things out. Flexibility is easier with fewer employees, so the more duties you take in small business management, the easier it will be to adjust and adapt at the moment.
These quick decisions to improve business goals are essential in the early years of a business when growth is small and you're stuck paying back any investments you made to start the business.
Likewise, flexibility is important early on for scheduling for both yourself and any employees you make take on.

Building the Business Plan
"Every minute you spend in planning saves 10 minutes in execution; this gives you a 1,000 percent return on energy!"
Brian Tracy, author and motivational speaker

There are a few key areas when starting to build a business plan. First, you need to understand the importance of strategic management. From there, it's key to understand why small businesses need to gain a competitive advantage to succeed. Once you figure out ways to do so, you need to develop a strategic plan to move forward.

Other things you need to accomplish include discussing the best strategies for allowing your small business to succeed. These include areas such as focus, differentiation, and lowering costs.

From there, you need to ensure you have structure and good small business management software to begin the planning process.

Strategic Small Business Management
To make sure your business actually survives, you can't understand developing a proper strategy for success. You can work as hard as you want and have all the enthusiasm in the world, but if you don't have a proper plan of how you're going to beat out the competition, then your small business is doomed to fail.

Most entrepreneurs want to jump in and get started right away, but without proper planning, you won't have the answers to what your business is trying to do or how it sticks out from others like it.

The habit of starting a business first and trying things out as you go is risky at best. Without a good plan and some focused goals, your dreams of starting a business are as good as trying to assemble an IKEA cabinet without the instructions. You have to think in the long term. Getting started and hitting the ground running may provide temporary short-term success, but won't account for threats or problems down the road and tend to lead to short-lived companies.

Differentiation and focus on that differentiation are what will set you apart from competition and planning is necessary to achieve it. Not thinking through all outcomes and not having goals planned only make your company vulnerable in the context of a global market.

Likewise, small companies have the opportunity for insane growth much quicker than ever before. Small business management software makes this side of things much easier if you know what to look for and what tools to use which could let your company grow significantly in a short period of time.

Because of how flexible small businesses can be, the best options for small businesses involve innovation. Being able to use new business models and break classic management strategies using tools like GTD or OKRs means that entrepreneurs have more power the more they plan and experiment.

Here are some typical small business strategies that you should seriously consider:

Focusing on small teams to ensure easy communication and efficiency.
Following and innovating on competitor models
Focusing most of your efforts on "evergreen" sources
Find a focus group and only target that focus group
Unify your goals
A popular example of how important this is is Apple. Apple introduced the iPod Touch only 24 months after the iPod Nano and continues this trend with the iPhone to this day.

Ownership
"The sense of ownership is one reason why abuse tends to get worse as relationships get more serious. The more history and commitment that develop in the couple, the more the abuser comes to think of his partner as a prized object. Possessiveness is at the core of the abuser's mindset, the spring from which all the other streams spout; on some level he feels that he owns you and therefore has the right to treat you as he sees fit."
Lundy Bancroft
Ownership is incredibly important while managing, but just like a relationship, too much ownership and clamping down is abusive and harmful for both the company and for any employees you employ.
Therefore, it's really important to discuss the issues that arise for new business owners and entrepreneurs when dealing with specific forms of ownership. You need to deal with issues about whether or not you are going to be the sole proprietor.
If you're going to have a partnership, with who and how are the managerial roles going to be distributed? Likewise, you need to track down the advantages and disadvantages your particular company will have. These are the boundaries of business, and it's important that you don't overstep the needs of your company or the people working with you. With so many staff now working from home it has also created a lot of challenges which are tricky to tackle, you could use user activities monitoring or just trust that they are working honestly but most businesses are now deciding to monitor activity.
Likewise, in addition to being a proprietor or having a partnership, you need to address other areas of ownership such as a joint venture, a limited liability company, or a S corporation.
Giving too little thought to ownership is one of the first warning signs of a doomed business. The effects are far-reaching and include things such as the taxes the company pays, the ability to transfer the business to someone else, and raising money for owner liability.
The choice of ownership style can be changed, but it's one of the least flexible of the early management stage. Changing requires a ton of time and is often insanely expensive.
Just like in relationships again, there is no "best" ownership strategy. You need to understand the characteristics of all of them in order to know how they will affect both the business and you personally.
The most important things to factor into ownership include the following:
Formation costs
Management succession plans
Business goals
The ability and experience of the manager
Control
Start-up and other financial requirements
Liability exposure
Tax considerations
Sole Proprietorship
A sole proprietorship is the simplest form of business ownership. This is not a legal entity. Instead, it just refers to a single person who owns a business and is thus, personally responsible for it
Under this ownership model, you can operate under your own name or under a fictional name for your business. For example, if you wished to be the sole proprietor of a grocery store, you could operate under Al's Grocery. The trade name does not create a legal entity in this case.
This form is popular due to its simplicity, the fact that it is low cost, and that it is quick and easy to set up.
Partnership
A partnership is another common ownership strategy. It involves a formal arrangement by 2 or more parties to manage and operate a business and to share its profits.
When deciding to go with a partnership, there are several different arrangements to choose from. There are 3 main options. The first is where partners share liabilities and profits.
The second is where some partners will have what's called limited liability. This means one or more partners will not be involved in the day-to-day activities of the business. That means that if someone gets sued for malpractice, the other partner will not get sued along with them. The third is a limited partnership and is a variation on the second.
Most business owners go with the first option if they choose a partnership, but limited liability partnerships are especially beneficial to doctor's and lawyer's offices, as well as architects and accountants. The thing to note as well with general partnerships is that everyone who signs is responsible for the debts taken on. You need to make sure you highlight profit sharing in your partnership agreement.
If you're torn between a partnership and a corporation, you should also take into account that partnerships often have better tax benefits in the United States.
Best Software for Small Business Management
Many of the small business management software options will fill several different niches. However, they still all help with solving business problems. These products mainly vary based on features, pricing, setup, and installation and you should research your options carefully to find out what will be the best value for your small business model.

Weekdone is a goal-setting and weekly planning tool that serves as a great small business management software. It connects OKRs with weekly tasks so you can truly see how everything aligns. It's core features that are in every version of the software include:
OKRs and Weekly Planning
Conversations, Feedback, and Recognition
Clear dashboards and progress breakdowns by user
True OKR alignment
Company TV Dashboards and Custom Reports
Considering that small business managers often take on more responsibilities, you will want tools that save time. Weekdone features a dashboard that outlines both the goals and weekly performance reviews of everyone on the team.
This way, you can easily see what goals are falling behind, and which employees deserve praise or need some more attention.
The things you can see at a glance just with the dashboard include:
Overdue Items
Task completion ratio
Task distribution for the team/company
Weekdone also helps with detecting early communication problems before they become a small business's downfall.
You can give regular feedback to all of your employees to both improve work ethic and increase transparency. Likewise, you can add your own questions for your employees to answer on topics such as company culture and any ideas for improvement.

Giving personal feedback is essential to make sure your company is moving in a unified direction. This is especially important when the business is still small.

Likewise, managing weekly reports can be seriously overwhelming when you're not used to being a manager. Weekdone makes sure that you actually see these weekly reports from all of your employees.

Likewise, you submit reports that they can all see as well so everyone knows what each other are working on and what they got done during the week. This, paired with real-time feedback, is a great way to build team morale.
Pricing
Weekdone is one of the most affordable goal-setting tools for small teams. It's entirely free with all features unlocked for up to 3 people, and even before that, you get a 2 week free trial.

From there, the pricing model depends on how many employees you have. The one for the smallest teams is priced at 9 dollar per user a month.

Best Free Software: Wave Accounting
Wave accounting is a great, free way to manage your small business' finances. It helps you streamline your bookkeeping for free so you can keep track of profits and deal with expenses.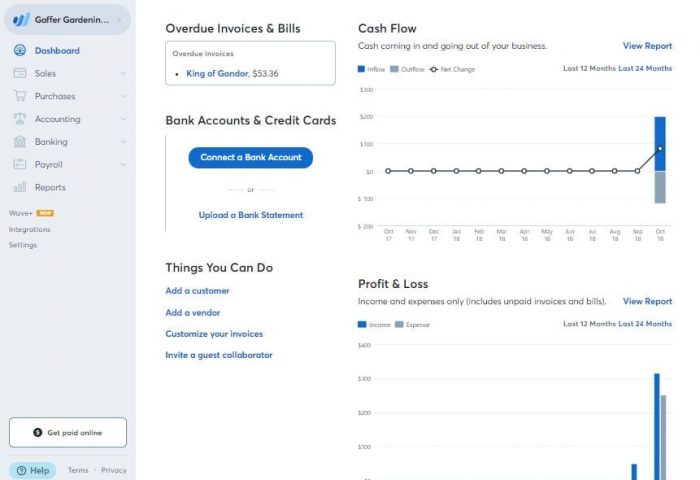 Wave accounting also helps you prepare for taxes and tax season so that you can figure out what you owe and what tax breaks you qualify for.
Wave Accounting features:
The ability to connect all your bank accounts
Sync expenses
Book balancing
Tax preparation
A smart dashboard that organizes income, expenses, payments, and invoices
Pricing:
All of Wave's apps are free. You can sign up for their services here.
Best Non-Profit Software: Zelos
Zelos is great if you want to start a non-profit organization. It's free for up to 50 volunteers and helps you organize your volunteers and ts you get your non-profit organization off the ground. Because of this, it's essential for anyone looking to help a cause.
If you wish to be an organizer, Zelos helps you communicate tasks and train your volunteers.
Zelos' features include:
Coordinating your entire team live
Task management
Goal setting
Details and timestamps on who starts tasks
Confirmation reports on doing things correctly
Announcements
Feedback Moderation
Pricing:
Zelos has a free starter package for 2 admins, 5 groups, and up to 50 volunteers. From there, it has Pro, Pro+, and Custom plans. Pro is 99 dollars a month and allows 200 volunteers, 10 groups, and 5 admin seats. Zelos' free license and its Pro plan should suit you just fine while getting started with your non-profit.