Employee engagement is considered to be the number one reason behind employee productivity. It also plays a important role in organizational communication.
A lot of problems come from uninspired employees. They are less productive and they are more likely to leave their job. This is an especially huge problem for millennials, most of whom are likely to leave their job next year.
All managers want their employees to succeed in their tasks. This is not possible when they feel uninspired with at work. Check out our guide on how to improve employee engagement. Use the links below to jump down to different sections.
Before we discuss how to improve employee engagement, let's first look at the difference between engaged and disengaged employees.
Engaged vs Disengaged Employees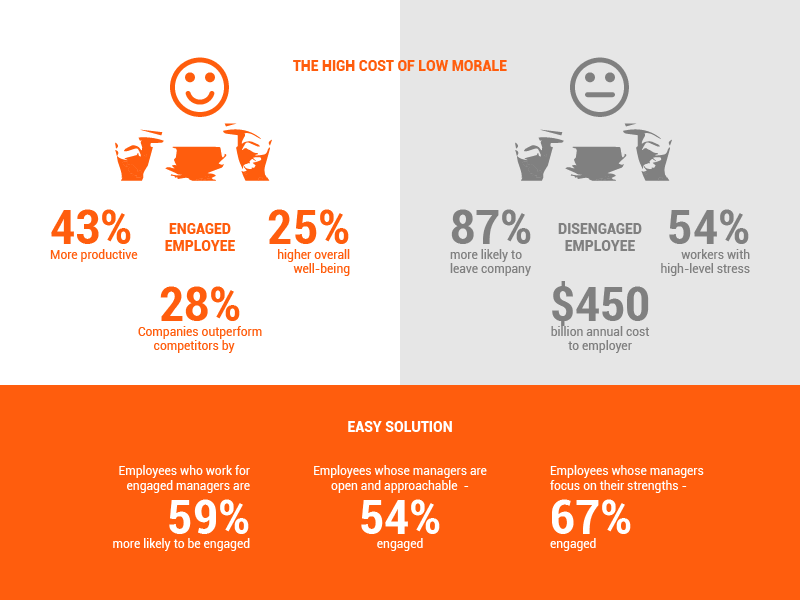 The work routine is a boring one for many. Disengaged employees see their job as an activity that only paid the bills. This mindset isn't just limited to those working as a barista, cashier, or factory workers. It exists in many offices as well.
The level of employee engagement is scary.
World wide employee engagement is very low at only 15 percent. These statistics are staggering. Not only are 85% of employees disengaged with their work, but most managers are as well.
We analyzed different researches and put the results in one infographic. It shows why you need a change in the way your team is working. Here's some facts:
Only 35% of the overall workforce is truly engaged.
Merely 1 out of 8 employees is committed to the job.
Disengagement costs businesses billions of dollars per year.
A huge part of the workforce, from leaders to specialist, are not inspired to exceed expectations. Most of us are not enjoying our work and don't see meaning in it.
For a long time I thought this was normal. I believed that work is just something you have to do, not something you could enjoy. Luckily, Weekdone has leaders who changed my worldview and helped me find meaning in my work.
There are 3 types of employees – engaged, not engaged and actively disengaged
If you are the lucky one, then you had the pleasure to work only with people that are engaged. How to spot them? They are the ones that work with passion, drive innovation and move organizations forward. They also have significantly higher productivity than those in the bottom 28%. These kind of people make up 35% of the global workforce. Roughly 1 in 8 workers worldwide is psychologically committed to their jobs and likely to be making positive contributions to their organization. Furthermore, most of them come from companies with fewer than 10 people.
But unless you work alone or in a really small team, you have also met disengaged and actively disengaged employees. Majority of the workforce is disengaged, who are essentially checked out and do not put energy or passion into their work. Helping these employees to get on track should be your mission, since they are vulnerable to negativity that actively disengaged people spread.
The Average Disengaged Employee
No need to be angry, but the research shows that there is a typical profile of a disengaged employee. Let's rip off the bandage quickly: A typical disengaged employee is:
in the middle of their career
male
not highly educated
working in an office
This does not mean that you should hire only women in the beginning or end of their careers that are able to work from remote locations. Rather, this means that people in the risk group may need more attention.
How to improve employee engagement
Luckily, there are many things you can do to increase employee engagement. Read on for 15 engagement ideas that you can implement today to make this happen. These ideas will help you shake things up and get your team more excited about and invested in their work.
1. Use an Engagement Platform
Over the years, many business owners and team managers have become aware of how important employee engagement is to a company's productivity and profitability. As a result, there's been an increase in the availability of employee engagement software and platforms that teams can use to set goals, monitor performance, and promote engagement among workers. 
The right software will make it easier for team leaders to handle status reporting and deliver feedback and recognition to their team members. It keeps everything in one place and ensures everyone is on the same page when it comes to working toward accomplishing individual, team, and company-wide goals.
2. Provide Status Reports
Implementing status reporting with your employees makes a breeze for team leaders. Status reporting helps leaders to provide their employees with a big-picture view of how they and the company are doing.
Regular status reports keep team members informed about their progress, as well as the progress of the group as a whole. This ensures that everyone stays motivated and is aware of how they're contributing to team projects and helping the company improve and achieve its goals.
3. Offer Feedback and Recognition
It's important to provide employees with feedback and recognition, too. Regular feedback helps team members know what they're doing well and what they can do to improve.
When they receive this information, it's easier for them to make changes. They can also feel as though they're being productive and having a positive impact on the company as a whole.
Recognizing achievements can increase motivation, too. When employees see their colleagues being recognized for the good work they do (even if it's just in the form of a group chat shout out or mention during a team meeting) they'll feel more inclined to go above and beyond themselves.
4. Hold Weekly Check-ins
Speaking of team meetings, it's also important to hold weekly check-ins with your team if you want to improve engagement across the board.
Constant team meetings can be cumbersome and make it harder for people to get their work done. On the flip side, if you don't hold check-ins often enough, employees will likely be less motivated and won't have as many opportunities to receive feedback and recognition. Weekly check-ins are frequent enough to keep everyone on their toes, but they're not excessive.
When holding weekly check-ins, try using the PPP methodology. Short for Plans, Progress, Problems, the PPP methodology gives you a chance to check all the important boxes during each check-in. This includes setting goals to review during the next meeting (Plans), recognizing accomplishments (Progress), and addressing challenges to ensure they get resolved quickly (Problems).
6. Hold 1:1 Meetings
In addition to group check-ins, it helps to also hold 1:1 meetings with individuals members of your team. 1:1 meetings give workers a chance to speak up about problems that they might not be comfortable sharing in a group setting.
For workers who are shy or introverted, a 1:1 meeting can help them to feel more at ease and allows you as a leader to ensure they get the support they need. You can also use these meetings to talk to workers about special opportunities or projects.
7. Use OKR Methodology
For many, having a clear goal to focus on can change their perspective. It shows people how they can contribute to the company as a whole and the difference that they make. Just having a goal isn't enough to inspire engagement, you need a good tool and methodology behind it.
We use the Objectives and Key Results (OKR) framework to set goals on company, team, and personal levels. That means I can clearly see how my work influences the progress towards my team's and the company's overall Objectives. Knowing how we all play a role in the company goal has pushed my team and I to give more. We are more engaged in what we do because we feel like our work matters.
Another big part of the OKR methodology is taking in feedback from the employees. In our team, everyone can offer suggestions on what their personal goals should be. While, of course, the final decision is made by the manager, having a say in your work gives you a feeling that your tasks have meaning and importance.
However, OKRs are not a silver bullet. OKRs are a tool that lets everyone see how their work contributes to company's long term plans. It helps employees see the meaning that is already there. OKRs show everyone how their tasks are connected. But this only works well when the goals you set are impactful and if everyone in your team commits to using this goal setting system.
Kaspar von Grünberg – CEO of Humanitec told us that "the clear benefit (of Weekdone) is that we are more aligned, structured, and people feel more connected." You can offer your employees the same level of motivation and transparency when you use Team Compass for setting OKR goals and monitoring their work.
8. Focus on Employee Wellness
Companies that make employee wellness a priority tend to see better engagement and productivity than companies that don't. When your employees feel better, they can get more work done and will be happier when they're on the job.
Encourage your employees to eat healthfully and exercise on a regular basis. Make healthy food accessible in the breakroom, for example. You can also allow time for employees to work out during the day or subsidize gym memberships so that it's easier for them to incorporate exercise into their routines.
9. Encourage Development
When employees feel as though they have opportunities to grow and progress within their careers, they're more inclined to stay engaged and stick around at the company longer.
Consider holding regular workshops so that workers can learn skills that will make them eligible for higher up positions within the company. Mentorship opportunities can be effective, too. If workers have a chance to learn from the best in the business, they'll be more productive and will learn ways in which they can be better at their own jobs.
10. Connect Everything to Core Company Values
It might seem surprising at first, but it's not uncommon for workers to not understand the values of the company they work for. This is a problem because, when employees don't know the company values, it's hard for them to uphold them and keep the business moving in the right direction.
When onboarding new employees, talk to them about the company's values. You can also display the company values in writing throughout the office and reference them when setting goals and holding weekly reviews.
11. Let Employees Be Autonomous
Micromanagement is not an effective leadership tactic. If your team members feel as though you're always breathing down their necks, they're not going to be productive and engaged.
Outside of weekly reviews and 1:1s, give your workers opportunities to be autonomous and work on their own. Let them know that you're available if they have questions or need to talk, but give them space to work things out alone or with their colleagues, too.
12. Build Relationships
It'll be easier for employees to work things out with their colleagues and remain engaged if they feel that they have strong relationships with you and others in the company.
Weekly reviews can make relationship-building easier since everyone will have a chance to connect with each other, provide feedback, and collaborate when setting goals. Opportunities for relationship-building outside of work matter, too, though. Hosting events after hours is a good option that allows everyone to blow off steam, relax, and get to know each other in a new way.
13. Allow Remote Work
If possible, give employees a chance to work from home from time to time. Flexibility allows for more autonomy. It also helps people to work in ways that allow them to be the most productive and focused.
If someone is distracted in the office because they're worried about something going on in the house, they're not going to be an engaged, motivated employee. It'd be better for them to work at home, where they can take care of what needs to be taken care of before jumping into their assignments for the day.
14. Give Everyone a Voice
It's important for you to provide feedback as a team leader, but it's also important to receive feedback from your team.
Give everyone a voice and let them know that their feedback is welcome. Give people a chance during team meetings to share feedback, or consider allowing people to submit suggestions anonymously so they can voice concerns without worrying about being judged.
Looking for even more ideas on how to improve employee engagement? Then read our article 20 Employee Engagement Ideas. Need to understand areas where you can improve? Read about how to use employee engagement pulse surveys to benefit the overall organizational culture and health of your company.
Smart leaders use all these options and clear goal setting to inspire people working for them and get better results. You can have the same level of engagement if you start using Team Compass goal engagement platform and give meaning to your employees.